Whisky casks can be a great investment and a rewarding pastime, but how can you ensure you are not falling victim to a scam?
As recently as summer 2022 the FBI shut down a £10 million whisky scam and arrested a British national in connection with it. That's not to say that buying a cask cannot be profitable and fun, just that caution is needed. By using our due diligence checklist you can reduce your chance of being scammed when buying a cask. And remember to follow the golden rule:
If it sounds to good to be true, then it probably is.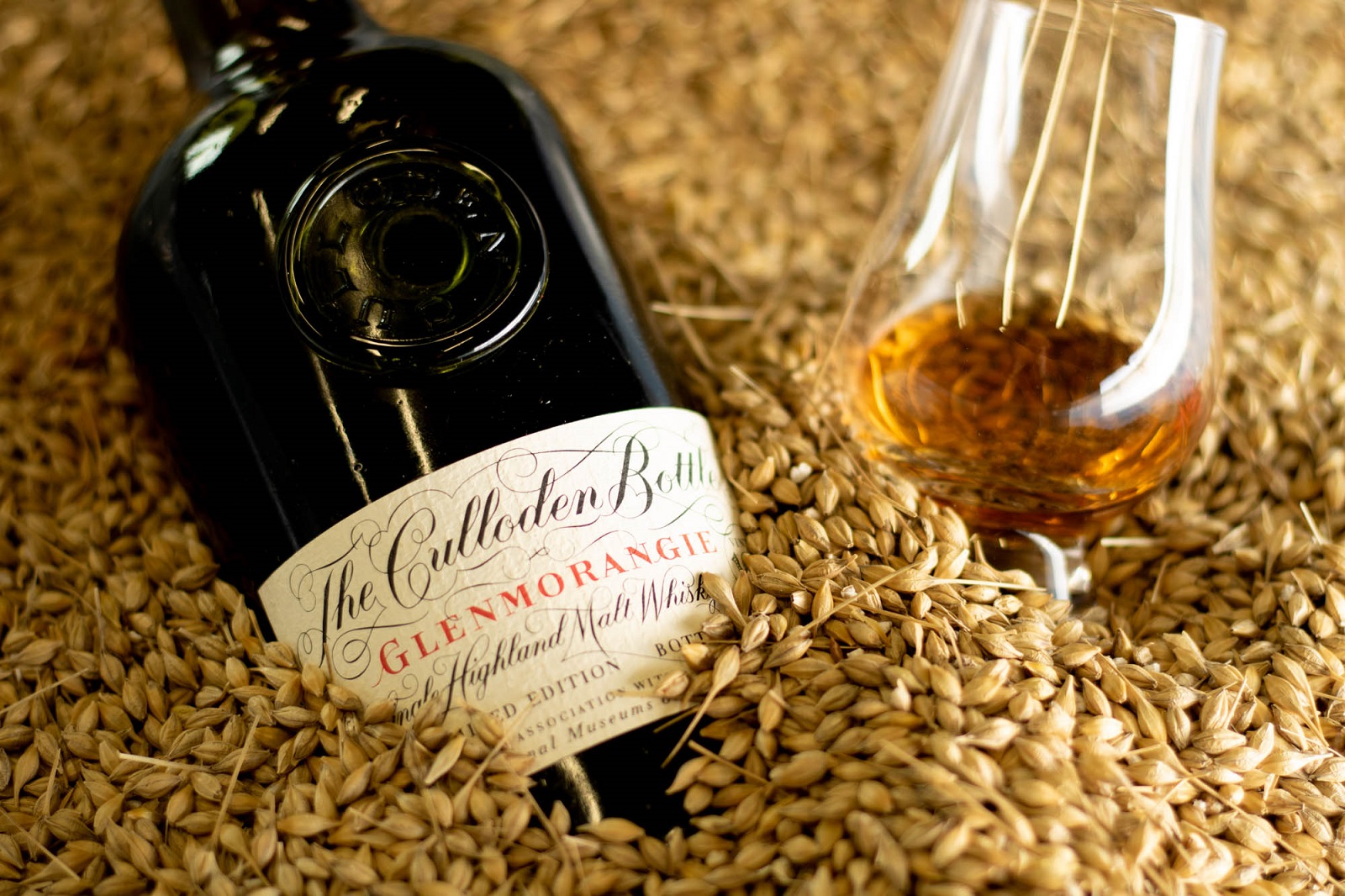 We all know that companies selling casks do so as a business to make money, just the same way that car dealers make a margin on the cars they sell. There is nothing inherently wrong with buying or selling casks, but as it is an unregulated industry with minimal pricing references for private buyers, it is very important that you as a buyer know as much as possible about the best practice when buying a cask. And that is one of the services that we try to provide with our online information bank.

We are often contacted by customers who are attempting to perform due diligence on a cask they are purchasing from another company, and in doing so find our guides. One request that comes up regularly is please can we provide a cask buying due diligence checklist.
So here it is, our 2023 Cask Buying Due Diligence Checklist: Eight fundamental checks you should do before you buy any cask of whisky.
Ensure you will take full ownership of your cask

Ensure you are paying a fair price

Check your contract for caveats

Ensure you have realistic expectations

Know the details of your cask

Make use of Companies House

Make use of Google

Think about what reviews represent
Read on for an in depth explanation of each point.
Send me my free cask buying guide
1 – Ensure you will take full ownership of your cask
The biggest threat to your cask investment lies in the fact that you might not actually have legal title to your cask.
While this may sound counter intuitive, unless the cask sale is transferred at the warehouse level and the sale acknowledged by the warehousekeeper (usually via a delivery order) then the cask doesn't belong to you. Technically the cask still belongs to the company you have paid.
The SWA agree with us on this one:
"If the cask is located in a warehouse that belongs to someone other than the seller, you should ensure that the transfer of ownership is properly recorded and acknowledged by the warehouse keeper. Traditionally this was done by way of a delivery order, a document setting out the details of the cask to be transferred, signed by purchaser and seller and then delivered to the warehouse keeper."
Strictly speaking the transfer does not need to be via a delivery order, and it is up to the warehousekeeper how they choose to transfer a cask. Usually this is via a delivery order, but if the warehousekeeper says they will accept something else that is fine. The key point is the warehousekeeper needs to acknowledge that the cask is yours once the sale is complete.
A 'Cask Certificate', 'Certificate of Title', 'Certificate of Acquisition' or something similar is only acceptable should the warehousekeeper acknowledge they will accept that documentation. Usually these documents are simply internal company certificates that give you rights to the cask within that company.
If you approached the warehouse with the certificate they would likely ask you to contact them via the company who issued the certificate, which ultimately means you have no autonomy over your property. There are other more sinister possibilities available to a company that chooses to sell a cask like this, including ponzi schemes where the same casks are sold to multiple people, such as the infamous cask ponzi scheme by the Nant Whisky group.
Please note that you do not need a WOWGR in order to receive a delivery order or take full ownership of a cask.
Some customers have informed us that other companies are saying a WOWGR is necessary if you want a delivery order. This is categorically not true.
If you go to the Gov.uk website and read Excise Notice 196, section 5.1 states:
All owners of duty-suspended excise goods must obtain approval and registration [of a WOWGR], unless:
the owner of the excise goods is not a revenue trader
[Emphasis added]
Therefore, unless you are a revenue trader, there is nothing stopping you getting a delivery order and taking full ownership.

Buying without taking ownership of your cask via a delivery order facilitates Ponzi schemes, gives you no autonomy over your cask, and in the worst case, if the company you purchased the cask from was to disappear or go bankrupt you would have no rights to that cask in the eyes of the law outside of that company, i.e. your cask could be held as collateral against any debts owed.
Summary: The first thing you should check when doing your due diligence is whether you will receive a delivery order. Buying a cask without a delivery order means you likely do not have legal title to that cask. It will remain an asset of the company who sold it to you and they are free to do as they wish, for good or bad, with that cask. If you are not receiving a delivery order you need to explicitly find out if you will take ownership of that cask.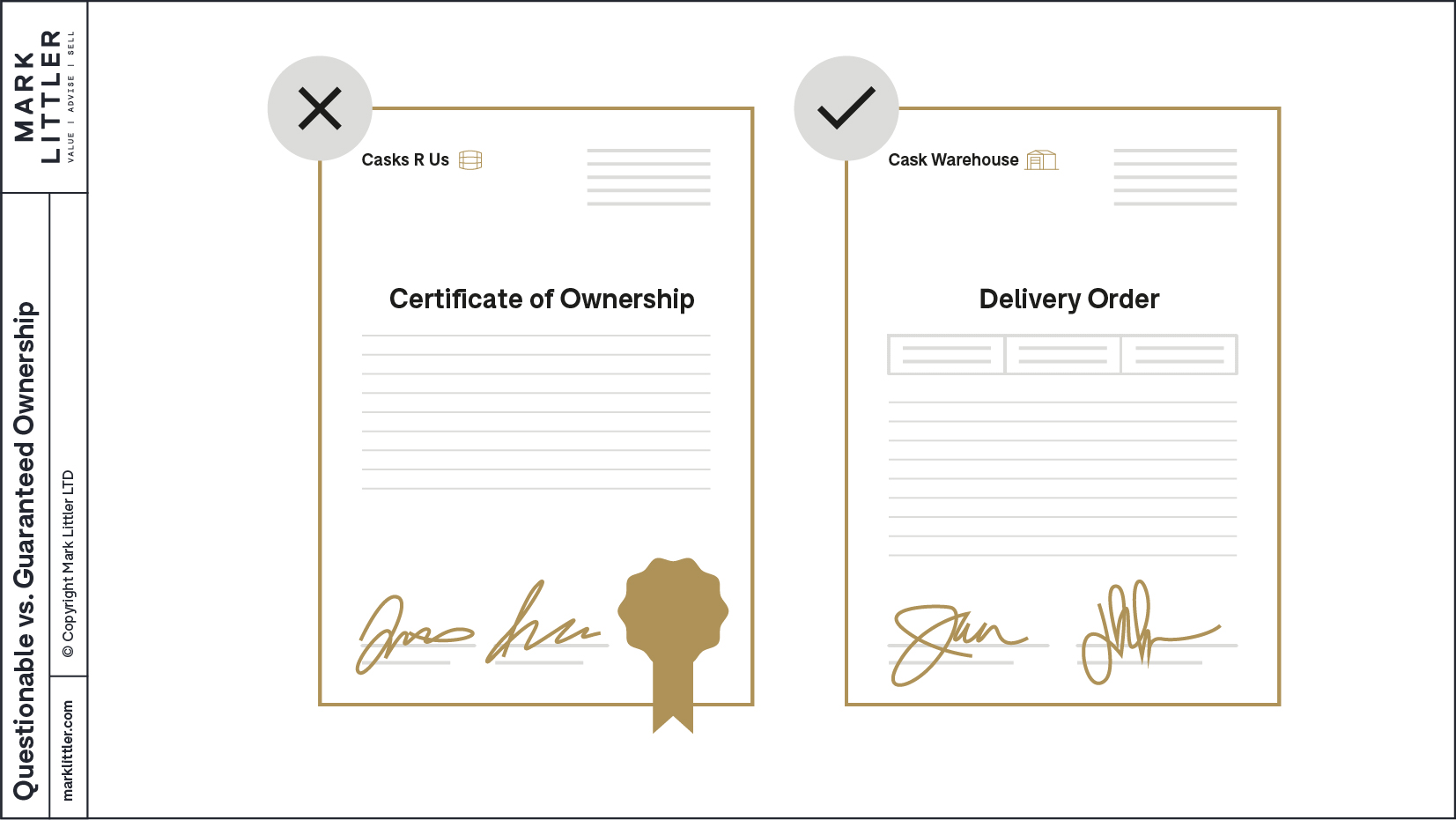 2 – Ensure you are paying a fair price
The second most common pitfall when buying a cask is over paying for the cask in the first instance. And this is a check that is compounded by the fact that there is no public database for cask values.
Unfortunately, cask buyers have been scammed and defrauded this way for a long time, as was the case with the infamous Cavendish Wines scam of the 1990s, when they sold £700 casks of Macallan for £3,500. While that particular scam has a happy ending for those that held on to them (most of those casks are worth over £150,000 now!), most people who overpay for their casks never end up making their money back.
How do you know what you should be paying?
In an unregulated market with no public database of prices, how do you go about checking cask prices? One way to ensure you are not being charged too much is putting the cask details into our cask calculator. The calculator will give you a per bottle price that you can then compare to widely available wholesale bottle prices as a benchmark.
Hang on Mark, I don't ever intend to bottle the cask?
Many private owners of casks have no intention of bottling their cask themselves, but casks of whisky are a finite product, and at some point in the chain of buyers, someone will intend to bottle it, so it is good to keep an idea of that benchmark.
Whisky is a business, and as with most business models as a private buyer you will pay a premium for a cask compared to a wholesale scale. However, the margin should still be fair; you should never have to pay double the market value for a cask, or even over the bottled retail price for a cask – otherwise what is the point in buying a cask at all.
Over inflation of prices is especially common for casks older than 12 years and additional caution should be taken when buying casks over the 3-12 year age range.
A note of caution on multiple casks
One of the most common ways to fall fowl of over-payment is when you are buying 2+ casks from a supplier. For instance, if you say you have a budget of £20,000 a company may suggest you buy three casks; often these are two young, and very low cost casks, and one older, more expensive cask.
In our experience, 9 times out of 10 the two young casks are being sold at a loss or break even and the older cask supplied at an significantly inflated price. The psychology of the combination is layered, but essentially the low value casks are there to entice you in, to show you that the pricing is fair and to get you buying with the company. The higher value, older cask plays two parts, firstly the inflated price contains the majority of the company's margin, but it also (misleadingly) indicates to you the potential you could make on the other two casks.
We say this is misleading because they are usually different distilleries and therefore different propositions and as we have already indicated they are usually overpriced so it isn't representative of the profit potential at all.
Another caveat here is to beware spending your whole budget in one go. Cask prices and the availability of different distilleries go up and down with supply and demand, so a good rule of thumb if you have a bigger budget is to spread your budget over several casks purchased over 6-12 months or more.
Summary: Diligence is required when checking the price you are being asked to pay for a cask. As there is no publicly available database for cask values, consider using a tool like our cask calculator to verify whether you are being asked to pay a fair price.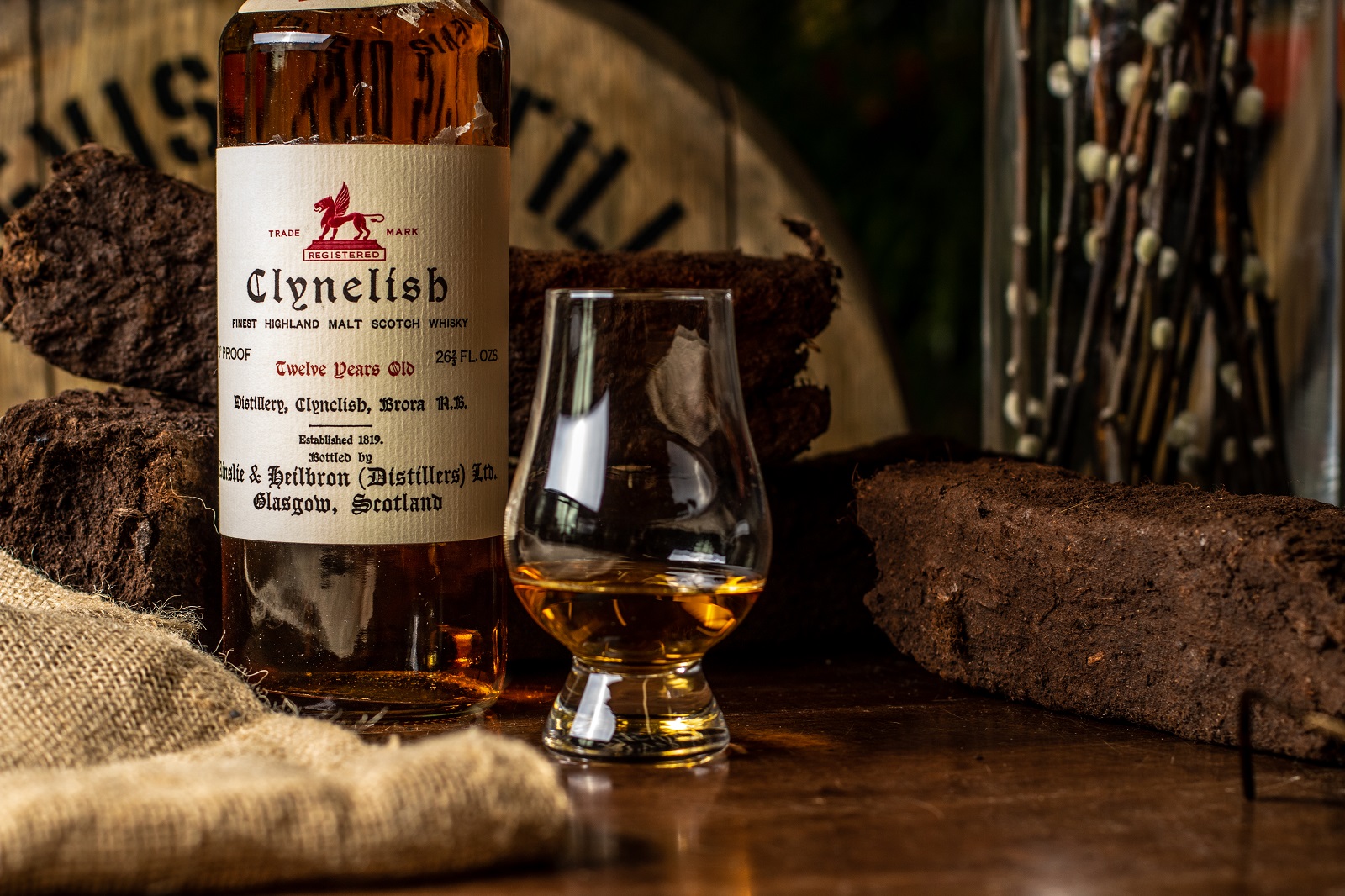 3 – Check your contract for caveats
Contacts are necessary legal documents written by lawyers, designed to protect both the buyer and the seller. As such they can be somewhat impenetrable to the casual reader, however, if you do not 100% understand what a clause in a contract is saying then you should ask the seller to explain.
If they cannot explain, ask them to contact the lawyer who drew it up for them.
It is staggeringly common for buyers to ignore their contracts or be happy not fully understanding them. This is especially important with casks as some casks are sold with caveats saying they cannot be bottled under a certain name or can only be bottled for private consumption – making those cask worth significantly less when they come to be sold.
Do not accept profit shares
It has been brought to our attention that some companies have clauses in their contracts that give them a share of the profits when you eventually sell the cask. This type of clause often entitles the company who sold you the cask to 5-15% of the profit you see on the cask when you eventually come to sell.
Where profit shares are specified in the contract what you are actually buying is not 'cask ownership' but fractional ownership of a cask. There is nothing inherently wrong with fractional ownership unless you are being miss-sold it as something else. Still unsure? Let's put it this way: when would you ever buy anything and expect to see this clause? It is like a jeweller selling you a gold necklace and demanding that you pay them a portion of the increase in value if the gold price rises after the sale…
Summary: Always check your contract thoroughly. If you do not understand your contract make sure you have it explained to you. If the person you are dealing with doesn't know either, ask them to put you in contact with a member of staff that does. Profit shares are not acceptable and should be avoided at all costs.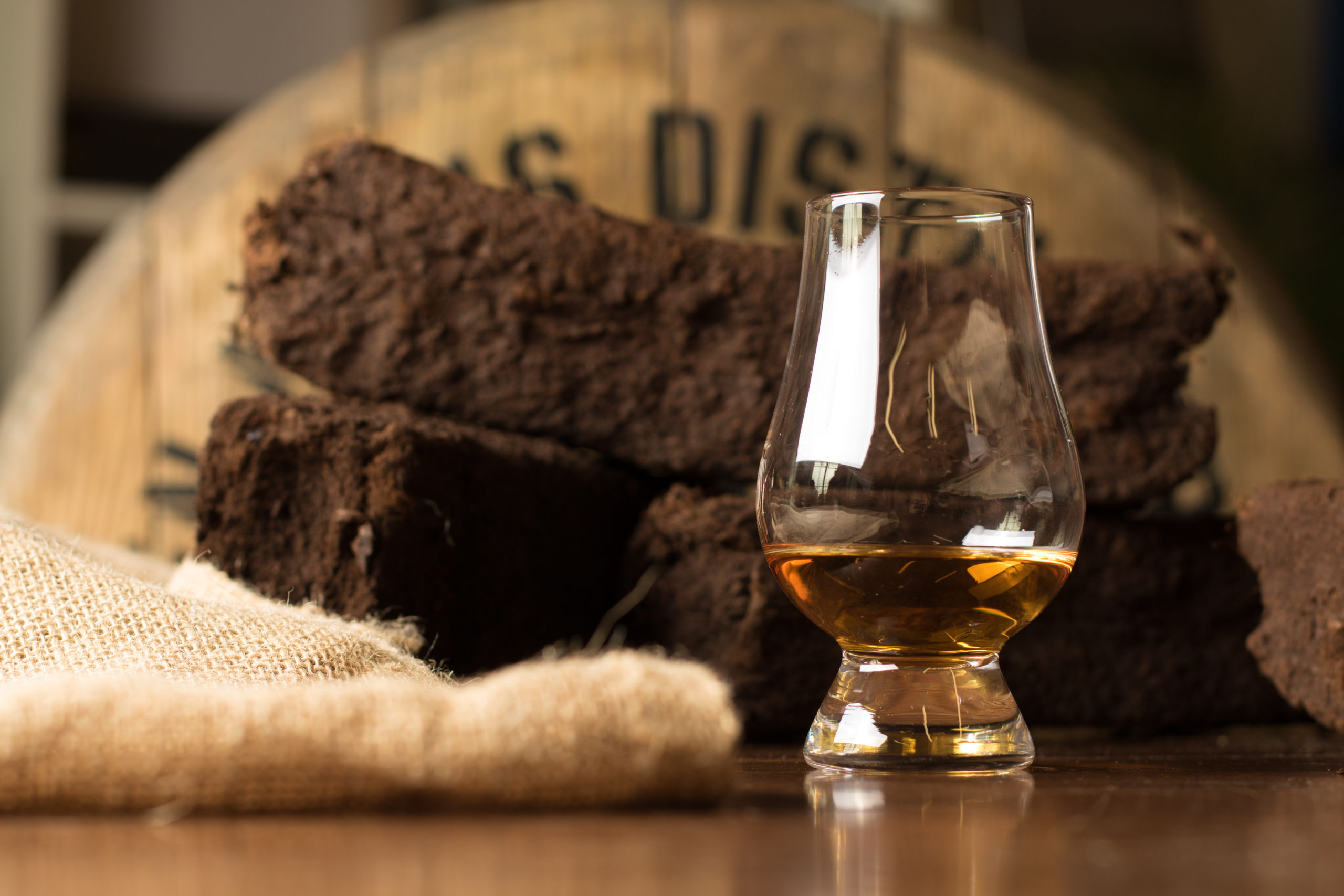 4 – Ensure you have realistic expectations
Casks can be a good investment when done correctly, but if you are expecting 10-18% returns year on year from your cask then you are going to be disappointed.
The "10-18% per annum returns" fable has been around since the 1990s (we've seen brochures advertising 1996 Ardbeg with the figure on), it is a mythical number picked from a select few casks and used to make people click on a link.
We could take a cask of Macallan as an example, tell you it was bought for £3,500 in the 1990s, and that it is now worth £150,000. That accounts for a 4286% rise over its lifetime, which equates to around 178% rise per year. The above is a perfectly valid example of a cask we have sold for a client. Is it representative of what you can expect from every cask of whisky? Absolutely not!
First of all, that cask was actually only worth £750 when it was bought as it was part of a scam, so if they had tried to sell in the first circa ten years of the cask's lifetime they almost certainly would have lost money. Secondly, it is misleading to suggest a figure as a per annum figure because you do not get per annum returns. That person made no money on their cask for the ~24 years that they owned it; the money was locked away and unreachable in the cask.
As a very loose ballpark, most casks we sell fall in the bracket of £5,000 – £30,000, which still represents a very healthy return. But the value doesn't increase linearly, depends on multiple external and internal factors and most importantly you cannot make any money on a cask until you sell it completely.
Summary: If reliable 10-18% per annum returns were possible then casks would be part of every sensible investor's and pension manager's portfolio. Or the company selling them to you would take out a small business loan at 4% and make the money themselves. As neither of these things are the case, ask yourself if those figures seem realistic.
5 – Know the details of your cask
Just like you would not buy a car without knowing the millage, an important step in your due diligence check list is to know the specific details of any cask before you purchase.
We have made a video about the details you need to know about any cask, and they are:

The Bulk litres

The ABV

The OLA or RLA

What type of cask is it?

What size cask is it?

Are there any restrictive covenants from the distillery?

Where is your cask?

Who is your duty representative?
You will notice that bottle count is absent from the above list, that is because a bottle count is unreliable and unrepresentative. How big is the bottle? Is the assumption made on a cask strength bottling or that it be diluted to 40%? Bottle count is not used in the industry and is not a useful metric.
To go back to the car analogy it is like a car dealer trying to sell you a car and not telling you the miles, just the number of times it has been around the earth. You can back calculate, but why not just provide you with the facts?
The Psychology of Using Bottle Count
It is easy to assume that bottle count is provided to give members of the public a better understanding of the size of a cask. However, the reality is that a bottle count makes a potential buyer go: COST / BOTTLES = COST PER BOTTLE.
The number that equation comes up with is usually pretty attractive, but is also massively inaccurate as it does not take into account any of the additional taxes, costs and duty that need to be added when calculating a per bottle cost. Check out our cask calculator for more details.
Summary: Make sure you know the industry standard details of your cask before you buy one. If a bottle count rather than bulk litres is provided on a cask you are looking to purchase, ask yourself what the company is trying to achieve by providing you with that arbitrary number rather than the industry standard one.
6 – Make use of Companies House
Living in the UK can at times be frustrating – the incredible levels of bureaucracy and red tape sometimes feel stifling, but can also be great if you are a consumer looking for protection.

As the cask industry is unregulated you need to do your own due diligence (which is presumably why you are here!). When you buy a cask you should always background check the company on Companies House. 
Firstly, check if they are UK registered. If they are not then they might be registered overseas, which unfortunately means that should you ever have any grievances or problems then you will have no legal protection from UK law.
Secondly, check for name changes. Sometimes a company will change their name to cover up bad press. If Companies House show a name change then Google their previous name and see what comes up.
Thirdly, it can be a good idea to cross reference the names of directors. Do they have any qualifications to be offering you advice on casks? What other activities are they related to?
If you can't find anything online, ask the company why and consider asking for references.
Summary: Casks are an unregulated market that has been regularly involved in scams and fraud so it is sensible precaution to make use of online tools available to you to check the companies you are about to give thousands of pounds to.
P.s. Mark Littler ran as a sole trader from 2016 to 2018 and then went as a LTD Co.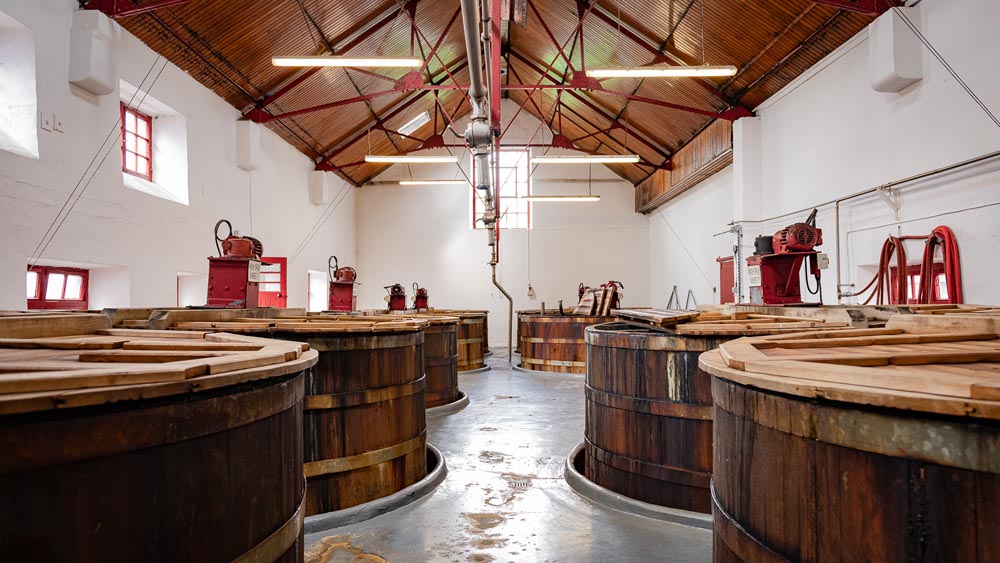 7 – Make use of Google
Point seven is an extension of point six, as now you have the company name(s) and director's names it is sensible to use the world's biggest gossip to your advantage: Google.
While it may seem a bit silly, we suggest entering the director/company name with the words "scam" and then "fraud" into the search engine and have a good look at the results.
Granted, not all complaints might be real (you always get the odd troll and unhappy customer – even we have one lonely four-star review in our 300+ five-star reviews) but if there is a trend of complaints or former complaints then you have grounds for concern, which you should raise with the company.
This point, alongside point six and eight, is especially important in conjunction with point one, as if you are not receiving a delivery order (which you are almost certainly not unless you are buying through us) then your cask is under the control of the company that sold it to you. As such, the reputation of the company you are working with, and who will be the legal custodians of your cask for the long term investment of your cask, is exceedingly important.
Summary: When buying in an unregulated industry it is impossible to be too cautious about who you are working with. The cask industry is a small one and unscrupulous behaviour is hard to hide from the all seeing Google, use it to your advantage.
8 – Think about what reviews represent
At Mark Littler LTD we are very proud of our reviews. We have almost 400 five-star reviews across Google, Yell and Facebook (plus that one lonely four-star we mentioned earlier, not that it bothers us…).
If you have a look through our hundreds of verified reviews on casks you will notice that almost all of our reviews are from people exiting their investments. We have vast experience in this side of the cask industry and as such we know how previous cask investors have made their profits. It is through this experience we can help you make a good investment in the first instance.
Conversely, in an industry that is based on long term investment you need to be cautious of reviews which are based solely on people being sold to. While they are important for good customer service these are not proof of concept – they are proof that the company selling to you is good at sales.
If a company's reviews are based solely on sales, then it is a sound idea to ask your sales contact for a testimonial of someone who has gone through the entire process with them: both entered and exited the investment.
Are their reviews real?
Unfortunately reviews are surprisingly easy to fake. So when looking at reviews you need to check:
   1. Are the reviews verified?
Google indicates whether reviews are from a verified account or not as do some other services. Another way to check this is to see if the account has a sensible name and profile picture and see if you can look at what else they have reviewed.
   2. Are all of the reviews related to products or services provided by the company?
This sounds like a silly one, but you'd be surprised how many people look at the number of reviews and the stars and do not read any of the content to see if those reviews are relevant. Paid for reviews often don't mention the product or mention the wrong one.
   3. Are the reviews spread out over a long period?
Clusters of large numbers of vague or unverified reviews should ring alarm bells as it can indicate that the reviews have been paid for.
Summary: Reviews are an important tool, but don't be blinded by those stars. Make sure reviews are relevant, verified and if you're unsure ask for a testimonial.
Conclusion
Casks can be a good investment, but when buying in an unregulated market, not to mention one that has expanded as rapidly as the private whisky cask market has in the last few years, it is exceedingly important to make sure you are doing your due diligence on any purchase you are looking to make.
If you go through the eight steps we have outlined and are happy with the answer to each then go ahead and buy the cask. However if even one point is not up to scratch then step back, ask yourself why, and consider your proposition.
If you have any questions at all, about a cask you own or are looking to buy then we are always happy to help. Simply email [email protected] or call the office on 01260 218 718.