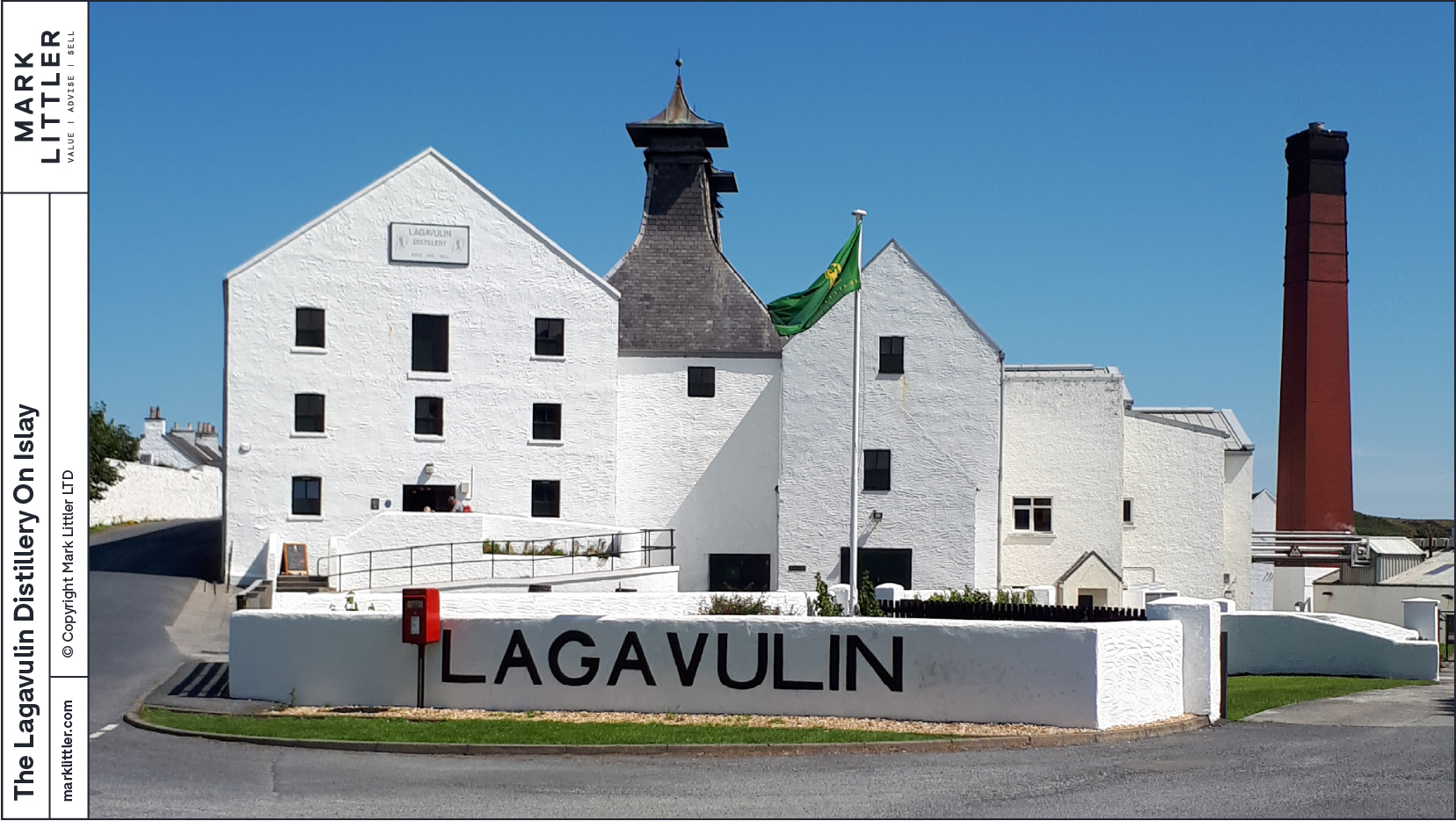 UPDATE: If you are looking for information on Delivery Orders you may also want to check out our updated 2023 article, What is a delivery order and how do you get one?
One of the main attractions to owning a cask of whisky is that it is a physical asset. But as casks of whisky have to be kept in HMRC regulated bonded warehouses how can you be sure your cask exists and that you own it?
We run through the intricacies of owning a cask and guide you through the areas to be wary of.
How cask ownership is transferred within the whisky industry
Scottish distilleries have the combined capacity to fill over 1 million hogsheads of whisky every year and within the industry casks are sold on a large scale: Brokers buying whisky for blending purposes might complete sales of up to 1,000 casks at a time.
When the sale of the casks is complete the seller instructs the warehouse holding the casks to transfer title of the cask to the new owner.
The standard in the industry is that this is done via a written delivery order that must be signed by both the seller and the buyer, and addressed to the Warehouse Keeper at the cask's given location.
In many ways the sale is similar to that when you buy a house; the only real change is the title to the property on the deeds.
Why only a signed delivery order will do

The reason a physical copy of a doubly signed delivery order is necessary is quite simple.
Casks are stored under duty suspension and a modest 2,000 cask warehouse would have approximately £9,000,000 of unpaid duty and VAT owed to HMRC.
Stringent ownership records must be kept under the laws that govern warehouses; WOWGR along with Excise Notice 196 and 197. Even in the smallest warehouses the Warehouse Keeper has a strict responsibility to ensure that accurate records of ownership are kept at all times otherwise their registration and licences may be revoked.
Every month the Warehouse Keeper must submit to HMRC a W1 or Excise Warehouse Return. A W1 updates HMRC regarding the details of the alcohol which has been received, dispatched and is currently stored in their warehouse.
As of 2006 a delivery order was not legally required, however delivery orders are still used as standard within the industry. Unless the warehouse where your cask is stored has explicitly stated that they will accept something other than a delivery order, you should assume a delivery order is necessary to own a cask.
Summary: The enormity of the debt held in suspension on casks and the associated responsibility to HMRC means that casks can only change ownership at the warehouse level. This is done through a signed and countersigned delivery order.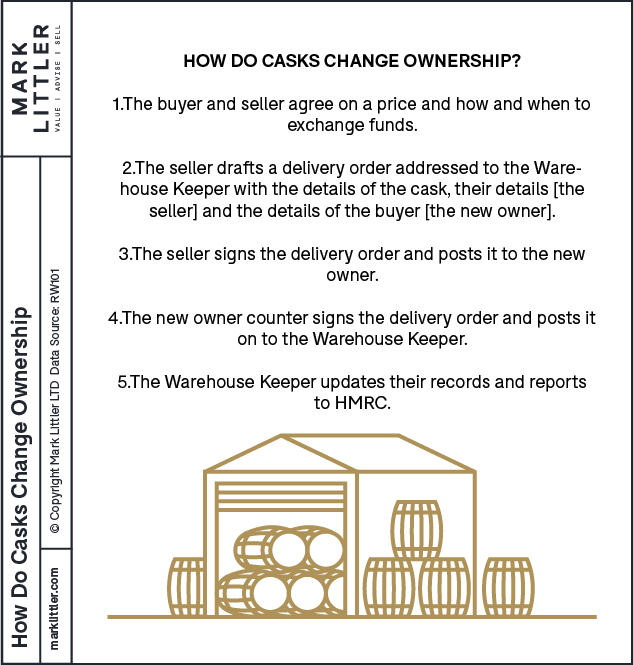 How cask ownership is transferred when you buy a cask from Mark Littler LTD
When you buy a cask from Mark Littler we are acting as your agent. We are not selling our own stock or inventory, rather we find you a great cask at a fair price and broker the sale between you and the supplier.  
Once you have signed the contract and paid your invoice, the warehouse where the cask is stored will be in direct contact with you. They will send you out a delivery order outlining all of the cask numbers and you will be required to countersign and return it to the warehouse. When it is received you will then be the legal owner of the cask.
If HMRC ever decided to do a spot check it would be instantly clear which casks belonged to you.
As such, if Mark Littler were to ever cease trading you would have a direct link to your cask at the highest possible level. It also means that you have full rights to transfer your cask to another individual, move the cask to another bonded warehouse or have the cask bottled.
When the title of the cask is transferred at a warehouse level you have full autonomy. 
The chain of ownership can be summarised as this:
The warehouse sends you a delivery order to countersign directly

The warehouse records are changed to state that you are the new owner

If HMRC audit the warehouse it is clear that the cask is held in your name

If the company who sold you the cask go out of business ownership of the cask is clear and could not be confused with the assets of the company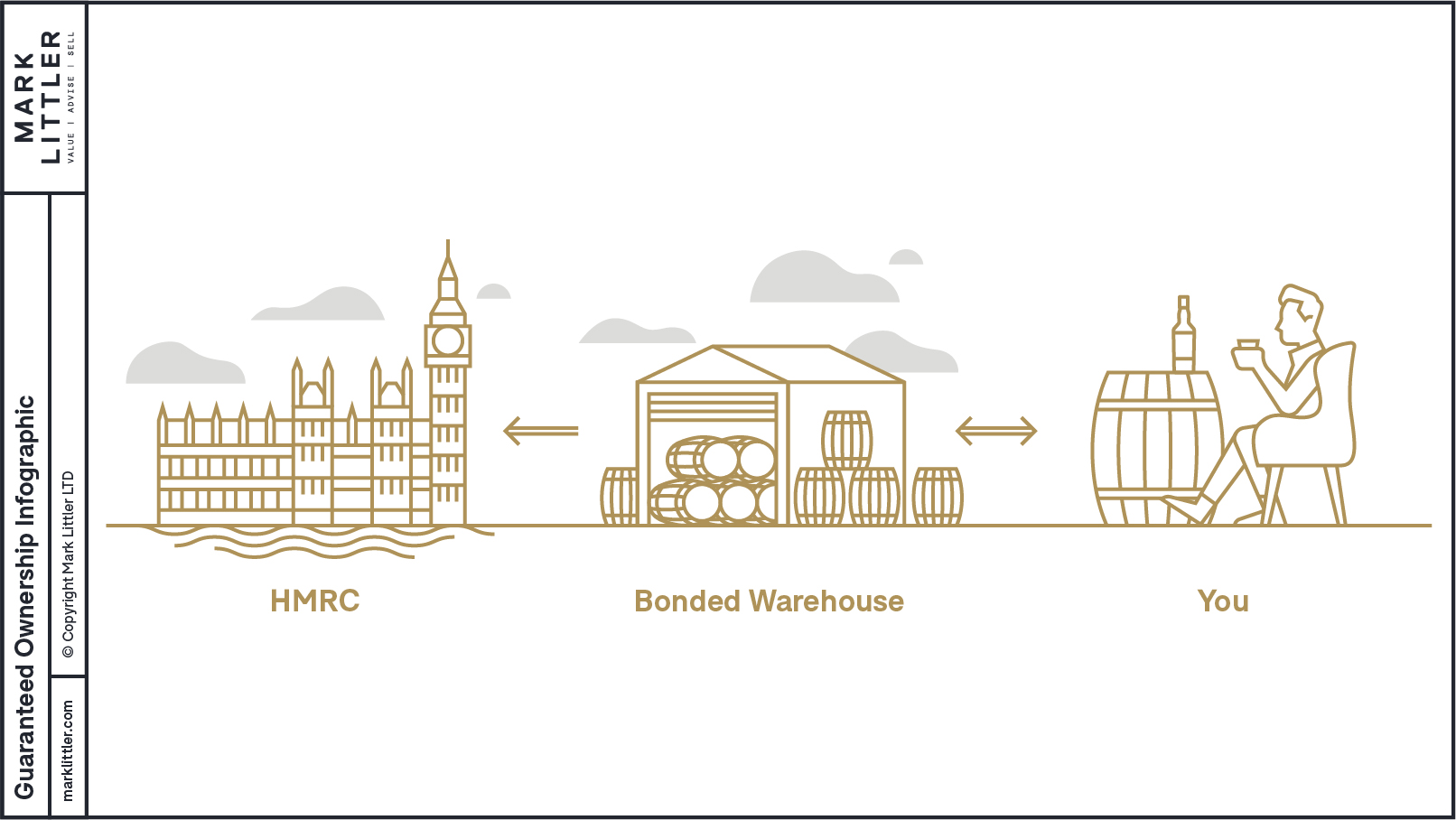 Summary: when you buy a cask with Mark Littler you will be issued a delivery order directly from the bonded warehouse so you can be guaranteed the cask is held in your name and your name only.
How cask ownership should not be transferred
The ownership of a cask or casks is not transferred with a certificate unless you have explicit confirmation from the warehouse that they will accept a certificate.
We have encountered casks that have been sold to customers who have only received a 'certificate of acquisition' or 'certificate of title'. This is often a sign that the transfer of ownership has been done at a company level rather than at a warehouse level.
A certificate of acquisition or title means that although internal records of the company who sold the cask are changed to show that the cask belongs to Mr Smith, it is still held under the company name at the bonded warehouse, and as such HMRC.
This has serious implications for you, your cask and your investment.
If the company was to ever fall into administration or cease trading there would be no records at the warehouse to show that any of the casks belonged to you. If HMRC ever did a spot check on the warehouse it would simply show that the company owned the cask and there would be no record of your ownership.

On a more basic level this also means that should you ever want to transfer the ownership of the cask to somebody else, move the cask to another bonded warehouse or bottle the cask, you would have to do so via the company who sold it to you in the first instance. You would not be authorised to do this directly because as far as the warehouse is concerned the cask is not held in your name. If the company changes its name or fails to respond to your requests you have limited options because there is no 'official' record of you owning the cask.
In other words you do not have full autonomy over your asset.
The chain of ownership can be summarised as this:
The XYZ company send you a Certificate of Acquisition

Internal XYZ company records are updated to show that you are the owner

Warehouse records still state that XYZ company are the owner of the cask

If HMRC audit the warehouse it will only show that the cask is held in the name of the company

If the company who sold you the cask goes out of business your asset is at risk if you do not have full confidence in the XYZ company's paperwork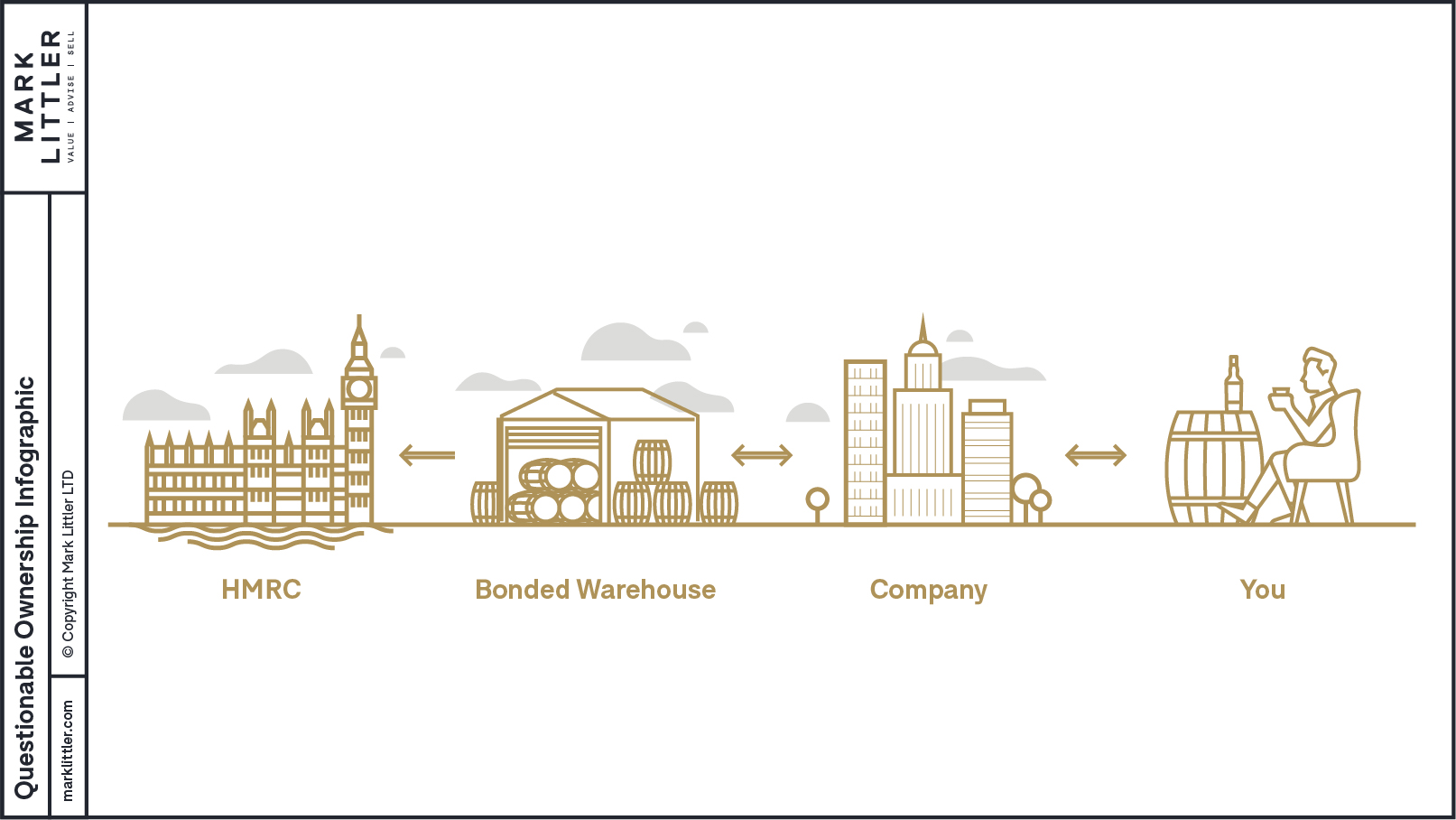 Summary: Issuing a Certificate of Title or otherwise is not a guarantee of ownership. More often than not it only indicates that the ownership of the cask has been transferred internally. You have no direct control over your cask.
Why internal transfers are cause for concern?
Internal transfers allow for Ponzi schemes
In case you do not know, a ponzi scheme is the sale of a singular item to multiple people. Warehouse Keepers and bonded warehouses are very strictly vetted by HMRC and subject to spot checking, which means if a cask is held on record it is as safe as if it were in the Bank on England. When a cask is transferred by a delivery order the bonded warehouses simply acts as an independent third party in the ownership of your cask (you simply pay them rent).
If a cask title is only transferred internally then the highly regulated Warehouse Keeper, and therefore HMRC, has no idea anyone other than the company owns the cask. As the cask owner you are relying on an unregulated company to only sell that cask once. Unfortunately ponzi schemes have been one of the most common scams in the alcohol industry. The Nant Whisky Group is one of the most famous past examples but there are current companies who have been associated with these types of schemes and wine investment scams are rife too.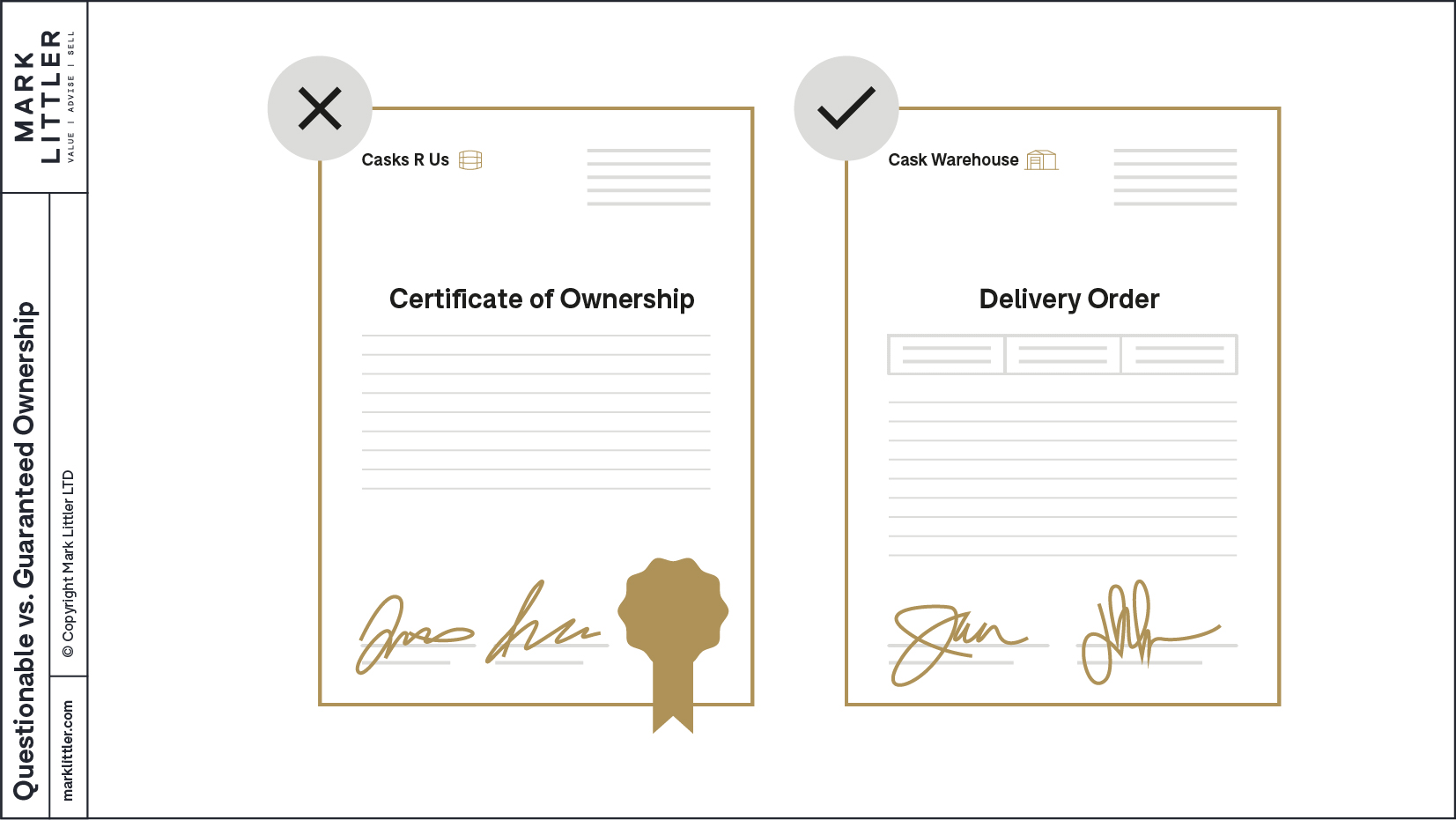 How do you know if you have full ownership of your cask?
If you are already a cask owner and are concerned that the cask you purchased is held in your name or not all you need to do is consult your paperwork.
If you have only been issued a certificate of title etc then there is a very slim chance the cask is held in your name at the warehouse it is stored at because you are required to sign a delivery order.
If this is the case you should contact the company who sold you the cask in the first instance and ask them for a delivery order to transfer the cask into your name at the warehouse.
Summary: If you did not sign a delivery order your cask probably is not held in your name at the warehouse level.
Insurance can also help you spot the problem
Another good indicator as to whether or not you have full legal possession of your cask is if insurance was included in the cost of your cask at the time of purchase.
Bruce Stevenson are the only insurance broker that we know of that offers insurance for casks of whisky. Their minimum policy costs around £350 and insures up to £100,000 of casks.  Increased cover, for instance £500,000 will only cost a small amount more as most of the initially £350 is their minimum policy fee. This applies to every new policy.
Consequently it is very cheap for a company holding £500,000 of casks to insure their stock if costs are looked at proportionately. This cover is blanket protection for all of the casks held only in the name of the policy holding company.
If ownership records are only changed internally then the stock at the warehouse can all be insured under the same company policy very cost effectively. If ownership records were changed at a warehouse level for every customer they will have to take out a new policy for every customer resulting in a £350 per year minimum policy fee for each customer.
As this is a sizeable cost, and one that would be accrued annually, it is unlikely that this could be offered for free. As such, if a company has offered insurance for X years as part of the purchase price you either paid a significant amount over the value of the cask at the time of purchase to pay for the insurance, or the company selling you the cask is operating at a loss, or they have not transferred the ownership and are therefore only paying one £350 per annum fee.
Summary: If your cask came with free insurance for x years this is a strong indicator that your cask is not held in your name at the warehouse level.
Send me my free cask buying guide
Do Bonded Warehouses ever go out of business?
Another consideration is what would happen if the warehouse went out of business?

It would not matter. HMRC would have records of all of the cask owners – which is updated monthly. Another company would take on the management of the bonded warehouse, or you would be notified to arrange to move your cask to a different warehouse and the new Warehouse Keeper would take over liaising with HMRC on your behalf.

It is worth noting that we have never known a bonded warehouse to fail or go out of business.
Questions or concerns about a cask you own?
We are always happy to answer people's questions about casks. Whether it is a cask you already own or one you are looking to buy we are able to offer free advice on all aspects of cask investment and ownership.
Simply send us an email or call the office on 01260 218 718, we are always happy to chat about whisky.
Read more