"Mark Littler LTD have created an incredibly comprehensive guide on investing in whisky. Ideal for someone looking to start building a collection or for someone who already has a large collection. Their guide breaks down the key factors to consider when buying bottles and is an excellent reference for anyone looking to learn more about building a whisky collection"
Blair Bowman
Author, whisky consultant and founder of World Whisky Day
Welcome To Our Whisky Investment Guide
The Best Investment Is Knowledge
Our Whisky Investment Guide is a comprehensive introduction to the world of whisky bottles as an alternative investment. Whisky bottles can be a fantastic investment opportunity if you know how to navigate the often complex market. At Mark Littler Ltd, we're dedicated to providing the education and tools needed to make good, rational investment choices over a long-term period. This guide will suit those embarking on their investment journey as well as those looking to expand their collection. This 80-page guide is an in-depth history and analysis of the market to help you make the best investment choices.    
What's Inside The Guide
Accessible And Effective Information
Our Whisky Investment Guide is designed with ease of use in mind. We have divided the guide into two sections: An Introduction To The Whisky Market and Your Whisky Investment Toolkit. Each of the two parts is divided into accessible chapters, each tackling a different aspect of the ever growing and evermore complex whisky investment market. The chapters will cover areas such as whisky indexes, how the perception of whisky has changed over time, and how to insure your collection as well as various other important topics.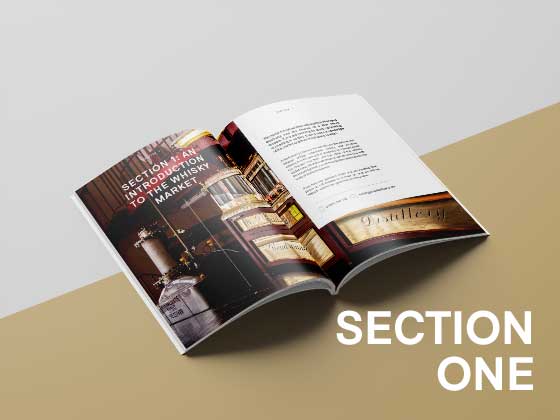 Section One
An Introduction To The Whisky Market
The first part of our guide aims to give an overarching view of the fundamentals of the whisky market. Part One will introduce whisky indexes and how to use them as well as taking a further look into how whisky has positioned itself in the market as a luxury asset over time. Part One will establish the necessary context needed for those looking to enter the whisky bottle investment market. 
Section Two
Your Whisky Investment Toolkit 
From the market analysis and theory of part one, part two of the guide is a more practical toolkit for whisky investment. This part of the guide gives you the skills to know what to collect when looking to invest in whisky bottles, ensuring you can effectively assess your investment opportunities. Part Two also offers resources for areas such as where to buy bottles, how to value your collection, and how to store whisky.
What's Inside The Guide: Section 1
Chapter One
The Market Overview
The opening chapter of our guide seeks to establish the broad, overarching history of the whisky market. The timeline begins in the 1960s with the first boom for single malt and details the rollercoaster of the market until today. Chapter one gives context to the various eras of the whisky market, including the golden age, the whisky loch, and the transition period, as well as offering explanations for the often dramatic changes to the whisky market. An understanding of how whisky has positioned itself in the market in the past can be vital when considering how bottles may perform in the future and their potential as an investment.
Chapter Two
Whisky Indexes: What Are They & How Are They Useful?
Chapter two of our guide introduces whisky indexes including the Knight Frank whisky index and Rare Whisky 101. As whisky investment has become more widespread, so too has the interest in and need for analysis of the market. Indexes provide this detailed bottle analysis and as a result can help when estimating projections for investments. Chapter two discusses the merits of indexes and how to use them, but also outlines the potential pitfalls of being too reliant on indexes and explains why they should be used with caution. This chapter also goes on to highlight micro variations in the market and how they can be imperative to understanding investment potential. 
Chapter Three
From Drink to Status Symbol: How Perceptions Have Changed
Over the last 20 years whisky has transformed from a drink to a status symbol. This has resulted in the creation of the secondary market for whisky and turned whisky bottles into both a collector's item and an investment. Chapter three discusses this transformation and presents an explanation using case studies from Macallan and Dalmore. Understanding why and how whisky has become a status symbol can help explain why some bottles of whisky are sold for much higher prices than others and can therefore help shape your investment. Chapter three also touches on what conditions make a luxury asset and therefore what to look for in whisky distilleries to spot a good investment.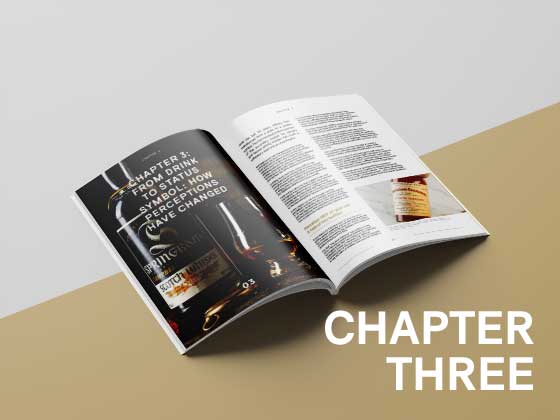 Chapter Four
Vintage Collectable Whisky 
Chapter four introduces one of our major key terms for our guide: 'vintage collectible whisky'. This is the section of the market that has transformed the most dramatically over the last twenty to fifty years. Vintage collectable whisky is the bulk of both the collectors' and investors' market and has the most available data. These factors make it imperative that a potential investor understands what makes a vintage collectable bottle and how to spot one, all of which is covered in chapter four. This chapter also includes a case study looking at the Springbank distillery and where it sits in the market and why.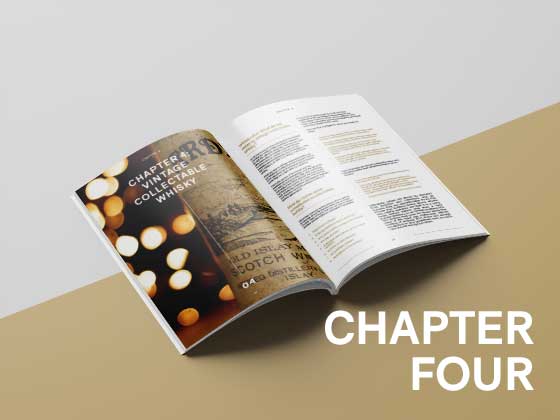 Chapter Five
Modern Releases
In a direct comparison to chapter four, chapter five takes a look at modern releases on the whisky bottle market. The chapter stresses that the whisky market is not homogenous and that different whisky performs in different ways and looks at how they differ as potential investments. Chapter five details the rise of the collector's release within the whisky industry and how that has given way to a vast number of modern release collectors as well as modern methods of sale such as ballots. The chapter also explains what the 'flipping' market is and the pros and cons that come with it.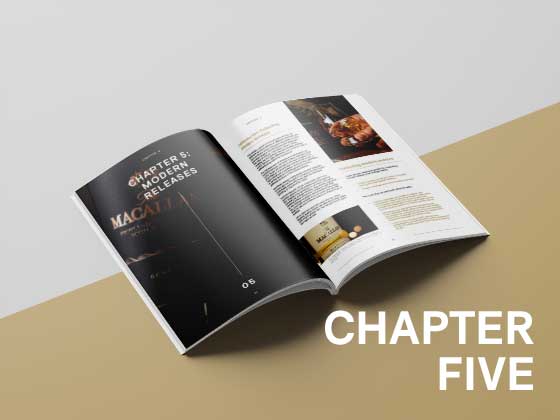 Chapter Six
The Transition Period: 2000-2010
Whilst chapters four and five discuss the more obviously defined eras of whisky bottles, chapter six focuses on the grey area between vintage and modern. This transition period is loosely defined as 2000-2010 to avoid missing important market changes and chapter six explains why this period definition should be used as a guideline as opposed to a solid cutoff. This chapter also discusses collectability and how some whisky bottles can blur the lines between vintage collectable and modern. We use chapter six to explain the marked change within the industry during this transition period and what that means for investors.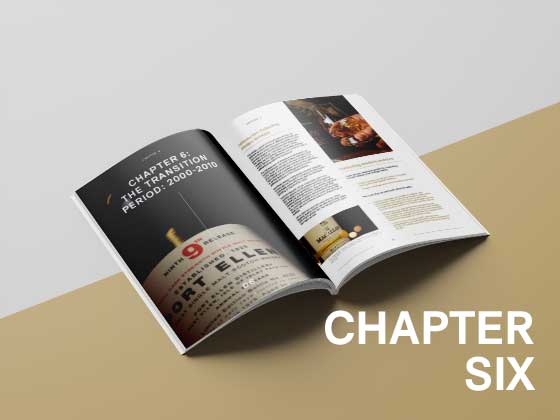 Chapter Seven
Case Study: Black Bowmore, Ultra Rare Whisky Or Modern Release? 
Chapter seven consists of our major case study of the guide: the Black Bowmore. This chapter provides the history and context to the Bowmore distillery and its most famous bottling. The case study examines the various editions of the Black Bowmore and how their prices compare over time, particularly their initial release price, in addition to how a mixture of factors created the perfect storm in the secondary market to ensure that the Black Bowmore releases would be incredibly sought after by investors. Long term series can have their merits as an investment as well as their risks and chapter seven details each outcome.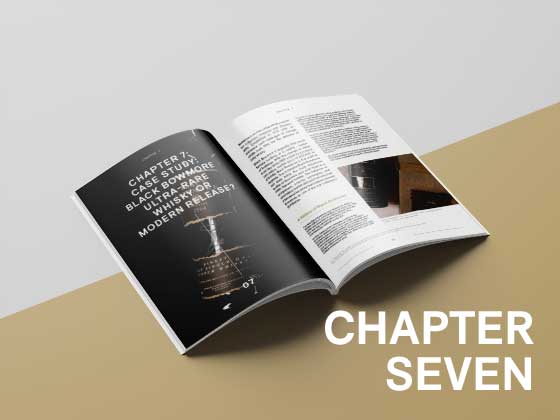 What's Inside The Guide: Section 2
Chapter Eight
How To Know What To Collect
The first chapter of part two starts to put the theory of part one into practice. In order to make good investment choices an investor needs to know what to collect, therefore chapter eight considers the multiple factors you should take into account before deciding where to put your money. Using auction data can assist an investor when looking at trends in the performance of a bottle and chapter eight explains what these trends mean for the level of risk of an investment. This chapter also addresses the question of if the whisky industry has hit its peak and offers some analysis of performance.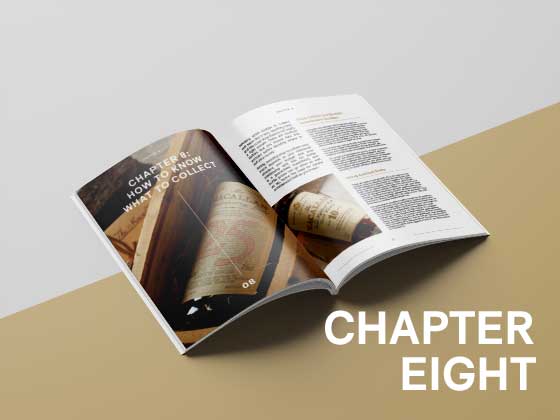 Chapter Nine
Where To Buy
Chapter nine tackles the three main methods of buying whisky and the pros and cons of each. Auction, retail, and private sales are all popular methods for purchasing and investors will likely use a combination of all three to build their own portfolio, despite often favouring one over the others. This chapter is composed of comprehensive records for retail, auction, and private channels for buying whisky bottles and offers each method's USP as well as any potential flaws. Whilst these records aren't exhaustive, they are the perfect starting point for those looking to begin an investment portfolio.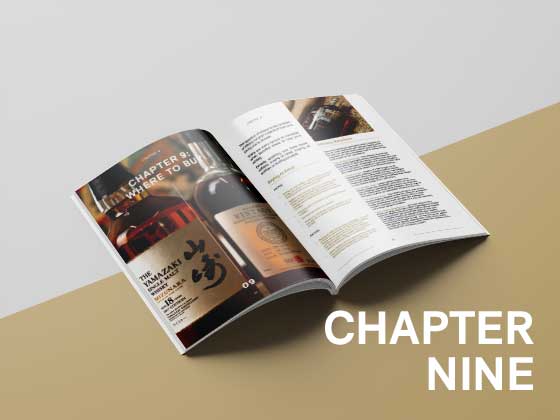 Chapter Ten
How To Value Your Collection
Once you have built a whisky bottle portfolio, either as a collection or an investment, you need to know how to value it. Chapter ten analyses the difference between the value of individual bottles vs a collection and how to get the most out of your investment. This chapter also presents a number of resources, such as the Rare Whisky 101 and Whisky Hunter databases and how to use them effectively to assess secondary market prices. This chapter also explains why retail prices are not reliable indicators of the value of your bottle investments.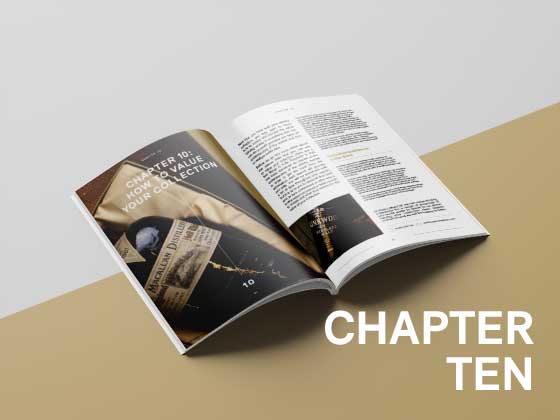 Chapter Eleven
How To Store Your Whisky
To maintain the quality and value of your whisky bottles they must be stored correctly in the correct conditions to prevent loss of liquid through evaporation or aesthetic damage to the label or box. Chapter eleven contains a comprehensive guide to storing your whisky in the correct conditions and how each condition of storage can affect not only the spirit itself but also the packaging which is often just as important. Storing whisky correctly can ensure the longevity of the whisky and ensure that you receive the best possible returns on your investment.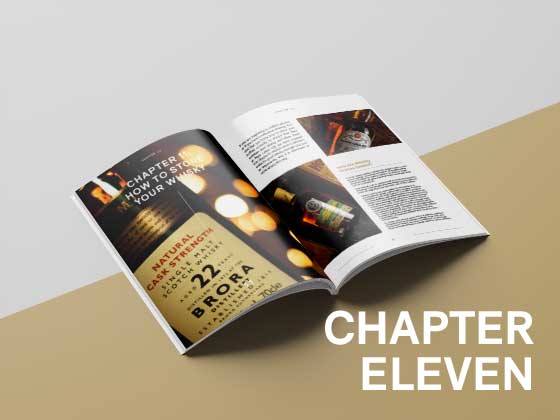 Chapter Twelve
How To Insure Your Collection
With the time and effort required to build a whisky portfolio, it's important to insure the bottles in case the worst happens. Whisky bottles are fragile and susceptible to damage as well as theft and a comprehensive insurance policy will help give peace of mind should anything happen to your collection. Chapter twelve of the guide details why insurance is important as well as ways to get the best cover for what you have. This chapter also explains how to know the value of your collection for insurance purposes so that your policy will cover exactly what it needs to.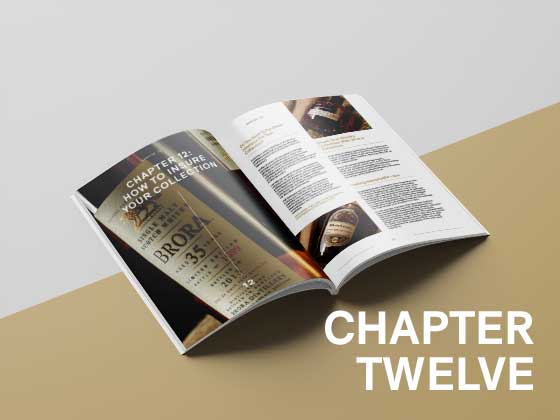 Chapter Thirteen
The Future Of Whisky Investment?
Our guide up until now has focused on the pre-existing tools and market for whisky investment. Chapter thirteen takes a look at new technologies on the rise in the world of investment and how they can relate to the whisky industry in the future. This chapter primarily focuses on tokenised assets and non-fungible tokens, explaining what they are and how they can be used. This chapter also features a Q&A with industry expert, Ash Madhvani of Bitz Solutions.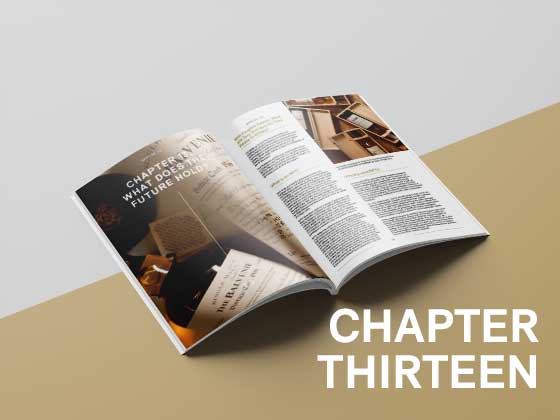 Chapter Fourteen
Summary and Conclusions 
Our Bottle Investment Guide has taken you through the market, its history, and the tools you need to successfully navigate it. While it doesn't give you a list of exact bottles to invest in, you should now have a comprehensive understanding of how to invest successfully over the long term period.