A Richard Feynman quote seems apt to start this article: "The first principle is that you must not fool yourself – and you are the easiest person to fool."
This was true in the post World War II era, and is even more true in the world we now find ourselves living in where 'Fake News' spreads faster than real news and the internet makes it increasingly easy to find the answers you want (and ignore the ones you do not).
The whisky cask market is not exempt from its own kind of fake news where limited examples are used to suggest all casks can make you 10-18% per annum returns.
So, what is the truth about cask investment? The Scotch Whisky Association recognises that casks can be a personal investment opportunity but state that potential investors should be aware of the nature of the Scottish whisky industry in order to assess any offers they receive. As a company we have sold millions of pounds of casks for our customers and we also believe that casks can be a good investment, when done correctly, which means:
Understanding that casks are a long-term investment (10+ years)
Buying young casks, and selling them as old casks
Paying a fair initial price for you cask of whisky
The elephant in the room: 10-18% per annum returns
The principle behind cask investment is simple: the value of whisky in a cask increases with time due to a perceived increase in quality due to interaction with the cask and because the scarcity of whisky increases with age (see Graph 1 below). Scarcity increases exponentially for two reasons:
Firstly, casks are not used (i.e the whisky in them sent for bottling) evenly throughout their lifetime; 90% of all casks are bottled before they reach 12 years old.
Secondly, a cask's volume and ABV decreases throughout its lifetime due to evaporation. This reduction is often stated as an average at 2% a year, however the rate starts lower and increases more rapidly as the cask gets older (because the surface area available for evaporation increases as more and more evaporation takes place – a positive feedback loop).
Casks are cheaper when they are younger and get more valuable as they get older. However, the relationship between scarcity and age means that the value of casks increases more rapidly as they get older; the relative jump in price between 5 and 10 years is smaller than the jump between 15 and 20 (see Graph 2 below).
If you average out the change in value between a 3-year-old cask of whisky and a 20 year old cask of whisky you can get some impressive numbers. In our opinion this is where the fabled 10-18% returns come from.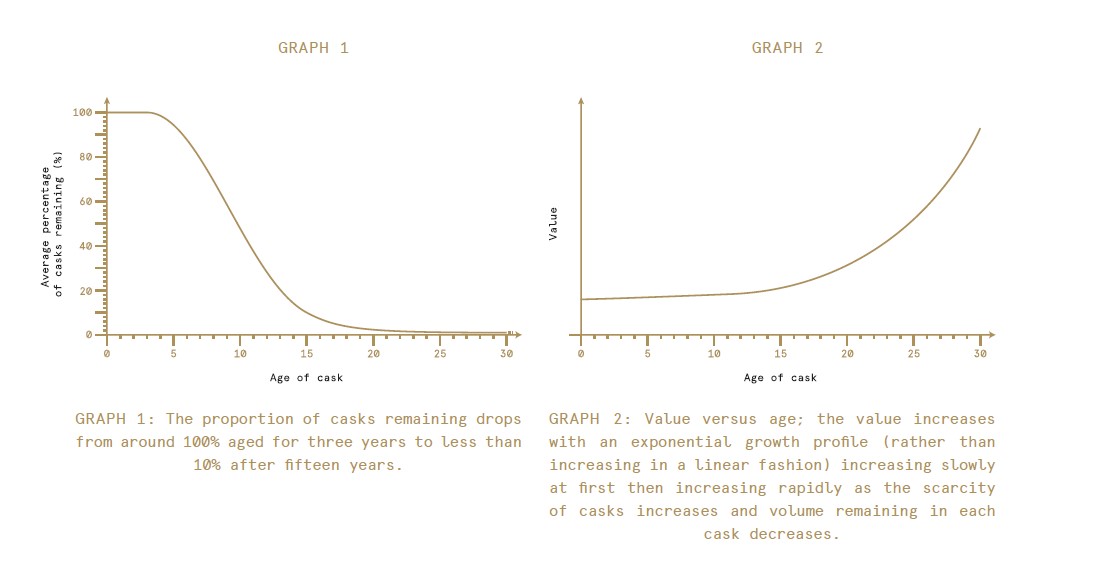 Indeed looking at Graph 2 above it can be pretty tempting to think, well why can't I buy a 15-year-old cask and sell it as an 18 year old cask in order to short cut the maturation process and get a quick return? I'll go in to why, but first let me rephrase the question in a different way: Why are companies offering you the chance to invest for 10-18% returns when they could get a small business loan at around 5% and still be making 5-13% on their money?
Investing in older casks: the angel's share
As we have just said, the value of older casks increases more rapidly than younger casks. If you have the capital to invest in the right older cask, for a fair price and keep it for a medium amount of time there is potential to see returns.
However, you need to be aware that casks do not age indefinitely. The angel's share – the loss due to evaporation – eventually means the cask will evaporate completely or the alcoholic strength will drop below 40% and you can no longer legally call the spirit inside whisky. This means you need to be careful about which cask you choose to buy; you must by a healthy cask with a robust RLA and a good ABV.
You also need to ensure you are paying the right price for your mature cask. There is no simple way for a member of the public to verify the value of a cask and as such it is much easier for unscrupulous sellers to manipulate the price. Overpaying for a cask means you will have to keep your mature cask for longer in order to make a profit – something that must be balanced against the relative drop in ABV and volume within your cask.
What do we mean balance it against the relative drop in ABV and RLA?
Casks are generally valued on a price per RLA (regauged litres of alcohol). The longer you keep your whisky cask the more liquid will evaporate. However, the value of the whisky in the cask increases with age. This creates something of a paradox. Simply put, although the value of your whisky per litre will increase, the number of litres you have will decrease. 
For example, if you have a value of £100 per RLA on a cask with 100RLA then the value is £10,000. Let us hypothesise that the cask is mature, from a sought after distillery, has an ABV well above 40% and experiences an average loss of 2% per year due to evaporation; if the price per RLA rises at 10% per year after 2 years the price per RLA is £121 but the RLA is 96 so the value has risen to £11,616 (rather than £12,100 if the RLA had remained at 100). For the same cask, in five years the price per RLA would have risen to ~£160 but the RLA has dropped to 90L. You must also remember that a high ABV commands a premium, and the ABV also drops each year so it is not so simple as simply saying a cask's value increases at a rate of X% per year.
Investing in older casks: the myth of anniversary year value jumps
A myth that goes hand in hand with the 10-18% returns is the concept of anniversary years significantly increasing the value of a cask. The whisky sold in supermarkets is predominantly from certain anniversaries: 10, 12 15, 18 years old etc – therefore the suggestion is that whisky at these ages is more desirable than the ages either side of these years. That is then used to imply that if you buy a 14 year old cask and sell it as a 15 year old cask you will get a premium.
This is simply not true.
It takes a long time to do anything with casks. So if your cask is healthy (and by that we mean it has a good RLA and an ABV significantly above 40%) any sensible offer on your cask as a 13 year old or 14 year old will take into account the fact that it will likely survive to 15 years. As such it is the ABV and RLA that has a bigger impact on the value than the specific age.
In addition, most independent and private bottlers do not care about anniversary years; they bottle casks at whatever year they think will produce the best whisky for them (most do not have long running age statement series like distillery release do, and do not have to adhere to supermarkets' requirements). Often it makes no odds to a private buyer whether the cask is 13, 14, 15 or 16 years old so long as that cask is healthy. They may pay a premium for a 20 year old cask versus a 15 year old cask, but that increase in value will be smooth; in general the value of a cask will not jump significantly between years – unless you have a leak or the ABV drops below 40% in which case your cask's value is likely to drop rather than rise.
Investing in older casks: Casks and the Knight Frank Index
2019 saw bottles of rare whisky once again included in the Knight Frank Luxury Investment Index after their inaugural year in 2018. The index showed that bottles of whisky continue to perform strongly compared to other more traditional luxury investments such as gold, art and jewellery. While whisky bottles' continued strength confirms that bottles of whisky are now considered a luxury investment you cannot use the success of whisky bottles to indicate how a cask of whisky might perform as an asset.
Whisky casks and whisky bottles are fundamentally different products. Using an index for bottles to predict the performance of casks is like comparing the purchase of bricks and mortar to the purchase of a luxury, penthouse apartment in a nice part of London: One can be used to make the other, but without the other key ingredients that go into making a premium, sought-after product (brand, desirability etc.) you simply have a large quantity of building material.
In the case of whisky casks that building material (the spirit in your cask) has historically always increased with age due to an increase in perceived quality over time and increasing scarcity; the fundamental premise of investing in casks. Once bottled the quality of whisky is set, and therefore it is branding and desirability that will cause the increase of a bottle of whisky to increase. The market for each product is very different, and it is important to understand this when looking a buying bottles or casks as an investment.
Investing in older casks: What The Scotch Whisky Association Say
The Scotch Whisky Association recognise that casks can be a personal investment opportunity so long as the potential investor is aware of the nature of the Scottish whisky industry. That may seem like an obvious thing to say, as most people are unlikely to buy other investments without having a solid base understanding of how investments in that sector work: checking house prices, or researching share performance.
However casks are not designed for the public; more than 400million litres of pure alcohol can be made in Scotland each year, a tiny fraction of that makes it into public hand so there is no impetus to provide public indexes on price and performance and therefore there is very little information out there on what to expect if you buy a cask of whisky.
It is our aim to change that.
So, are casks a good investment?
We have provided hours of video, blogs and information to try and educate the public about cask investment so they can make the right purchase. As well as our blog and YouTube channel you can sign up to receive our Cask Buying Guide: a free magazine about buying and owning a cask of whisky.
At Mark Littler Ltd. we know that casks can be a good investment. We can be confident in this assertion because we have sold millions of pounds of casks for customers who have made anything from £5,000 to over £140,000.
The important thing when buying a cask is to stick to three simple rules:
Acquire a sound understanding of the whisky industry
Understand that casks are a long-term investment
Pay a fair initial price for you cask of whisky
If you want to learn more about cask ownership and investment we have written a 52 page magazine just for you. In it you will find explanations of the three golden rules as well as a comprehensive introduction to the world of cask ownership.
If you would like to receive a copy please complete the form below and we will post one out for you to read at your leisure.
Send me my free cask buying guide
Simply fill in form below and we will post your 52 page guide to get you started on your whisky adventure.