Whisky barrels can be a great investment when done correctly. At every point in the investment, you must make sure you are in the know about how to buy a cask at the right price, how ownership is transferred, and which distilleries to buy from.
This article is designed as a starting point to help you ensure you know whether barrel investment is the right path for you.
Whisky Barrels Are A Long-Term Investment
It can take around 10-15 years to see a decent return on your barrel investment. Therefore, if you are looking for a short-term investment then barrel investment probably isn't the right investment for you. There are a few reasons for the longer timescale of barrel investment.
Firstly, the whisky inside barrels needs at least three years to mature before it can legally be considered whisky, and the longer it matures the better the whisky inside the barrel is considered to be.
Secondly, 90% of whisky casks are bottled before they reach 12-years-old. Therefore if you let your whisky mature for over 12 years then your whisky will be rarer. This causes an additional increase in value due to scarcity.
Lastly, waiting at least 10 years before selling your barrel gives the distillery that you bought from time to invest in their brand, and reposition themselves in the market. Much of the increase in value of barrels comes from the public perception of the brand. I will go into more detail about this in a later section.
Of course, not every distillery has the status that a luxury distillery such as Macallan has, but the lesson remains: the more a distillery invests in their brand, the higher premiums their products command. However, this takes time, which is why we encourage you to think about barrel investment as a long-term journey.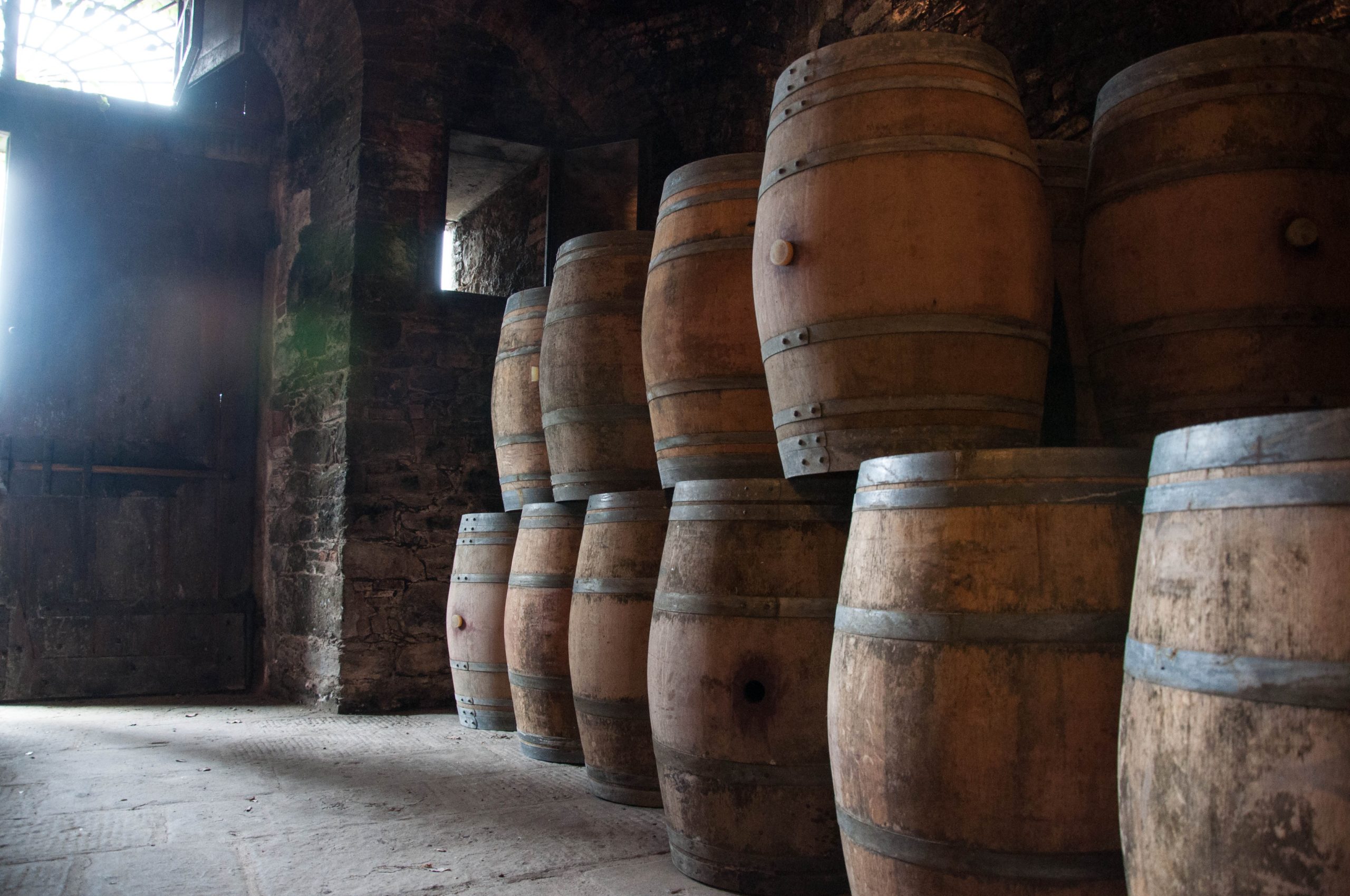 Whisky Barrels Are A Finite Investment
It is also important to remember that whisky barrels are a finite investment; every cask is bottled at some point during its lifetime. Although you do not have to be the one to bottle the cask if you do not wish to, you can sell the cask in bond to be bottled by somebody else but eventually it will be bottled.
As a barrel matures the whisky inside it slowly evaporates (the evaporated liquid is called the angel's share) at a rate of about 1% – 4% per year. The ABV (alcohol by volume) also drops by around 0.5% per year. So if a cask is left to mature for too long then eventually the ABV of the whisky will drop below 40% at which point the spirit inside the cask is no longer legally whisky at all, or the contents will evaporate completely, making the cask essentially worthless.
For this reason, you should always keep an eye on the health of your cask. This can be done using a regauge.
What Is A Regauge?
When owning a cask it is important to keep an eye on the health of your cask. This can only be done with something called a regauge. Regauges are performed at your request by the warehouse in which your cask is stored. The regauge will tell you two things.
The bulk litres of your barrel – how many litres of liquid are in the barrel.

The ABV – alcohol by volume.
From these two figures you can then work out the regauged litres of alcohol, or RLA, of your cask. For example, if you have 200 bulk litres in your barrel at 50% ABV, then there are 100 litres of pure alcohol in that cask. If you have 100 bulk litres at 45% then you have 45 litres of pure alcohol, and so on.
Using a regauge you can see the ABV of your cask and use that to decide when to sell. For example, if the ABV of your cask is at 42% then you should be looking to sell. If it is at 52% then you can hold onto it for a few more years.
Barrels are a finite investment, and a regauge is the only way of keeping an eye on the health of that investment.
Buying Your Barrel From The Right Distilleries
As mentioned above, the best way to get above-average returns is to buy your barrel from a distillery that is looking to invest and expand upon their brand. For example, barrels of Macallan could be bought for £3,000 in the 1990s. Fast forward 25 years and a barrel of Macallan holds the record for the most expensive whisky cask sold at auction, and Macallan is considered one of the most luxurious whiskies in the world.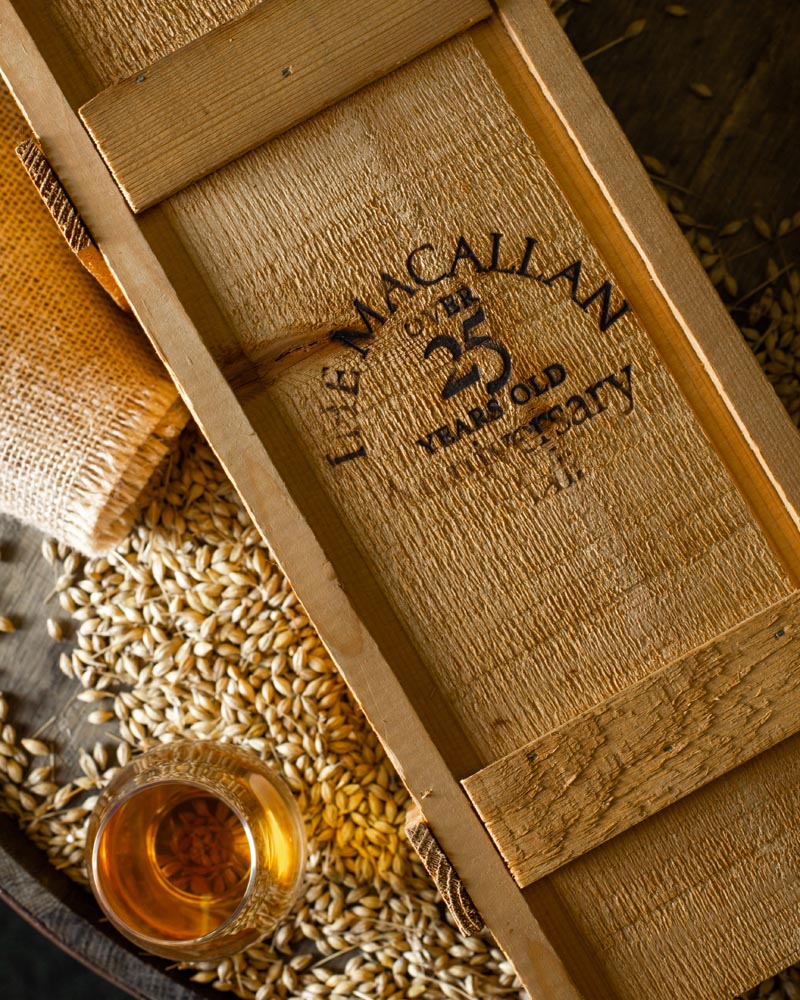 Whilst you cannot know whether a distillery is looking to invest in their brand for sure – only the distillery's marketing team will know how they plan to market the brand – we can help you to choose which distillery to buy from by drawing on our experience of helping people exit their investments. From helping our clients sell barrels of Macallan, Springbank, Arran, and more, we have learned to infer from recurring patterns what the signs are that a distillery is looking to invest in their brand and use this information to guide you in your investment.
If you are looking to invest in a particular distillery or would like guidance, then please contact us and we will be happy to discuss your options with you. 
When Barrel Investment Can Go Wrong
We aim to give you impartial information and advice on how to make an informed barrel investment and avoid the common mistakes that some people make when investing in a barrel. In the following section, I will discuss the importance of delivery orders and the perils of overpaying for your cask.
The Importance of Delivery Orders
Delivery Orders are the most important thing that you receive when you buy a cask. A delivery order is the industry standard way of transferring cask ownership, and they make sure that cask ownership is transferred to you at the warehouse level, and not just the company level. Let me explain using a scenario:
Jack buys a barrel of whisky from Casks'R'Us and is issued with a Certificate of Title from Casks'R'Us. Casks'R'Us change their internal documents to say that Jack is the owner of the cask. However, at the warehouse in Scotland where the cask is housed, the warehouse documents do not change – they still say that Casks'R'Us is the owner of the cask.
Ten years later Jack approaches Mark Littler Ltd about selling the cask. We tell him he needs to contact the warehouse to get a regauge but Jack explains he doesn't have a contact at the warehouse because when he bought the cask Casks'R'Us told him that he needed a Warehousekeepers and Owners of Warehoused Good Regulations Certificate in order to qualify for a delivery order and get a account directly with the warehouse. We regret to tell Jack that this is not true. Unless you are a revenue trader i.e. a business, you do not need a WOWGR. Because Jack doesn't have a delivery order, he only owns the cask at company level, not warehouse level, meaning that if he wants to sell the cask he needs the permission of Casks'R'Us. This makes the sale process rather difficult, and Casks'R'Us have the right to obstruct the sale if they so wish as they are technically still the owners of the cask.
Excise Notice 196 5.1 states that "[a]ll owners of duty-suspended excise goods must obtain approval and registration, unless […] the owner of the excise goods is not a revenue trader".
The above legislation is available to read on gov.uk and is useful to have at hand when discussing barrel investment with a dealer or broker. If a barrel dealer or broker tells you that you cannot have a delivery order without "a WOWGR" they are lying to you.
Furthermore, if in the example above CasksR'Us had ceased trading then Jack has even more issues; Jack now has to find the owner and prove that he purchased the cask and has the rights to the profit when it is sold.
The absence of a delivery order can make it very difficult for barrel owners to have autonomy over their investment. This is why it is so important to make sure that you receive one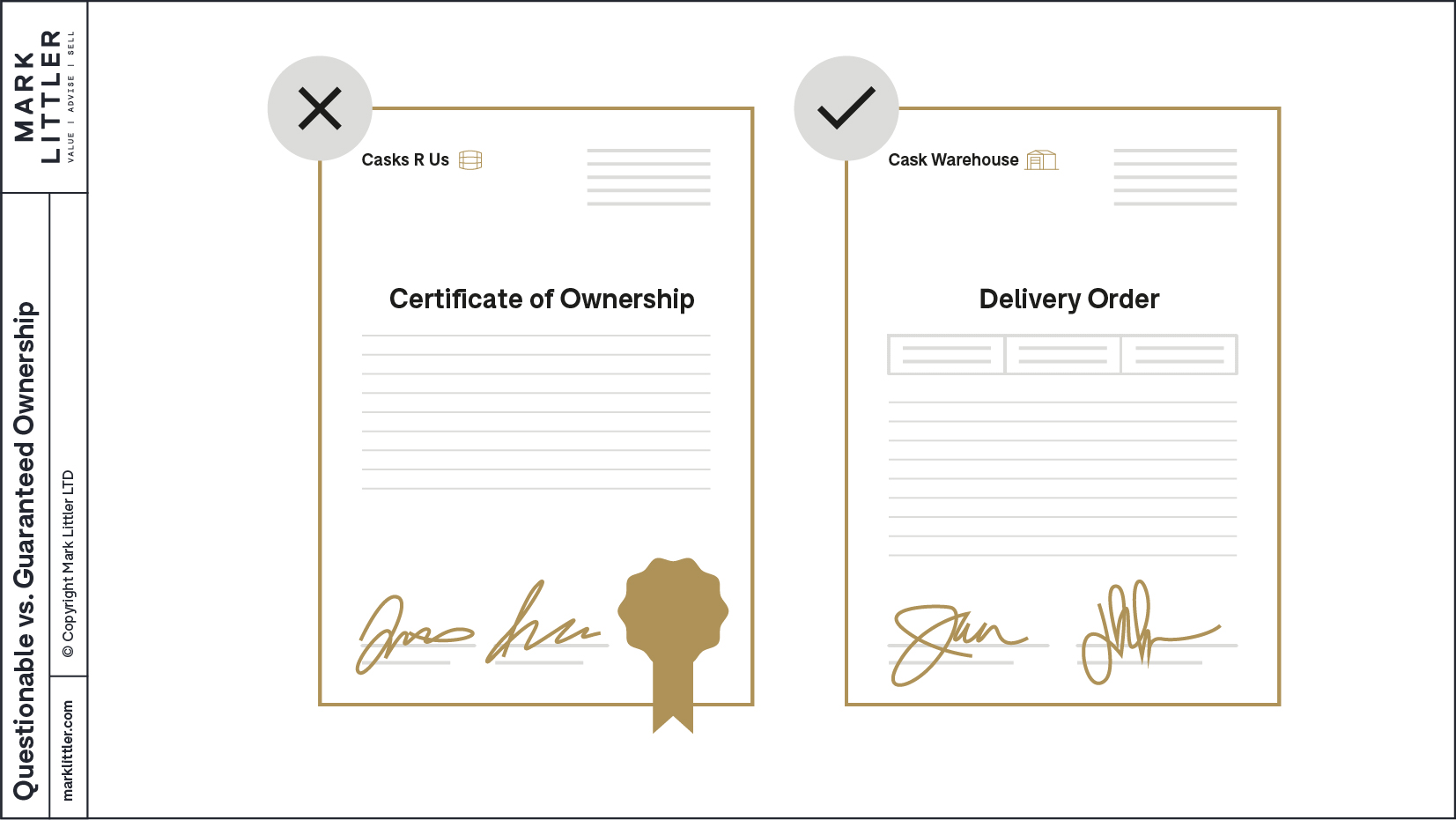 Paying Too Much For Your Barrel
If you are overcharged for your barrel you will not make as much of a return on your investment, so it is very important to make sure that you are paying a fair price. Mark Littler Ltd are happy to provide a free and impartial barrel valuation should you be looking to buy.
When you are looking to invest in barrels it can be difficult to know how much you should be paying for them. Barrels are an unregulated industry, which means that dealers and brokers can charge whatever they like as there is no governing body, in the knowledge that most of their clients will have no idea whether or not they are being overcharged.
With many other investments, there are publicly available databases that investors can use as a reference for what something is worth. For example, if you want to know the average price of a two-bedroom house in Congleton then you can go onto Zoopla and do a property search. This is not the case for barrel investment. There is no publicly available database for barrel values. Many buyers believe that whichever broker, distillery, or dealer they are buying from is being honest about the value of the cask. Unfortunately, our experience suggests that this is often not the case.
We have designed a Cask Calculator that you can use right now to learn the true value of your cask. The calculator will give you a price per bottle that you can then compare to wholesale* bottle prices.
*It is important to compare wholesale and not retail prices. The RRP markup on whisky bottles can be as much as 40-60%, so this will not give you an accurate picture of how much your cask is worth.
We have also written an extensive blog on the most famous whisky scams and the lessons learned from each of them. If you are in-the-know about the whisky industry and the common mistakes made by people looking to invest in barrels, then you can avoid making such mistakes and have a rewarding barrel buying journey.
Shop the latest bottles from our store…
How Barrel Investment Should Work:
You contact Mark Littler Ltd about buying a barrel of whisky and we have a conversation with you regarding your expectations for your investment and what kind of barrel you are looking to buy.

You set a budget and we search the market to find the right barrel for you at the best price.

We present you with a list of casks for you to choose from and an opportunity to further discuss your options.

You choose the best cask for you and you then complete the order form and sign the contracts.

You then pay for your cask.

The warehouse issues you with a delivery order which you sign and return. You are entitled to a copy of this once it has been signed by all appropriate parties.

We then issue you with a barrel owner's certificate and welcome pack.

Your cask is moved to the warehouse that we work with in Scotland.

You have the opportunity to commission a replica cask head as a memento of your barrel buying journey. This is done at an additional charge.

You have more access to your cask than most other brokers in the world will offer you. You can make an appointment to visit your cask at Dalswinton and have the opportunity to draw samples from your cask.

Congratulations! You are now the proud owner of a barrel of whisky, and you have a delivery order to prove it.

In 10 years time, you approach Mark Littler Ltd about selling your cask. We find you a buyer that will offer you a fair price for your cask. The process is quick and easy as you have a delivery order to prove your ownership.*
*You are under no obligation to buy or sell your cask with us should you contact us for any reason. The above process is an example of how we work, and how we can help you fulfill your barrel-buying dreams. If you have any questions about the process then please get in touch.
Managing Your Expectations About Barrel Investment
A quick Google search regarding the returns that you can get from barrel investment will show you many results that promise 10-18% returns per annum. It is important to manage your expectations about barrel investment, and believing that these annual returns are possible is one of the most common mistakes that people make when investing in barrels. 10-18% annual returns on casks are not possible. Let me explain why.
As mentioned previously, casks are a long-term investment. You own the cask in bond, meaning that your capital is tied up in the investment. You will not make any money on the cask until you come to sell. If 10-18% per annum returns on whisky casks were possible then every business-owner, investment fund manager, and pension fund manager in the world would be investing their money in casks. After all, if you could take out a 5% business loan and then invest that money in casks, make an 18% per annum return, and then pay back the business loan, wouldn't you? Of course you would. However, as mentioned earlier, you will not see a return on your barrel until you come to sell.
Barrel investment can be rewarding over a long period of time. When you average out the increase in value between a 3-year-old cask and a 20-year-old cask you may well see a 10-18% increase in some casks. However, this is not an annual return from your barrel, and the eventual return that you see can vary massively depending on the health of the cask and the position of the brand in the market.
Why You Should Buy A Young Barrel
Buying a barrel at the right price is easiest when buying a young barrel. This is because it is easier for the market to manipulate the price of mature barrels so that investors unknowingly overpay. Younger casks are easier to value because they essentially comprise the material that you see before you: the barrel itself and the spirit that fills it. If the whisky in the barrel has not had that much time to mature then it will not have taken on much value yet. Hence, younger barrels are cheaper to buy and easier to buy correctly. That is why we only broker barrels that are under 12-years-old as an investment.
As a guide, we suggest that £4,000-£8,000 is sufficient to buy a 3-10 year old barrel suitable for a long term investment.
Send me my free cask buying guide
Ready To Buy A Barrel?
Here at Mark Littler Ltd we are committed to helping our clients buy a barrel at the right time and for the best price. We source casks from wholesalers for our clients – not from distilleries or dealers – and have conversations with our clients about their expectations of cask ownership so that we can ensure that you own a cask that is suited to you.
We will provide you with a signed delivery order and certificate of ownership, and well as the chance to visit your cask and draw samples for special occasions. No other broker provides such exclusive access to your cask.
Then, in 10, 15, or 20 years when you come to sell your barrel, we will talk with our buyers to help you get the best price for your barrel, and therefore the best return on your investment. However, even if you do choose to buy a barrel through us you are under no obligation to sell with us. You can sell your barrel however you choose.
If you would like to read even more in-depth information about what we do then please sign up to receive a pdf of our Cask Buying Guide. The guide goes into even more detail about the services that we offer, how the industry works, and how barrel investment works.
We also have a wealth of information readily available on our website, including Cask Investment Videos, and Cask Investment Articles.
If you are ready to choose your barrel and begin your journey or have any questions please get in touch via email at [email protected] or call our office on 01260 218 718.