The Macallan Edition Series is an opulent range of six annual releases by Macallan. Each edition is a mix of several different casks, intended to showcase the range of Macallan's abilities and ways of producing luxury whisky. The last instalment was released just last month (October 2020). So, now that the last bottle has been released, how have the prices of the other instalments fared? And, what causes the change in values?
Edition No.1 
Edition No.1 was released in 2015, and, although I cannot find a record of an original retail price, it is generally accepted that this was around £100. In subsequent years the Macallan Edition Series No. 1 has increased significantly in value.
The graph in the introductory section shows the growth in value of all of the bottles in the Edition Series since 2016. As you can see, the growth of Edition No.1 has been steady, with the value of the bottle increasing with every year and, by extension, each new release. This growth could be due to the fact that with each new release the previous bottles become more collectible, with Edition No.1 being the most sought-after. This is because No.1 was somewhat overlooked when it was first released, meaning that collectors in subsequent years realised their mistake in not buying in the first instance. As a result, No.1 is more in demand than the other editions, hence the high auction prices in recent years. 
This graph shows the growth of Edition No.1 in 2020. In the months prior to September, the value of No.1 held steady around the £600-£700 mark. As you can see, there was a large increase in value around September and October this year. This is because the last edition (No.6) was released around this time. Now that the last edition has been released there is more of an appetite among collectors to own the complete series, hence the increase in price as collectors entered into bidding wars at auction in a bid to own an Edition No.1 and complete their collection.
Edition No.2
Edition No.2 was released in 2016 with an original retail price of £85. The price of Edition No.2 has only increased very slightly in the years since its release, probably again owing to the increased collectibility as the other editions were released. However, it seems that collectors were not willing to pay as much for Edition No.2 as they did for Edition No.1. No.2 was not overlooked after its initial release, but did not make a huge impression on the market either. Thus, the price has stayed around the £100 mark over the years.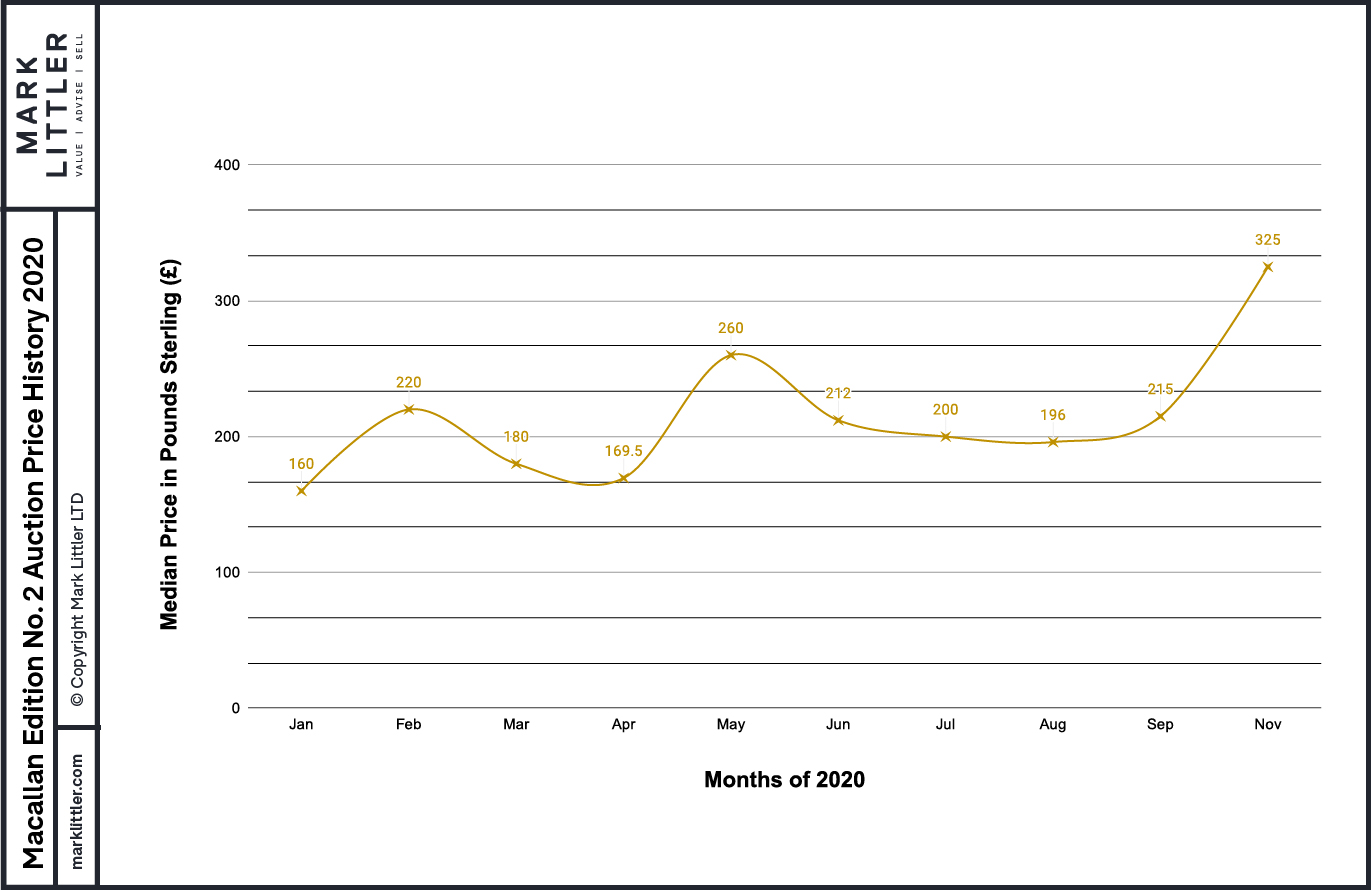 However, we can again see an increase in the prices paid for Edition No.2 at auction in 2020. This again coincided with the release of Edition No.6, and so we can begin to see a trend in the prices of the bottles in the Edition Series. As the releases subsequent to Edition No.1 are frequently seen at auction, there have been no bidding wars instigated that would cause an increase in price. The same can be said for the rest of the bottles in the Edition Series.
Edition No.3 
The Macallan Edition Series Edition No.3 was released in 2017 and had an original retail price of £90. Much the same as Edition No.2, No.3 saw a little growth around 2016 and has remained fairly steady ever since. It is important to remember that this is a series of non-age statement whiskies, with multiple casks going into each bottling. Therefore, the bottles do not command as high a premium as they would if they were single cask bottlings.
In parallel with Edition No.2, No.3 saw a sharp rise in value from September-November of this year, owing to the release of Edition No.6. This final release gave collectors the opportunity to own a vertical of Macallan Edition Series bottles, hence the increase in value.
Edition No.4
Edition No.4 was released in 2018 and had an original retail price of £95. No.4 saw a small increase in value in 2016, but the value has only declined since then, with prices going back down to around the original retail price of the bottle.
Edition No.4 follows the trend that the subsequent releases have set in that it saw a price increase in October of 2020 as the collection became complete and collectors set out to build verticals.
Edition No.5 
Edition No.5 was released in 2019 and had an original retail price of £99. Edition No.5 has remained the most consistent in terms of value since its release, with the price only rising to £140 in October 2020 to coincide with the release of Edition No.6. This lack of increase is probably due to the bottle still being a very new release with plenty available on the market. Therefore, there was not much competition between those who wanted to buy a bottle.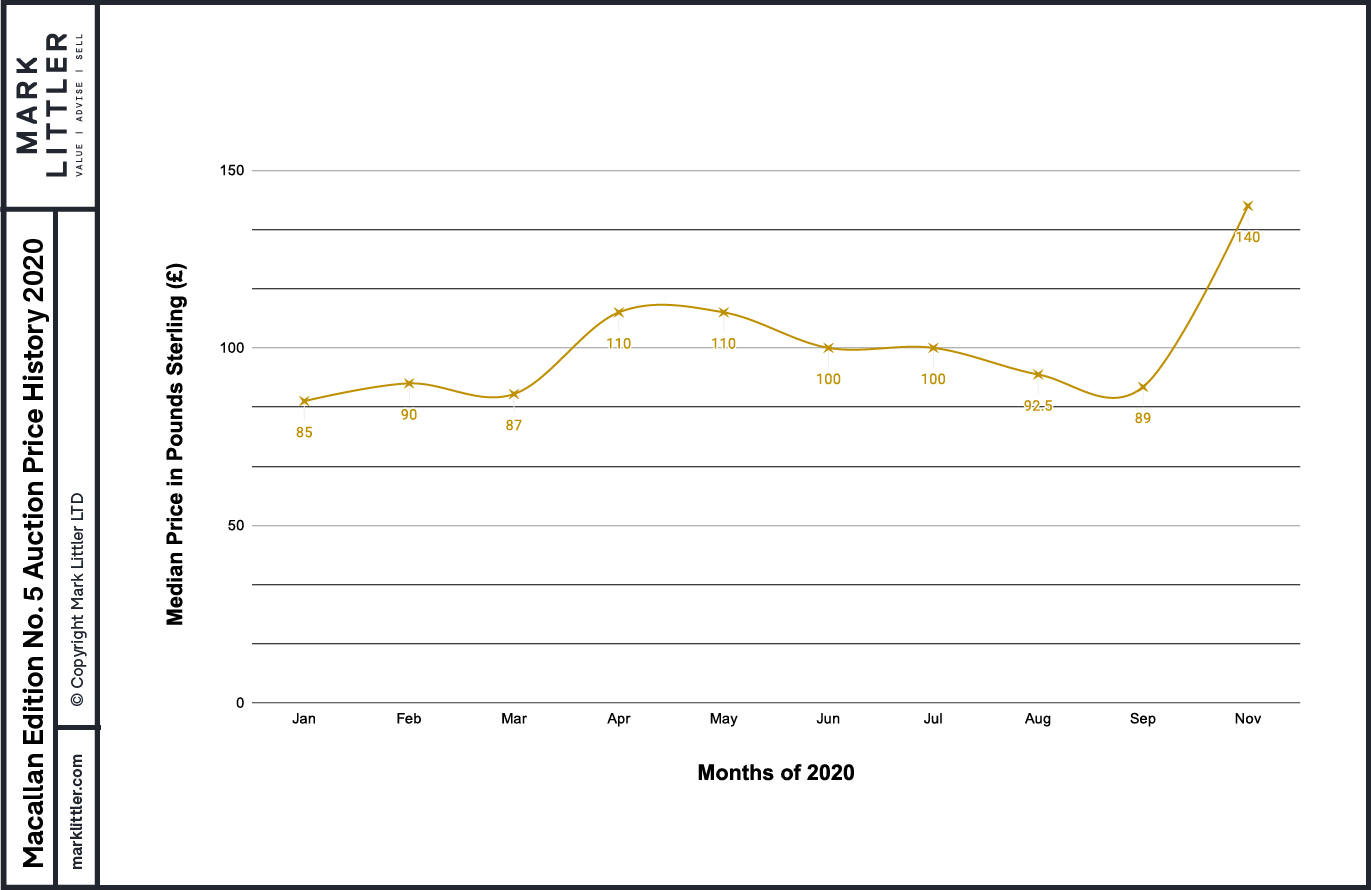 Edition No.6 
Edition No.6 is the final release in the series and retailed in 2020 for £99. No.6's value has not had much time to increase with it currently only being a month since its release. However, when looking at the graph below you can see that the value is already higher than some of the other Edition Series bottles. This could be due to a number of people bidding on No.6 because they want to complete their collection. Hence, the price has increased a lot faster than that of any other Macallan Edition Series bottling.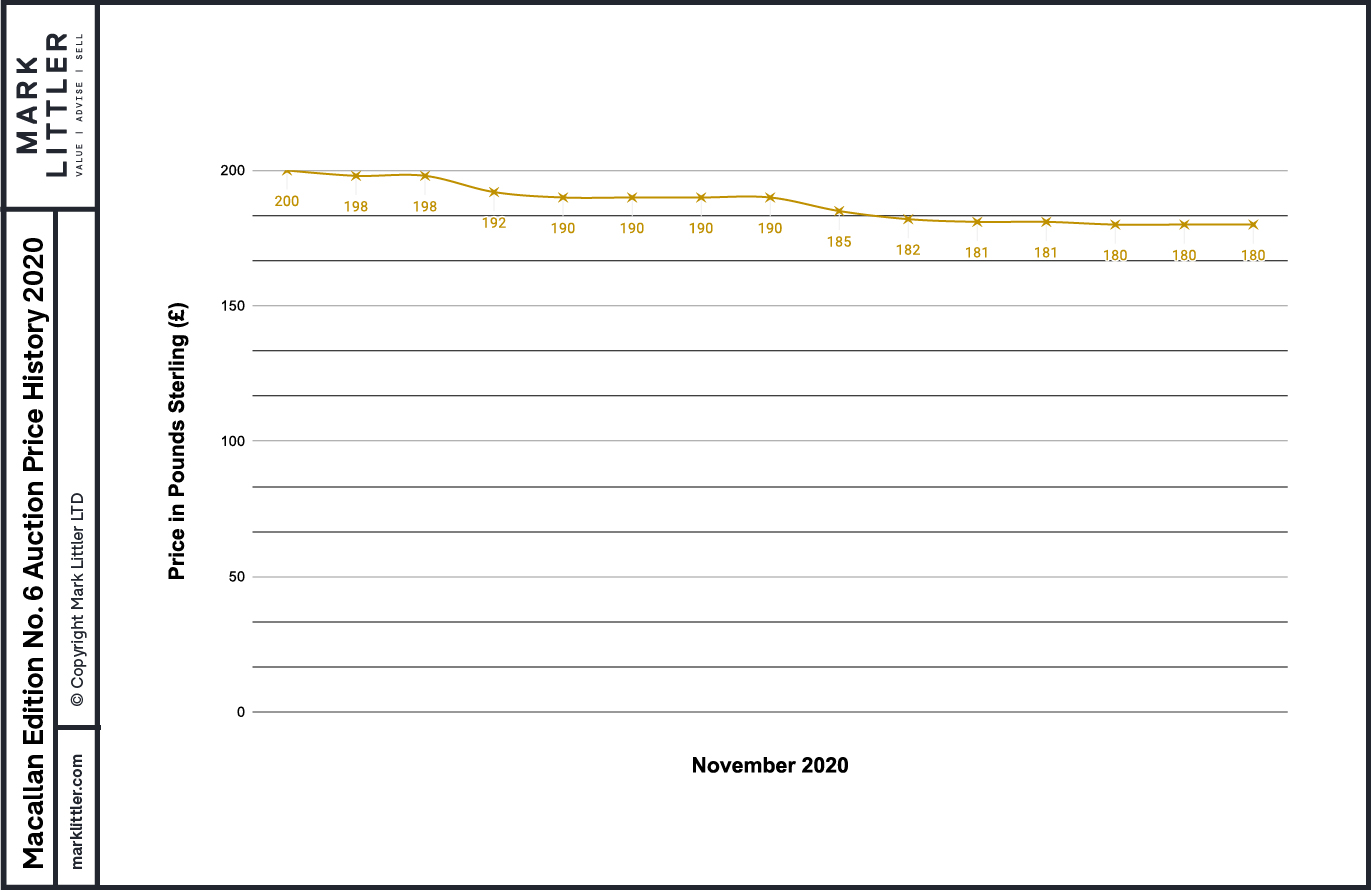 What Now For The Macallan Edition Series? 
Now that the Edition Series is complete will the prices of the bottles increase? Although we cannot be certain, it looks unlikely at this point in time. The bottles in the Edition Series are not very rare – 250,000 bottles of Edition No.2 were released – and so they are not as highly sought-after as other Macallan bottlings.
In addition to this, Macallan is rarely bought to drink anymore. People are increasingly buying bottles of Macallan in the hopes of selling them on for a profit. However, if nobody is drinking these bottles then the number of them available on the market is not going down, and their rarity is not increasing. Therefore, it is unlikely that we will see the prices rise any time soon as these bottles are not yet an asset for investors. 
That being said, it is never certain which bottles will increase in value and which ones will not, so make sure to keep an eye on Edition Series. If you currently own a bottle from the collection you can either open and enjoy, or hold onto it and hope to see those numbers rise.