If you have a bottle of single malt whisky in your cupboard, how do you sell your bottle online for the best price? Use our guide to find out about selling whisky online at auction, via a broker or direct to a retailer.
Plus find out why you can't sell your whisky on Facebook or eBay.
How to sell your whisky online in 2020
The market for single malt scotch whisky has risen dramatically over the last few years. A good example demonstrating just how much the market has risen is Macallan Private Eye. It was first released in 1996 with a retail price of £36. It was a limited edition of 5,000 bottles and was advertised for sale very widely across national newspapers.
Just 11 years after release (in 2007) the value had jumped to £240 at auction – quite a healthy 566% ROI. Jump forward another 10 years to 2017 and the auction price had jumped again, but this time to £1,500 (a 4,000% ROI).
The market then took a real leap and the market reached its peak in October 2018 with prices for Private Eye reaching a staggering £4,000 (an 11,000% ROI). This moment also marked a turning point for the market. Prices have been gently falling ever since (£3,500 as of May 2020) as the market has become saturated with bottles.
Macallan Private Eye is not the exception to the rule. Many bottles of Single Malt Scotch Whisky are worth considerably more than they were 10 or 20 years ago. So if you want to cash in the bottles at the back of your cupboard what is the best way to sell whisky online? Here we will guide you through all of the main avenues for sale so you can find the best way to maximise the value of your bottle when you come to sell.


Licensing Act 2003
The first thing you need to know is that you can sell a bottle of whisky online, but you cannot sell it yourself. You have to go through someone with the relevant licences. This is for one simple but important reason:
Alcohol is a controlled drug and the sale of it is highly regulated by Government.  
In the UK the laws which govern the sale of alcohol are outlined in the Licensing Act 2003. To summarise a very lengthy document; it is illegal to sell alcohol to those under the age of 18. And in order to sell alcohol you must first have a personal licence (obtained by passing the BIIAB Level 2 Award for Personal Licence Holders) and a premises license (issued by your local council after a public consultation period).
If you attempt to sell your bottle of whisky yourself and get caught without the appropriate licenses you can face a 6 month spell in one of Her Majesty's hotels (prison) and a £20,000 fine. With this in mind, let's take a look at what options are available.
Cyber Attacks & Online Fraud in 2020
The success of online whisky auctions cannot be discussed in 2020 without mentioning the massive cyber attack on the well known online auction site Whisky Auctioneer during their highly anticipated second auction of 'The Perfect Collection'.
As the success of online auctions and the value of rare whisky becomes more widely known it is as important as ever to make sure you choose the right place to sell your whisky and are vigilant against online fraud. Whisky Auctioneer are one of the leading online auctions and state that no personal data was taken during the attack, but it shows how important it is to trust your data to reputable sources when working online.
If in doubt, ask for a second opinion or suggestions from a trusted source, use Companies House as a background check and look for verified reviews from trusted sources.
Selling Whisky via Online Auctions
Following the rise in the value of whisky, coupled with the need for a legal way for the public to sell whisky online, a few entrepreneurs set up specialist, online whisky auctions. They started to appear around 2010 and grew in number each year. As of 2020 there are over 20 specialist online whisky auctions and they can be a great place to sell your whisky online.
These auctions cater only to the sale of whisky and as such are able to be very targeted with their marketing. This had the result of opening up the whisky market to the world as the sale and purchase of rare bottles of whisky became more accessible and user friendly. The significant increase in the value of whisky from 2010 onwards can certainly be attributed, at least in part, to the rise of online auctions, but arguably their most important asset is the fact they are completely legal!
Pros of selling your whisky at a specialist online auction:
Your bottle is marketed very widely to a specialist community of buyers.

Fees are generally low: 5-10% is the average commission.

Astronomical prices can sometimes be achieved if two buyers get stuck in a bidding battle.
Cons of selling your whisky at a specialist online auction:
As these auctions become more popular there are often several identical bottles in the same auction meaning buyers can be more selective and prices drop.

There is no certainty as to what price your bottle may bring – prices fluctuate wildly month to month often as a result of external influences that you cannot control such as foreign exchange values, Brexit, political unrest (especially in Hong Kong) etc.

You will often have to post your bottle into the auction. Royal Mail does not cover the damage of broken bottles so it is very hard to send bottles safely.
Summary: specialist online auctions are a great place to sell your whisky if you are not risk averse. They can achieve prices well over the market averages, but can also deliver very underwhelming prices. The main drawback with auctions is that you have no control over the selling price.
Get a free valuation on your whisky
Selling Whisky via an Online Broker
Selling your whisky via a licenced whisky broker is a legal alternative to selling via an online auction. A broker helps you find a buyer for your item – in this case whisky – and charges you a commission on the sale price of the bottle. It is therefore in the broker's interest to get you the best possible price.
Mark Littler Ltd. were the first specialist whisky bottle brokers to set up in the UK and have been trading since 2015. We started out focusing on antiques and other rare and collectable items. We find buyers through our network of national and international buyers. Whisky was an obvious progression thanks to Mark's passion for the drink and we have now brokered millions of pounds worth of whisky bottle sales for our customers.
Selling a bottle of whisky through an online broker gives you much more control over the sale of your whisky compared to an auction. If you don't agree with the offer price you simply keep hold of your bottle and keep looking for a buyer.
We make the process of selling your bottle really simple. You just send in a few images of your bottle standing upright. We then forward the images to our clients and send you the highest offer we receive. The offers are without obligation so if the offer is not right for you then there is no need to proceed.
If you want to proceed then we send you out a contract and you send us your bottle. We even have a subsidised and fully insured courier service that you can use where we send specialist packaging material and a pre-paid returns label. We then complete the sale with the buyer and send you the proceeds minus our commission (10% inclusive of VAT) and courier charge if you use it (£15) via BACS.
We have hundreds of five-star reviews on Google, Yell and Facebook and are really proud of the level of customer service we provide.
Pros of selling your whisky with Mark Littler Ltd.:
The sale price is agreed in advance so you know exactly what you will receive into your bank before you commit to sell.

We have a fully insured postage service which takes the hassle out of delivering the bottle to us.

Bottles are marketed in an ultra specialised way to buyers all over the world.

Payment is fast – as soon as the sale is completed we send the proceeds to you.
Cons of selling your whisky with Mark Littler Ltd.:
As the price is set in advance there is no chance the price will exceed the agreed price.

We often cannot help with individual bottles worth less than £100 (we can sell collections of lower value bottles however).

As many of our clients are overseas offers can take 3-5 working days to be finalised.
Has the Coronavirus Affected Bottle Prices?
There were some concerns at the start of the 2020 coronavirus pandemic that we would see a drop in bottle prices. However despite some distilleries stopping production the secondary market for rare bottles seems to have continued as normal.
As of May 2020 online auctions have continued to take place, online retailer continue to buy and sell and bottle prices seem relatively steady.
Selling Whisky Via an Online Retailers
Another way to sell your whisky online legally is to sell direct it to a whisky retailer. There are dozens of retailers online and they will buy your stock to re-sell on their websites. Although retailers were once a very popular way of selling whisky online the majority are wary of buying stock at the height of the market so they are often quite coy with their offers.
Pros of selling your whisky with online retailers:
You will likely receive an offer very quickly.

The sale price is agreed in advance so you know exactly what you will receive into your bank before you commit to sell.
Cons of selling your whisky with online retailers:
As the bottle is being bought as stock the offers might be quite low as a profit has to be built into the price.

You will have to post the bottle to the retailer. Royal Mail does not cover the damage of broken bottles so it is very hard to send bottles safely.
Selling Whisky at a Traditional Auction
We can't write a guide to selling whisky without mentioning the traditional 'bricks and mortar' salerooms, as they were the birthplace of the resale market for whisky. Although they used to have a monopoly on the market, all of the above options have really eaten into their dominance and traditional auctions are now sadly in decline.
High commission rates for buyers and sellers and the lack of focused marketing are the main reasons for this demise.
Many of the traditional salerooms sell antiques and collectors items as their mainstay, with whisky being a small part of their calendar of sales. As such, their marketing budgets for whisky are often not as high as the online options so they do not achieve the same reach to the specialist buyers and often don't achieve the best prices.
The real nail in the coffin for the traditional salerooms though is the commission they charge both the buyer and seller. Standard selling fees are 18% (inc VAT) for the seller AND 28.8% (inc VAT) for the buyer. What that means is you only receive 53% of what the buyer had to pay for your bottle. The high buyers premium is taken into account but buyers and as such they reduce their bids accordingly.
Pros of selling your whisky at a traditional auction:
Astronomical prices can sometimes be achieved if two buyers get stuck in a bidding battle

Salerooms are located in most towns so you can often deliver bottles in person

Most salerooms publish their sales on antique specific bidding platforms online
Cons of selling your whisky at a traditional auction:
Prices fluctuate wildly depending on the level of marketing and expertise

High commission for both the seller and the buyer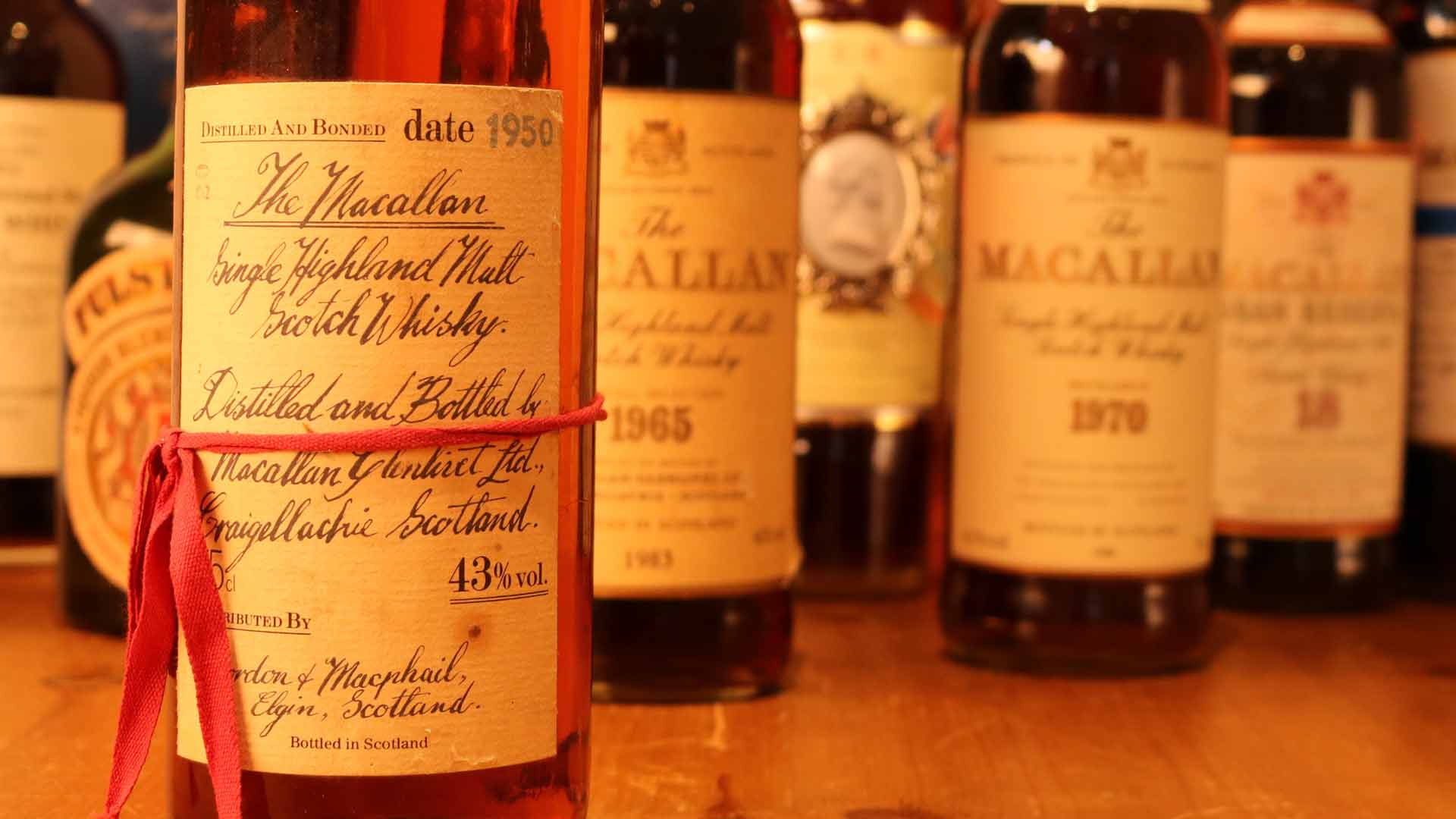 Selling whisky on eBay & Facebook
You cannot sell whisky on eBay or Facebook
eBay was once a good place to sell whisky online. This changed in 2014 when eBay introduced a blanket ban on the sale of alcohol. The reasons for this were simple; by allowing people without the relevant licenses to sell their whisky on eBay they were facilitating the illegal sale of alcohol and were open to litigation. In 2018 eBay allowed certain retailers to list whisky for sale once more but each retailer had to go through a rigorous screening process.
Summary: you cannot sell whisky on eBay and are liable to prosecution if caught.
Facebook then took over as the place to sell whisky online. Dozens of specialist groups soon sprung up and until July 2019 thousands of bottles were sold each month. You could list your bottle for sale with an asking price and people would contact you to complete the sale.
July 2019 marked another turning point though as Facebook closed all groups that were publicly selling whisky online. Just like eBay, this was to ensure they complied with the Licensing Act 2003 and to stop the illegal sale of alcohol. Following the closure of these groups there was uproar in the whisky community, but when you consider the penalties for selling alcohol without a license are greater than those for selling stolen goods you can soon see why Facebook had to act. 
Summary: you cannot sell whisky on Facebook and are liable to prosecution if caught.
We hope you have found our guide to selling your single malt whisky useful. Mark Littler Ltd. offer free valuations and can source offers for you bottle from our network of national and international buyers. Please fill in the form and attach a picture of your bottle to receive your free valuation.
Sell Your Whisky with Mark Littler
In order to provide you with an accurate valuation please provide as much of the below information as you can.