Silver pique is the method of decorating tortoiseshell using gold or silver. The technique is essentially a French one and its popularity was raised by Andre Charles Boulle. It flourished in the late 17th and 18th centuries.
Silver Pique is made by pressing fine pieces of silver or gold into tortoishell which has been warmed to make it more malleable.
Following the revocation of the Edict of Nantes in 1685, Huguenots looked to flee persecution. A large number of them left France and migrated to England. The Huguenots put their high levels of skill to good use and it was not long until their influence and work can be found in English works of art. Silver pique work is a good example of this transfer of skill.
Silver pique chronology of popular styles
Louis XVI (1774-1792) – star motif popular
Louis XV (1715-1774) – allegorical, pastoral and genre scenes dominate, also scrolls and lattice patterns
Louis XIV (1648-1715) – classical motifs, cornucopias, fleurs de lis, insects, sun king etc
Silver pique work glossary
Pique Pose – strips of metal applied into tortoiseshell
Pique Point – pin points of metal applied into the tortoiseshell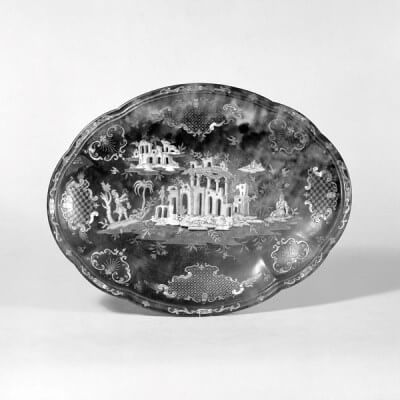 Free Valuations on your Silver Pique
Please use the form below to send us details of your silver and we will be in touch with a free valuation and information on how to sell your item.