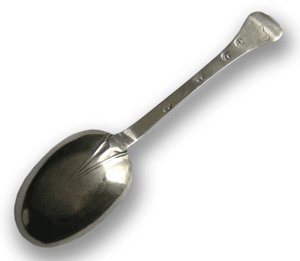 Early silver from Liverpool
Until the end of the 17th century hallmarking regulations were not as strict. Given the poor condition of the roads, not to mention the dangers of highway men, silversmiths would rather put their own marks onto their wares than risk the journey to an official Assay Office.
The silversmiths working in Liverpool were no exception. They chose to mark their own work and a handful of these very rare pieces survive today.
There is no formal register of silversmiths who worked in Liverpool in the 17th century, nor is there a standard to which their marks comply which makes identifying Liverpool silver a specialism. One of the key indicators for these early pieces of Liverpool silver is the use of the word 'Sterling' stamped in conjunction with the makers marks.
The silver spoon illustrated here was made by the Liverpool silversmith Edward Lewis in 1680.  As part of his mark he incorporated the Liver Bird (taken from the Civic coat of arms). Lewis was working from c.1672 as a silversmith and jeweller in Water Street and is one of the earliest Liverpool Goldsmiths. He was a member of the Common Council in 1684 and died not long after in 1691 (his widow then carried on the business and married his assistant Robert Shields in the following year).
There remained a handful of silversmiths working in Liverpool through the 18th and 19th centuries but laws forced them to have their silver marked in an official Assay Office, so many registered their marks in Chester.
A Brief Introduction to Hallmarks
Hallmarks were first introduced in 1300 and were struck to denote that the standard of the item was of the King's standard, i.e. sterling silver. This system was introduced in London first and soon spread across the provinces of England.
In 1363 a second mark was introduced to identify the maker of the item.
In 1378, a mark was introduced to denote which town the article was assayed in (the term hallmarks comes from the assay halls where they were marked – literally 'the mark placed at the hall').
Finally in 1478 a final mark was added indicating the year the item was marked.
So by the middle of the 15th century the British had a system of marking and identifying silver and gold which is still the envy of the world.
Free Valuations on your Liverpool Silver
Please use the form below to send us details of your silver and we will be in touch with a free valuation and information on how to sell your item.