Cartier's Tutti Frutti design is perhaps one of the most recognisable jewellery designs of all time. Using brightly-coloured and striking carved gemstones, Tutti Frutti has become synonymous with the super-premium brand. The history of this infamous design dates back to 1901. 
At the start of the 20th century, Alexandra of Denmark, Queen Consort of the United Kingdom, commissioned Pierre Cartier to make for her a necklace inspired by Indian jewellery. She had been gifted some Indian gowns by Mary Victoria Curzon, the wife of the Viceroy of India, and required a necklace to wear with them. This necklace is thought to be the first piece of jewellery in the Tutti Frutti design.
In 1911 Jacques Cartier, Pierre's brother, travelled to India where he was educated in the art of carving stones. He was taken with the traditional methods used in India, as well as fascinated by the depth of colour in the Indian gemstones that he acquired on the trip. With his new-found knowledge he returned to France, where he refined the Tutti Frutti design. Jacques' main focus was showcasing the fantastic colours in the gemstones, rather than clarity and translucency. This meant that Tutti Frutti jewels were, surprisingly, less expensive than other Cartier designs.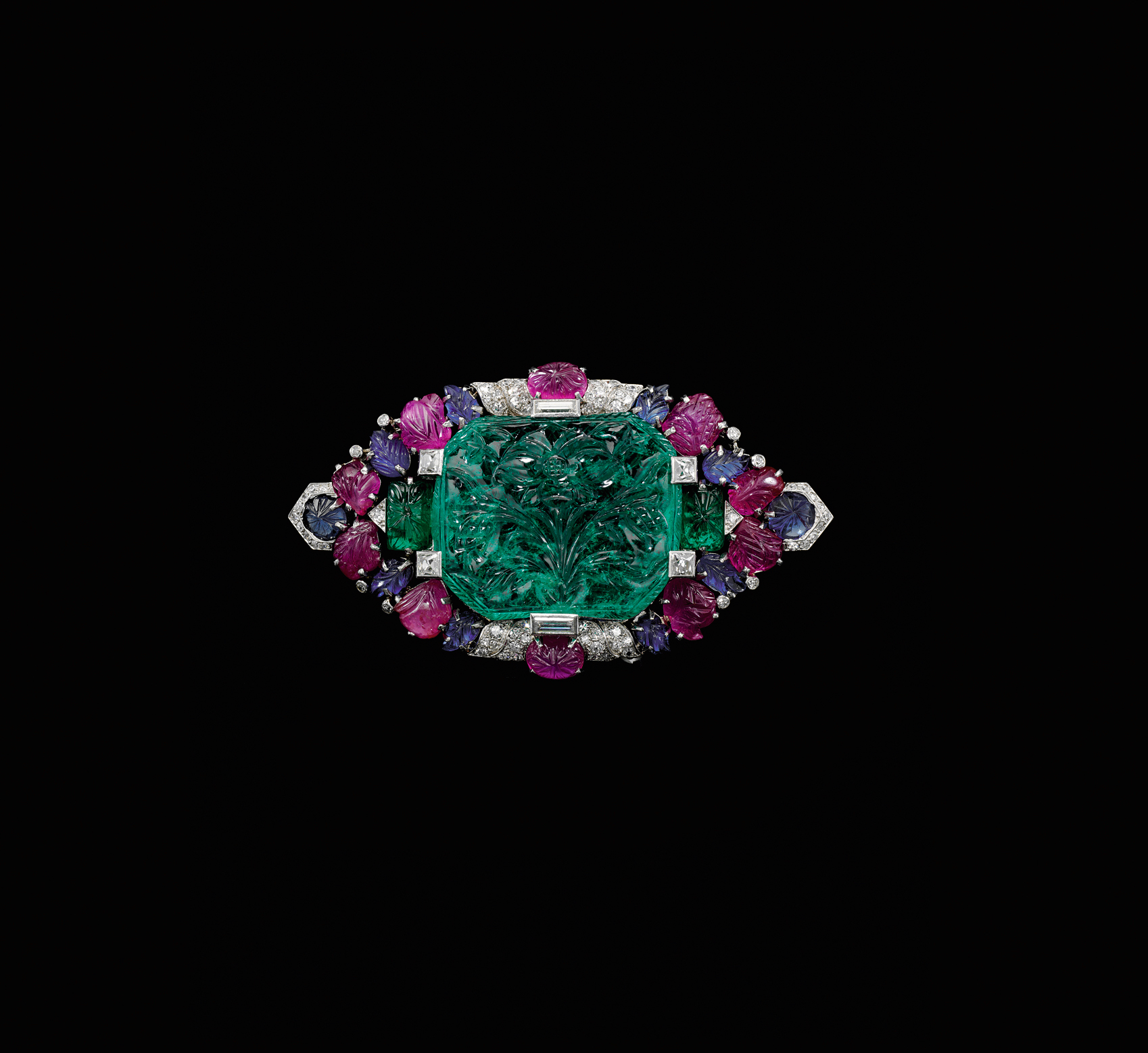 In the years that followed, Cartier created many beautiful Tutti Frutti pieces including brooches, cigarette cases, earrings, and bracelets. Diamonds, rubies, sapphires, cabochon, and emeralds were set in floral designs, with a row of diamonds representing the traditional Indian Mughal art. The jewels were set in platinum, as was customary at this time. 
The popularity of the style grew throughout the 1920s and 1930s. In 1936 Daisy Fellowes, a famous and extremely stylish singer and heiress, commissioned a huge Cartier Tutti Frutti necklace. She was very well known for her taste, and her wearing of Cartier made the brand and the design more popular. The necklace was known as the Collier Hindou, and is perhaps the most famous example of Tutti Frutti. In 1991, Sotheby's Geneva sold the necklace at auction for $2,655,172, a new record for Art Deco jewellery.
The name Tutti Frutti was not adopted until 1970 and was officially trademarked in 1989. Prior to 1970, the design was referred to as "pierres de couleur" or "Hindou jewels". Today, the name Tutti Frutti is instantly recognisable as referring to one of Cartier's most successful exploits.
Jewellery inspired by Cartier Tutti Frutti
The lasting influence of Cartier's Tutti Frutti jewellery can be seen in designs by many other jewellers who took inspiration from Cartier throughout the 1920s, 30s, and 40s. One such designer is Paul Flato, a master of Art Deco jeweller whose clients included Rita Hayworth, Joan Crawford, Ginger Rogers, and Katherine Hepburn. Flato was known for his flamboyant designs. His Tutti Frutti inspired pieces feature brightly coloured carved gemstones incorporated into abstract shapes. Flowers often appeared in these designs. Flato, however, preferred not to refer to these designs as 'floral' but rather as 'wiggly jewels'. 
Another designer that was influenced by Tutti Frutti was Seaman Schepps, who was famed for his "fruit salad" pieces that featured striking carved jewels in juxtaposing colour combinations. Schepps' fruit salad jewels were revered throughout the 1940s and 1950s for their playfulness and use of transparency and colour. 
Designers such as Raymond Yard, Maudboussin, and Boucheron were also inspired by Cartier's Tutti Frutti designs. Pieces by these jewellers are very desirable and command high premiums at auction.
The influence of Tutti Frutti on costume jewellery
Many costume jewellery designers were also inspired by Cartier, and began producing more affordable Tutti Frutti inspired jewels. These pieces often featured synthetic gems and paste. Alfred Philipe for Trifari was a well-known maker, whose pieces have now become highly collectible. Philippe had experience in designing for Cartier and Van Cleef & Arpels before joining Trifari. As such, his designs exuded an air of luxury that was desirable, whilst his use of synthetic gems and diamantes made the jewellery more affordable. 
Trifari became popular very quickly, as did other costume jewellery makers such as Hobe, Weiss, and Boucher.
Fakes
Cartier's Tutti Frutti designs have been imitated and replicated many times over the years, meaning that it is important to be diligent when buying Cartier attributed pieces.
 A very well-made, diamond and multi-gem piece from the end of the 1930s using high quality gems, is just as collectable as an earlier piece by Cartier, as long as it is being sold for what it is.
Problems may arise from incorrect attributions as many of these Art Deco jewels are unsigned and therefore it is always tempting to make an assumption and attribute it one of the biggest jewellery houses. Unfortunately, quite a lot of these period pieces were later engraved or signed 'Cartier', but they weren't in fact made by Cartier.   
What is your piece of Cartier jewellery worth?
Where possible please send us a picture of your piece as this will help speed up the process of giving you a valuation.