The name Macallan never fails to turn heads due to the opulence and popularity of Macallan's whiskies. For the last five years, Macallan has been releasing a whisky every year that showcases Macallan's multi-faceted approach to whisky making, giving whisky lovers a glimpse of how Macallan makes its whisky. Every year a selection of casks are hand-selected by Macallan's Master Blenders and vatted together to create a new Edition. The aim of the range is to showcase the diversity in the oak casks that Macallan uses to mature its whisky. Each Edition is the work of experts both from Macallan and from different fields in order to make sure that each release can stand alone, and is unique from the rest. That being said, who would not want to own the entire Macallan Edition Series? It would be a truly amazing thing to own. But, would it be a good investment?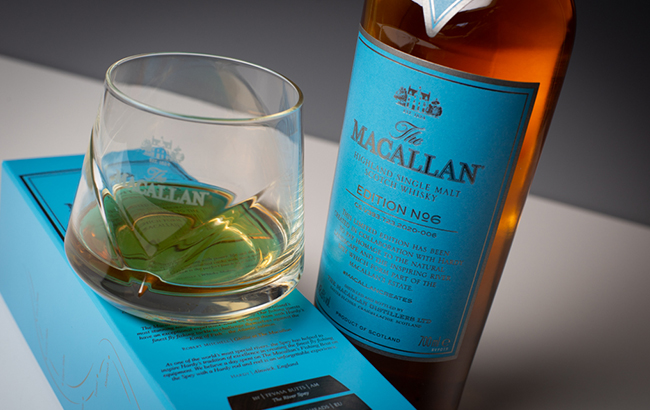 Macallan Edition Series No.1
The Macallan Edition No.1 was bottled in 2015, a bottling made up of whiskies aged in eight different casks of European and American oak. Its tasting notes include vanilla, caramel, ginger, nutmeg, and chocolate, with a "soft and lingering finish". Sounds like heaven in a bottle, right? 
Despite these wonderful tasting notes, The Macallan Edition No.1 was somewhat overlooked when it was released – in fact, I cannot find a record of the original retail price. 
Macallan Edition Series No.2
Edition No.2 was released in 2016 and was a collaboration between Macallan's former Master Whisky Maker, Bob Dalgarno, and the three Roca brothers, who founded El Celler de Can Roca, a fine dining restaurant in Girona, Spain. The whisky is Edition No.2 is from seven different casks from four different bodegas, the sherry influence being a nod to the Spanish heritage of the Roca brothers. The original retail price of this edition was £85.
Macallan Edition Series No.3
The Macallan Edition Series No.3 was released in 2017 and was created with the input of Master Perfumer Roja Dove. Dove nosed a range of samples and gave his input on which he thought would be the perfect whisky to go into Edition No.3. The tasting notes for edition No.3 mention orange oil, apricot, green apple, and pear. The original retail price of this edition was £90.
Macallan Edition Series No.4
No.4 was released in 2018. In contrast to the softness of edition No.1, No.4 is a vibrant and revitalising expression that showcases the role of different types of oak casks in the process of whisky production. The original retail price of this fruity number was £95.
Macallan Edition Series No.5
2019 saw the release of The Macallan Edition Series No.5 which was created in collaboration with Pantone Color Institute. The whisky is described on Macallan's website as "our very own homage to the diversity and complexity of natural colour", hence the striking purple that is on the label of edition No.5. The colour was created by the experts at Pantone Color Institute to reflect the 100% natural colour of all Macallan whiskies. The original retail price of this release was £99.
Macallan Edition Series No.6
Lastly, No.6 was released just this year and is the final release in the series. Five different casks were used in the making of No.6 and were all handpicked by Master Whisky Maker Steven Bremner. The inspiration for this edition was drawn from the landscapes surrounding Macallan's estate. Atlantic salmon are a famous fixture in the River Spey, and Macallan announced with this edition that they are working with the Atlantic Salmon Trust to help support conservation work and make sure that the Atlantic salmon continue to flourish in the River Spey. The original retail price of edition No.6 was £99. 
Should You Invest In The Macallan Edition Series?
So, with the original retail prices in mind, how has the price of these editions increased in recent years? The answer, they haven't really… 
Edition No.1 was somewhat overlooked when it was first released, and so prices for this edition specifically have risen – bottles of Edition No.1 now sell for around £1,000 at auction. Therefore, it is difficult to find bottles of Edition No.1 on the market. However, the other editions have remained fairly steady with prices lingering around £150-£300 per bottle, and there is no indication or promise that editions 2, 3, 4, 5, or 6 will follow the same trend as edition number 1. 
This means that those who sell at auction are not seeing a huge return on their initial investment. Bottles of Edition Series Macallans appear at auction very frequently, meaning that there are no price wars pushing the auction prices up.
With prices remaining steady and no indication that they will rise, it is probably not wise to invest in verticals of the Macallan Edition Series. The bottles were not very limited, for example, edition No.2 comprised of 250,000 bottles, and so they are not very highly sought-after compared to other Macallan bottlings. 
In addition to this, people rarely buy Macallan to drink anymore – they have seen the massive success of the brand and would like to get on board. As such, whisky lovers and collectors are increasingly buying bottles of Macallan with the sole purpose of flipping them or investing in them. As such, many of the thousands of bottles in the Edition Series are still floating around the market, meaning that they are not terribly rare, and therefore not an asset for investors. 
Of course, there is no way to predict the future value of these bottlings; we may well see an explosion in price in the coming years, but it is unlikely. The Macallan Edition Series could be a safe, small-scale investment. But, you should not expect to see significant growth. From our perspective, these are just the kind of Macallan bottles that should be bought to be drunk and enjoyed, or held onto in the hopes that prices rise in the future.