Macallan Handwritten Label bottlings are extremely rare, and so it really is exciting for us to announce that we have a Macallan 1938 Handwritten Label bottling for sale. 
This forty-three-year-old offering from Macallan was distilled in 1938, bottled in the 1980s, and set loose into the world of whisky drinking where it has picked up some of the highest scores ever given to any bottle of whisky.
Macallan was a strange brand prior to the 1980s. It was used as a blending element in other whiskies, and often used other distilleries' names to sell it's lesser-known single malts. Macallan whisky was also bottled by numerous different bottlers for several different markets, namely Gordon & Macphail and Campbell, King & Hope. However, forty years after this whisky was bottled Macallan has become a symbol of luxury. Whisky-lovers today revel in the ability to not only talk about it, see it and buy it, but also examine the turbulent times that Macallan, like all other distilleries, faced in the eighties. It is amazing that Macallan was able to output whisky of this quality during that time. Macallan came out on top, and is conquering the world in all forms of record-setting ways.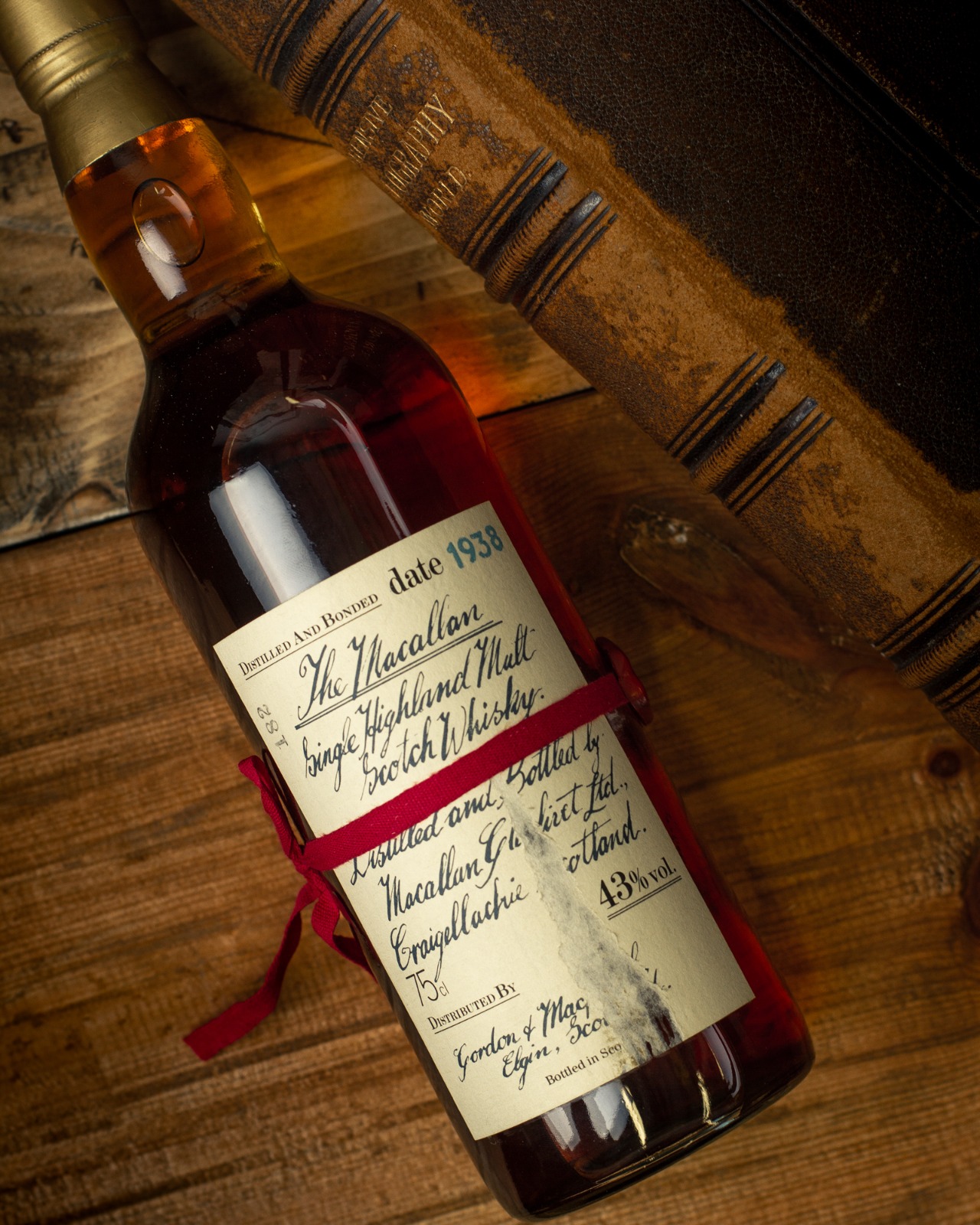 We've dealt with bottles of this age before: fellow Speysider, Balvenie, and their astonishing 1937 50-year-old release. Sat on a shelf in a bar in Paris for years, the infallible Serge from Whiskyfun was able to try this expression and heap praise upon it and its distinguished and unusual flavour profile. 96 points were given to it – the best Macallan of all time? 
Macallan 1938 (43%, OB, Corade France, early 1980's)  This one should be roughly 45 years old and has been opened for 'the Austrians' and yours truly at Paris' Harry's Bar. Yippee! Colour: gold / amber. Nose: oh well… this is, I mean, just amazing. Incredible smokiness and a full tanker of acacia honey as well as lilac, beeswax and leather polish. Goes on and on… ripe apricots, flower nectar, Seville oranges, orange syrup, whiffs of seawater… Absolutely exceptional. Gets smokier with time (Havana smoke). Hints of apple peelings. This nose just leaves me speechless (who said good news?) Mouth: amazingly lively, nervous, fruity… Apricot jam, ripe plums, chestnut honey, toasted brioche, high-grade pepper… Totally fantabulous. I'm afraid the rest will be censored by our anti-maltoporn police department. SGP: 845 (wazzat?) – 96 points. – Serge of WhiskyFun.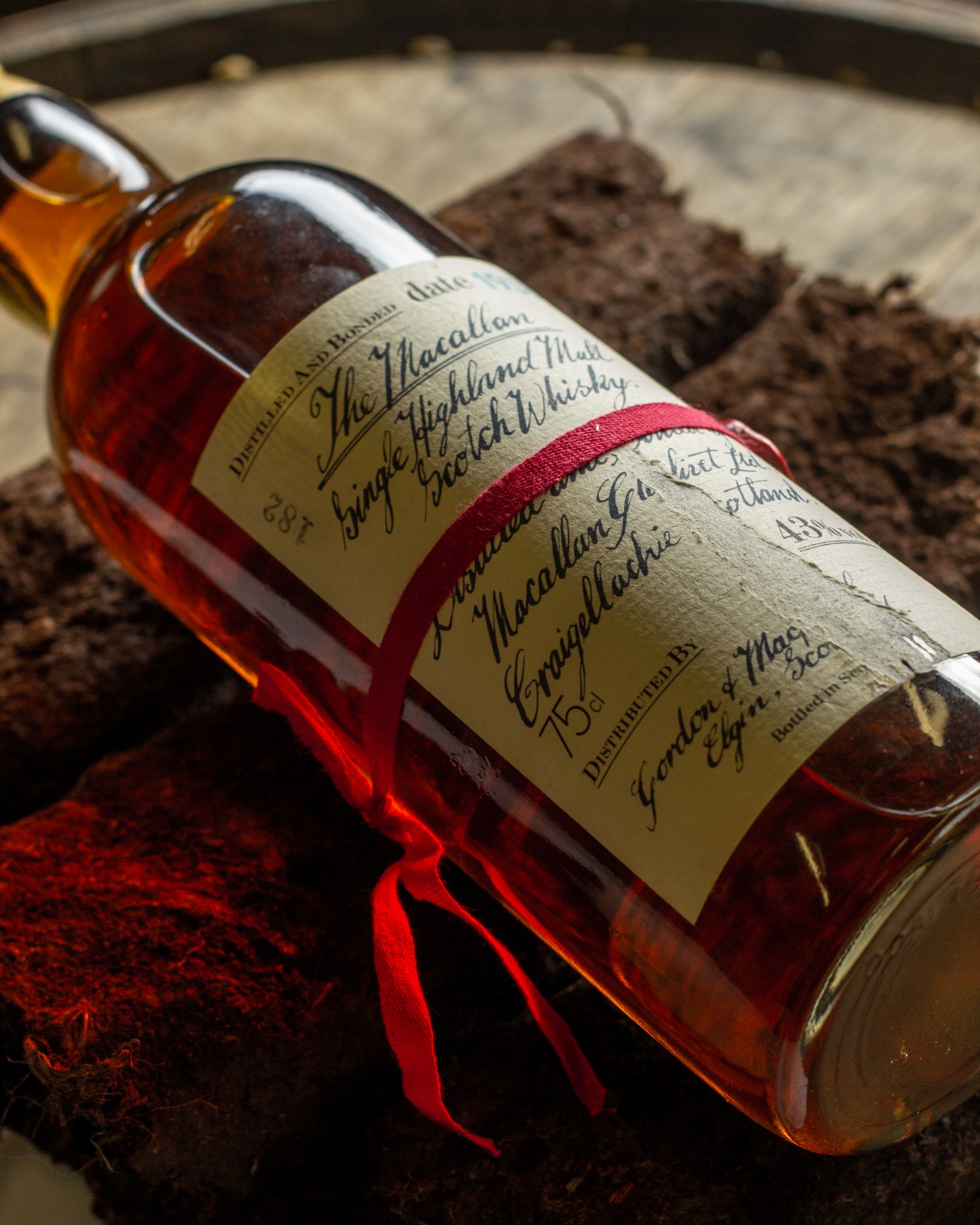 96 points is an astonishing score to receive from such a seasoned connoisseur and reviewer as Serge. Two other Macallan's have received 96 points, making those three the top-scoring Macallan's on WhiskyFun.
This bottle was part of a range for the famous Rinaldi importers of Italy, along with a host of other vintages. These vintages have now been named the Macallan Handwritten Labels Series. These whiskies were all bottled in the 1980s and distilled in 1938, 1940, 1950, 1957, and an extremely rare 1973, which was bottled to celebrate the 10th anniversary of the Canadian Opimian Society.
This bottling is a truly incredible piece of pre-war time whisky. A relic from a time before whisky that we know in the modern-day. A bottle of this stature is extremely rare, a bottle of this luxury is rarer.