Ardbeg proves a distillery can successfully come back from the dead, with its highly peated malt now one of the most highly regarded whiskies in the world. Yet as recently as the mid-1990s Ardbeg's future both as a distillery and a single malt was in doubt.
Ardbeg's reopening in 1997 was one of the first signs of an Islay whisky revival driven by a significant growth in demand for single malts. Long regarded as one of Islay's smokiest malts Ardbeg is also considered one of the island's sweetest, combining a rich earthy tar like smoked character balanced by a citric sweet core. The growing popularity of peated malts has led Ardbeg to achieve an iconic cult status with both traditional expressions and modern limited releases highly sought by whisky enthusiasts and collectors.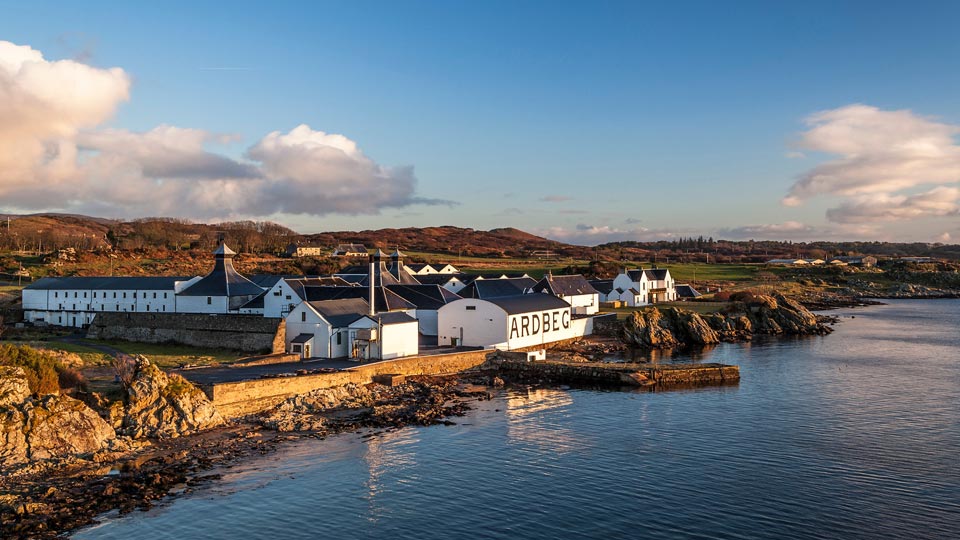 Early years: Illegal distillery to heart of a community
Located on Islay's southern coast, Ardbeg was founded by John MacDougall in 1815. An illegal distillery was first recorded producing whisky in 1794, although by taking out a licence MacDougall established Ardbeg as a legitimate commercial concern. A Glasgow spirit merchant Thomas Buchanan purchased the Ardbeg distillery for £1800 in 1838. Despite the change in ownership John's son Alexander MacDougall continued as Ardbeg's licensee and manager until his death in 1853. After Alexander's death, Ardbeg was co-run by Colin Hay and MacDougall's sisters, Margaret and Flora, who were amongst Scotland's first female distillers. In 1865, Colin Hay became the sole proprietor and licensee of Ardbeg following the death of Margaret MacDougall.
By the mid-19th century Ardbeg's whisky was in great demand by blenders due to the malts heavily peated character. Ardbeg was also supplied as a single malt across the UK, and exported to the US, Argentina, Australia, and New Zealand. The overtly peaty character was originally a result of Ardbeg's unusual malting process, as the kilns were not equipped with extractor fans the peat smoke permeated the malted barley very heavily. Colin Hay increased Ardbeg's production capacity, installing larger stills and building new warehouses. In 1887 Alfred Barnard, the Victorian writer and distilling historian, recorded Ardbeg was producing 250,000 gallons (1.1 million litres) of whisky a year, making it the most productive distillery on Islay.  
Ardbeg's success was evident by the growing village community around the distillery. By 1887, 60 men were employed at the Ardbeg distillery and the village population had grown to 200 people with housing, a hall, greenhouses, a bowling green and a school for 100 pupils. A fire in December 1887 destroyed the stillhouse, tun room, malt barns and kiln, although Ardbeg survived and was rebuilt. When Colin Hay retired in 1897, Ardbeg was reputedly the largest and most successful distillery on Islay.  
Birth of a brand
Colin E, Hay succeeded his father as licensee and manager in 1900, running Ardbeg until 1920. The first step in creating Ardbeg's modern identity occurred in 1911, when the 'Ardbeg' name and distinctive letter 'A' logo were registered as trademarks to protect Ardbeg's brand and reputation. The MacDougall family would regain control in 1922 when Ardbeg was purchased by Alexander MacDougall & Co for £19,000. Impacted by the economic depression of the 1930s Ardbeg would close between 1932 – 1935.
Ardbeg would remain under private ownership until 1959, when Ardbeg Distillery Ltd was founded. The new shareholders included the Distillers Company Limited (DCL) and the Canadian based Hiram Walker & Sons. A rising demand for peated whisky saw Ardbeg's production increase in the 1960s-1970s, prompting DCL and Hiram Walker to form the Ardbeg Distillery Trust in 1973 and jointly purchase Ardbeg for £300,000. By 1974 demand for peated blends necessitated that Ardbeg used peated malt grain from Port Ellen. For Ardbeg enthusiasts the end of Ardbeg's self-sufficiency for malting grain represented the end of an era.
A fight for survival
Hiram Walker acquired full control of Ardbeg in 1977, buying out DCL for £300,000. By this time sales of blended whisky were declining and to compensate for the decreasing demand for peated malt Ardbeg began producing an unpeated malt known as Kildalton in 1979. As a result, Ardbeg's kilns were finally extinguished in 1980 ending onsite grain maltings. Finally, a surplus of maturing spirit prompted Ardbeg's closure on March 25th 1981, a victim of the 1980's 'whisky loch'.
From derelict distillery to revival 
Ardbeg reopened in 1989, now owned by Allied Distillers following a takeover of Hiram Walker. Production was intermittent as Ardbeg only operated for two months each year until 1996, often producing the unpeated Kildalton malt. As Allied Distillers also owned the Islay distillery Laphroaig and used it as their source for peated malt, Ardbeg was regarded as surplus to requirements. The Ardbeg distillery was allowed to fall into disrepair and much of the distilling equipment was removed to provide spare parts for Laphroaig. In 1996, Ardbeg was closed and placed up for sale. An alternate option considered by Allied Distillers was to demolish the derelict Ardbeg.  
Ardbeg's revival began in 1997, when the Ardbeg distillery and whisky stock was purchased by Glenmorangie for £7 million. As Ardbeg was refurbished to resume full production, Glenmorangie sought to re-establish the Ardbeg brand from the existing maturing old whisky stock. Ardbeg's initial release in 1997 would be a 17-Year-Old bottling which was joined in 2001 by the 25-Year-Old Lord of the Isles expression, both of which have become highly sought after since being discontinued. From 1997, Ardbeg would also bottle a range of collectable Limited Releases. In 1998, a visitors' centre opened at Ardbeg, which included turning one of the two old kilns into a shop and café. Ardbeg enthusiasts still hope that the other kiln may one day return to use, as the revived Ardbeg continues to rely on external suppliers for its malted barley. By the time Ardbeg celebrated its 200th anniversary in 2015, it had become world renowned as an iconic and popular whisky.    
The Ardbeg Committee
An aspect of Ardbeg's continuing success is the Ardbeg Committee, a worldwide group of fans and enthusiasts officially founded on the 1st January 2000. The Committee's aim is to ensure Ardbeg never closes again, with members promoting knowledge and enjoyment of Ardbeg amongst whisky drinkers. Membership allows Ardbeg to keep fans up to date about distillery news and give details about upcoming releases including the annual Ardbeg Committee Releases. The Committee Releases are highly sought bottlings of Ardbeg's rare or experimental casks only available to members.     
Looking to the future: Ardbeg's expansion 2018-2019
Ardbeg's greatest challenge in recent years has been to keep up with demand for its increasingly iconic and popular brand. In February 2018, Ardbeg unveiled plans to double production capacity with the addition of another pair of stills and five new washbacks. By late 2019, the new distillation equipment was installed alongside completed refurbishment work to increase malt grain storage and a new still house built. This has increased Ardbeg's maximum production capacity to 2,400,000 litres of whisky a year.