In October 2020 Glenrothes distillery reached new heights in their journey toward super premiumisation when they released The Glenrothes 50-year-old, the most expensive and exclusive bottling ever released by the distillery.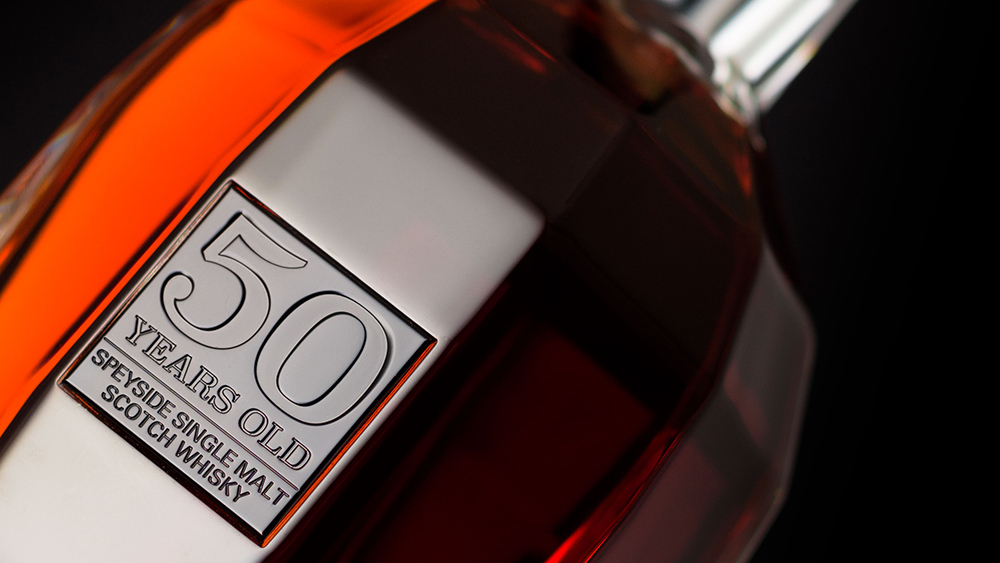 Distilled by Glenrothes over 50 years ago
The Glenrothes 50-year-old was distilled in late autumn 1968 in the same year that Martin Luther King Jr. and Robert F. Kennedy were assassinated, 2001: A Space Odyssey premiered, and Apollo 8 orbited the moon on Christmas Eve. The whisky then quietly matured for half a century, taking on new and complex flavours in preparation for bottling. It was matured in sherry and bourbon casks and the tasting notes of this whisky include cardamom, vanilla, spices, and jasmine. 
Upon release, there were only 50 bottles available to collectors that were very quickly snapped up for £25,000 each. Each collector is now the proud owner of a handmade crystal decanter and presentation case, as well as a membership to a new club named FIFTY.
Exclusive membership
Membership to FIFTY allows the owner to experience The Glenrothes Estate & Distillery where they will meet the master blenders that carefully curated the luxurious 50-year-old. Members of FIFTY will also receive exclusive early access to product releases in the future.
Super premiumisation of the Glenrothes brand
Since the release of the 50-year-old, one of the 50 bottles has already been resold at Bonhams for £31,000, which shows there is clear demand for the exclusive bottles on the open market.
The 50-year-old is a triumph for Glenrothes, and according to Brand Director Kerr Arthur, it is "a salute to the loyalty and craft of our distillery team".
It is also an important marker in the brand's future journey toward super premiumisation. Glenrothes are owned by Edrington, the company who own Macallan and Highland Park, and Edrington have been clear in their recent annual reports that they are planning to add Glenrothes to their exclusive portfolio of super premium brands. As only 11 distilleries in Scotland have released a 50 year old whisky this release can be seen as an indicator of Edrington's continued intentions to this end.
Fancy owning a bottle? 
If you would like to own one of these extremely rare bottles then you will have to try your luck at auction. Currently, not one of these bottles is available at retail worldwide. A testament to the luxury and scarcity of the Glenrothes 50-year-old.
You can read more about the luxurious 50-year-old bottling on The Glenrothes website.