One of the phrases that we come across regularly when speaking with people who are looking to buy casks, or own a cask already is 'naming rights'. Naming rights refer to whether or not a private individual or independent bottler has the right to put the name of the distillery onto a bottle of whisky or use the name of the distillery when looking to sell a cask. If you have purchased a cask it is worth checking whether or not you have naming rights to that cask. Otherwise, selling or bottling that cask could become complicated.
Why Do You Need Naming Rights? 
One of the highest-profile distilleries that do not sell casks with naming rights is Highland Park. Therefore, if you purchase a 4-year-old cask of Highland Park without the naming rights and choose to bottle that cask after 8 years, you cannot call the whisky inside those bottles 'Highland Park' because you do not have the rights to use the name of the distillery. Instead, you will have to name the whisky 'Orkney Malt' or 'Orkney Scotch Whisky' owing to the location of Highland Park. The same goes for if you are selling the cask. You cannot call it Highland Park. 
It is important to note that even if you do have naming rights, you only have the right to say that the whisky in the bottle was 'distilled at Highland Park distillery', for example, not the rights to name the bottle 'Highland Park 12-year-old', for example. This can only be done by the distillery. As such, independent bottlers are able to use distillery names on their bottlings because they are careful to use the right phrasing. And, if you have naming rights to your cask then you can say that the whisky inside was 'distilled at XXXX distillery'. 
Now, this may seem inconsequential. Why would you need the name? The whisky inside is still Highland Park Whisky? Every cask must be bottled at some point in its lifetime, and so, even if you are not planning on bottling the cask yourself it will be more difficult to sell the cask on to a new owner if you do not have naming rights.
This is because independent or private bottlers will not want to purchase casks that do not have naming rights because they cannot market their bottles under the distillery name. So, the naming rights may seem inconsequential to you, but they are a very important factor in how much you can achieve when selling a cask.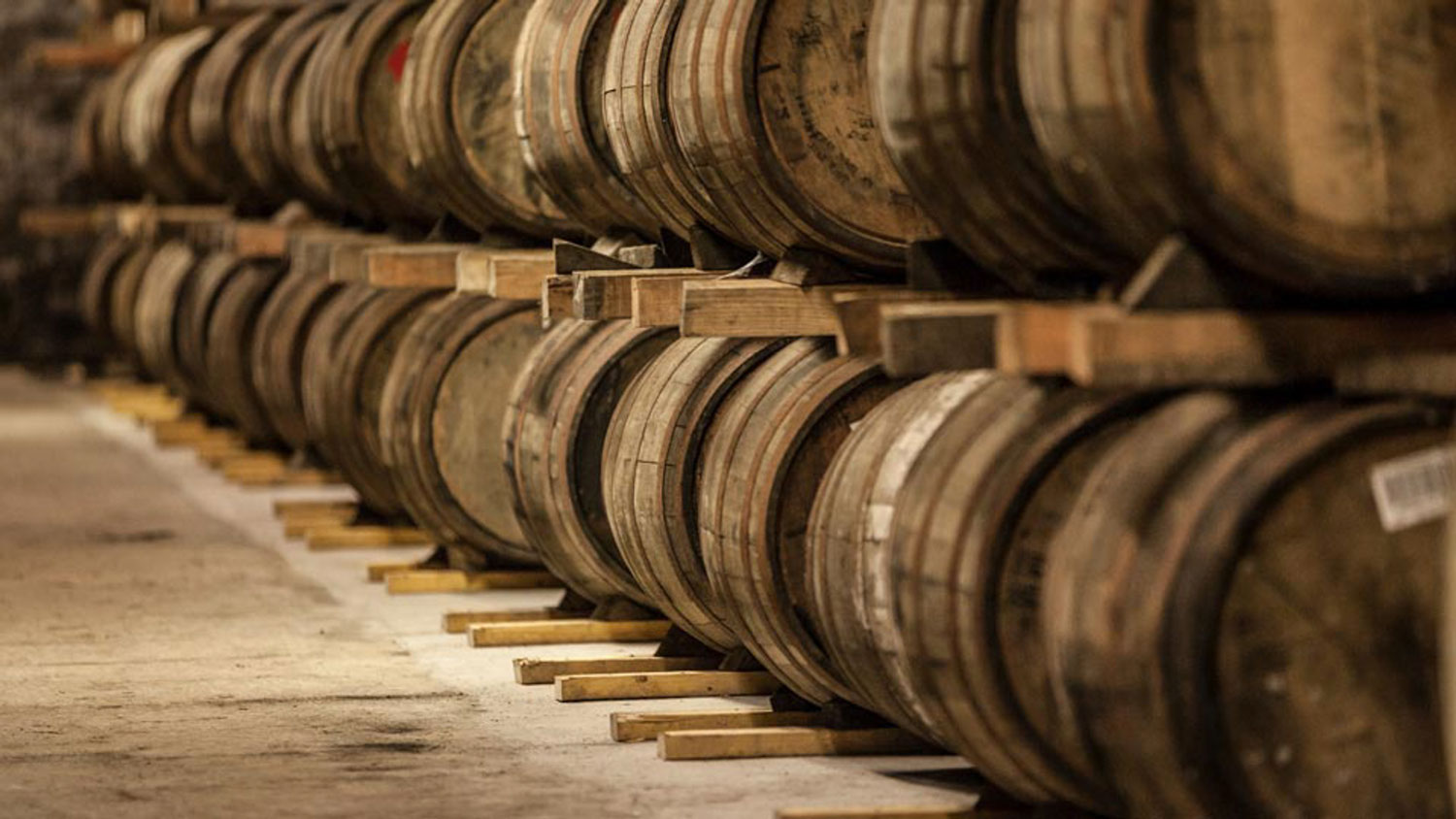 If, on the other hand, you are hoping to bottle and then sell your cask then you will need to market those bottles, and the name Highland Park, for example, is an extremely valuable marketing commodity.
After all, who is going to buy an unbranded 12-year-old Orkney Malt when they can buy a Highland Park 12-year-old elsewhere? Having the naming rights to your cask is vital if you want to stay competitive with distillery bottlings and independent bottlers.
If you want to make any profit on bottling your cask then you need to market your bottles at a higher price point than what the per bottle cost was when you bottled the cask. Our cask calculator is a great online tool that will help you work out how much you will have to pay to bottle your cask.
Let's do a working example:
Let's say that you bought a cask of 6-year-old Highland Park for £3,600. Six years down the line you decide that you would like to bottle that cask. Firstly, let's look at the hypothetical cask details.
Original purchase price: £3,600
Bulk Litres: 240
ABV (%): 43%
With these details, the Cask Calculator can work out how much it will cost to bottle your cask.
Firstly, you will need to pay VAT on the original purchase price of the cask. If you bought the cask for £3,600 then you VAT will be £720.
Then, the Bulk Litres and the ABV can be used to work out the RLA (regauged litres of alcohol) and the bottle yield of the cask. So, if your bulk litres are 240 and the ABV is 43%, then the RLA is 103.2, and the cask will yield 343 bottles. Duty + VAT is payable on each litre of pure alcohol in the cask at a rate of £28.74 per RLA + VAT. This means that if you have 103.2 litres of pure alcohol, the duty + VAT payable will be £3,559.
Next, we need to know how much it will cost to move the cask to a bottling plant and subsequent shipping to a UK address. This should cost around £700, although you may be quoted different figures from various companies.
Then, the bottling fees. For bottling, labels, capsules, corks, bottles, and shipping boxes the cheapest price is around £10 per unit + VAT. If your yield in 357 bottles then you should expect to spend £4,114 on bottling fees.
All of these fees mean that the total cost per bottle for bottling your cask is £37 per bottle, which, if you are bottling 343 bottles, gives you a total of £12,691.*
*The above is a working example. It is possible to bottle your cask at a lower price depending on the above factors.
All of these numbers may seem arbitrary, but if you would like to make any money on your bottles then you need to charge more than £37 per bottle. Now, why would a whisky drinker buy a bottle of 12-year-old 'Orkney Malt' from a private individual when they can buy a bottle of Highland Park 12-year-old for £30?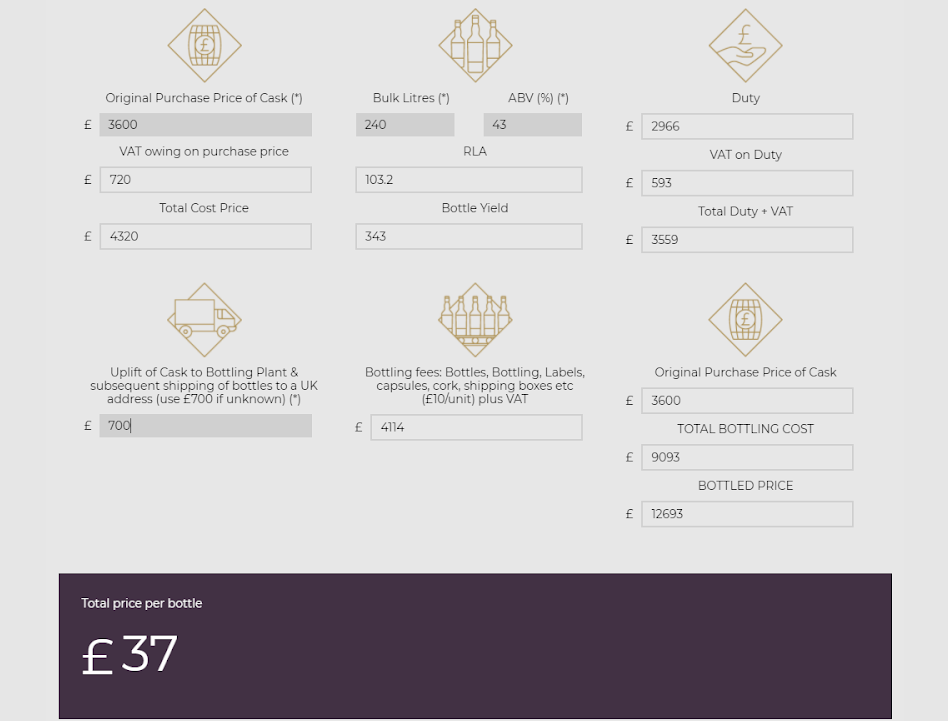 You Need Licences To Sell Alcohol
Another thing to consider is that you need licences to sell alcohol, as it is a controlled substance. Assuming that you can get the licences, you will still have to compete with whisky retailers. It is the industry standard to put a 40-60% markup on the price of whisky from wholesale to retail. It is unlikely, as a private individual that you will be able to match these prices, meaning that your potential to profit on your bottles decreases drastically.
This is why naming rights are so important if you are considering bottling your cask. If you can bottle your cask for less than £37 bottle – which can be done depending on the factors listed above – and you can secure naming rights to the cask, then you can stay competitive and will be more likely to be able to market and sell your bottles.
How Can You Make Sure You Have Naming Rights To The Cask?
If you are in talks to buy a cask make sure that you ask about the naming rights to the cask. Whether you are planning to sell your cask or bottle it yourself, naming rights are a very important asset.
If the company that you are in talks with assures you that you do have naming rights to the cask, ask for it to be written into your contract. That way, you have peace of mind that when you come to sell or bottle your cask, you can sell it using the phrase 'distilled at XXXX distillery'.