In October 2010 a bottle of 64-year-old Dalmore was the first bottle of whisky ever to break the £100,000 mark.
While the record price for a single bottle now stands at more than 10 times that at £1.5million for a bottle of Macallan 1926 60 year old, arguably it is Dalmore who have reached the pinnacle of marketing success – being recognisable from its logo or even bottle shape with no wording necessary.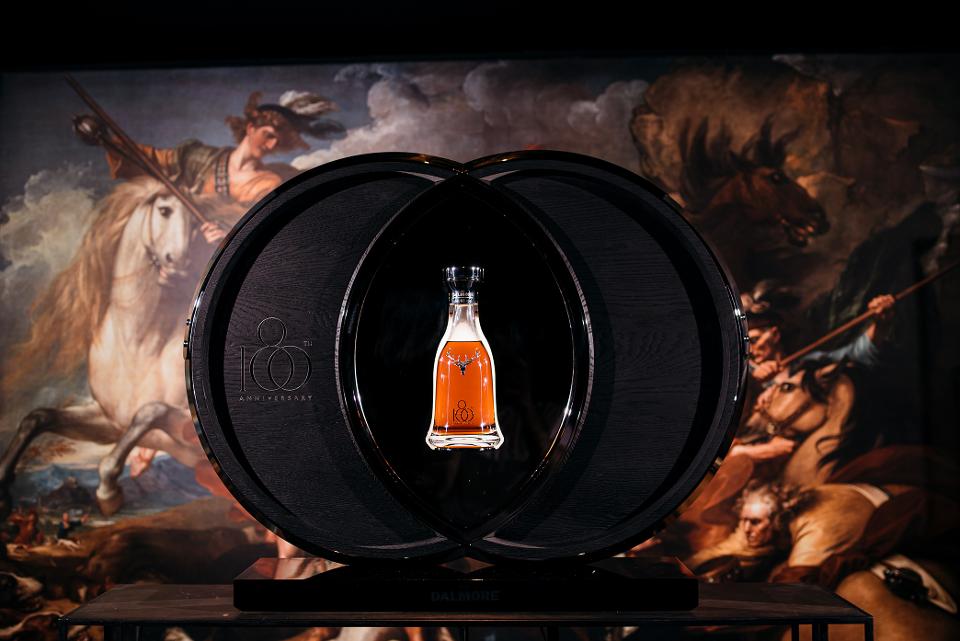 In 2002 Dalmore regularly produced just one single malt whisky, a 15 year old. Eight years later they were breaking records for bottle prices and in 2019 Dalmore took a 30.31% increase in market value and increased their investors ranking by four places (RW101 Full Year Review 2019). But what have Dalmore done to achieve this, and how can you use their success as an investor?
Creating Luxury Whisky
How do you go about making a product that consists of three basic ingredients – water, malted barley and time – and portray that as a luxury item? Especially when there are 120 other distilleries in Scotland producing a fundamentally similar product.
With a history dating back to the 1800s, a logo gifted to them by an ancient king, and a warehouse full of incredible vintage whiskies, Dalmore were in the perfect position to market themselves as a luxury brand. But it is the process of bringing all those things together into a coherent marketing strategy where Dalmore has excelled.
The Whisky Market in 2020
In the RW101 Full Year Review 2019 Macallan exited the top ten investors ranking for the first time despite the record breaking, £1.5million bottle sale in October 2019. Dalmore on the other hand continued their solid progression back into the top 10, moving up four places to position six (above Bowmore) and also enjoyed the ninth biggest increase in market share; a comfortable 30.31% (RW101 Full Year Review 2019).
Dalmore: The rise to the top
Arguably Dalmore's rise started in the early 20th century when they started to fill the casks that would provide the whisky for their star bottles today. However, there are plenty of old distilleries with warehouses of well-aged stock, so simply having a good back catalogue is not enough.
It was 2002 when Dalmore first took the record for the most expensive bottle ever sold at auction; by today's standards a rather measly £25,000. Two years later in 2004 Dalmore took the important decision to open a small visitor centre at their distillery and then 2006 saw the launch of the iconic silver stag. Finally, in 2010, a bottle of Dalmore became the first bottle to sell for a six-figure sum, selling for £100,000 straight out of the distillery shop.
Dalmore did not significantly change their whisky production process between 2002 and 2010. The main thing that changed was the public perception of the brand, and therefore what they perceived Dalmore whisky to be worth, and what buyers became willing to pay.
While the application of any marketing plan may take time and be spread across many small steps, there are four key areas that formed the foundations for Dalmore's larger brand repositioning.
What Dalmore did:
Luxury design: Design has remained at the forefront of the Dalmore brand. From a distinctive bottles shape, to the embossed silver logo, and even the choice of colours, at all price points a bottle of Dalmore suggests luxury.
Visitors' centre: Dalmore opened their first visitors' centre in 2004, it was redesigned in 2011 and 2019. The Dalmore visitors' centre keep their customers involved with the brand, creating brand advocates at all levels. The regular renovation keeps the brand relevant and encourages return visits. Distillery exclusive releases also encourage return visits and continued interactions.
Entry level bottles: bottles of Dalmore 15-year-old start from £55, which along with the design reinforces the idea that these are luxury whiskies. However, it is low enough to be aspirational and ensures widespread brand recognition.
Status bottles: As well as regular 30 year old releases in the +£100 bracket, to cement the luxury status Dalmore have carefully maintained their old stock to ensure a steady release of super high-end, limited edition bottles that generate headline grabbing prices.
The importance of the visitor's centre to a whisky brand
Visitors' centres are one of the common denominators between status brands. In our opinion they are one of the most important factors in establishing brand status and adding value to a brand.
A visitor centres improves their relationship between a brand and their customers. It helps make a brand's consumers their biggest advocates, provides an immersive branding experience to reinforce the ideals and themes presented at the bottle level, and gives a platform from which to launch distillery exclusive releases that encourages drinkers to return and give the press something to talk about.
Dalmore introduced a visitor centre early on in their marketing strategy and importantly they have revamped and redesigned it regularly. The latest redesign was in 2019 and coincided with the launch of their 180th anniversary bottling – a super limited edition run of just three bottles.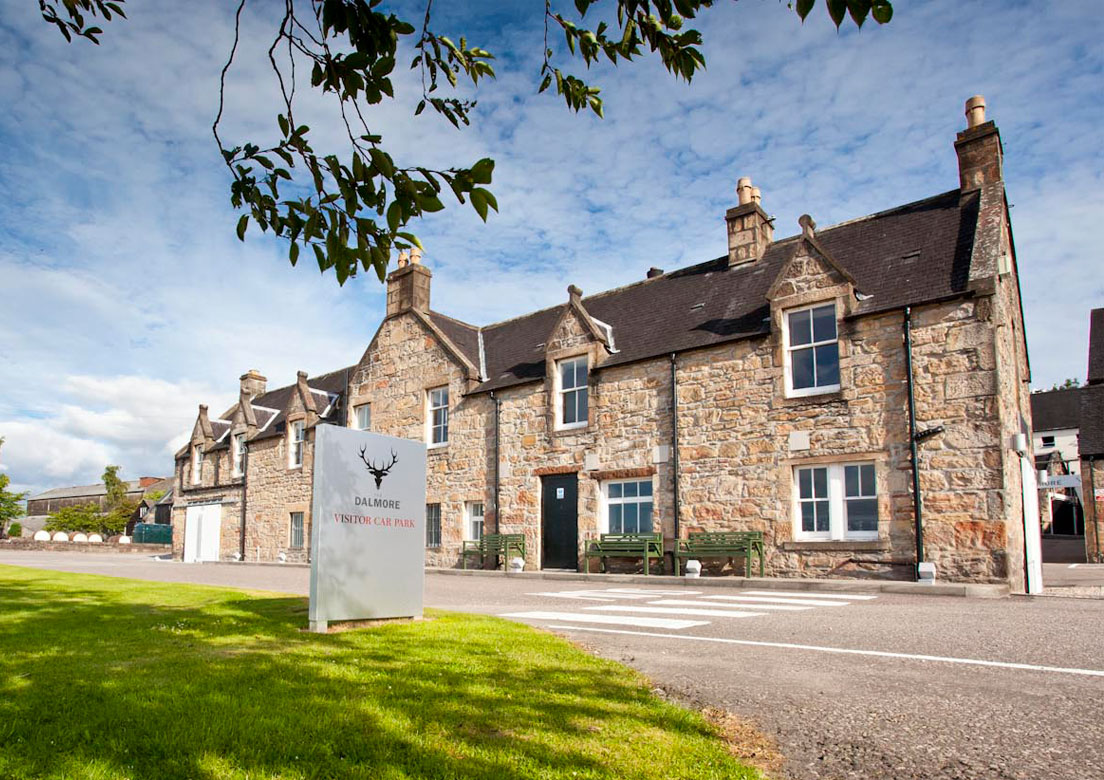 Why logos and bottle design matter
Whether we are conscious of it or not, the design of a product's presentation plays a big part in how we feel about a product.
Specific colours, styles and even font types are used to impart information about the product when a prospective customer looks at it. On the surface it serves to tell a new customer what they might expect, and for existing customers it reinforces their decision to choose that product. However, it also has the additional benefit of projecting to those around us a story about who we are.
Since the 1990s Dalmore have carefully designed all aspects of their product, from the logo to the bottle shape and even the materials and colours used in their branding in order to project an air of luxury.
The Dalmore stag logo has its roots from the 1200s, and even that is steeped in connotations of status and luxury; permission to use the royal stag logo was a gift from the king to the family who eventually founded Dalmore in 1839. The logo has been transformed over the last 30 years, from a small print on the label of a standard sized bottle, to the prominent silver stag emblazoned on a distinctive bottles style on modern bottles.
The ultimate test of a logo is the ability to remove the brand name completely (check out your Starbucks cup next time you buy a coffee from them) a decision Dalmore took when they released the 180th Anniversary bottling in 2019.
The Dalmore bottle is unmistakable thanks to their distinctive silver stag, but just as important is the and bottle shape; most whisky enthusiasts could identify a bottle of Dalmore from the silhouette of the bottle. Easy identification is just as big a part of brand status as the style – there is no point having a luxurious looking bottle if no one has heard of the brand to go out and buy it, something we will discuss more in the next section.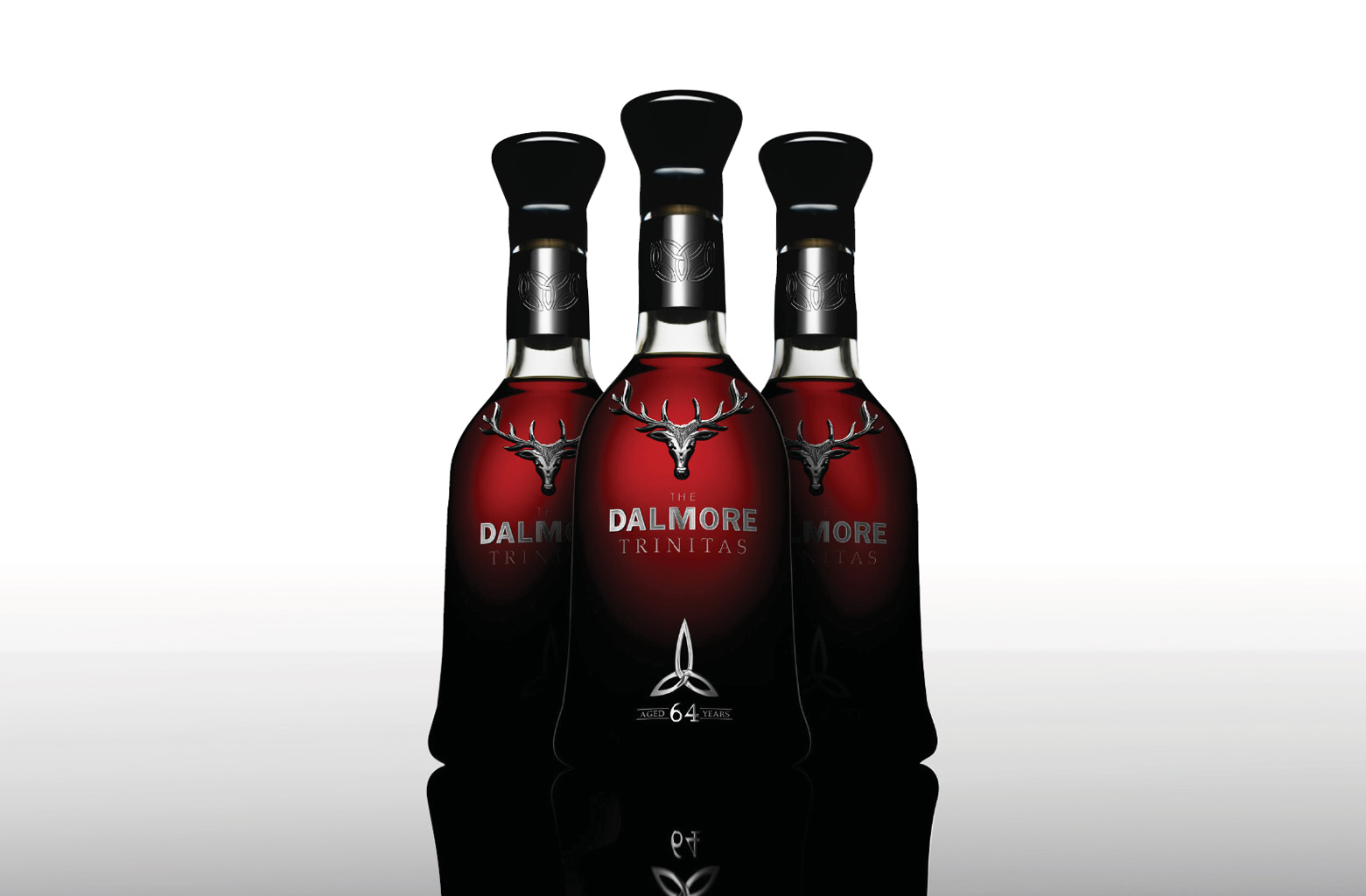 The power of price and status bottles
Status bottles are those that are sold for more than £100. Along with the styling, the price of a product plays a big part in setting expectations and imparting status. While you need the product to match the price tag in the long run, setting the price high drives status and demand.
However, the accessibility of entry level bottles is just as important as the status bottles, as entry level bottles perform two functions.
Firstly, pricing that starts around the £55 mark is obtainable by most drinkers, but is still priced highly enough to be considered an indulgent purchase or gift – reinforcing the perception that the purchase is a luxury item.
Secondly, having an entry level price point that is accessible and widely available ensures brand recognition and captures drinkers early in their whisky journey, creating brand loyalty in people who may aspire to purchase the status bottles at a later point.
Dalmore also took advantage of the booming travel market – which caters particularly to traveling business people with a high disposable income, focus on implying status to those around them and often with a desire to buy a gift that shows wealth. This gives international brand recognition that is important for building a true status brand – luxury should have international appeal.
Dalmore in 2020
In 2019 Dalmore laid down the marketing gauntlet when they claimed to aspire to become THE luxury brand. Impressive stuff when Macallan had sold a £1.2million pound bottle at the end of 2018 and would go on to sell a £1.5million pound bottle in October 2019.
While the Corvid-19 situation may make 2020 somewhat of an unusual year in terms of eventual performance. The results from Rare Whisky 101's Full Year Report 2019 show that Dalmore know what they are doing; with a 30% increase in market value and a steadily improving position in terms of investor's rankings – up four places to position six, from position ten in 2018 and twelve in 2017, however in 2016 they were at number three.
Whether you are looking to invest in bottles or casks of whisky, a distillery's outlook and strategy on their brand position is important. Whether Dalmore can return to the top three position remains to be seen, however the lessons to be learnt from what Dalmore have achieved over the last 20 years can certainly be applied by shrewd investors when looking at where best to place their money.
Send me my free cask buying guide
More information
Mark Littler are specialist whisky brokers and we can provide expert assistance in both bottles and casks.
Whether you are looking to sell a bottle of whisky, want to find out more about becoming a private collector with us or you have a cask to sell or are looking to invest in casks of whisky we can help you. We pride ourselves on providing as much information as possible on all aspects of whisky brokerage so that you can make the right decision for you.
If you have a question please don't hesitate to get in touch. You can send us an email or call the office on 01260 218 718.