It is Ardbeg week here at Mark Littler Ltd! And, today we are going to talk about the most expensive bottles of Ardbeg ever sold at auction. 
In the last 20 years, Ardbeg has been consistently releasing Committee Releases and Limited Releases that have been highly sought-after by collectors, as well as some vintage statements from over 50 years ago, such as the 1965 Cadenhead bottling. 
So, have any of these special releases made huge sums of money at auction? Let's find out. Who knows, you may have a very valuable bottle of Ardbeg sat in your drinks cabinet.
The Most Expensive Bottles of Ardbeg Ever Sold At Auction 
Nov 2018         Ardbeg 37 Year Old        £30,100
May 2019        Ardbeg 1965 Cadenhead's 23 Year Old / Mizuhashi Total Liquor Supply £26,500
Jan 2021         Ardbeg 1965 Cadenhead's 23 Year Old / Mizuhashi Total Liquor Supply £26,000
Jan 2019         Ardbeg 1967 Kingsbury 29 Year Old #922        £25,034
Sep 2018        Ardbeg 1974 Single Cask Bourbon Cask matured        £22,439 
The top bottle on this list is an Ardbeg 37 Year Old that was bottled at cask strength in 2018 to celebrate the 10th anniversary of The Whisky Show. This is the only bottle in existence, hence the steep price tag. This bottle last sold at auction in November 2018. 
Spots 2 and 3 are taken up by two incredibly rare Ardbeg 1965 23 Year Olds, bottled by Cadnehead for a series of cask selection by Mizuhashi Total Liquor Supply, a Japanese importer. Each expression was bottled in 1988 or 1989. The Ardbeg expression sits alongside bottles of Glen Ord, Glencadam, Tamnavulin, and Glendullan in this series.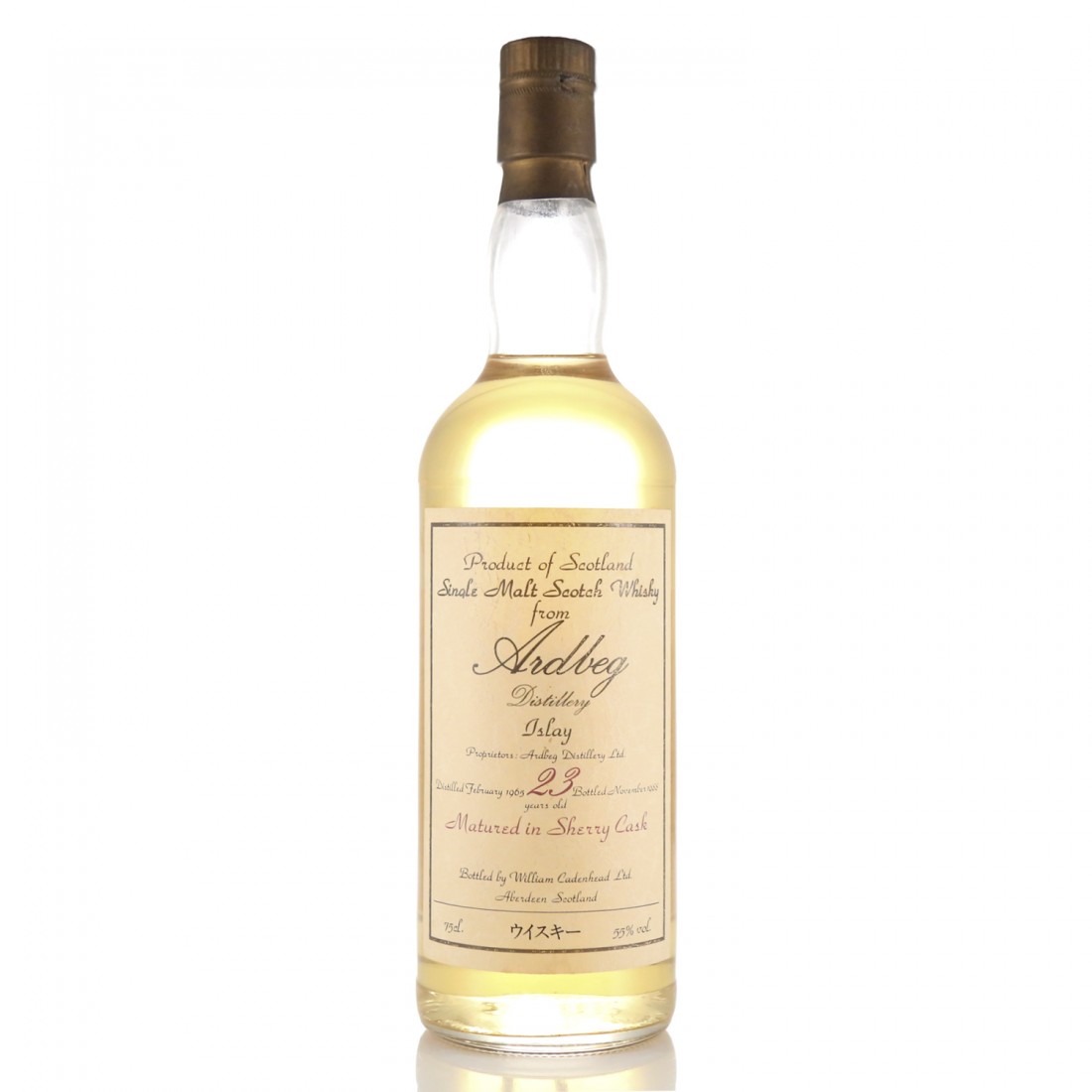 Position number four is taken by a very rare bottle of Ardbeg 29 Year Old, bottled by Kingsbury's of Japan. Initially bottling whiskies exclusively for the Japanese market, Kingsbury's is perhaps the most sought-after Japanese independent bottler. This particular bottle was filled in June 1996 after aging in an ex-sherry cask since 1967. This, too, receives 97 points from Serge Valentin himself.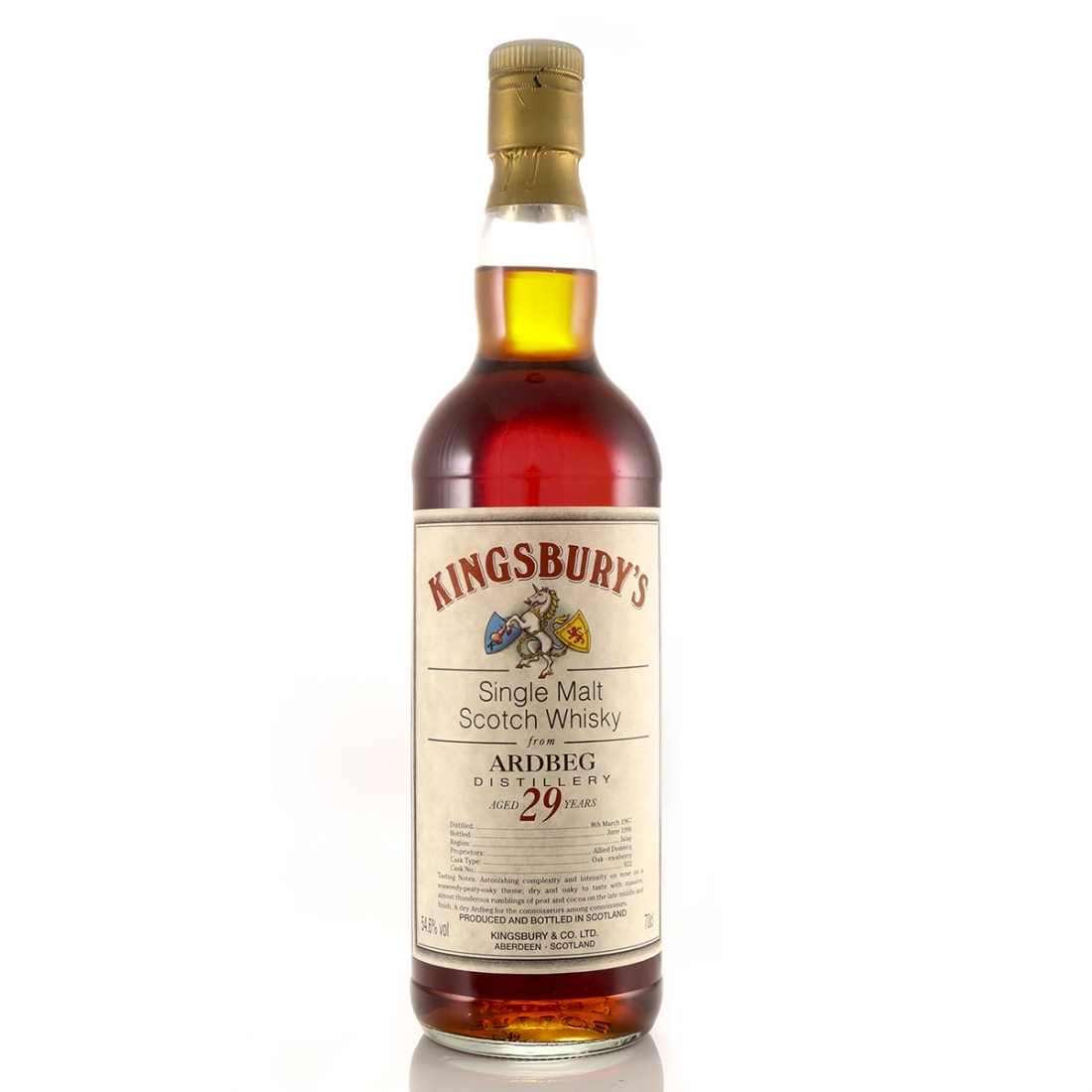 And, last but not least we have an Ardbeg Cask Strength distilled in 1974 and bottled in 2005. This bottle is accompanied by a leather-bound wooden case that is branded with the distinctive Ardbeg 'A'. This particular bottle is bottle number 16 of only 36 ever produced.  
Would Like To Own A Collectible Bottle of Ardbeg? 
As you can see, the price for these whiskies is pretty astronomical. If you would like to own a bottle of Ardbeg without the £30,000 price tag then why not take a look at our online shop? We have a few different bottles of Ardbeg priced between £1,000 and £3,542, including an Ardbeg Provenance and an Ardbeg 1965 15 Year Old Connoisseurs Choice.  
If you are just starting out with Ardbeg and would like to try a few drams at a lower price point, Master of Malt have some great bottles starting from £35.