Ardbeg week continues today with another Ardbeg expression that we are proud to be offering on our online shop. 
Ardbeg has seen massive commercial success over the past two decades, and older bottlings of Ardbeg now command high prices at auction, and are highly sought-after. 
This bottle is a 1965 15 Year Old that was bottled by Gordon & MacPhail for their famed Connoisseurs Choice series in its infamous brown packaging. The series has undergone numerous redesigns, but this packaging remains easily recognisable.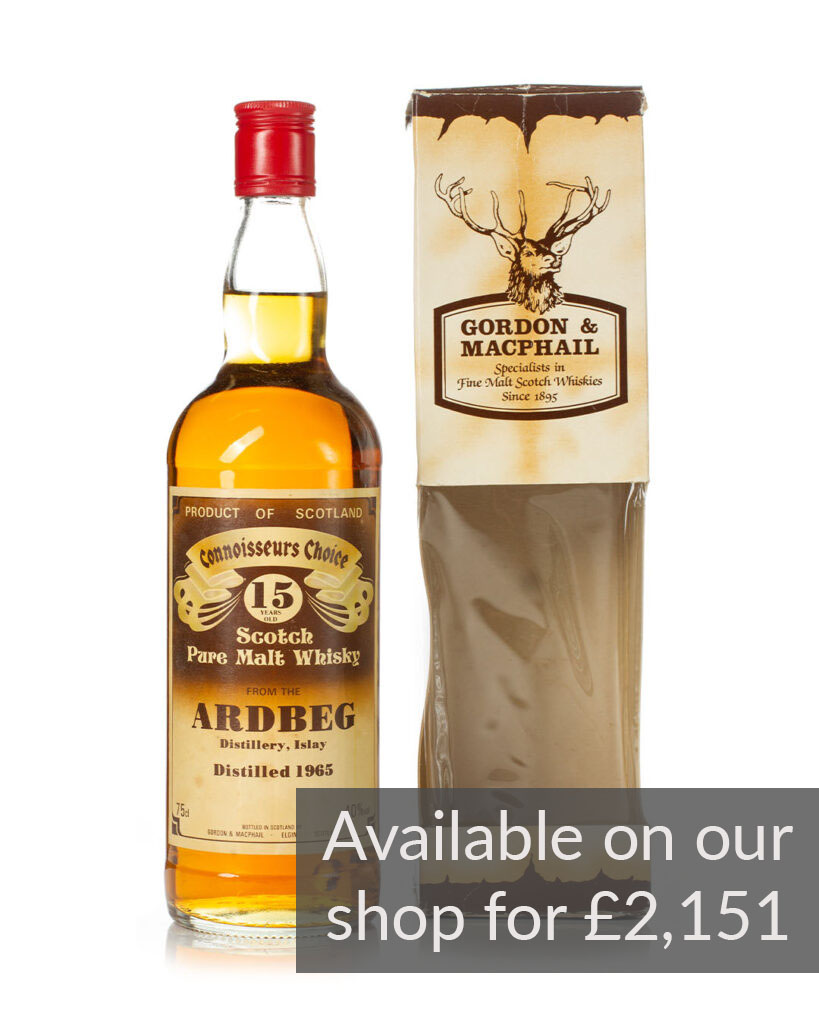 History of Gordon & MacPhail
Gordon & MacPhail is one of Scotland's oldest and best-known independent bottlers, famed for their Connoisseurs Choice series. 
The company was founded in 1895 by James Gordon and John Alexander MacPhail, who set up a grocery and wine merchant company in Elgin. They were joined by an apprentice, John Urquhart, in 1896 who became a senior partner in 1915 and began developing the brokerage side of the business. He was gifted in selecting whiskies from local distilleries that the company would then mature and bottle. 
John Urquhart's son, George, joined the family business in 1933 after being taught by his father in the ways of the company. John and George Urquhart built lasting relationships with local distillers and focused heavily on the importance of maturation to the end product. 
During World War II, Gordon & MacPhail continued to operate, shipping mature whisky the USA and bringing in funds that helped with the war effort. They also continued to fill their own casks meaning that the company had healthy stocks throughout the war. 
In 1967, George Urquhart's son, Ian, joined the business after training in wines and spirits in France and London. He was managing director of Gordon & MacPhail from 1990 until his retirement in 2007. 
1968 saw the launch of Gordon & MacPhail's most famous bottling series: Connoisseurs Choice. This series was successful not only in the UK, but also in the USA, France, Italy, and The Netherlands. The series has undergone multiple redesigns as the company has grown. Connoisseurs Choice bottlings of certain whiskies are highly sought-after and command high prices at auction. 
David Urquhart, Ian's younger brother, also became part of Gordon & MacPhail in 1972 and became UK Sales Director due to his education in business. Upon his brother's retirement in 2007, David and his other brother Michael (who joined in 1981) became joint managing directors, until David retired in 2012, when Michael became sole Managing Director. David died in 2015 at the age of 63.
The 70s and 80s saw the business expand rapidly, so much so that the company moved to George House, a site of custom-built offices and warehouses, in 1991. 
In 1993, Gordon & MacPhail purchased Benromach distillery. Owning a distillery had long been a dream of John Urquhart and his descendants. As such, 1993 is an important date in Gordon & MacPhail's history. The distillery was refurbished and reopened by HRH Prince Charles in 1998. 
In 2000, John Urquhart's great-grandson, Stephen Rankin, joined the company, eventually becoming sales director in 2010. 
In 2010, Gordon & MacPhail launched Generations Mortlach 70 Year Old, which was the worl'd oldest bottled single malt Scotch whisky at the time (since beaten by Macallan's 78 Year Old Red Series). 2011 saw the release of the Generations Glenlivet 70 Year Old, followed by a second release in 2012. A Mortlach 75 Year Old was released in 2015. 
In 2017, Ewen Mackintosh became Managing Director of Gordon & MacPhail, having spent his working career at the company from 1991 onwards. 
Gordon & MacPhail are famed for their bottlings from many famed distilleries, and their recent very old age-statement bottlings have helped to cement their status as one of Scotland's most revered independent bottlings. 
Ready To Buy This Bottle? 
This bottling is indicative not only of Ardbeg's history, but also the history of Gordon & MacPhail. If you would like to own this bottle to add to (or to start) your whisky collection, you can buy it on our online shop for £2,151.