As the first half of Ardbeg Week (or fortnight) draws to a close, we are looking to the future to find out what Ardbeg has planned for 2021 and beyond, and have a look at the most recent releases from the distillery.
Ardbeg Guaranteed 25 Years Old 
In early 2021 Ardbeg released the oldest expression in its portfolio yet, a 25 Year Old. This bottling will join Ardbeg's permanent range but in limited quantities. 
In the 1990s, when this whisky was distilled, Ardbeg's capacity was extremely low, meaning that there is a limited amount of the 25 year old whisky available, and that anyone who is lucky enough to get their hands on a bottle will be in possession of an incredibly rare bottle of Ardbeg.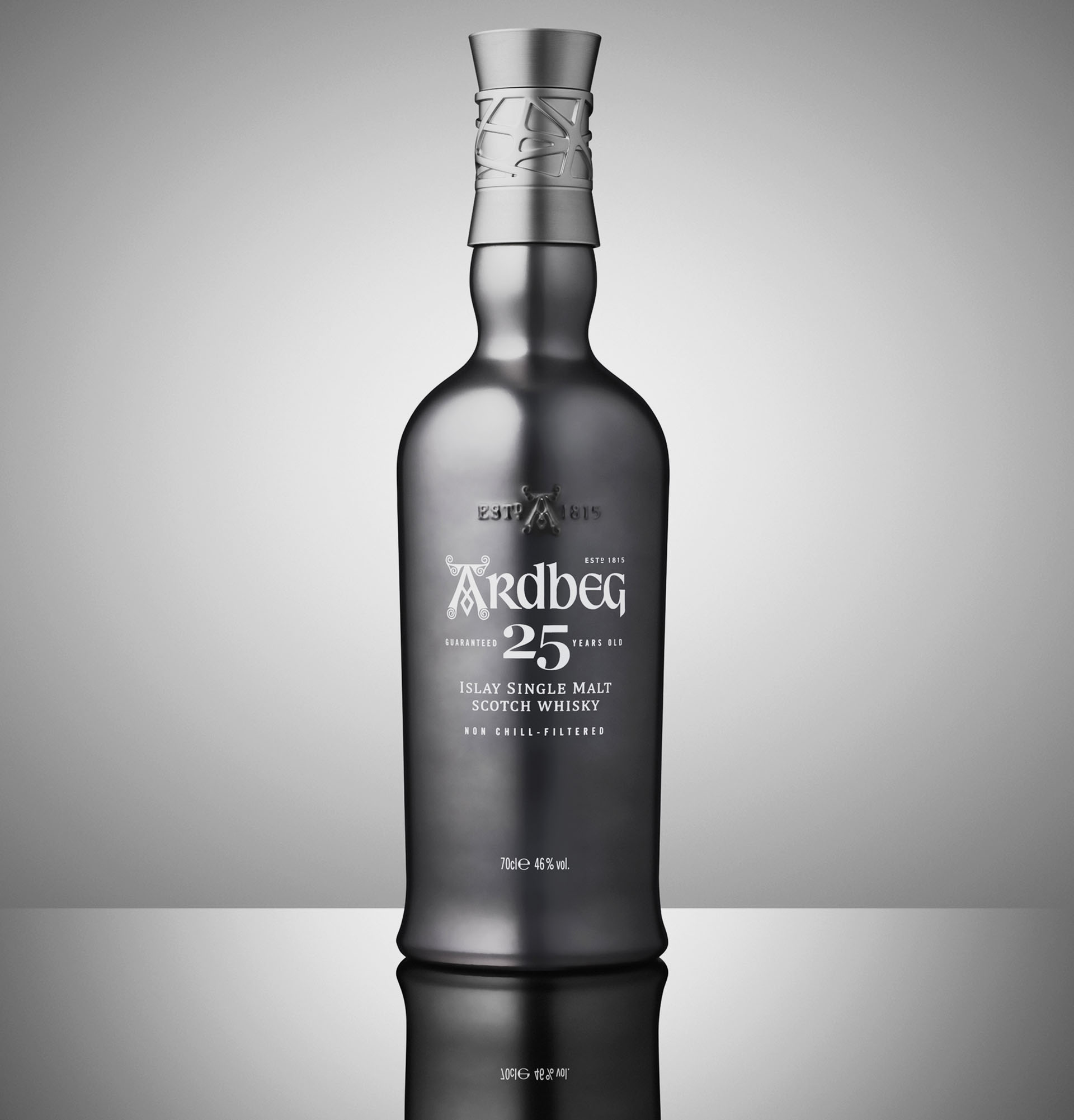 The bottle is presented in a matte black bottle with an intricate metal cap. The box is encased in something resembling a metal cage that is a reworking of the Ardbeg knot. This is thought to represent the complexity of the whisky inside the bottle. A quarter of a century in the cask means that the whisky has taken on a huge depth of flavour. Dr Bill Lumsden, whisky creator at Ardbeg has described the expression as "unmistakably Ardbeg, but unlike any Ardbeg you've tasted before". 
The bottle is currently sold out online, but you may be able to find it at whisky specialists in the future. 
Ardbeg Arrrrrrdbeg! 
Another recent release is the Ardbeg Arrrrrrdbeg! which was bottled in celebration of the retirement of Distillery Manager Mickey Heads. 
The design of the bottle shows Heads at the helm of a ship dressed as a pirate. He has a puppy in his shoulder and a bottle of Arrrrrrdbeg in hand. The label was designed by Butcher Billy, a Brazilian graphic artist and designer. 
Continuing with the pirate theme, the whisky was matured exclusively in ex-rye casks, leading to a gunpowder note on the nose. The tasting notes also mentioned pear, vanilla, rye, sourdough bread, and smoke on the finish.
Mickey Heads joined Ardbeg in 2007, and has overseen many of Ardbeg's most exciting releases, such as the Ardbeg Blaaack, Ardbeg 10 Year Old, Ardbeg Rollercoaster, Alligator, and so on… As such, it seems that this retirement gift is well-deserved. Mickey is staying on in his role as Chairman of the Ardbeg Committee. 
Mickey Heads recorded a special tasting video and Q&A about his retirement and the special release. You can watch the video, and read more about the Arrrrrrdbeg! on Ardbeg's website. 
What Will 2021 Bring? 
There are rumours circulating that Ardbeg will soon be releasing another new expression, named the Ardbeg Scorch. Rumours of this bottling first started swirling after the cancelation of the Feis Ile 2020. It is rumoured to be matured in dragon charred casks (heavily charred oak casks), and will be a limited edition bottling. Watch this space!