Macallan has had a 30 year old single malt in its core range since the 1990s and many of the iterations have become sought after collectors items. Read on to find out what the differences are between the seven different releases.
The Macallan 30 YO Sherry Oak, 1990s-2000s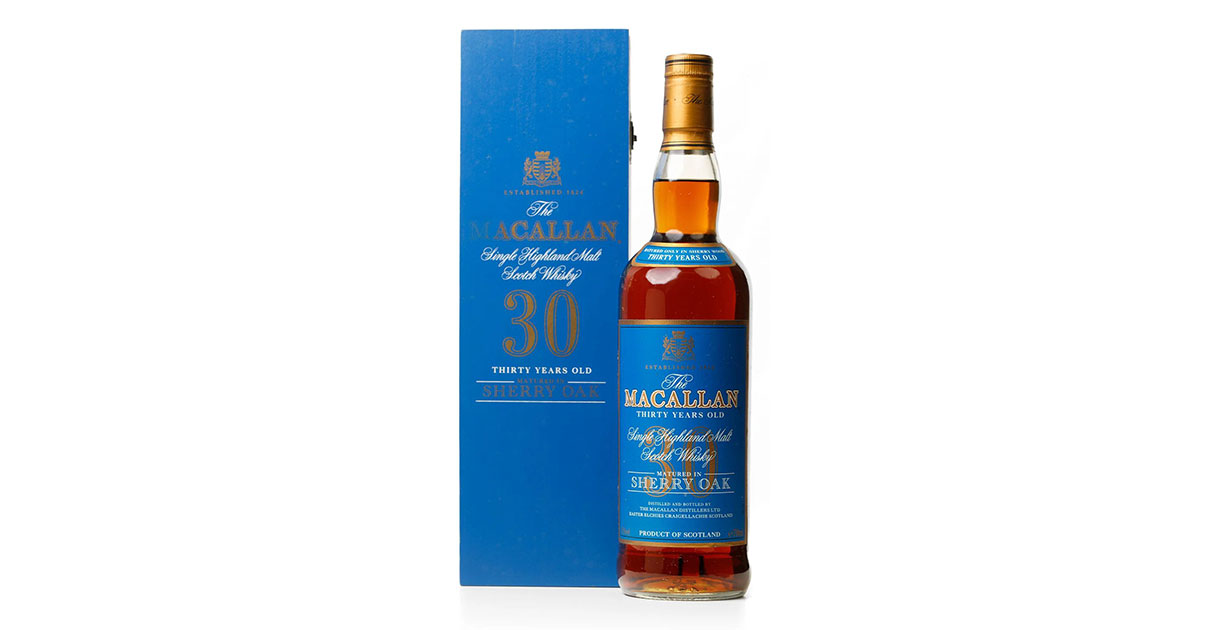 The most sought-after and arguably most iconic of Macallan's 30 year old releases is the 1990s-2000s bottling with its distinct deep blue label and matching box. This is a real icon of 90s Macallan and makes a great addition to any collector's shelves.
This design first appeared in the late 1990s and only ran until 2002 when Macallan overhauled its packaging. Back in the early days of whisky collecting this was still considered a premium bottle, however that was relative; the earliest record of a retail sale that we can find was via The Whisky Exchange for £195 in 2002, and the earliest available online auction record shows the bottle selling for £279 in 2006.
The market has changed significantly since those early days and these have been excellent assets for those that kept them since then. However, bottles like the early 30 year old still make a solid addition to a collection thanks to the core characteristics that make these highly sought after; scarcity, age and brand.
Add it to your collection: Macallan 30 Year Old Sherry Oak Bottled 1990s-2000s With Original Box
The Macallan 30 YO Sherry Oak, 2004-2006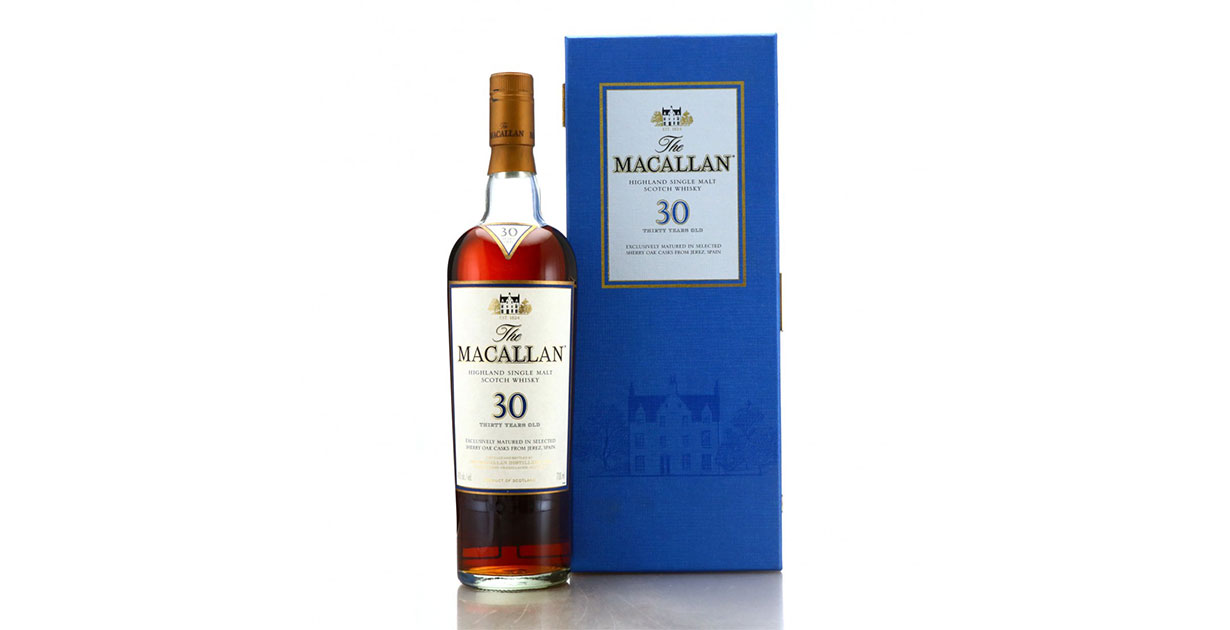 In 2002 Macallan updated its bottle shape and packaging in a major redesign that would lay the foundations for its future as a premium brand. The 30 year old sherry oak was updated in 2004, though this version only ran until 2006, making it almost as rare as its predecessor.
Add it to your collection: Macallan 30 Year Old, Sherry Oak with Box (external link)
The Macallan 30 YO Fine Oak, 2004-2008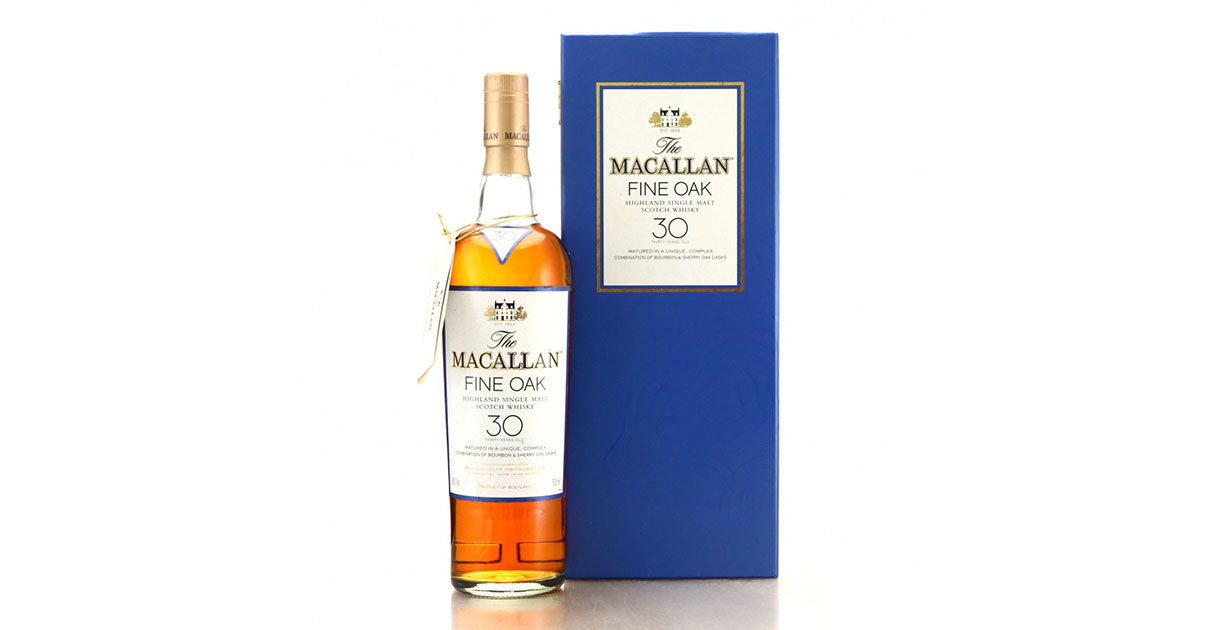 In 2004, Macallan also launched the Fine Oak series, which showcased the distillery's European and American oak casks, and ex-bourbon American oak casks. The Fine Oak series is distinct from the Sherry Oak series for this reason, but does on first glance appear very similar to the sherried series.
Of course, it is sherry casks that Macallan is renowned for and as such this version is considerably more cost effective as a Macallan, while still offering a good way to get some high age statement vintage Macallan into your collection.
The Macallan 30 YO Fine Oak Triple Cask Matured, 2008-2012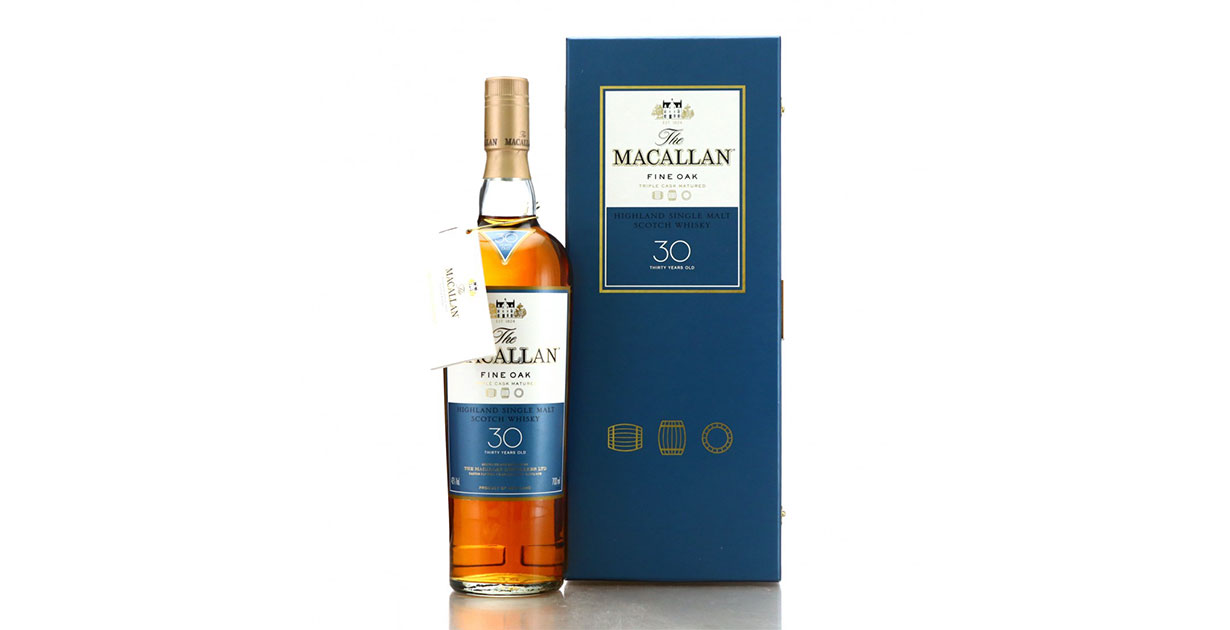 The next iteration of the Macallan 30 Year Old involved expanding Macallan's Fine Oak series to include 'Triple Matured' expressions, like the one we see here. 
As you can see, the packaging has changed somewhat, with the introduction of the half white, half blue label, as well as the three golden barrels on the box that have become synonymous with triple cask matured expressions.
The Macallan 30 YO Fine Oak Triple Cask Matured, 2012-2018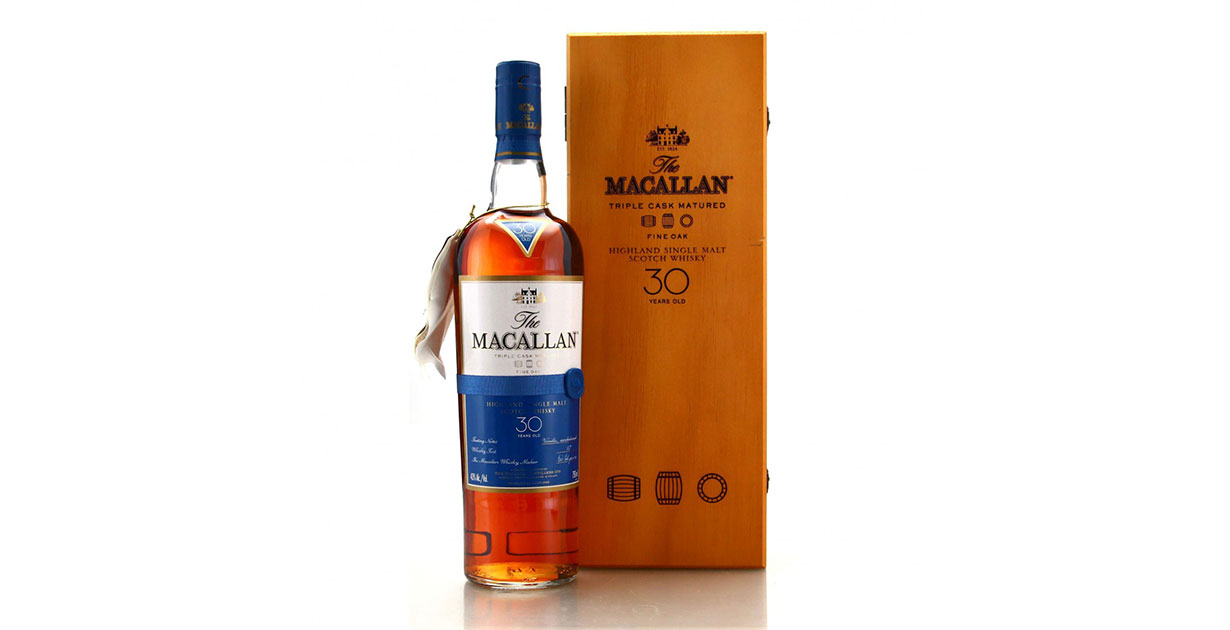 In 2012 Macallan updated its packaging once again and the iconic blue box was replaced with the stylish wooden version that is similar to the one used today. 
The updated version of the Macallan 30 Year Old Fine Oak Triple Cask Matured introduced the concept of Whisky Tints, created by Bob Dalgarno to measure the depth of colour and the different flavour profiles in Macallan whiskies. The tint scale is based on different types of wood casks and the typical colour that they impart on the whisky. The scale ranges from 0-100 and every 10 points is assigned a wood that is comparable to the colour and profile of the whisky. For example, beech (10 points) is very light in colour and the whisky has a very delicate profile of light spices, notes of toffee, and citrus fruits. At the other end of the scale, ebony evokes a very dark and rich colour with much heavier notes of treacle and dried fruits with a long finish. 
The tint can be seen on the blue section of the front label, and aims to inform prospective drinkers of what to expect without drawn-out tasting notes, and to put emphasis on Macallan's use of natural colour. 
The whisky tint numbers also refer to the fifth of Macallan's six pillars: natural colour. Macallan uses the term 'Six Pillars' to refer to the aspects of the distillery that makes Macallan, Macallan. To read more about Macallan's six pillars, click here. The whisky tints also formed for the foundation of the 1824 series (Ruby, Amber, Gold, and Sienna) which were also introduced in 2012.
This expression is also the first to be presented in a natural wooden box, and with the 'handwritten label-esque' ribbon on the label. 
As it would turn out, this would be the last Fine Oak 30 year old, as the series was rebranded as 'Triple Cask' in 2018.
Macallan 30 YO Sherry Oak, mid-2010s-2018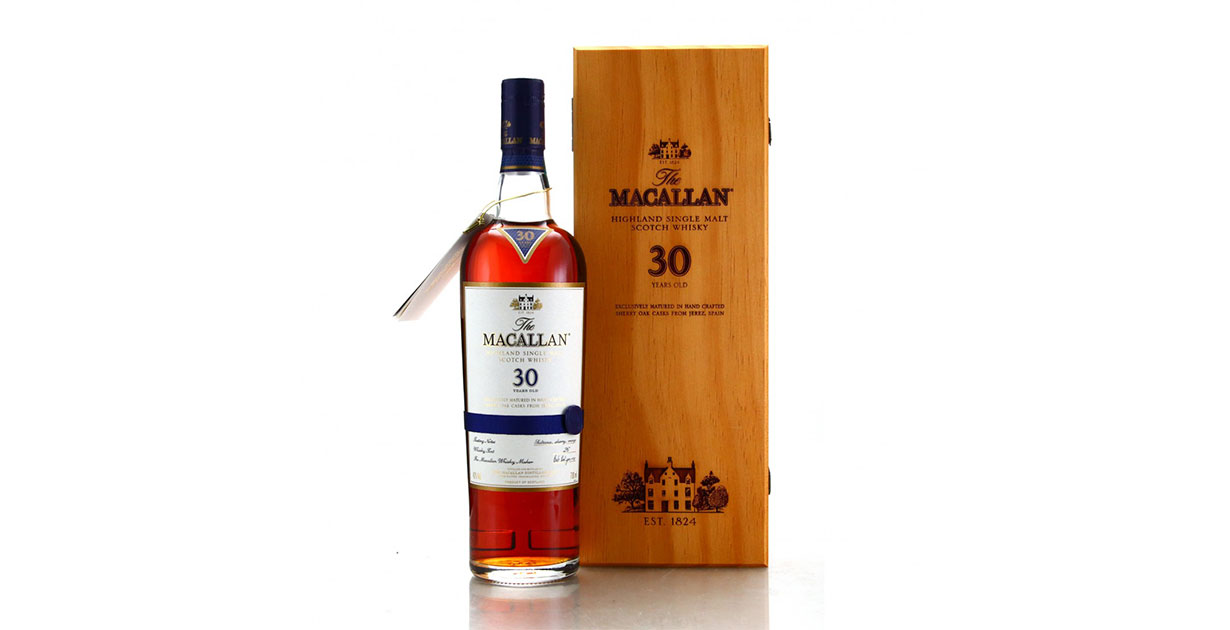 The mid-2010s saw the return of the Sherry Oak 30 year old, which hadn't been released since 2008. This iteration had the as then latest wooden box, and the distinctive ribbon wrapped around the lower third of the label reminiscent of the handwritten label series.
This Sherry Oak also featured the new whisky tint grading. Macallan have long been known to produce startling sherry bombs, and here it is clearly demonstrated by the almost cherry tint (number 26 on the scale). 
Add it to your collection: Macallan 30 Year Old Sherry Oak With Wooden Original Box
Macallan 30 YO Sherry Oak 2018 Release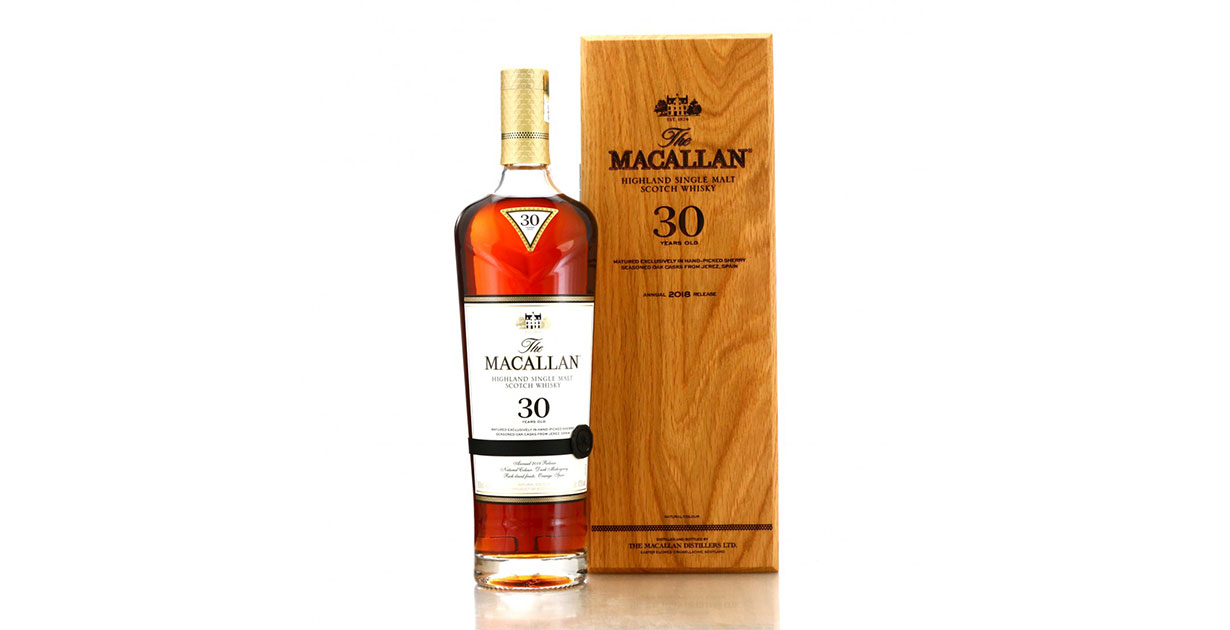 2018 was an extremely important year for Macallan – the year of the rebrand. Macallan had already been making waves in the whisky market, but in 2018, something changed. Firstly, the new distillery. A subterranean masterpiece, the new distillery was designed by Rogers Stirk Harbour + Partners, the architects of London's Millennium Dome and contains 15 more stills than its pre-decessor which decommissioned in 2017. 
2018 was also the year in which Scotch whisky as a whole saw a huge explosion in value, and whisky bottles were seen on the Knight Frank Luxury Index for the first time alongside traditional investments such as watches, jewellery, and classic cars. As such, the market for Macallan (and for collectible single malt Scotch) boomed, and this Macallan 30 Year Old was the first 30 year old expression released in this new era. 
The whisky is presented in the modern-shaped Macallan bottle with a black ribbon around the label and a upgraded wooden box. 
Rather than a whisky tint, these new releases state the natural colour of the whisky. For example, the 2018 release in 'Dark Mahogany'. 
Since 2018, there has been an annual 30 year old release displaying the bottling year. This places the 30 year olds amongst the 25 year olds and 18 year olds as annual Macallan releases.
Macallan 30 YO Double Cask, 2021 Release 
In 2021, Macallan released a Macallan 30 Year Old Double Cask, showcasing yet another sibling for the Macallan Sherry Oak releases. Much like the Fine Oaks, the Double Casks contain whisky matured in a mixture of American oak and European oak casks, offering a milder alternative to the sherry matured whiskies that Macallan is famous for. 
The Double Casks are also annual releases, and we can expect 30 year old Macallans from both the Double Cask and Sherry Oak series in 2023. 
Which Other Distilleries Have 30 Year Olds In Their Core Ranges?
Thirty year old whisky is at the higher-end of the core-range age statements bottled by both distilleries and independent bottlers. Of course, there are exceptions to this such as the likes of the Glenfarclas Warehouse Series, which includes 30, 35 and 40 year old iterations (which followers of Mark on YouTube will know we're big fans of here at Mark Littler Ltd). There are also, of course, one-off bottlings of increasingly old single malts being bottled by Macallan such as The Macallan Reach, which is a staggering 82 years old.
Bottling whisky at 30 years old can be beneficial to a distillery. High age statement bottlings are also considered more luxurious, and can help to elevate the status of a brand. 30 years is comfortably within a cask's lifetime with the right care and environment. However of course a distillery cannot just decide to bottle a 30 year old whisky; as even the likes of Macallan have shown with the gaps in their core range Sherry Cask series.
A 30 year old is a nice mid-way point between low age statement, cheaper whisky and the super high age statement super-premium bottlings, which means distilleries can cater to different budgets and produce entry level aspirational bottles. As such, there are many distilleries that showcase 30 year old single malts in their core ranges. These distilleries include the likes of Bunnahabhain, GlenAllachie, Glengoyne, Talisker, and more.
Macallan's edge has always been to act as the market leader. At the time that the first iteration of the Macallan 30 Year Old Sherry Oak in its distinctive blue box hit the shelves 30 year old single malt was a rarity. The likes of Bowmore, Springbank, and Ardbeg were amongst the few, and like Macallan they have ensconced themselves firmly in the premium end of the market. However it is still Macallan 30 year olds that have cornered the market for this particular age statement.
Why Does Macallan 30 year old cost more? 
The Macallan is widely considered to be the most luxurious whisky brand in the world, thanks to the many records both set and broken by Macallan whisky. One only has to remember its Macallan that holds the record for the most expensive bottle of whisky ever sold at auction (Macallan 1926 60 Year Old Fine & Rare, £1.5million, Sotheby's 2019). Not to mention that they have held the record with more bottles than any other distillery.
It is a combination of factors that set's Macallan bottles apart from other brands with drinkers and investors alike. But the result is that whisky lovers, connoisseurs, and investors seek old & rare Macallan bottles for their collections, which means competition for bottles such as the Macallan 30 Year Old Sherry Oak is high while the scarcity of the older bottles drives up competition further.
Even at the lower end of the market, Macallan is sought after with collectors. Many modern releases are bought up in seconds by Macallan ballot winners, and the success of investors in these newer bottles helps generate interest in older bottles too. 
Whilst there are other distilleries that are considered premium, we would argue that no other distillery has consistently promoted themselves so successfully for so long. This means that Macallan also have a huge back catalogue of vintage single malts such as the Handwritten Labels and the Anniversary Malts on which to build their brand and drive interest with a broad range of collectors. This in turn maintains the prices for bottles like the 30 year old above that for competition brands.
This consistency cannot be overlooked. By comparison, 30 year olds have disappeared and reappeared in core ranges from other technically premium distilleries over time. But the lack of consistency may be part of what makes the bottles less collectable. One good example is Ardbeg, who have previously had a 30 year old as part of their core range, but have since discontinued it.
Buy Macallan 30 Year Olds 
The competition and awareness around Macallan bottles does mean they can be more expensive than similar age-statements from other brands, however it also gives reliability for these as bottles for a long term collection or investment.
If you would like to own the a bottling in this fantastic series of releases we have a range of Macallan 30 year olds available on the shop.
Shop Macallan 30 year olds here.
If you want to discover more about investing in whisky bottles then make sure you download our free Bottle Investment PDF. And for ongoing discussions about bottle and cask investment make sure you head across to our YouTube.