The art of whisky blending stretches back centuries, and the Scotch whisky market has seen dozens of established brands such as Johnnie Walker, Cutty Sark, and Chivas Regal cater to a wide variety of blended whisky drinkers during that time. As of 2023, there are some new kids on the block, and their approach to blending whisky is something that has previously caused a stir in the whisky industry. 
Turntable Spirits 
Turntable Spirits was launched in April 2023 by two brothers, Alasdair and Gordon Stevenson. The brothers have a passion for blended whisky and over 20 years of industry experience between them. Turntable was set up to "flip the record on ordinary and create a new generation of blended Scotch whisky".
The creation of this new generation involves doing something that blended brands are not generally known for doing: disclosing the exact measurements of whisky from each distillery that go into their blends.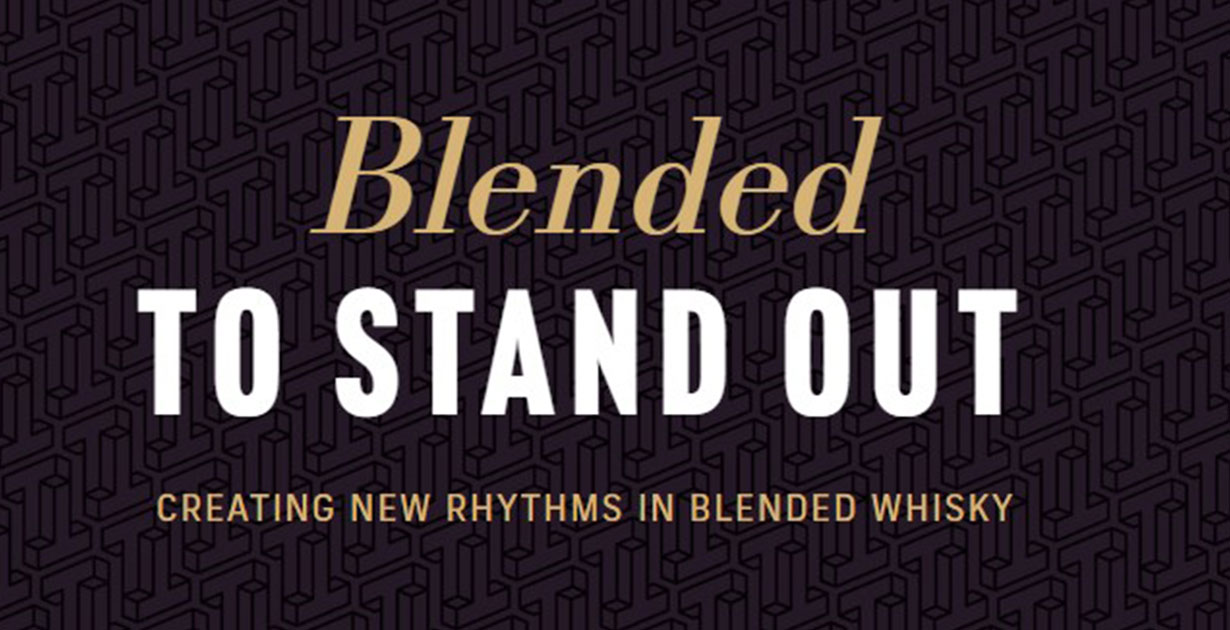 But why is this a non-traditional approach? And why has Turntable decided that now is the time to break the wheel (or…vinyl?). As it turns out, another blended whisky company has dabbled in this approach before…
Compass Box 
Despite Turntable's non-traditional approach, it is not the first time that a blending brand has attempted this method. Compass Box, a blended whisky company founded in 2000 by former Johnnie Walker marketing director, John Glaser, ran into some trouble with the Scotch Whisky Association over this issue. 
In 2015, Compass Box released two new bottlings: This Is Not A Luxury Whisky and Flaming Heart. In the marketing materials for these blends, Compass Box stated the names of the distillery malts included in the blends, the percentages used, the cask types, and (crucially) the age of each whisky. 
How To Date Your Bottles Of Whisky: The Ultimate Guide
How Japanese Whisky Became World Famous
The Scotch Whisky Association, spurred on by an unnamed whistleblower, quickly informed Compass Box that they were breaking EU laws by stating the ages of the whiskies in the blend. Regulation 12.3 of the Spirits Drinks Regulation No. 110/2008 states that any mention of age should only be in reference to the youngest spirit in the blend.  
Compass Box, of course, had no choice but to amend the marketing for these two bottles and, since then, they have had something of rocky relationship with the SWA, with John Glaser insisting that "[w]e believe Scotch producers should have the freedom, but not the obligation, to disclose all of the components of a blend. Consumers have the right to know". 
Is Turntable Turning The Law On Its Head? 
Turntable's core range was revealed in 2023 and consists of three blended Scotch whiskies: Paradise Funk, Bittersweet Symphony, and Smokin Riff. 
Paradise Funk "a funky yet delicate duo bursts with exotic flavours. A harmony of sweet caramelized pineapple, smooth vanilla and sweet toffee". The leading component in this blend is an 'unnamed speyside virgin oak barrel' whisky with a leading note of orchard fruits. 
Of the next whisky in the series, Bittersweet Symphony, Turntable says "this smoothly decadent number shimmers with fiery sweetness and bold malt character. Ending on a flourish of dark chocolate and dried fruits". The highest percentage component in this blend comes from Craigellachie, matured in a PX Puncheon and with a leading note and dried fruits.
Last but not least, Smokin Riff is "an explosive campfire smoke solo, accompanied by a backing track of toffee, pears, raisins, and cinnamon". North British accounts for 28% of this blend, and its leading note is toffee. 
As you can see above, on Turntable's website, as well as in the packaging for the promotional samples we received at Mark Littler Ltd, there is a 'blend breakdown', detailing the whiskies, the percentages, cask types, and the leading notes from each component. No sign of an age statement anywhere. 
So, is it that Turntable knew not to add age statements because of SWA v. Compass Box? As far as my research shows, the regulations from 12.3 of the Spirit Drinks Regulation No.110/2008 still apply to us post-Brexit. Is there a chance that this could change? 
Turntable has paid homage to Compass Box in this new release, reiterating the idea that blenders should be able to experiment with their whiskies. After all, is that not part of the art form? 
Turntable Spirits put it best on their website: "We are an antidote to the status quo, pushing against the stuffy stereotypes and rigid rules. With nothing to hide and freed by possibility, from cask to dram, we give blended whiskies a new voice".