Pocket Marine Chronometer  Valuations & History
Value & Sell Your Pocket Marine Chronometer 
Pocket Marine Chronometers and deck watches began their development in the eighteenth century in response to the increasing need for accuracy when keeping time at sea. Accurate time was imperative for knowing precisely where you were on long journeys at sea to prevent loss of life and goods.
The Market for Pocket Marine Chronometers in Pocket Watches
Generally speaking the more complex a pocket watch the more sought after they are by collectors and pocket marine chronometers are no exception. Additional marine chronometers remained relatively expensive throughout the period of the use and were generally in heavy active use at sea, as such marine chronometers and deck watches are relatively rare and are sought-after by collectors.
If you would like more information on the history of marine chronometers please see the history at the end of this page. Mark Littler can also assist with valuation and sale of your marine chronometer or deck watch. Please use the form on this page to get in touch for a no obligation valuation and advice on selling your marine chronometer and explore this page for the 6 things that impact the value of your watch.
What to look for in your pocket watch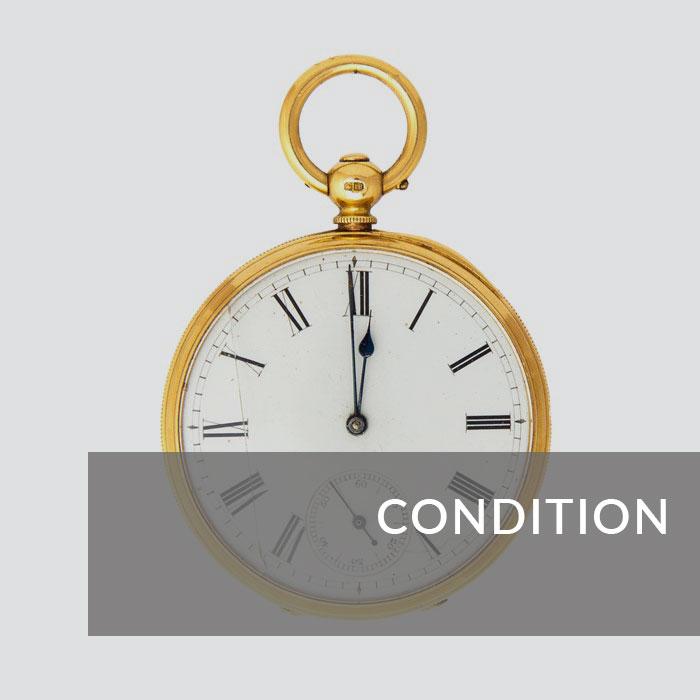 Condition/originality
The condition and originality of a watch has the greatest bearing on its value. What could outwardly appear to be a rare 17th century verge pocket watch, may have had a large proportion of its movement replaced or cannibalised over the years (replacement dial etc). These changes might only be known to a watchmaker or collector so a guarantee of originality will positively impact the value if you are looking to sell.
The outward condition of the watch is easier to assess yourself. Cracks to the dial, worn cases or erased presentation engravings can negatively impact the value of a pocket watch.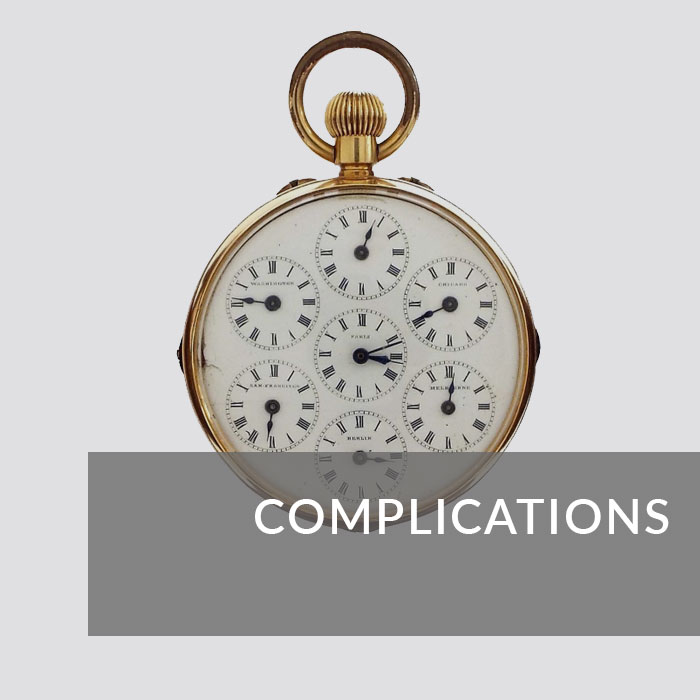 Complications
Very broadly speaking, the more complications the greater the value of the watch. Minute repeaters are some of the most sought-after complications as well as: tourbillon, split-seconds chronograph (or rattrapante), chronometers, perpetual calendar and phases of the moon, to name but a few.
If your watch has only the repeating complication then the repeating frequency (hour, quater, minute etc) will impact the value. With rarer repeating frequencies generally more sought after. Quarter repeaters are the most common. The mode of repeating (bell, gong, vibration) will also have an impact.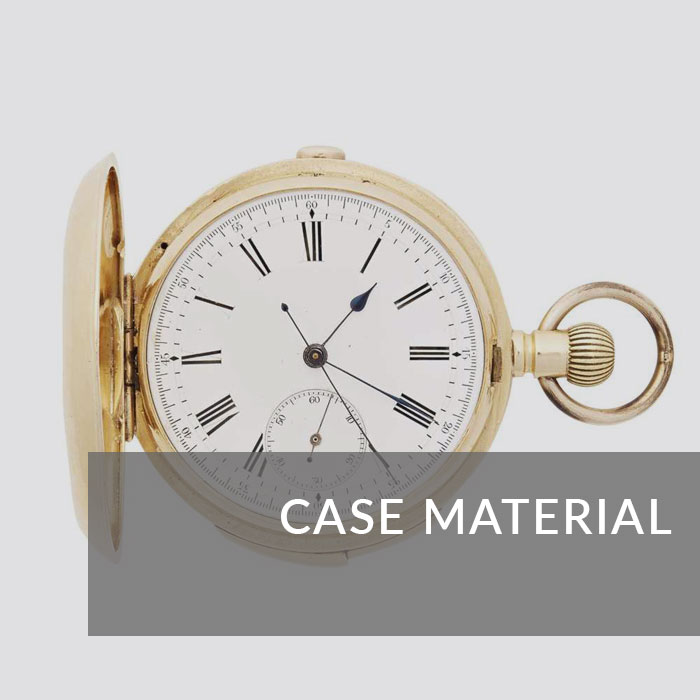 Case material
With the exception of watches with 'out of the ordinary' movements or features (chronometers etc) the case material can have a significant bearing on the value of the watch. Generally speaking 18ct gold pocket watches are more valuable than 9ct gold pocket watches, silver pocket watches and gold or silver plated pocket watches are worth less again.
The most obvious example of this can be seen with gold cased watches: three seemingly identical watches with identical Waltham movements could be several thousand pounds different in value depending on the case material, i.e. gold plated vs. 9ct gold vs. 18ct gold.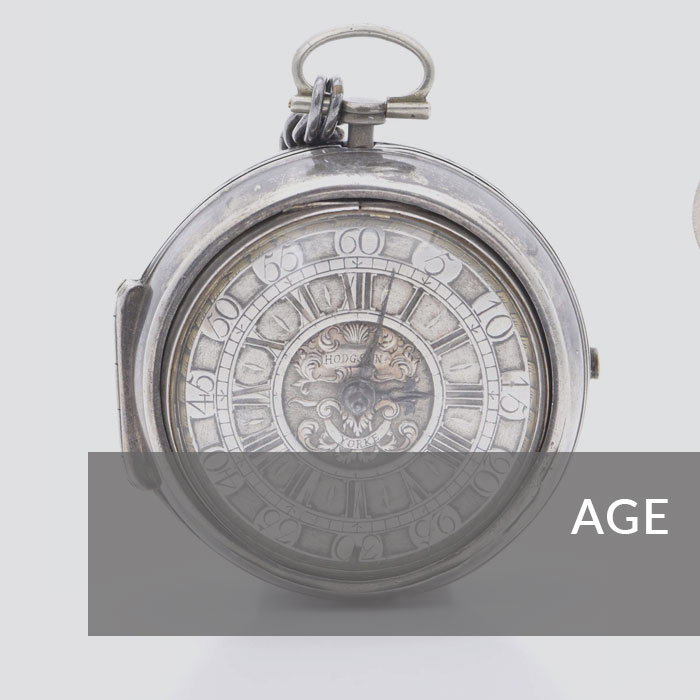 Age
The most expensive pocket watch ever sold at auction was only made in 1933. The price of the Vacheron Constantin Reference 57260 was not released, but it is fair to estimate that it is likely the most expensive pocket watch ever produced, and was only made in 2015.
As such the age of a watch does not necessarily invoke a high value. For example, pair cased silver verge watches from the reign of George III can be sold for as little as £100 at auction (condition dependant) yet an Edwardian minute repeater can easily sell for £1,000+.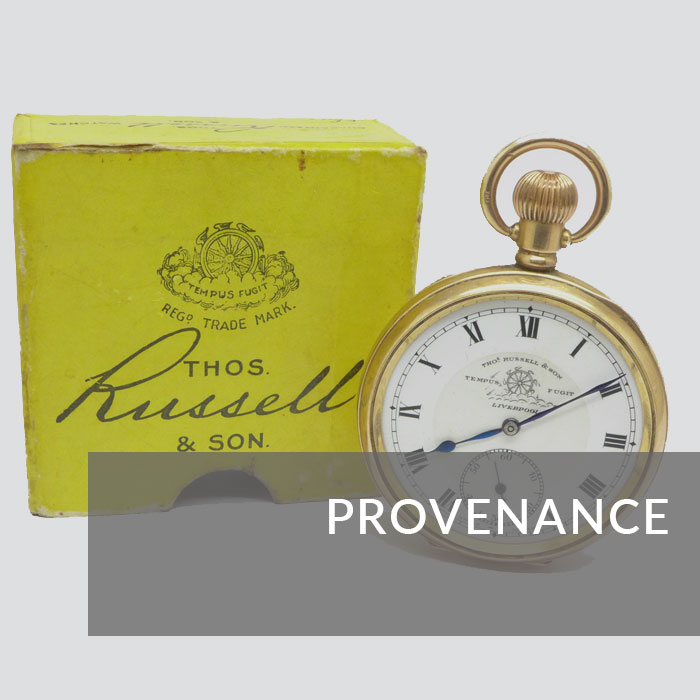 Provenance & certificates
Provenance can add a significant amount of value to a watch and sometimes the provenance will be of more value than the watch itself.
A good example of this would be a watch that could be proven to have been on the Titanic; the story attached to the watch is what would be valuable rather than the pocket watch itself.
The original chronometer certificates, receipts, boxes and paperwork can also add significant value to a watch when they are still present.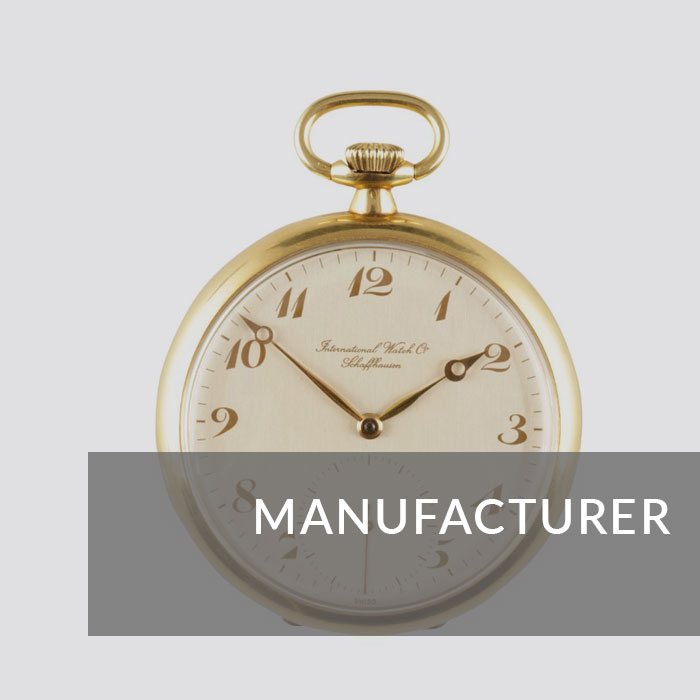 Manufacturer
In alphabetical order here is a list of some manufacturers that command a significant premium:
Audemars Piguet
Breguet
Harrison
IWC
Massey
Mudge
Omega
Patek Phillpe
Perrelet
Rolex
Tiffany
Tompion
Vacheron Constantin
Zenith
Sell your pocket marine chronometer 
In order to provide you with an accurate valuation please provide as much of the below information as you can. Valuations are free and offers are sourced with no obligation.
Selling you marine chronometer with Mark Littler Ltd.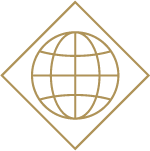 We contact our international network of customers for the best offers.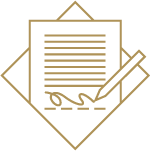 If you decide to proceed with an offer we issue you with a contract.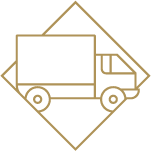 Send us your watch. We have a fully insured courier service available.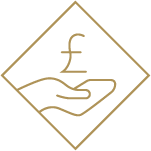 We complete the sale with the buyer and send your funds via BACS.
Auction or Private Sale?
If you are deciding on how to sell your pocket watch we can have a no obligation chat on the best options for you. We can either make a personal introduction to the best saleroom based on your location and item free of charge. Or we can look into collecting you some no obligation offers for a private sale, which could save you considerably in commission.
In a nutshell here are the main pros and cons of each option:
Auctions can provide an increased market exposure (when you choose the right saleroom) but their gross fees can reach as much as 50%, and the payout times can be drawn out.
Private sales leave you in control of the price, and can be completed quickly but there is no chance of 'buyers fever' driving up prices.
Mark Littler Ltd. are one of the only independent advisers in the antique industry. We offer trusted, independent advice to help you sell your pocket watch for the highest possible price.
The History of Pocket Marine Chronometers.
Navigation at sea
In 1714 the Board of Longitude was established by the British Parliament in order to overcome the issues of navigating precisely at sea. The aim was simple; create a device that would not lose or gain more than two minutes over a two-month journey. The reward was £20,000 – around £4million in today's terms, and many clockmakers dedicated their lives to solving the problem.
Similar rewards were offered by France, Spain and Holland, but it was British watchmaker John Harrison who eventually won the prize in 1761 for his watch known as H4.
John Harrison's H4
Harrison's H4 overcame the issues caused by the changing temperatures experienced during a two-month journey at sea by using a bimetallic composition for the balance wheel. Two metals were used whose characteristics response to temperature change were such that they cancelled each other out and thus provided a constant response in the balance wheel through the changing temperatures. Ultimately however, H4 was based upon a highly refined verge escapement, which meant it was unsuited to mass production and was eventually superseded.
The verge escapement would be replaced in future marine chronometers, however Harrison's work on bimetallic composition and caged roller bearings was an important part of marine chronometer development. Furthermore, his work encouraged others to submit watches to the Board of Longitude. Thomas Mudge was one watchmaker of note involved in the furthering of Harrison's work and who is also accredited with the creation of the first detached lever escapement – which is largely recognisable as the escapement type used in modern pocket watches.
Detached escapements
Detached escapement types were very important for the advancement of the accuracy of pocket watches in general. Detached escapements allow the mechanism to swing undisturbed for the majority of its movement, thus reducing friction effects and potential loss of time.
Thomas Mudge: Marine Chronometers and Lever Escapements
Mudge's lever escapement watch was a gift to the then King George III (and is now in Windsor Castle) however he felt that the creation of the new escapement type was too difficult and so he abandoned his work on level escapements to focus on the creation of marine chronometers. He went on to win an award of £3,000 from the board of longitude for his own marine chronometer.
Pierr Le Roy: Detent Marine Chronometer
It was the French watchmaker Pierre Le Roy in 1766 who combined all the necessary parts to create the foundations of the marine chronometer we know today; combining the initial developments of H4 with the accuracy of a detached escapement type known as a detent escapement.
Despite the advancements allowing marine chronometers to be made more cheaply they remained very expensive items. As such it was not until as late as 1825 that the Royal Navy began to routinely supply its vessels with marine chronometers suited to long distance time keeping. As such early pocket marine chronometers and deck chronometers remain rare and are sought after by collectors.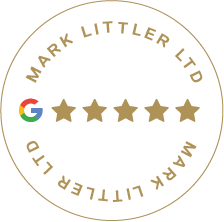 "I found Mark's details online after looking to sell a collectable bottle of whisky. I was going to use a well know auction site but Mark secured an offer higher than the highest estimation from any auction house, within days, even after the 10% commission was deducted. Communication was perfect; punctual, to the point and polite. Collection and delivery were taken care of by Mark and instruction was clear and easy to follow. Payment was received to my bank within days of posting the bottle. I can't recommend Mark enough; he runs a tight ship gets top end offers from his clients and delivers quickly."
Rod Fountain, via Google
"Mark conducted a high value sale transaction for me acting as broker. A complex process, clearly explained at each step of the way. Great communication and willing to go the extra mile when it mattered. Entirely trustworthy and highly recommended."
Mark Williams, via Google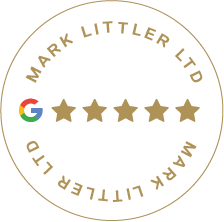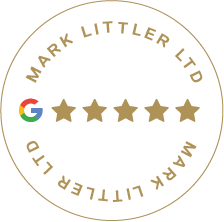 "Wow, what a refreshing change it was to meet Mark. He was the consummate professional with an approachable and warm personality who clearly had an in-depth knowledge of his subject which he used to give me a first-class service when I wanted to sell a whisky collection. For anyone who is considering any similar specialist whisky transactions I can certainly recommend him without reservation."
Duncan Chambers, via Google
Sell your pocket marine chronometer
In order to provide you with an accurate valuation please provide as much of the below information as you can. Valuations are free and offers are sourced with no obligation.