Laphroaig distillery has a very dedicated following, and a rich heritage that includes whisky distillation on Islay dating back to the mid-1700s. Since its establishment in 1815, Laphraoig distillery has produced some spectacular single malts and established an avid fan base. As such, when old and rare bottles of Laphroaig are seen at auction, Laphroaig fans from all over the globe vie for ownership of these rare gems. 
One such bottle is a Laphroaig 10 Year Old bottled in the 1970s, which is available on the Mark Littler Shop for £3,621.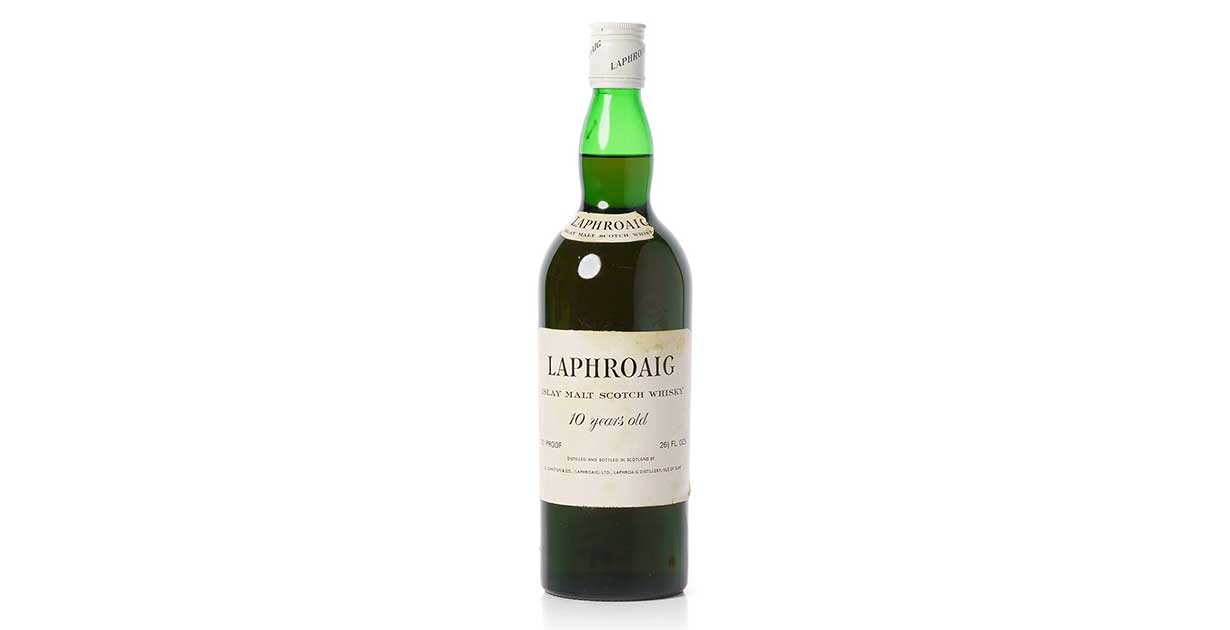 Laphroaig 10 Year Old 1970s 
This Laphroaig 10 Year Old was bottled in the 1970s. Laphroaig is notorious for changing its packaging like the weather. However, there are a couple of attributes to this bottle that we can focus on in order to accurately date it. 
Firstly, the volume. The volume of this bottle is given in fluid ounces. This was the standard metric used for bottle volume in the 1970s, as more stringent legislation had been introduced regarding the labelling of bottles. In the 1960s, for example, you might see bottles with no volume or strength stated. From January 1st 1980, the standard volume was 75cl, meaning that this Laphroaig was bottled prior to 1980. 
We can also tell that this Laphroaig was bottled pre-1977 by looking at the volume. As the country moved towards using the metric system to measure volume, it became mandatory in the late 1970s to list the volume in both centilitres and fluid ounces. The volume of this bottle appears only fluid ounces.
How To Date Your Bottles Of Whisky: The Ultimate Guide
How Japanese Whisky Became World Famous
We can also look to the capsule. This is a standard screw cap, which began to appear on bottles of Laphroaig in the 1970s. In the 1960s, short screw caps were more commonly used. 
With the above factors considered, it is safe to say that this Laphroaig 10 Year Old was bottled in the 1970s. 
For more information on dating your bottles of Laphroaig, see here. 
This old and rare bottle is in very good condition, with a high fill level, thanks to the screw cap mechanism that is so good at protecting the fill level of a bottle. 
If you have a Laphroaig fan in your life who is celebrating a birthday, anniversary, or retirement, this would be the perfect gift. Or you can treat yourself!