Johnnie Walker is the best-selling scotch whisky in the world, and has attained global recognition, not just in the whisky markets. The core range of seven blended whiskies caters to all palates, demands and budgets, and ranges from Red Label's ideal cocktail mixer to the premium Blue Label, which blends aged and rare whiskies. Beyond Johnnie Walker's core collection a series of promotional limited releases and collectable bottlings ensure that the Johnnie Walker brand remains an integral and innovative contributor to Scotland's whisky heritage and industry.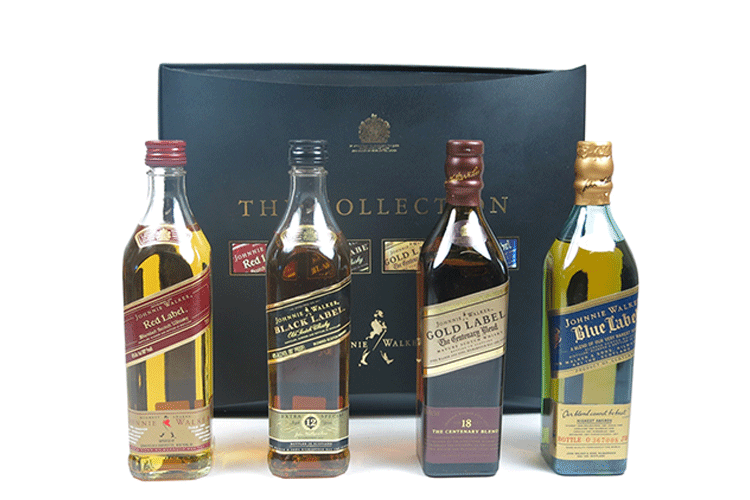 Johnnie Walker's Early History
John Walker was born on the 25th July 1805, at Todriggs Farm near Kilmarnock. Following his father's death in 1819, John Walker sold the Todriggs Farm holdings for £537.15, and aged just 14, invested the proceeds into a grocers shop in Kilmarnock in 1820. By 1825 he had expanded the business to also act as a spirit merchant selling rum, brandy, gin, and whisky. Despite being a teetotaler John Walker sold made-to-order blended whiskies and single malts, and went on to create and market his own brand of blended malt, 'Walker's Kilmarnock Whisky' in 1850.
Flooding at Kilmarnock destroyed Walker's stocks in 1852, which almost put the family out of business and could have drastically changed the development of Scotland's blended whisky industry. In 1856, John's son, Alexander Walker, joined his father in the business and they formed the company John Walker & Sons Co. After John Walker passed away in 1857, Alexander Walker inherited the company.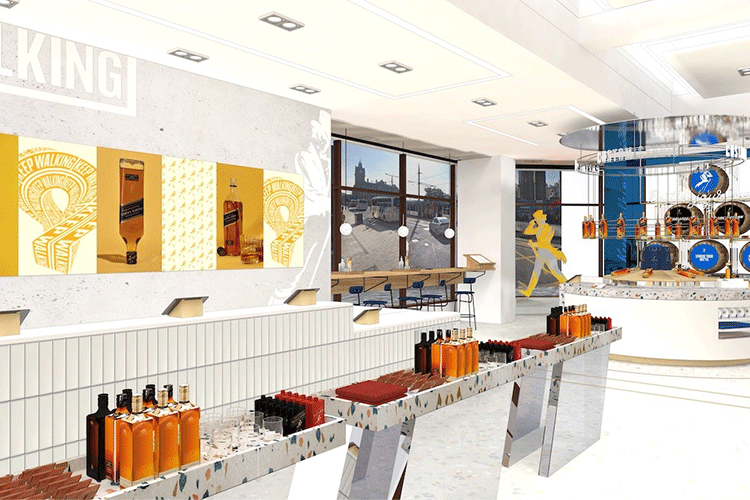 Creating the Johnnie Walker Brand
Under Alexander Walker's management the company became established as a dedicated whisky blender, aided by the passage of The Spirits Act 1860, which legalised the blending of malt and grain whisky. In 1860, Alexander Walker introduced Johnnie Walker's iconic square sided bottle for exports of 'Walker's Kilmarnock Whisky'. The square bottle enabled more bottles to be packed in the same space and reduced breakages. In 1865, Alexander Walker created the 'Old Highland Whisky' blend. He registered the blend's copyright in 1867 by which time John Walker & Sons was selling 100,000 gallons of blended whisky annually.
The Johnnie Walker brand's distinctive slanted label was trademarked by Alexander Walker in 1877. It is still applied at an angle of 24 degrees, is instantly recognisable and remains a defining characteristic of Johnnie Walker whisky. 
Following Alexander Walker's death in 1889, control of John Walker & Sons passed to his sons, Alexander II, and George P. Walker. In 1893, John Walker & Sons purchased the Cardhu distillery for £20,500, to protect stocks of Old Highland Whisky's core malt for their blends. To this day Cardhu remains an integral malt across the Johnnie Walker core range.
As they expanded they continued to purchase distilleries into the twentieth century. John Walker & Sons subsequently acquired interests in several distilleries, including Coleburn (1915), Clynelish, Dailuaine and Talisker (1916), and Mortlach (1923).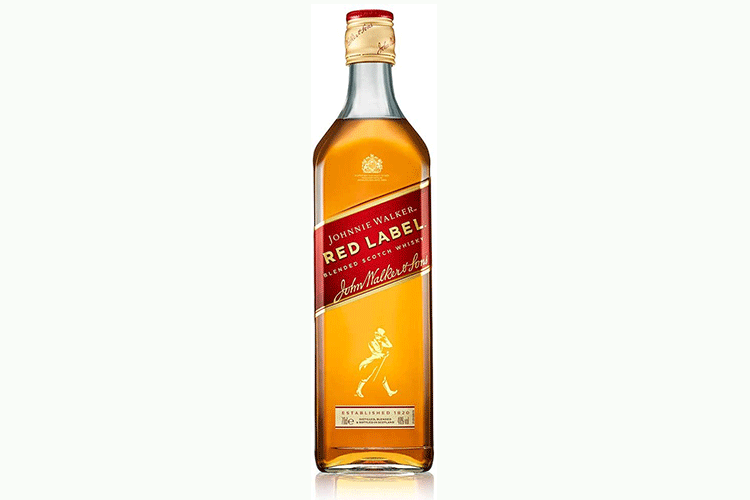 The Birth of the Striding Man
The early 20th century represented a boom period for John Walker & Sons. The Old Highland blended whisky range was expanded to three expressions in 1906. Then in 1908 George P. Walker and managing director James Stevenson sought to overhaul the brand's marketing. They approached famous cartoonist and illustrator Tom Browne to design a new mascot in 1908. Browne allegedly drew the first 'Striding Man' on a menu during the meeting.
From 1909, the Old Highland range was renamed under a new trademarked brand name; Johnnie Walker. The existing Old Highland expressions were renamed as Red Label, Black Label, and the short-lived White Label.
Stevenson also devised the classic marketing strapline 'Born 1820 – Still Going Strong'; although this referred to the year John Walker established the grocers' business rather than the whisky's origin date. From 1920, Johnnie Walker's distinctive square sided bottle was introduced to domestic markets as well and adopted across the range.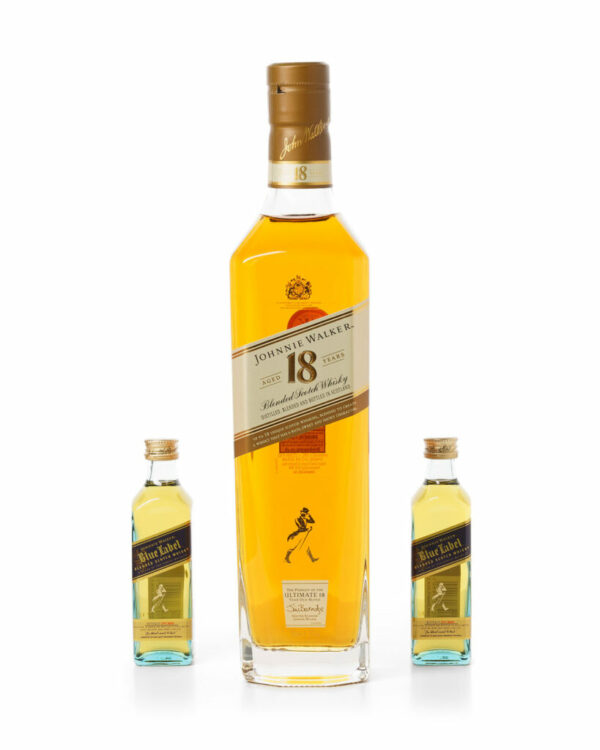 Johnnie Walker's famous 'Striding Man' mascot depicts a regency gentleman attired in coattails and top hat. It was originally used solely for advertising and the 'Striding Man' didn't appear on bottle labels until 1960. It has since become synonymous with the brand and is globally renowned although it has received a few modest updates. In 1999, Johnnie Walker's £100m 'Keep Walking' marketing campaign saw the 'Striding Man' reverse direction. Then in 2015 Diageo's global Johnnie Walker marketing campaign 'Joy Will Take You Further', unveiled the current incarnation of the 'Striding Man' depicted on modern bottle labels and brand advertising. 
Since Johnnie Walker's creation in 1909, the brand has attained global recognition and driven innovation within the Scotch whisky industry. In 1934, their skill and quality was recognised with a Royal Warrant from King George V. In a strategy to promote sustainability in July 2020, Diageo announced long-term plans to release Johnnie Walker's Red and Black Label blends in environmentally-friendly paper-based bottles. Diageo opened the Johnnie Walker Experience at Edinburgh's Princes Street in September 2021; part of Diageo's £150m investment into tourist facilities, the state of the art Johnnie Walker brand home includes facilities exploring the brand's history, a rooftop bar and events space.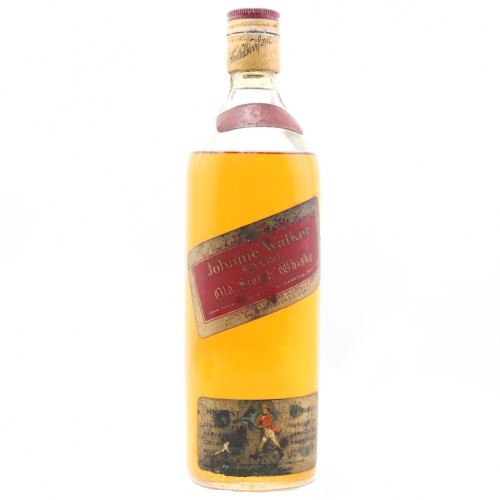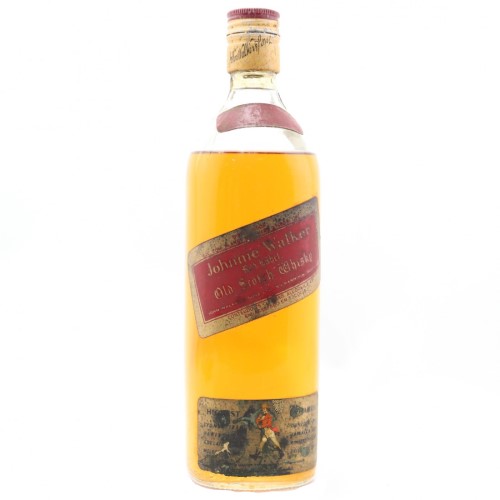 Johnnie Walker: The Whiskies
The core range of Johnnie walker includes 8 different blends and several special releases, some of which are only available in certain markets. The Red Label and Black Label blends are based on the original Special Old Highland blends and are two of the most popular blended whiskies in the world. Most of the standard blends are not particularly commercial in the whisky collecting market but some of the rare and limited edition releases are sought after by collectors. Read on to find out more about each of the iconic bottles.
Johnnie Walker Red Label
Originally released as Walker's Special Old Highland in 1906, when the Johnnie Walker brand was created, the blend was renamed Red Label in 1909.
Red Label has no age statement, and combines 30 different whiskies; including core malts from Teanninich, Cardhu and Caol Ila, with the main grain component provided by Cameron Bridge. Since 1945, Johnnie Walker Red Label has held the number one position as the world's best-selling Scotch whisky, and is available in 180 countries. Despite this, Red Label was surprisingly absence from the UK domestic market between 1977 – 1983.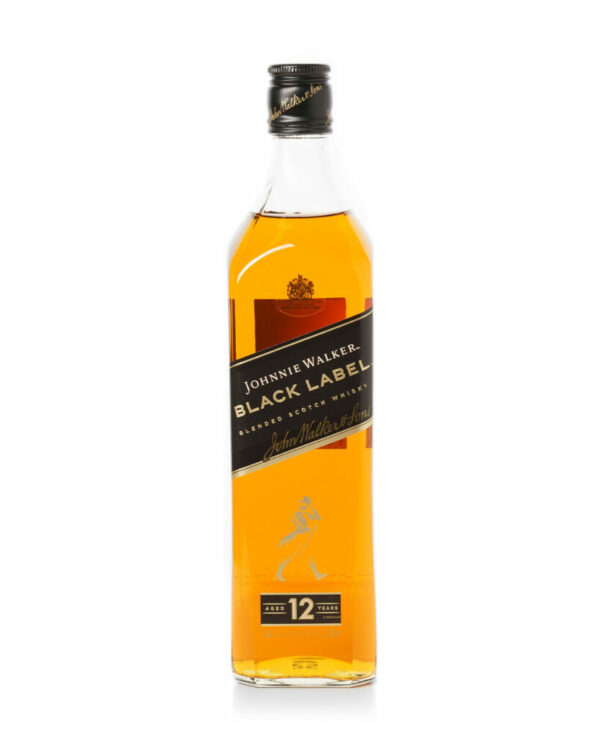 Johnnie Walker Black Label
Black Label is the original Johnnie Walker expression, first sold as 'Old Highland Whisky' when Alexander Walker created the blend in 1865. The blend was renamed as 'Extra Special Old Highland' when the Old Highland range of whiskies was expanded in 1906, and subsequently changed to Black Label in 1909, when the Johnnie Walker brand was created.
Johnnie Walker Black Label carries an age statement of 12 years, and is blended from up to 40 different whiskies from the four corners of Scotland, each matured for a minimum of 12 years. Black Label's core malts originate from the Blair Athol, Cardhu, Strathmill, and Caol Ila distilleries, while Cameron Bridge supplies the main grain whisky component.
A wide range of Black Label variants have been released as limited-editions and travel retail exclusives, including Black Label Sherry Finished and notably the Double Black, which joined the core range in 2011.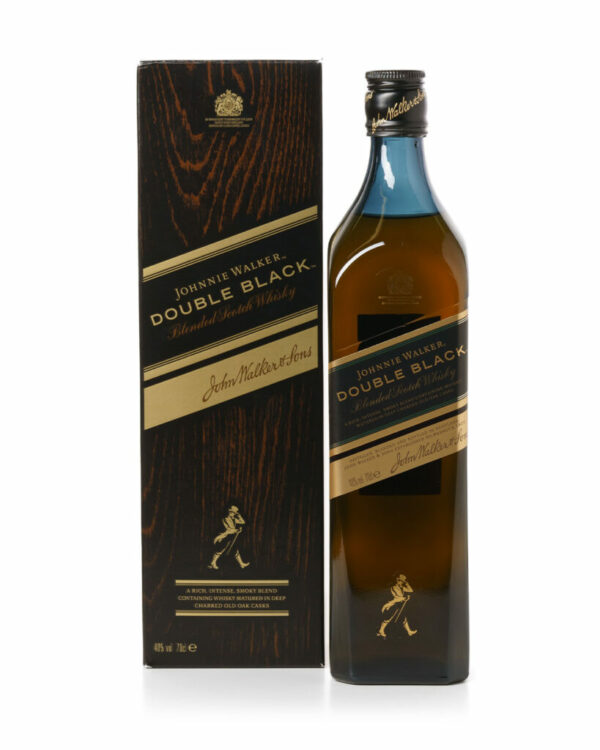 Johnnie Walker Double Black
Originally released as a travel retail Black Label variant in 2011, Johnnie Walker Double Black has subsequently become a popular permanent expression in the brand's core range. Johnnie Walker's Master Blender, Jim Beveridge, confirmed the blend was created using the same 40 whiskies as Black Label, although uses different proportions. The proportion from Black Label's core Highland malts, Blair Athol and Strathmill, is considerably decreased. Instead, the Double Black blend doubles the percentage of Caol Ila malt to compensate, alongside the core Cardhu malt and Cameron Bridge grain whisky components. 
Unlike the Black Label expression, Johnnie Walker Double Black carries no age statement suggesting that younger peated whisky is used to create the blend. The whiskies are matured in heavily charred old oak casks prior to blending, to ensure Double Black's production results in a bold smoky whisky, containing Johnnie Walker's usual rich malty core. Johnnie Walker Double Black is bottled in a semi-transparent black coloured square bottle, designed to give the whisky contained within a much darker appearance.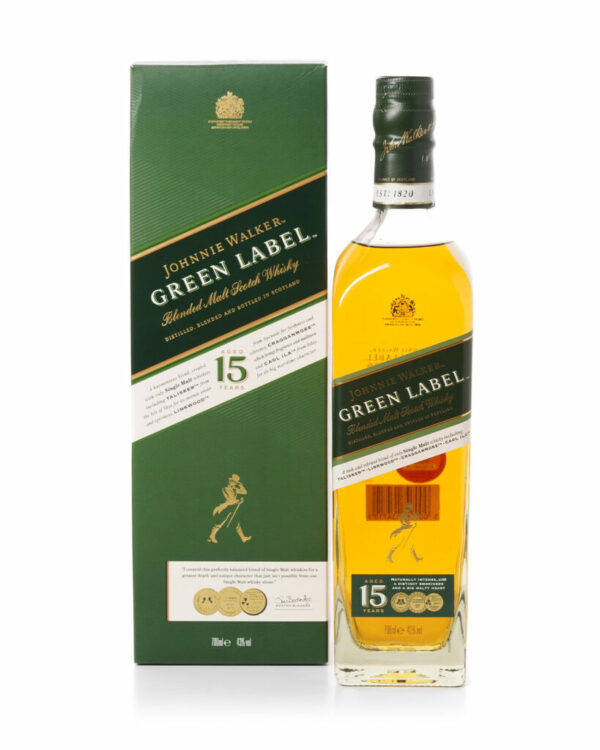 Johnnie Walker Green Label
Johnnie Walker Green Label was initially released as Johnnie Walker Pure Malt 15-Year-Old in 1997. The blend was designed to benefit from the popularity of the Classic Malts of Scotland and to appeal to single malt whisky drinkers they created a blend with no grain whisky, just single malts. It was renamed Green Label in 2004, the blend is crafted from a combination of Speyside, Highland, Lowland, and Island malts matured for at least 15 years.
Johnnie Walker enthusiasts speculate that the Green Label blend could contain up to 27 malt whiskies. The four core component malts are Talisker, Linkwood, Cragganmore, and Caol Ila. 
In 2010, Green Label was awarded a score of 95 points in Jim Murray's Whisky Bible. Despite this success Diageo discontinued Green Label in 2012, except in the Taiwan market where the blend remained extremely popular. Following a positively received limited-edition release to celebrate Green Label's 10th anniversary in 2014, Johnnie Walker Green Label was reintroduced as part of the brand's core range in 2016.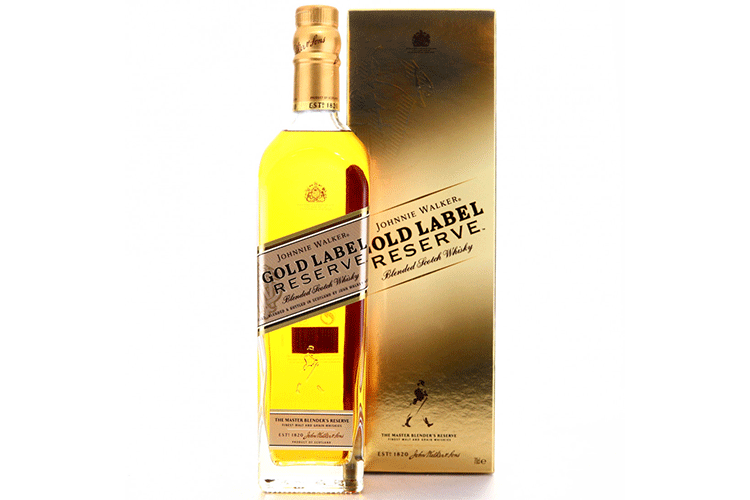 Johnnie Walker Gold Label 18 year old – Centenary Blend / Gold Label Reserve
The Johnnie Walker Gold Label 18-Year-Old blend was introduced to the core range in 1995. Inspired by Alexander Walker's Centenary Blend created in 1920, Gold Label was produced using Alexander's original blending notes. Walker's Centenary Blend was discontinued during the Second World War, as a result of the depleted whisky stocks available for blending.
Johnnie Walker Gold Label recreated the blend by combining 15 different whiskies aged for a minimum of 18 years; including core whiskies from Talisker, Clynelish, Royal Lochnagar, Cardhu, and Glendullan. Jim Murray awarded Johnnie Walker Gold Label 18-Year-Old 96 points his Whisky Bible. Despite the blend's popularity, Gold Label 18-Year-Old was discontinued as part of the Johnnie Walker range from 2011, although the withdrawal coincided with launch of a new Johnnie Walker travel retail expression; Platinum Label 18-Year-Old.  
Gold Label was relaunched as Johnnie Walker Gold Label Reserve in 2012, initially as a travel retail exclusive and subsequently in domestic markets. When first released it came in a solid gold coloured bottle however the Gold Reserve no longer carried an age statement, as Diageo simultaneously released the Platinum Label 18-Year-Old expression for domestic markets. Johnnie Walker enthusiasts quickly discerned that Gold Reserve was a distinct blend, with its own character compared to the previous 18 year old Gold Label. Johnnie Walker's Master Blender, Jim Beveridge, later confirmed they had created a completely new Gold Reserve that was to demonstrate the 'harmonious partnership of Speyside and Highland whiskies' balanced with a hint of smoky west coast whisky. Beveridge's new Gold Reserve is structured around single malt from Clynelish, alongside Cardhu, Blair Athol and Caol Ila malts, and a grain component from Cameron Bridge. 
The withdrawal of the Gold Label 18-Year-Old expression, followed by its replacement with a different Gold Label Reserve blend has long provoked discussion amongst whisky enthusiasts. Explanations have ranged from a need for market innovation, to the limited supply of 18 year old malts. The latter seems unlikely given the release of Johnnie Walker Platinum Label 18 year old at the same time as the shift. An alternative theory centres on the single malt market and Diageo's plans to develop the Talisker brand as a single malt. Talisker was a core component of the original Gold Label 18 year old and so in order to retain a greater supply of aged Talisker the gold label blend was reviewed. Talisker Storm is a vatting of malt aged between 3 and 25 years and was first released in 2012, coinciding with the launch of the new Gold Label Reserve, which does suggest this final theory is at least plausible.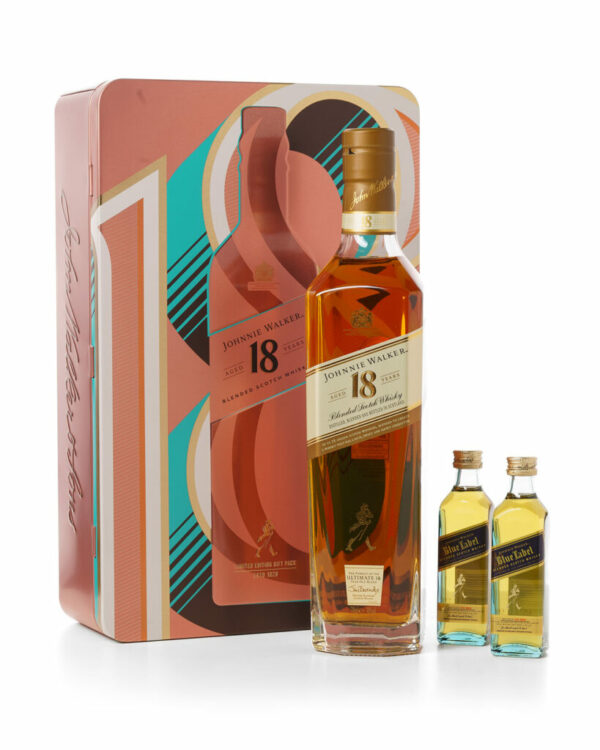 Johnnie Walker Platinum Label / 18 year old
Introduced in 2011, Johnnie Walker Platinum Label 18 year old was initially launched as a travel retail exclusive for the Asian and Far East markets to replace the popular discontinued Gold Label 18 year old Centenary Blend. From 2012, the Platinum Label blend joined Johnnie Walker's core range, and became the brand's oldest age statement expression.
Created by Johnnie Walker's Master Blender, Jim Beveridge, Platinum Label combined 18 whiskies from across Scotland matured for at least 18 years, blended in an elegantly sweet Speyside style. Platinum Label's core components are classic Speyside malts from Cardhu, Glen Elgin, and Auchroisk balanced with whiskies from Blair Athol, Caol Ila and grain from Cameron Bridge. In 2017, Platinum Label was rebranded as Johnnie Walker 18 year old across global markets. The existing charcoal grey outer packaging and platinum coloured label were replaced with golden-brown colour scheme, whilst the word 'Platinum' was removed in favour of an enlarged bold age statement on the label. 
Johnnie Walker Blue Label
The most prestigious Johnnie Walker blend in the core range, Blue Label was first released as 'Johnnie Walker Oldest' in 1992, before being rebranded as Blue Label from 1994. A premium blend designed to recreate the style and flavours of classic early 19th century whisky blends; Blue Label is one of the most expensive blended Scotch whiskies on the market. Despite its premium status Blue Label carries no age statement, although the whiskies used for blending are alleged to range in age from seven to fifty years old, with only one in every 10,000 casks selected for the blend. Blue Label's core single malts are supplied by Benrinnes, Cardhu, Clynelish, and Caol Ila alongside grain components from Cameron Bridge, and the now demolished Port Dundas distilleries. Each Blue Label bottling is numbered serially, and packaged in a silk lined presentation box accompanied by a certificate of authenticity.
In 2005, in celebration of the bicentenary of John Walker's birth a limited-edition Blue Label decanter was released. Produced by Baccarat Crystal the decanter featured a stopper engraved with a profile of John Walker, and contained a cask strength version of the Blue Label blend, bottled at 59.9% ABV.
A varied series of Blue Label limited-edition bottlings featuring distinctive and vibrant artwork has been released, including the annual Chinese Mythology releases and the Cities of the Future 2220 collection. Released annually to celebrate Chinese New Year, the Blue Label Chinese Mythology bottles feature vibrant artwork of zodiac animals created by prominent or upcoming Chinese artists and designers; the Year of the Tiger 2022 bottling was designed by artist Shan Jiang, and the Year of the Rabbit 2023 bottling uses illustrations from fashion designer Angel Chen. In 2020, Johnnie Walker partnered with digital artist Luke Hall to create the Blue Label Cities of the Future 2220 series, featuring 10 limited-edition futuristic illustrations imagining the cityscapes in 2220 including London, Berlin, Seoul, and Sydney. The final bottling in the Blue Label Cities series imagined a Mars Colony city. A scannable NFC chip integrated into the bottle label allows purchasers to further explore cityscapes using a smartphone.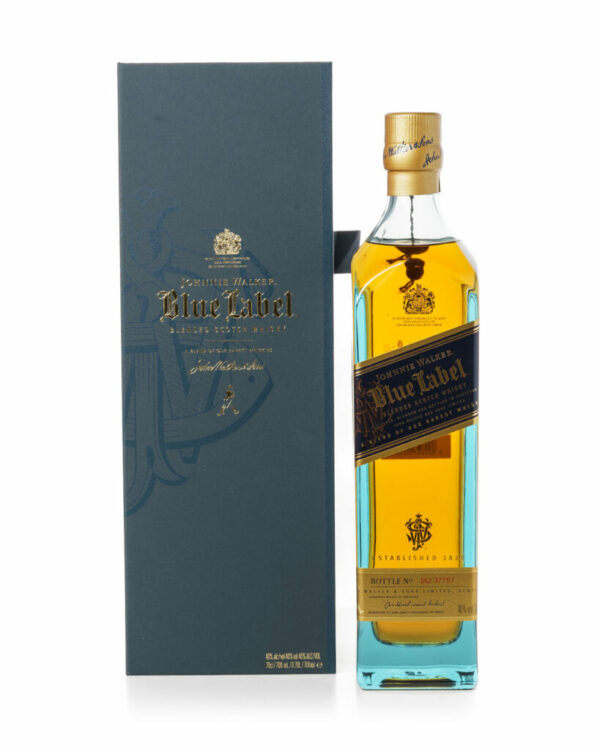 Johnnie Walker: Travel Exclusives, Limited Editions, and Rarities
Beyond Johnnie Walker's core range, a series of travel retail exclusives, limited edition and rare bottlings have been released throughout the brand's history. In 1932, Johnnie Walker Swing was released, marketed towards international travellers on transatlantic voyages. The only Johnnie Walker expression not to use the iconic square sided bottle, Swing is bottled in an innovative glass decanter designed with a convex base that would swing with the movement of ocean liners to prevent breakages. A blend of 35 whiskies using a high proportion of Speyside malts complemented by whiskies from the Highlands and Islay, Johnnie Walker Swing remains available in some international markets to the present day. 
Diageo has entered marketing partnerships which has led to promotional limited edition Johnnie Walker bottlings being released. In the film, Blade Runner (1982) Harrison Ford's character Deckard is seen drinking Johnnie Walker Black Label. Coinciding with the release of Blade Runner 2049 (2017), Johnnie Walker collaborated with filmmaker Denis Villeneuve to create the limited-edition expression Johnnie Walker Black Label Director's Cut. Presented in a 21st Century geometric style bottle, Director's Cut contains more than 30 whiskies and is bottled at a stronger 49% ABV (referencing the 2049 year), with only 39,000 bottles released globally. 
In 2018, Diageo partnered with HBO to promote the final Game of Thrones series to release of Houses of Westeros collection of single malt whiskies, whilst a limited-edition Johnnie Walker 'White Walker' evoked the chilling presence of the undead White Walkers. Designed to be served chilled from the freezer, the bottle contained a hidden temperature graphic, revealing 'Winter is Here' when sufficiently cold, whilst the Striding Man was reimagined as a White Walker. Following 'White Walker', Johnnie Walker's 'A Song of Ice' and 'A Song of Fire' Game of Thrones promotional bottlings were released in 2019. 
Blue Label variants constitute the majority of the brand's premium limited-edition releases. In 2020, to celebrate John Walker & Sons 200th anniversary, Blue Label: Legendary Eight was released; created using only whiskies from distilleries which existed when John Walker established his business in 1820. Blue Label: Legendary Eight combined whiskies from the Oban, Blair Athol, Lagavulin, Teaninich, Brora, Cambus, Port Dundas, and Carsebridge distilleries. The Johnnie Walker Blue Label: Ghost and Rare Series celebrates Scotland's whisky heritage by blending eight whiskies, each structured around a core whisky from a 'ghost' distillery that is lost and demolished. Each Ghost and Rare blend combines whisky from three ghost distilleries and five rare whiskies, with five expressions released since 2017. Existing Blue Label: Ghost and Rare bottlings have focused on ghost whiskies from Brora, Port Ellen, Glenury Royal, Pittyviach, and Port Dundas.
Johnnie Walker has also released several collectable and rare decanter limited releases in both travel and domestic retail markets. In 2007, Johnnie Walker King George V decanter was released in the travel retail market, with the bottling referencing the Royal Warrant awarded in 1934. Johnnie Walker King George V decanters have also been released to celebrate John Walker & Sons bicentenary and Chinese New Year. Exclusive to the UK market, to commemorate Queen Elizabeth II's Diamond Jubilee a limited-edition Johnnie Walker decanter was released for £100,000 in 2012.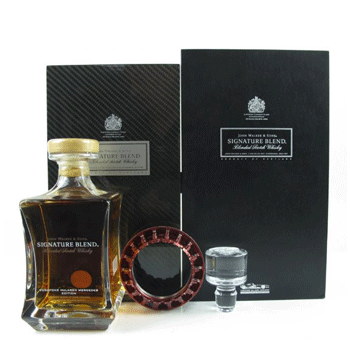 There it is, the complete history of Johnnie Walker, and also a summary of some of their most popular releases. If we have missed any bottles you would like to know more about then get in touch, and remember to subscribe to Mark's YouTube channel to be the first to hear when the Johnnie Walker Video goes live.