WHISKY BUYERS: HELPING YOU SELL YOUR WHISKY
Looking For Whisky Buyers? Trust The Experts
Are you looking to sell your whisky?  We are able to help with everything from initial valuation to arranging a courier to collect your bottles.  We've sold thousands of bottles for clients and have over 400 five star reviews across Google, Yell and Facebook.
The most notable collection we have sold was the 28 bottle vertical of Macallan 18 year old which we sold in 2020 for Matthew Robson to one of our whisky buyers.  The story made headlines the world over, not only for the fantastic story (his father bought him a bottle every year for his birthday) but also the sale price (over £44,000).  We found an international buyer for the collection, brokered the sale and took care of all of the logistics too.
We specialise in finding you a whisky buyer for your whisky at the best possible price.
So if you are looking to sell anything from a single bottle to an entire collection of whisky please get in touch and we will be happy to assist.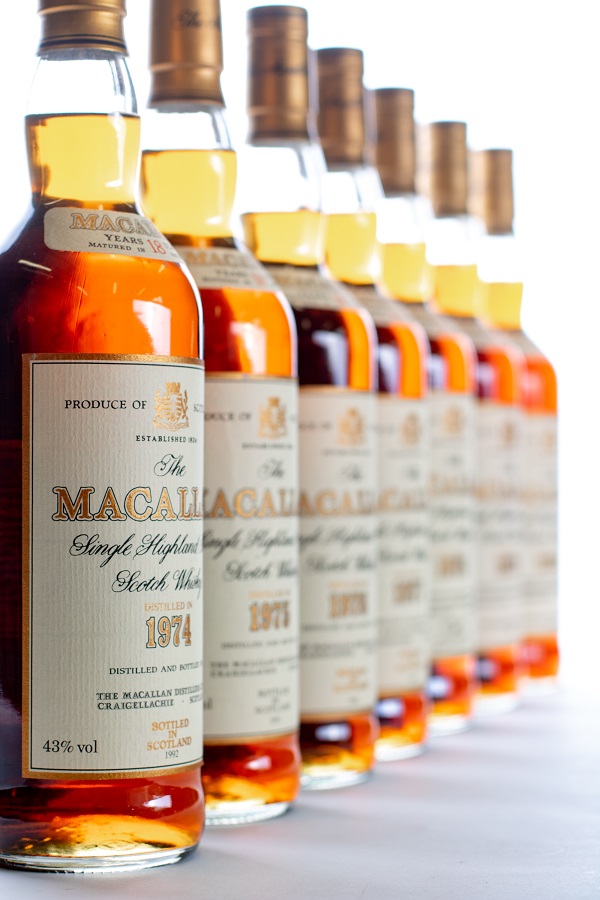 Looking To Find Whisky Buyers?
In order to provide you with an accurate valuation please provide as much of the below information as you can.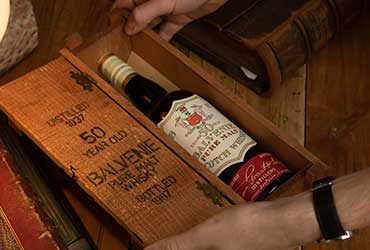 Sell To A Private Whisky Buyer
Our brokerage service is a simple, stress-free way to sell whisky. We will broker the sale between you and one of our private whisky buyers. For this service, we charge a 10% commission (inc. VAT) of the final sale price of the item. This avenue is fast and simple. We will take care of everything for you.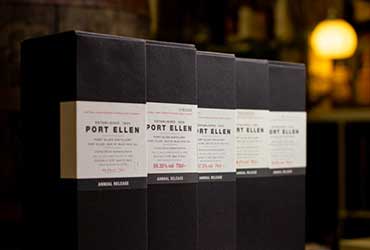 Sell At Auction
At Mark Littler Ltd we can also help you to sell whisky via auction. We have teamed up with the country's leading online whisky auctions to help you to sell whisky at auction without the hassle. This is a great option for lower-value bottles, or if you do not mind taking some risks.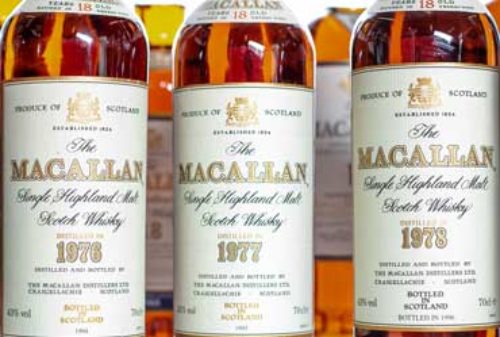 Sell On Our Shop
The final option is selling your whisky through our one-of-a-kind online shop. On our shop, we broker the sale of high-value bottles for our customers. Your bottle will sit amongst rare and expensive whisky and our advertising campaigns aim to draw the eye of whisky collectors and whisky buyers everywhere.
Our Three Step Whisky Sale Process
Send Your Bottles In
We'll send you specialist packing materials and a pre-paid returns label to ship the bottles back.  
Inside the box will also be a copy of our contract and packing advice.
Receive Payment
We'll complete the sale with our whisky buyers and send you the proceeds to the bank details nominated in the contract.
Looking For A Whisky Buyer?
We're here to help you get the best price for your whisky.  In order to provide you with an accurate valuation please provide as much of the below information as you can.
What Do Our Customers Say?
Why should you sell with Mark Littler LTD? We've helped sell thousands of bottles from £20 up to £70,000 and we pride ourselves on the service we provide. 
Here are just some of the reviews customers have left us after we have helped them find whisky buyers for their bottles.
We wanted to buy a private whisky cask. Mark was very helpful to get a good deal done and about a year ago we became proud owners of a cask of whisky. Just received samples. Very excited and looking forward to see how the whisky matures.
Excellent and timely service from the company. Beth was extremely helpful and prompt with replies to any questions. No hassle at any time. My first time selling whisky bottles, will certainly use the company again. Fully trustworthy way to sell.
Outstanding professional service. Having never sold a cask of whisky before, Mark took us through the whole process, found a buyer at an excellent price, and completed the sale with great care and professionalism. Excellent customer care and service. Highly recommend.
A very prompt and reliable service. Never thought selling a cask of whisky would be so easy. Any issues were speedily dealt with and Mark was always available to get in touch with. I would certainly recommend Mark's services.
My wife bought me a hogshead of Bowmore for my 30th birthday. We've been happily paying warehouse rental for 25 years and decided we needed to look into next steps. The warehouse wasn't very helpful so I started to look on the internet for a whisky broker. There appeared to be a lot of choice but Marks credentials and website information stood out from the crowd. He immediately set me at ease and so I looked no further. I have enjoyed our interactions and have felt from the start that Mark had my best interests at heart with his professional approach, transparency and personal touch. He has kept me informed along the journey which has been an exciting one. As part of the service Mark facilitated the gauging, sampling and selling of the barrel and also coordinated for me to receive a few bottles of this amber nectar for my own consumption. To top it off he achieved a fabulous price. I would recommend Mark to anyone who is lucky enough to have whisky to sell. Many thanks for your service Mark!
Our family inherited a hogshead of whisky which needed to be sold. Having no knowledge of this market the internet revealed Mark Littler who proved to be both knowledgeable and professional. The cask was tasted and sold within a matter of weeks under Mark's guidance which we greatly appreciate.
During the last 12 months I have been actively making tentative enquiries to sell my whisky collection, which I had been collecting for more than 20 years. During this time I had been in discussions with various very well known whisky retailers online, with a view to them purchasing the bottles from me or finding prospective buyers. After many phone calls, emails and conversations, I was left feeling very frustrated and bewildered at their lack of communication in general and commitment to providing me with a service. That was until I discovered Mark Littler through an oline post that had been sent to me from a family member, which highlighted a high profile sale Mark had recently been engaged in. I decided to contact Mark the following day and within hours he had come straight back to me and offered to work with me to sell my collection. This was quite astonishing given the lack of communication that I had received from others. From the outset Mark has always been professional, courteous and friendly, which has made my own experience of using Mark's services an absolute pleasure. His individual care and approach to everything he undertakes on your behalf in providing you with a service is nothing short of exemplary. In no time at all Mark has already sold a much sought after vertical in my collection and I am delighted with the outcome. I would not hesitate in recommending Mark to anyone attempting to sell their own collection.
It was an absolute pleasure dealing with Mark. I was looking to buy a cask of whisky and spoke with numerous brokers. The response, transparency and authenticity from Mark was the one that I liked the most. I highly recommend visiting Mark's website and the process outlined by him to own a whisky cask is the most exhaustive and helps you understand the nuances of owning the cask. I highly recommend Mark and will surely be buying through him again.
Recently, I made enquiries with Mark about buying a whisky cask.He very promptly answered all my questions and gave me all the information I needed to make an informed decision.He was thoroughly professional and there was never any pressure to buy, just support and step-by-step instructions.I am very pleased with the outcome of my cask investment and I look forward to working with Mark again in the future.
Mark was thoroughly professional and efficient in helping my family get a great deal in buying some whisky casks.We received a very friendly, quick and personable service with regular updates throughout the process.Highly recommended and greatly appreciated!
I am delighted to have engaged with Mark Littler and Hannah Thompson. They have provided a professional and trustworthy service that puts my best interests at the heart of their business. The process of selling my whisky collection has been clear and remarkably easy and efficient.
Fantastic service from Mark and the team selling some bottles of whisky on their store. Right from valuation through to sale and payment he kept me informed. And he got a great price for me. Would definitely recommend.
I recently had the pleasure of dealing with Mark and his colleagues. From my first phone call to the completion of my sale the service was exemplary. The sale of my whisky collection was made so easy, and a fast payment was made directly into my bank after the sale was completed.If you are looking to sell your whisky don't waste your time looking anywhere else. I can thoroughly recommend this company.Thank you Mark once again for a fantastic service.
Have several casks of high end whisky, I decided to sell one of my investments. An internet search revealed Mark Littler. Only person to respond to my email. Mark sold my first cask in weeks. New exactly what he was talking about and doing . The price was at the very high end of his valuation. He did all the work, I just signed the sales document. as easy as that. Money transferred into my account, and you are talking thousands too. Much appreciated, will now sell another cask as the time is right.
I was looking to sell my whisky collection of 28 bottles of Macallan 18 year old to fund the purchase of my first house, so I got in touch with Mark.My father gave me 1 bottle each year for a birthday present so that by the time that I was 18 I would have 18 bottles of 18 year old Macallan. (Yes I'm that guy who was plastered over the media)Mark did a great job of getting professional photos taken of them and creating a PR buzz around the collection and I even ended up on BBC breakfast news, lad bible, and various radio stations around the world.At one point my story was the second most viewed story on BBC world wide news app for the whole weekend with over 2 million views.Needless to say within a day or two of this PR Campaign there was numerous offers.I would like to thank Mark for all his work and helping me with everything.
Mark recently helped to successfully sell my cask of Macallan single malt whisky.From our initial discussion I was impressed with the depth of his knowledge and his professional approach. Mark guided me through each step of the process, providing reasons and insights to ensure I made the correct decisions. His estimate of the value of the cask was spot on.I would have no hesitation in using his professional services again.
Mark was very helpful to me and my family , he is so knowledgeable about whisky, and with his valued advice I was able to sort out my children's investment easily with confidence. Thank you so much Mark for all your advice and help, I would strongly recommend Mark to anyone.
Mark and Hanna were a pleasure to deal with when selling my bottle of Macallan 25 y.o. whisky. Everything was handled smoothly, expertly and with no pressure. The courier facility offered is excellent and the sale concluded very quickly and simply. In these days of increasingly doing business on the Internet this experience was top class and I have no hesitation in using Mark's company for similar future business; Top Class!!
Thanks mark for your professional advice on selling my whisky very happy with the outcome.Will definitely use again thanks.Stuart.
Be patient for great returns.When I came to sell my 10yr old Hogshead of whisky Mark was able to obtain a final price for me that was more than three times the sell back figure to Bruichladdich.Professional from the start. Once Mark had the re-guage figures all I had to do was sit back and let him do the rest. Very efficient and hassel free.A pleasure to do business with and will definetly be contacting him again when my next barrel matures.Thankyou Mark for doing all the hard work.
Mark sold two casks of whisky for me. He got a very good price for them and kept me informed through the rather slow process (which he had warned me about). Very pleased with the service.
I recently sold a 25 year old cask of Scottish whisky through Mark. The market is not easy to tap into but Mark has good connections and got me an excellent price. He made the process very simple and completed all the necessary paperwork for me. Highly recommended!
I have to say Mark provided a first class service and achieved what I believe to be a highly competitive bid for my whisky. Delivery was straightforward and settlement prompt. Will happily recommend.
Excellent services and communication! We are a group of Nordic guys, completely amateurs in the whisky market, who ended up with a cask 20 years ago when we were still quite young, without any plan about how to handle this. We were lucky to find someone like Mark, who got us a decent price and guided us through the process when we wanted to sell it. Payment and everything went smoothly overseas.
I have received professional and prompt advice and help selling my bottle of single malt whisky distilled in 1971. I had nearly given it away!!
Need To Find A Whisky Buyer?
We're here to help you get the best price for your whisky.  In order to provide you with an accurate valuation please provide as much of the below information as you can.