Sell Your Bracelet Online
How To Sell Your Bracelets
Whether you have a diamond band bracelet that you have inherited or a collection of Victorian jarretières that you have built up over the last 10 years, knowing how to sell your earrings can be somewhat difficult. Over the years, collecting habits have changed and what might have been in fashion 5 years ago may no longer be sought after.
Selling at auction used to be a good option for selling bracelets, however, the average seller's commission is now 18% and the average buyer's commission is 25% – meaning that if you sell at auction you only get back 57% of what the buyer was willing to pay.  We can help you get the most for your bracelet so please get in touch.
This guide aims to help you understand what your bracelet is worth and what affects the value of bracelet. You can also get in touch for a free valuation and no-obligation advice.
How Can You Sell Your Bracelets? 
Are you looking to sell your bracelet but don't know where to start?  At Mark Littler LTD we make the selling process as simple as possible by handling all of the logistics, paperwork and fully insured shipping.
We can help you sell your bracelet in two ways:
Through a brokered private sale

Through specialist online auctions
Our aim is to achieve the best possible price for your jewellery; after all, you can only sell once.  By giving you all of your options you can be sure you are making the right decision.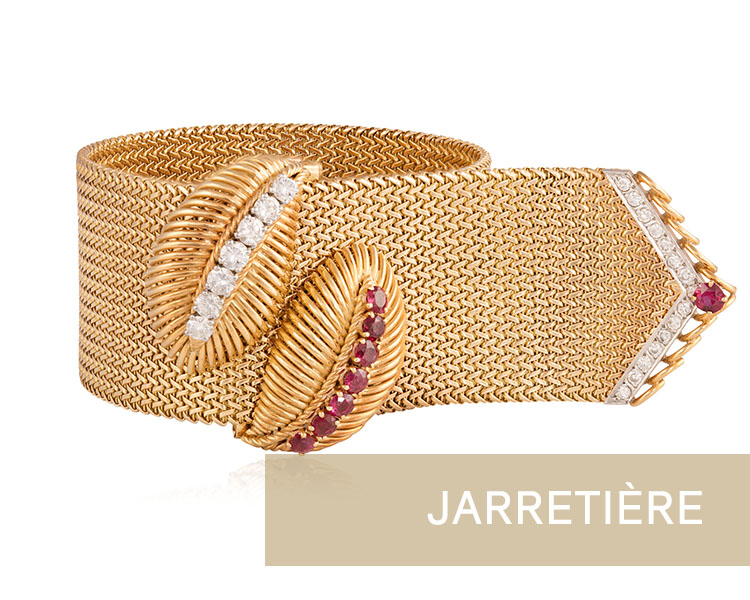 Jarretière – First appearing in the mid-19th century, the jarretière bracelet is made from woven links with a jewelled clasps. Gems were often also set into the links. Perhaps the most famous example of a jarretièreis Marlene Dietrich's jarretière. The famous actress wore the bracelet many times, and thrust the style into the public eye. The style became one of the most favoured of the 1930s.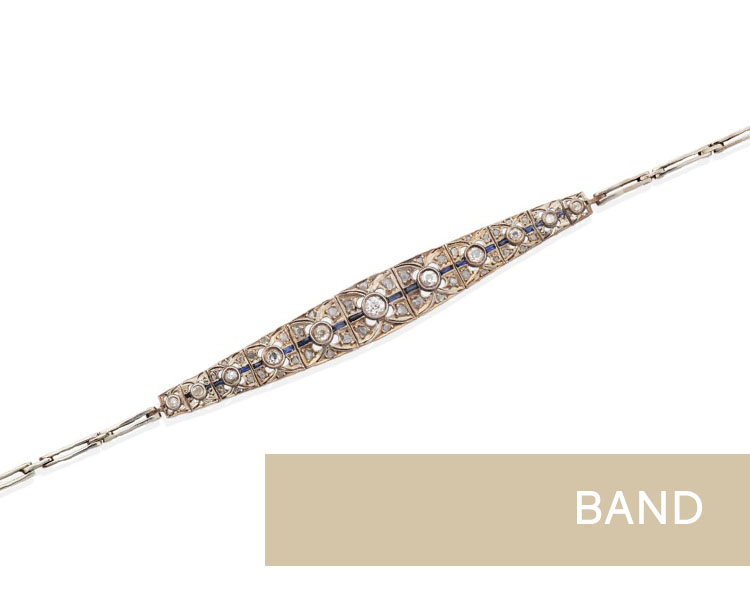 Band – Band bracelets were the go-to arm accessory in the 1920s. Usually designed as chains of narrow geometric links, the band bracelets later became wider and more often set with gems. The linear design of this particular bracelet was well-suited to the geometrical motifs that were popular during the Art Deco period.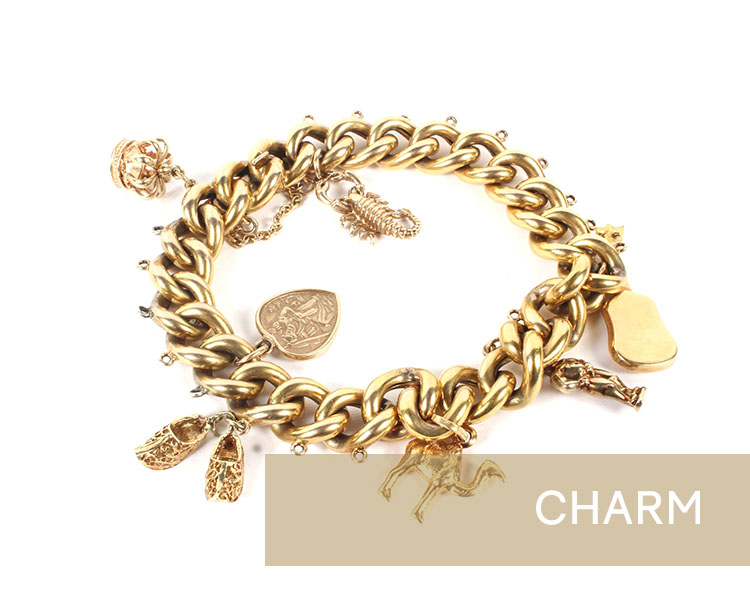 Charm – Beginning in the 1920s and growing in the 1950s and 60s was the fashion of collecting and wearing charms on bracelets. Initially made from platinum and gem-set with diamonds and other stones, charm bracelets have endured and contributed to the success of modern-day brands such as Pandora.
Bangles – Bangle bracelets date back to around 2600 BCE when they were worn by the people of the Indus river civilisations. Typically designed as circular and rigid bands, bangles have been worn both on the wrists and on the upper arms throughout history. The bangle remains a symbolic piece of jewellery for many Eastern cultures, particularly in India, where brides were bangles – or chooras – on their wedding day.
What Affects The Value Of Your Bracelet?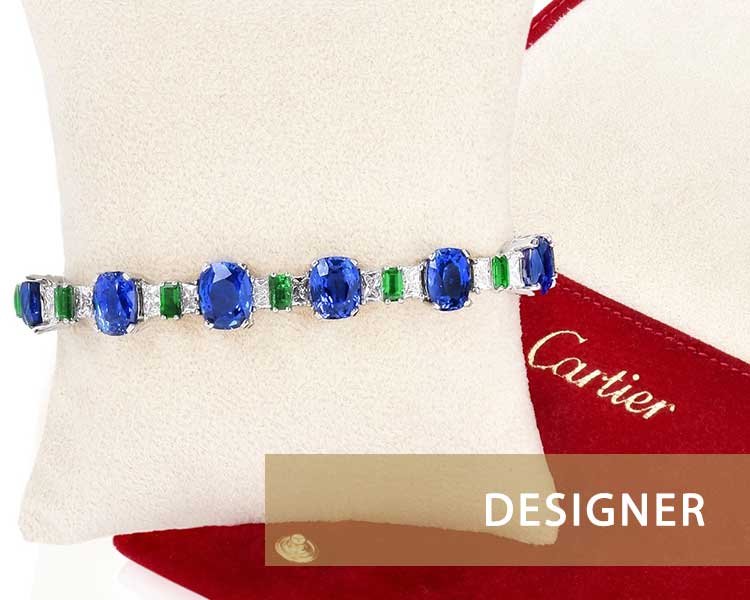 Designer
Jewellery is made either in anonymous workshops or by well-known designers and jewellery houses. As you can imagine, pieces that are designed by famous designers or jewellery houses such as Cartier, Van Cleef & Arpels, and Georg Jensen will command a premium over those that were mass-produced. Bracelets by well-known jewellery houses have more provenance and history behind them, making them more commercial than their fashion jewellery counterparts.
Most bracelets that were designed and made by famous designers will bear a maker's mark, telling you who produced the item. This information is important in valuing your pieces of jewellery. The marks can be very small, and you may not be able to read them with the naked eye. For example, hallmarks on band bracelets are usually found on the clasp.
The value of bracelets can also be affected by whether or not its design is indicative of the period that it is from. For example, a band bracelet from the Art Deco period will hold more value if it displays the typical geometric style of that era than a bracelet from the same period that has no such attributes.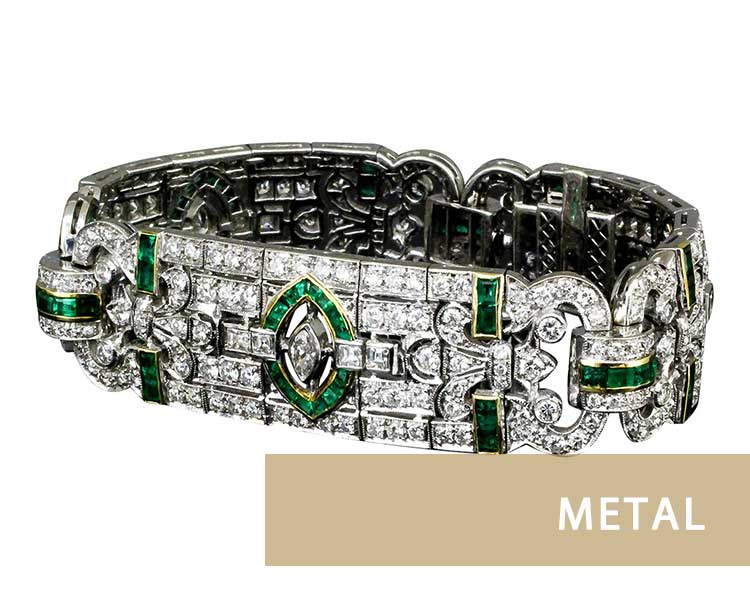 Metal 
Most bracelets are made from some kind of gold, silver, or platinum. Identifying the purity of the metal can help to determine the quality of the item. For example, gold comes in various different purities, with 24-carat gold being the purest, with 99.9% pure gold. As such, 24-carat gold items are considered of a higher purity than 9-carat gold items (37.5% pure gold).
Certain metals and purities are better suited to gem settings than others. For example, you would not set a 3ct emerald in a 9ct gold setting. Instead, you would use 18ct platinum, which is more durable than 9ct gold. 
Silver and platinum also have different levels of purity that affect the value of items made from these metals. The purity of an item can be identified either through testing in a lab or through the hallmarks on the item. For example, a silver item with a full set of UK hallmarks can be called sterling silver.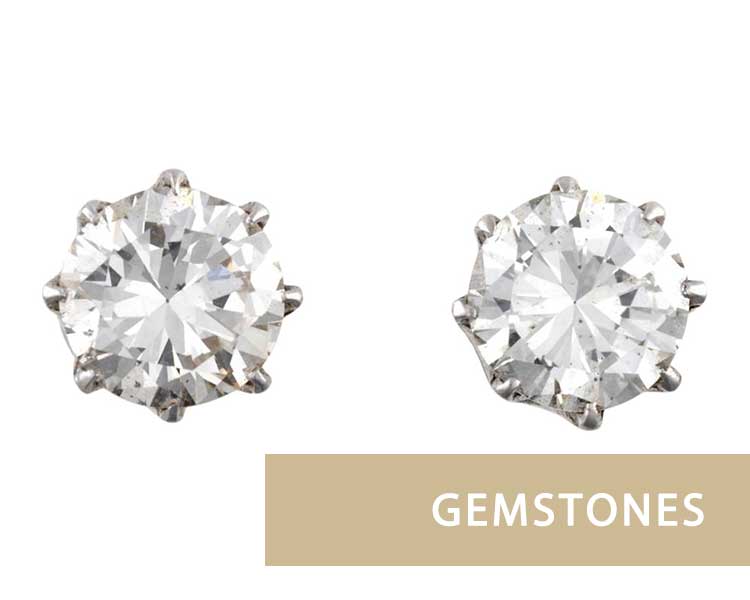 Gemstones
If your bracelet is set with gemstones, there are many attributes of these gems that can affect the value of your item.
Firstly, what is the identity of the gemstone? Diamonds have always been, and remain, extremely commercial. Other stones such as tanzanite, sapphire, and emerald are also highly sought after.
Other attributes such as the cut, colour, inclusions, damage, carat weight, and clarity of the gemstone can affect the value. For example, a 1ct round brilliant natural diamond with high clarity will be more valuable than a 1ct round brilliant natural diamond with several inclusions and a chipped girdle.
There is also a disparity in value between natural gemstones and man-made gemstones. Whether or not a gemstone has been treated can also affect the value of your bracelet.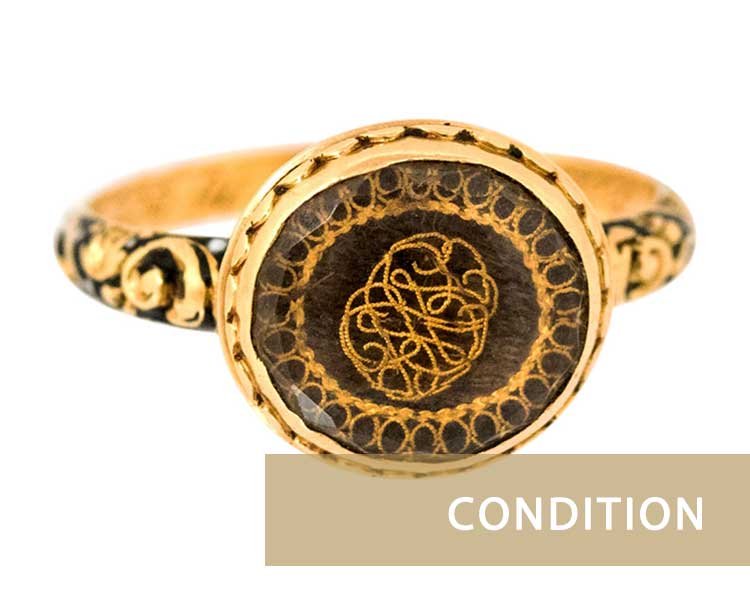 Condition
Of course, the condition of your bracelet will have an impact on value. Any dents, missing claws, scratches, etc will affect the value.
However, with jewellery, the condition of the item is more relevant to some styles than others. For example, gold is extremely malleable, and so a missing claw in a ring can be easily replaced. By contrast, items made from enamel, such as cameo brooches, can be very difficult to repair and restore.
The same can be said for different gemstones. Some gemstones are much easier to re-cut and re-polish than others.
When sending us photos of your bracelet please be sure to include photos of any damage to the bracelet so that we can accurately assess the condition of the item.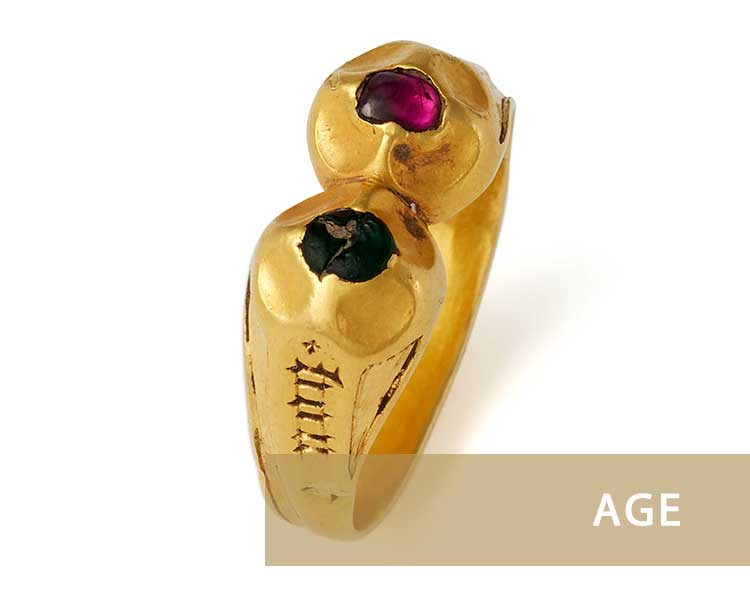 Age
At Mark Littler Ltd we have sold jewellery from many different time periods, from the medieval Green Hammerton Ring to modern Cartier pieces. Jewellery from certain time periods is more sought after than others. For example, jewellery from the Victorian Era (1837-1901) is more sought after by collectors than jewellery from the Retro Era (1939-1950).
Whilst this is not always the case – sometimes more numerous factors such as the designer – the age of your jewellery can be a good indication of its rarity and value in some instances.
As mentioned above, jewellery from specific periods is always more sought after if it reflects the characteristics of the particular period. For example, Art Nouveau jewellery bearing the characteristic swirls and natural motifs will be more valuable than jewellery from the same period that does not share these features.modern pieces command a premium.
Form
The form that your jewellery takes can have an effect on the value of your piece due to certain types of jewellery falling in and out of fashion.
As an example, solitaire rings and stud earrings are somewhat timeless. Brooches, by comparison, have fallen out of fashion in the last few decades. Brooches made of metal date back to the Bronze Age when they were used to secure woollen cloaks and tunics. They remained in fashion for a long time but eventually fell out of fashion in the 1980s due to changes in fashion trends and textiles. Today, clothes are more often made from polyester and cotton rather than from sturdier materials such as wool, meaning that the brooch pins are more likely to damage the clothing.
Of course, this is not to say that brooches are not worth much, just less commercial at this moment in time. That said, some of the most commercial brooches are from the Art Deco period and can command five-figure sums.
Rings, necklaces, and earrings are all very commercial, with specific styles commanding different premiums at different times in history.
How We Can Help You Sell Your Bracelet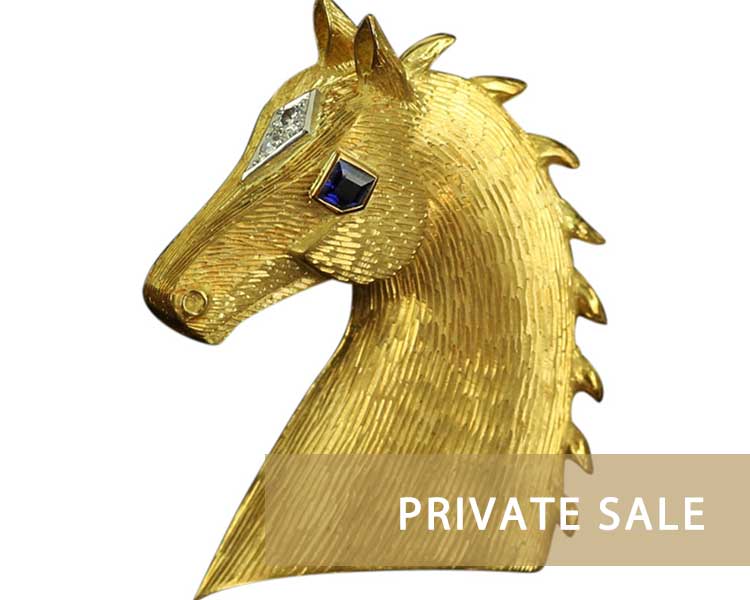 Private Sale
Our brokerage service is a simple and stress-free way to sell your jewellery. We will broker the sale between you and one of our private buyers, handling every aspect of the sale on your behalf. For this service, we charge a 10 + VAT commission (12% total). This avenue is quick and easy. We will take care of everything for you.
Auction
We have built relationships with some of the country's best specialist auctions. These industry relations help us to help you sell jewellery through the auction house that is best suited to you and your item. This is critical given the high cost of selling your items through traditional auctions. We will consign your item to the appropriate auction house for you.
Sell Bracelets: Expert Valuations
To make the process as simple as possible for you, we give you the opportunity to get your jewellery valued for free with our quick and easy-to-use valuation form.
Please provide as much information as possible about your item so that we can give you an accurate valuation.

Send us images of your silver on WhatsApp and we will get back with a valuation. Click the button above or send the images to 07852 247 421

If you want to email over your images please send them to [email protected] or click the button above.

Would you rather speak in person?  Call the office on 01260 218718 weekdays 9am to 5pm and we will be happy to help.
Jewellery Valuation Contact Form
Postage Service
We make getting your jewellery to us simple.
We have a fully insured postage service. We send you specialist packing materials and instructions together with a pre-paid returns label so that you can ship your jewellery back to us quickly and safely.
For large collections and very high-value items, we also have a hand-courier service available.
The History of Bracelets
The earliest examples of bracelets or armwear date back to Ancient Egyptian times and continue to be worn across the world today, both for aesthetic purposes and symbolic purposes, such as bangles that are used in marriage ceremonies in myany different cultures. For example, choora (or chura) is a set of bangles traditionally worn by Punjabi brides during and for a period after her wedding. It was not uncommon for men to wear bracelets until fashions began to change. Charm bracelets and friendship bracelets are also examples of the symbolic wearing of bracelets. Charm bracelets allow the wearer to add charms to the bracelet to represent special times or people in their lives. Friendship bracelets often involve two or more friends exchanging matching or similar bracelets to symbolise their bond. 
Bracelets emerged as a popular women's accessory in the 17th century and continued to rise in popularity throughout Georgian and Victorian times. Typical bracelet forms include jarretiere, band, charm, beaded, and bangle. 
Jewellery collectors favour Art Deco style diamond bracelets, with the most commercial bracelets on the retail market also favouring diamonds. Jewellers such as Cartier and Boucheron are famed for their bracelets, with many styles from the Art Deco period and the Retro Period commanding premiums at auction. In fact, the most expensive bracelet ever sold at auction is the 1923 Cartier Sapphire and Diamond Bracelet which was sold for $7.2 million USD when it sold at auction in 2016. The bracelet contains many high clarity diamonds and eight Kashmir sapphires – Kashmir sapphires are amongst the most expensive and sought after gemstones in the world – set in platinum. Many expensive bracelets feature multiple gemstones graduating in size with pave set gems being amongst the most popular.
The 4 Cs are common terminology in the world of gemmology, and they refer to the 4 most important factors that can affect the value of a diamond, but can also apply to other gemstones. The 4 Cs are: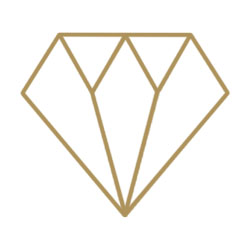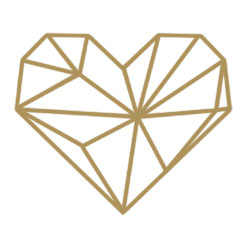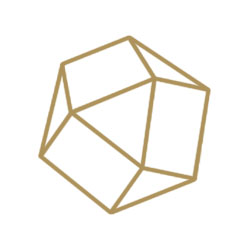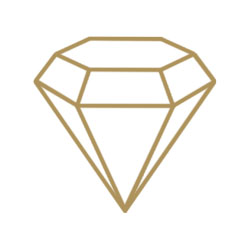 Clarity – The clarity of a diamond indicates how inclusion-free the diamond is. A diamond free from inclusions is commonly graded as Flawless (F). The better the clarity of the stones in your bracelet, the higher the value of the bracelet will be in comparison to similarly-sized stones of lower clarity.
Cut – The cut of a diamond or gemstone refers to how deep or shallow the cut is. A well-cut stone will direct light through the crown. A cut that is too deep or too shallow will allow light to escape. As such, a well-cut diamond, or other gemstone, will hold more value than one of a similar size but with a shallower cut.
Carat – Carat refers to the carat weight of a diamond or gemstone. A 1ct diamond will be worth more than a 0.95ct diamond. As such, the larger the stone the more value the piece will hold.
Often the central diamond in a motif is the largest diamond in the piece. This, as well as the added carat weight of other stones in the piece, will contribute to the value. 
Colour – Colour refers to the tint within a diamond. Diamonds range from colourless to very light yellow (this is specifically in reference to colourless diamonds). There are also coloured gemstones, which refer to any gemstone that is not a diamond. The colour of these gemstones can also affect their value. For example, padparadscha sapphires – which are a beautiful orangey-pink colour, are considered the most valuable sapphires. Pale blue sapphires are generally considered the least valuable. 
Quick Online Bracelet Valuation
We provide free jewellery valuations. Please use the form below and provide as much information as you can about your item so that we can make sure your valuation is as accurate as possible.
Alternatively, please send photos of your jewellery (as well as any other information you can provide) to our WhatsApp .