Springbank Syn 20 Collection
Welcome to the exclusive Springbank Syn 20 Collection
In the summer of 1992, a group of like-minded whisky loving friends came together to do something unique. They decided to form a 'whisky syndicate' and together they purchased 20 sister hogshead casks of Springbank.
A Unique Syndicate 
In July 1992, as the Summer Olympics took place in Barcelona and Georgia joined the United Nations, a group of friends in the United Kingdom came together to form a whisky syndicate and prepared to purchase a number of casks. Their decision was to purchase twenty sister hogsheads, from cask number #135 to #154, directly from the Springbank distillery at a cost of £400 per cask. The casks had been distilled just five days before the syndicate's purchase and contained almost 5,000 litres of Springbank distillate.
The syndicate left the casks to mature at the Springbank distillery's bonded warehouse to begin the metamorphosis into whisky. Several years later they had their first whisky drawn from the casks. From then on the syndicate would bottle a cask and distribute bottles among themselves, creating a unique sampling line of this same Springbank distillate matured to various age statements. The syndicate's aim was to enjoy their Springbank whisky each year and, as you can see by the very limited number of bottles left in this collection, they certainly were doing so. The original syndicate member who owned these bottles was very keen on sharing their whisky and gave many bottles to friends and family to enjoy.
Distilled: 1992
Age: 16
Bottled: 2009
Cask Number: 138
ABV: 52.4%
No. Bottles: 4
Label: Cream
£371
Distilled: 1992
Age: 19
Bottled: 2012
Cask Number: 140
ABV: 53.0%
No. Bottles: 6
Label: Cream
£435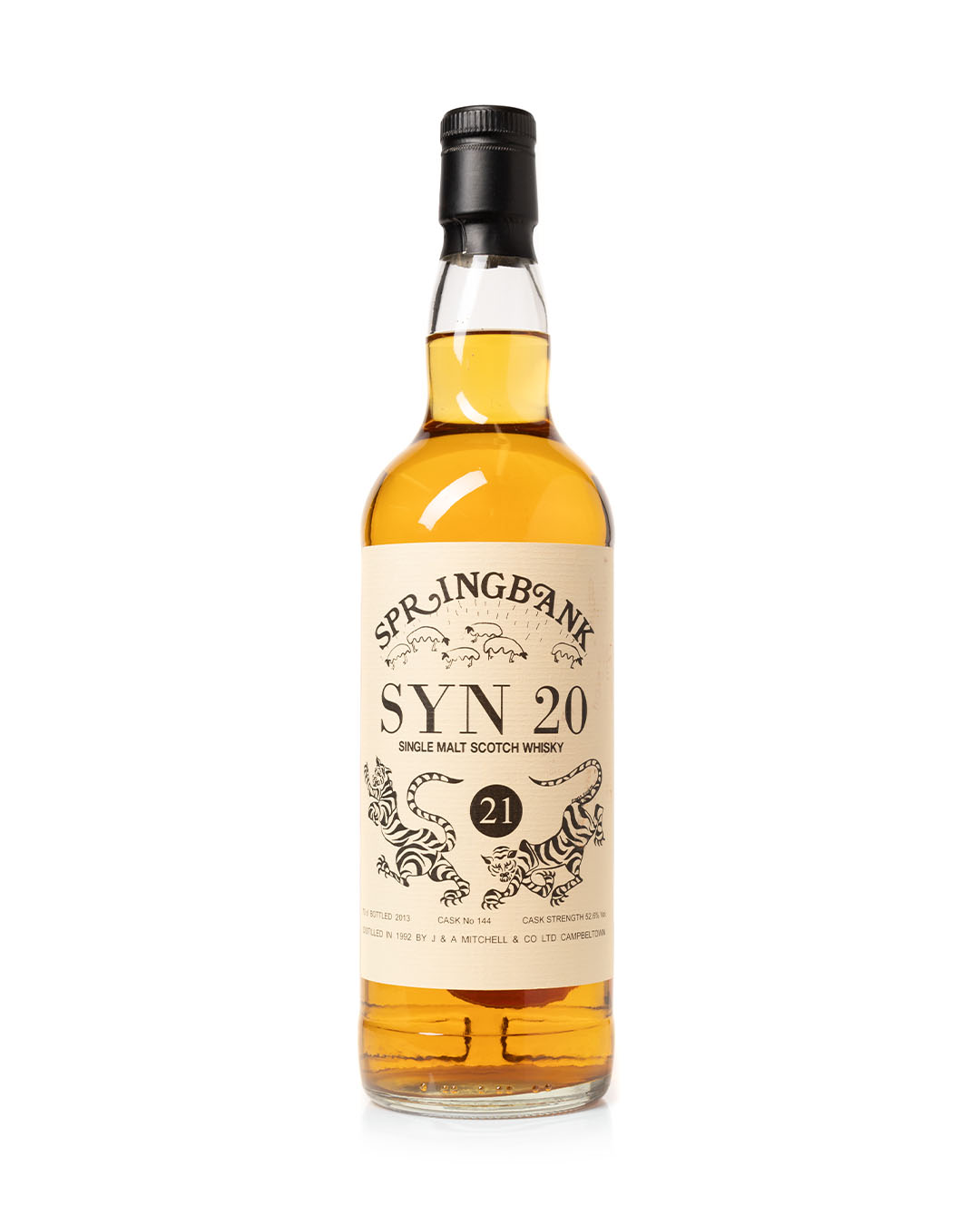 Distilled: 1992
Age: 21
Bottled: 2013
Cask Number: 144
ABV: 52.6%
No. Bottles: 2
Label: Cream
£477
Distilled: 1992
Age: 23
Bottled: 2015
Cask Number:147
ABV: 51.9%
No. Bottles: 11
Label: Cream
£520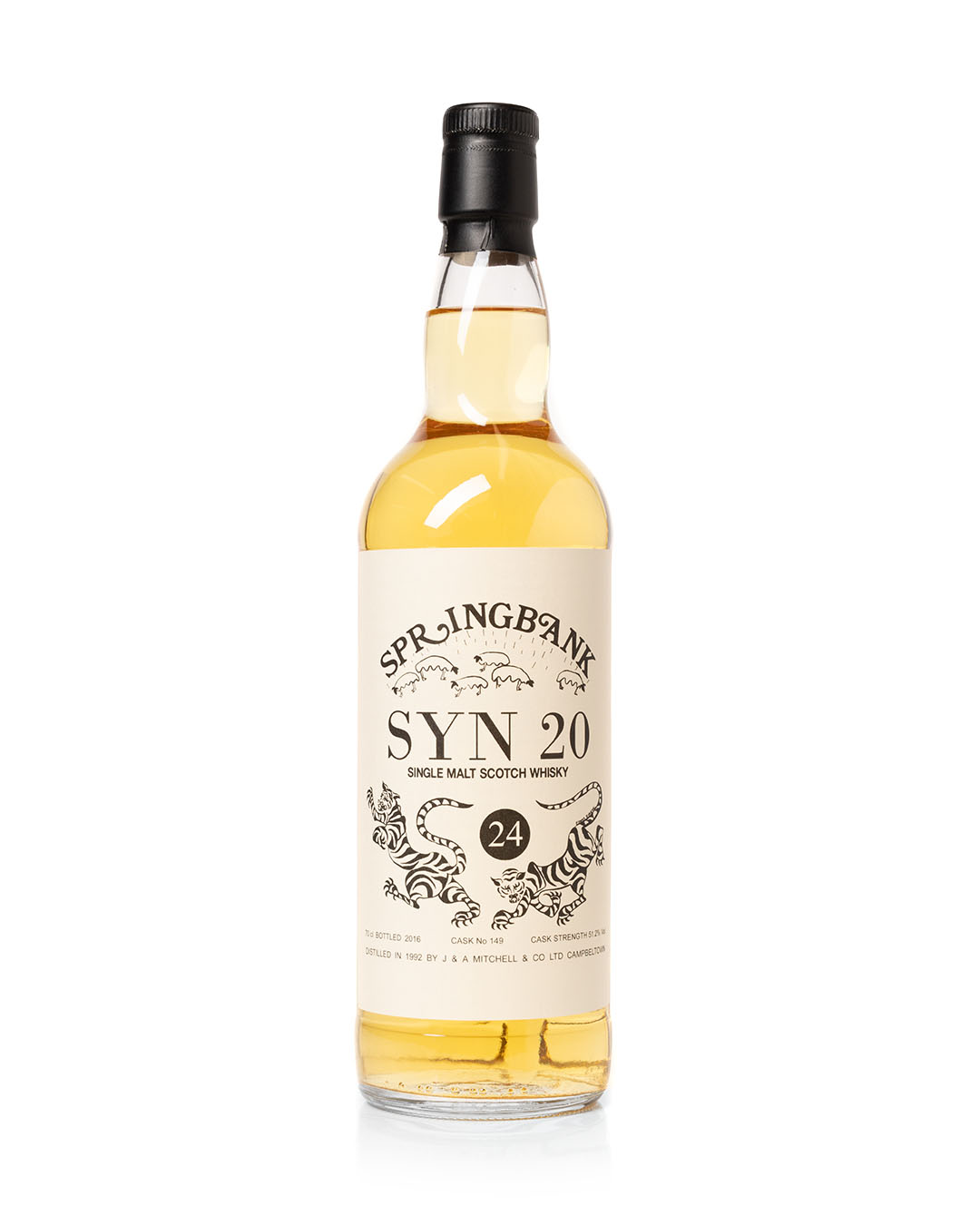 Distilled: 1992
Age: 24
Bottled: 2016
Cask Number: 149
ABV: 51.2%
No. Bottles: 12
Label: Cream
£541
Distilled: 1992
Age: 25
Bottled: 2017
Cask Number: 154
ABV: 52.3%
No. Bottles: 11
Label: Silver
£563
Distilled: 1992
Age: 25
Bottled: 2017
Cask Number: 150
ABV: 51.4
No. Bottles: 11
Label: Black
£563
The Label
The unique labels for these bottles were designed by an artist related to one of the syndicate members and applied by J & A Mitchell at the time of bottling. The artist was inspired after reading the tasting notes for a different whisky which included the rather bizarre line "soggy sheep and tiger claws". Along with this featured design is a very classic and understated label on a cream background, with the exception of the 25 year olds which are silver and black for the two different cask numbers. The whisky was bottled and labelled at the Springbank distillery, according to the regulations of the distillery and the SWA. All the bottles feature UK pink duty stamp stickers.
Springbank Syn #147 1992
23 Year Old 
Colour: Perfect gold

Nose: Cream coconut, pineapple, mango, barley sugar,
salt, limestone, fresh minerals, gentle smoke, tropical
Bourbon influences, freshly sliced apple, lemon zest and
vanilla.

Palate: Oily smoke like a tar fire, more salt, fruit syrups
(apple and passionfruit) with the salt contrasting this to
reveal a creamy barley texture.

Finish: Gentle smoke coats your mouth and tongue,
soft wood spices and a swelling of 'Springbank Funk'
– The oak isn't dominant and allows the unique spirit
of Springbank to follow up on all of these big flavours
promises.

Verdict: The best Springbank I've tried up to this point
in my life. Seriously. You can keep your sherry bombs.
Refill American oak with spirit still playing an equal role
in the flavour profile. I'm sold.

95/100
Springbank Syn #150 1992
25 Year Old
Colour: Manzanilla Sherry

Nose: Lemon. Much less tropical than it's younger
brother bottling. Cut grass, citrus peels, hay bails,
farmyard funkiness, mint, toffee and cherry. The toffee
note takes a while to show itself.

Palate: Spicier! Heavier oak and freshly sawn wood,
liquorice. No fruit notes. Not as overwhelming as it may
sound. Minted toffee, corriander, sea salt and drying
smoke.

Finish: Buttery pastry, butter cream, more salt, green
tea, 'Springbank Funk' and an overall creaminess.

Verdict: We've traded tropical fruit for a bigger texture
with the 25YO. Oak and drier flavours lead the way, but
it's still quite creamy and decadent.

90/100
Own A Piece of Springbank History
This range of syndicate bottles are fantastically rare and an amazing opportunity to experience a range of sister casks through it's journey of maturation from 16 to 25 years. The quality of Springbank whisky is legendary and these bottles are no exception.
Maybe the next chapter of its life will be as part of your collection?  If you would like more information please feel free to contact us on [email protected] or call 01260 218718
Ready for immediate dispatch.