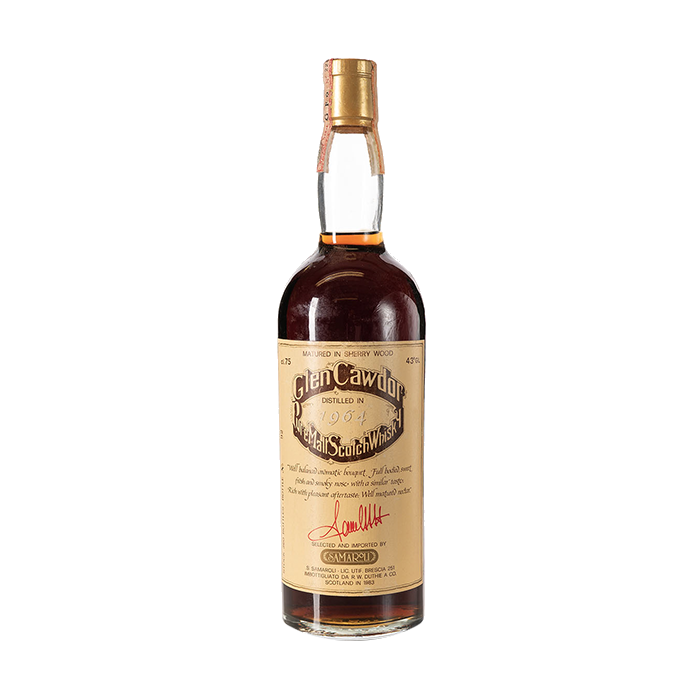 Glen Cawdor 1964 Samaroli Bottling
Welcome to the incredible Glen Cawdor 1964 Samaroli Bottling.
This Glen Cawdor 1964 single malt has been bottled by RW Duthie for renowned independent bottler Samaroli, in 1983. The Glen Cawdor name is used to represent the Springbank whisky that entered this 75cl bottle at 43% ABV. Let's see what makes this bottle so special and sought after.   
Welcome To The Sixties: A Fantastic Decade
This bottle of Glen Cawdor holds whisky that ran through the stills in 1964, 57 years ago. This whisky lay maturing in the cask for nearly two decades before being bottled in 1983. 1964 saw Roald Dahl's Charlie and the Chocolate Factory first published, the Beatles get their first US Number 1 single with I Want To Hold Your Hand, and the Gulf of Tonkin Incident moves the US formally into Vietnam. The decades following are a period of monumental change and this whisky emerges from the cask to a very different world. By 1983, new music, fashion, films, and celebrities had emerged. This Glen Cawdor 1964 was also bottled on the precipice of the Whisky Loch, making it a miraculous feat that the bottle survived.   
Distilled: 1964
Bottled: 1983
Bottle Number: 92 (/360)
ABV: 43%
Volume: 75cl
Age: ~19 Years
Price: £17,988 duty and VAT paid
Availability: In stock ready for immediate dispatch
Condition: Good level, into the neck. Small amount of wear on the label. 
The Mystery Behind Glen Cawdor
Samaroli famously used the name 'Glen Cawdor' in place of the Springbank name when bottling due to licensing laws. Whilst for a long time, it was debated as to where the whisky in the Glen Cawdor 1964 was from, good friend of Samaroli, Emmanuel Dron said in his Collecting Whisky Volume 1:
Many have wondered which distillery was hidden behind the stunning 1964 sherry cask. Silvano said in the past it could have been an Ord. The last time I saw him, he told me it was Springbank. The 1962 for LELE, 60 bottles only, might have been the Ord he first remembered, same whisky as the 1962 Bouquet.
Samaroli took inspiration from Shakespeare when he chose Glen Cawdor as it originates from Castle Cawdor in Macbeth. This gothic origin seems only fitting for a whisky as dark as this one.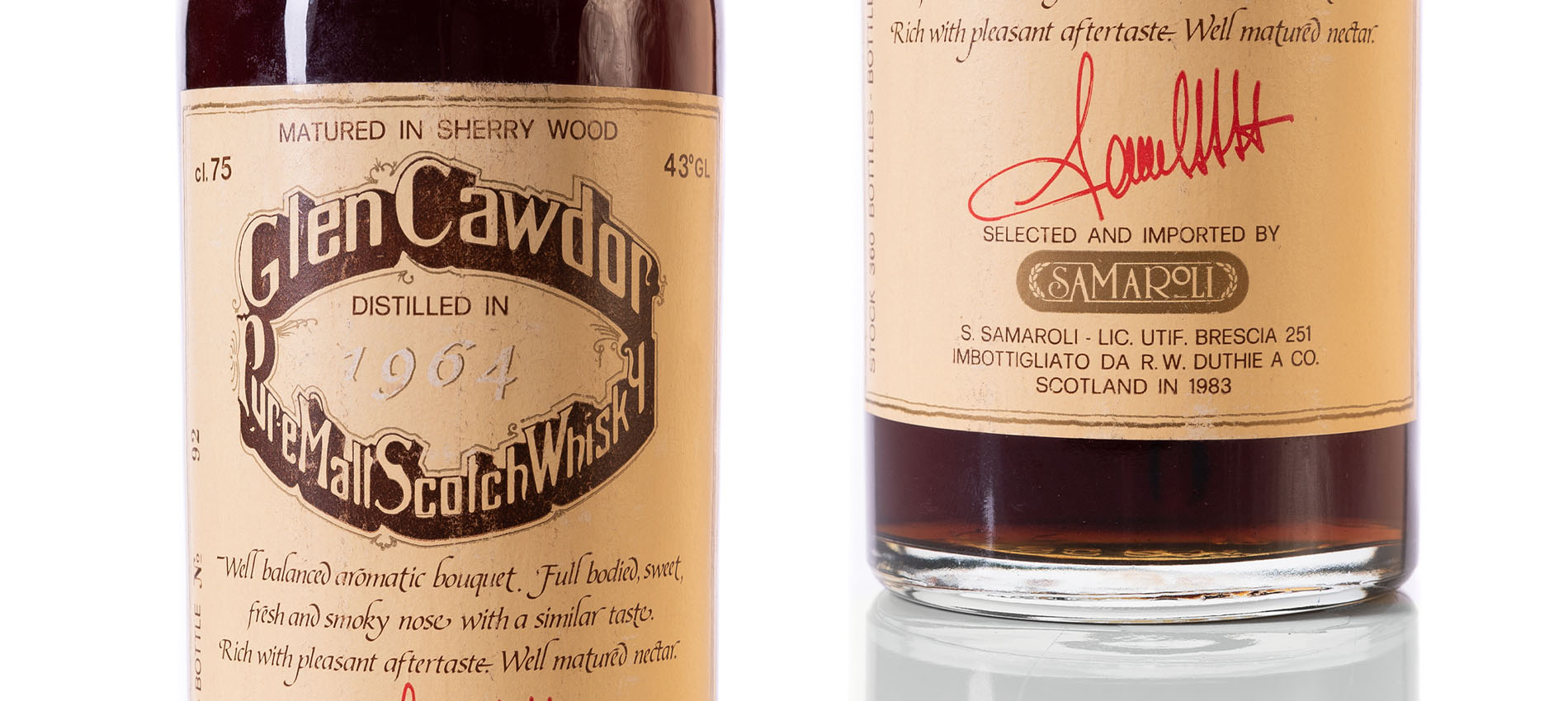 Bottled By The Best: Samaroli 
Silvano Samaroli began his whisky ventures in 1968 when he established Samaroli Imports and became the official distributor of John McEwen & Co brands. After importing an exclusive Linkwood cask strength for collector Edoardo Giaccone in 1969, Samaroli was inspired to source his own exclusive releases. 
Samaroli released his first bottling series in 1979 relabelling a Cadenhead dumpy bottling run with a label he had designed himself. The success of this release spurred a move further into the bottling realm and in 1981 he released what became known as the Flowers series.
The whisky for the Flowers series was bottled especially for Samaroli by RW Duthie and was the first of many bottlings done by this partnership.
Samaroli bottlings have gone on to become some of the most famous and sought after independent whisky bottles and are known for their decorative labels. The Glen Cawdor is no exception. With its impressive vintage, dark colour, and limited run, the Glen Cawdor 1964 is a shining star in the Samaroli portfolio.  
A Beautiful Partnership: RW Duthie and Samaroli
Bottling giant Wm. Cadenheads was established in 1842 under a former name by George Duncan who was a vinter and distillery agent. The business was acquired in 1848 by William Cadenhead, George Duncan's brother in law, in 1858 and he gave it the Cadenhead name. 
In 1904, William Cadenhead passed away and he was succeeded by his nephew, Robert W Duthie. Robert Duthie really drove the business and moulded Cadenhead's into what it is known for today. It was under Robert that Cadenhead's became celebrated for its single malt whisky bottlings as well as demerara rum. This built the foundations that would become the stellar partnership of RW Duthie & Co and Samaroli. 
The partnership began in the 1980s and ran through until the early 2000s, creating some of the most iconic bottlings on the market.
This partnership produced incredible bottles such as the Caol Ila 1968 Full Proof as well as the most sought after Samaroli bottle: the Laphroaig 1967 15 Year Old  
Own A Piece of Whisky History
There is no denying that the Samaroli bottlings will always be remembered as important parts of whisky history and one with such vintage and intrigue as this Glen Cawdor 1964 is no exception.   
Maybe the next chapter of its life will be as part of your collection?  If you would like more information please feel free to contact us on [email protected] or call 01260 218718
Ready for immediate dispatch.