One question we often get asked is whether casks or bottles are the best whisky investment. Well, the answer depends on you.
Below we'll run through the things you need to consider when you are deciding if casks or bottles are the best whisky investment for your needs.
What is the best whisky investment?
If you want to work out what the best whisky investment is then we suggest you ask yourself four quick questions:
What is your investment timeline?
How much liquidity do you need during your investment?
What is your budget?
Where are you based?
Your timeframe and whisky investment
Casks are a long term investment. Generally we don't suggest looking at them unless you are comfortable with investing your money for around ten years or longer.
Bottles offer much more flexibility in terms of time frame for whisky investment. You can aim for longer term if you like, but it bottles are fine to suit shorter timetables too.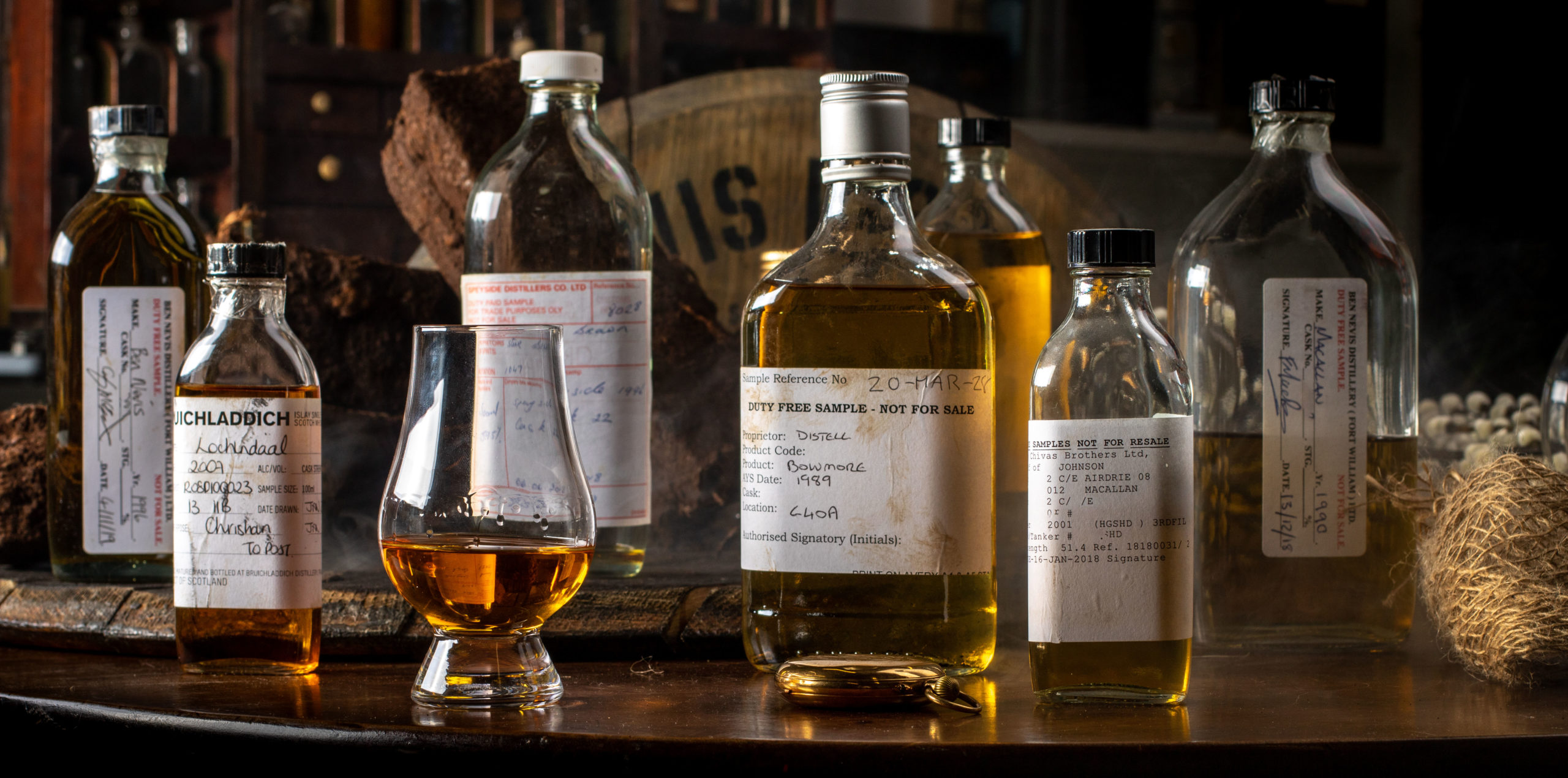 Liquidity and whisky
This isn't some kind of misguided pun about whisky being a fluid. Instead you need to consider how much access you need to your money over the course of your investment timeframe.
With casks your money should be locked away for 10 years or longer. You don't get any annual returns and if you exit early you are likely to have a bigger impact on your returns. Casks also take time to sell in order to get the best prices.
Bottles offer much more adaptability. Time is beneficial when you come to sell, but because the market is much more transparent it is easier to sell quickly within the market average.
What budget do you need for whisky investment?
We suggest between £4,000 – £8,000 per cask is a suitable initial investment. That should get you a cask between 3 – 10 years old from an established distillery with naming rights. Going for more expensive, older casks isn't necessarily going to be a better investment. Current WOWGR regulations means that location, discussed below, will impact the maximum you can spend on casks.
Bottle investment can start from a few hundred pounds up to hundreds of thousands. The most expensive single collection would run to around £4million for 4 bottles. Bottles like Macallan Private Eye cost just £36 in 1996 and now sell for over £4,000. While the market has shifted since those bottles originally retailed the point is that you do not need thousands of pounds to start a whisky bottle investment.
Why location matters for whisky investment?
We'll start with bottles this time; bottles are less limited by location, but you will have to consider taxes, delivery charges etc if you are buying bottles internationally.
For casks where you are based makes a lot more difference. If you are based in the UK for tax purposes then current WOWGR regulations means we suggest owning 5 casks or less as a private individual. As a UK based business you cannot own casks without registering under WOWGR. This puts an upper cap on how much you can spend on casks if you are a UK resident.
It is our understanding that WOWGR regulations may be repealed in 2024, which means this may change. However we have no indication about what it will be replaced with, and in addition the other notices governing casks also mention the aspects that would limit the number of casks that can be owned as a private individual so it may still be something that needs to be considered.
If you are based overseas then you have no limit on the number of casks that you can own. You can own casks as a private individual or also as a business if you have someone who will act as your duty representative.
Summary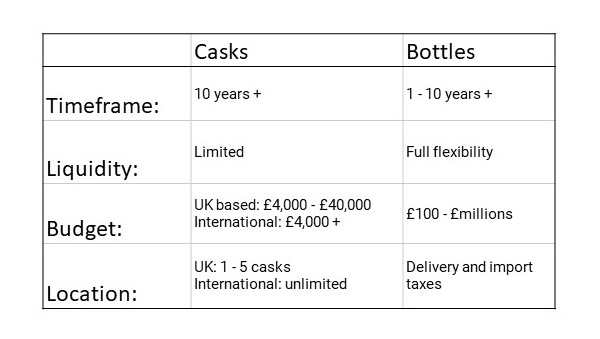 When looking at whisky investment it is going to be your individual situation that decides whether cask or bottle investment is going to be the best solution. Depending on your budget and needs it may even be that some combination of the two may be suitable.
We also offer professional advice for private and small office funds and can help you manage your whisky investment portfolio. Please get in touch if you would like to discuss this with us.