An Opportune Marriage
Van Cleef & Arpels is one of the most recognisable names in Art Deco jewellery, having supplied jewellery to the rich and famous since the company's founding. The jeweller had many famous advocates, such as Grace Kelly and Empress Farah Pahlavi, making the firm one of the most successful Art Deco-style jewellers to date. 
The founding of the company was brought about by a marriage between Estelle Arpels, the daughter of a precious stone dealer, and Alfred Van Cleef, the son of a stone cutter, in 1895. The two shared a passion for jewellery, and the expertise of the two families meant that jewellery making soon became the family business. Alfred Van Cleef and his father-in-law founded the company in 1896. Salomon Arpels died in 1903, and so Alfred Van-Cleef took his brothers-in-law – Charles, then Julien, and then Louis – on board and they set up shop in Place Vendôme in Paris. The shop was officially opened in 1906. 
Commercial Success
The company soon became a commercial success, with their designs including motifs such as flowers, animals, fairies, and birds. They opened up stores in Nice, Monte-Carlo, Vichy, and Le Touquet. 
In 1925 a Van Cleef & Arpel diamond bracelet interspersed with ruby and diamond rose motifs won a prize at the International Exposition of Modern Industrial and Decorative Arts.
In 1926 Alfred and Estelle's daughter, Renée, took over artistic direction of the company, working closely with draftsman René Sim Lacaze. Lacaze was a French jewellery designer and artists who is credited with playing an important role in the emergence of Art Deco. Lacaze worked for Van Cleef & Arpels until 1941, and in that time he produced some of the firm's most iconic pieces and techniques, such as the 'serti invisible' – or Mystery Set –  technique. This technique allowed for gemstones to be held in place without visible claws, making Van Cleef & Arpels' designs even more streamlined. 
The late 1930s saw Claude, Jacques, and Pierre Arpels – sons of Julien Arpels – join the family business. Management of the Parisian side of the firm fell to Jacques, and his brother Claude was in charge of the growing American boutique. Pierre was the last to join the firm in 1944, with his role being to oversee jewellery design. 
Van Cleef & Arpels is credited with inventing the 'minaudière', a hard-cased bag with no handles or straps – not be confused with clutch bags- after Claude Arpels was inspired by the Lucky Strike cigarette case that was used by opera singer Florence Jay Gould to house all of her belongings. The minaudière was intended to hold the personal belongings of a high-class lady when she was socialising in the evenings. The bag included compartments for opera glasses, lipstick, cigarette holders, pill boxes and more. It was patented by Van Cleef & Arpels in 1933. 
The firm is also responsible for the creation of Passe-Partout jewellery that could be transformed into multiple different pieces depending on the occasion or the desires of the wearer. Some pieces of Passe-Partout jewellery could be easily transformed from necklace, to brooch, to bracelet. Others became belts and chokers. The iconic 1950s Zip Necklace is an example of Passe-Partout jewellery, doubling as a bracelet at the wearer's whim. 
Famous Clients 
One of Van Cleef & Arpels' most famous clients was Grace Kelly. During their engagement, Prince Rainier III gave Kelly a pearl and diamond set by Van Cleef & Arpels. Subsequent to Kelly's marriage to Prince Rainier III of Monaco, the firm became the official jewellery supplier for the Principality of Monaco. 
In 1966 the company was commissioned to create a crown for Empress Farah Pahlavi of Iran for her coronation in 1967. The crown took 11 months to complete and eventually consisted of 6 emeralds, 36 rubies, 105 pearls and 1,469 diamonds.
Also in 1967, the ballet Jewels premiered in New York. The ballet, by George Balanchine, was inspired by the work of Van Cleef & Arpels, particularly the motif of dancing women that had first begun to appear in designs in the 1940s, thanks to Louis Arpels' love of ballet. The project was a landmark collaboration between George Balanchine and Claude Arpels. The performance featured music by Tchaikovsky and Stravinky, demonstrating the far-reaching influence of Van Cleef & Arpels' designs. 
International Success
As the company grew they opened boutiques in multiple locations, including London, Geneva, Munich, Milan, and Shanghai. 
This expansion began in the late 1930s, when Van Cleef & Arpels took its business to the United States, opening a shop in Palm Beach in 1940, and at 744 Fifth Avenue in 1942 when Jacques Arpels – one of Julien Arpels' sons – moved to New York in order to manage the American side of the business. 
Van Cleef & Arpels also became the first French jewellers to open boutiques in Japan (in 1974) and China (in 2005).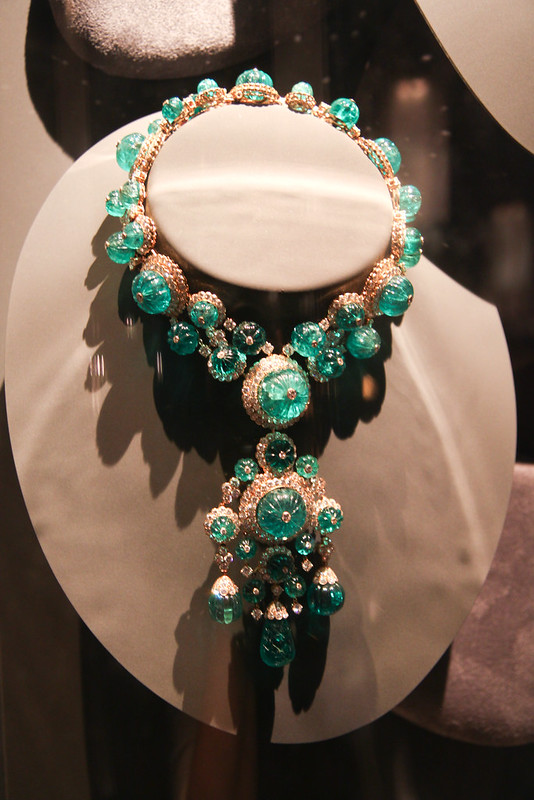 The firm is still active today and is now owned by Richemont, the third-largest luxury goods company in the world, after being acquired in 2000. The company continues to see worldwide success. In 2015, Van Cleef & Arpels showcased some of their infamous designs at the Masterpiece London fair, and the firm has an ongoing relationship with The L.A. Dance Project which continues to choreograph ballets inspired by Van Cleef & Arpels. In 2014, a ballet named Reflections by Benjamin Millepied was unveiled. Reflections is the first part of a trilogy, named Gems.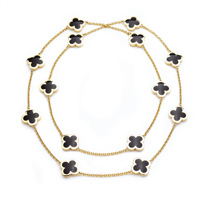 Gemstones & Motifs
Van Cleef & Arpels have long been associated with fluid, feminine, and dynamic forms. Flowers, butterflies, and female figures feature heavily in Van Cleef & Arpels designs. Emeralds, rubies, diamonds, and sapphires are used liberally, with the Mystery Set providing a blanket of colour and no visible metal in many designs. Each gemstone is carefully sleetced by gemologists to ensure consistent quality and clarity throughout all of the Maison's pieces. 
One of Van Cleef & Arpels' most infamous motifs is the Alhambra. Resembling a four-leaf clover, the Alhambra quickly became the Van Cleef & Arpels symbol for good luck following the creation of the Alhambra long necklace in 1968. The motif can still be found in Van Cleef & Arpels jewellery today – as the Alhambra collection was so successful, this motif is often renewed and implemented in modern designs.