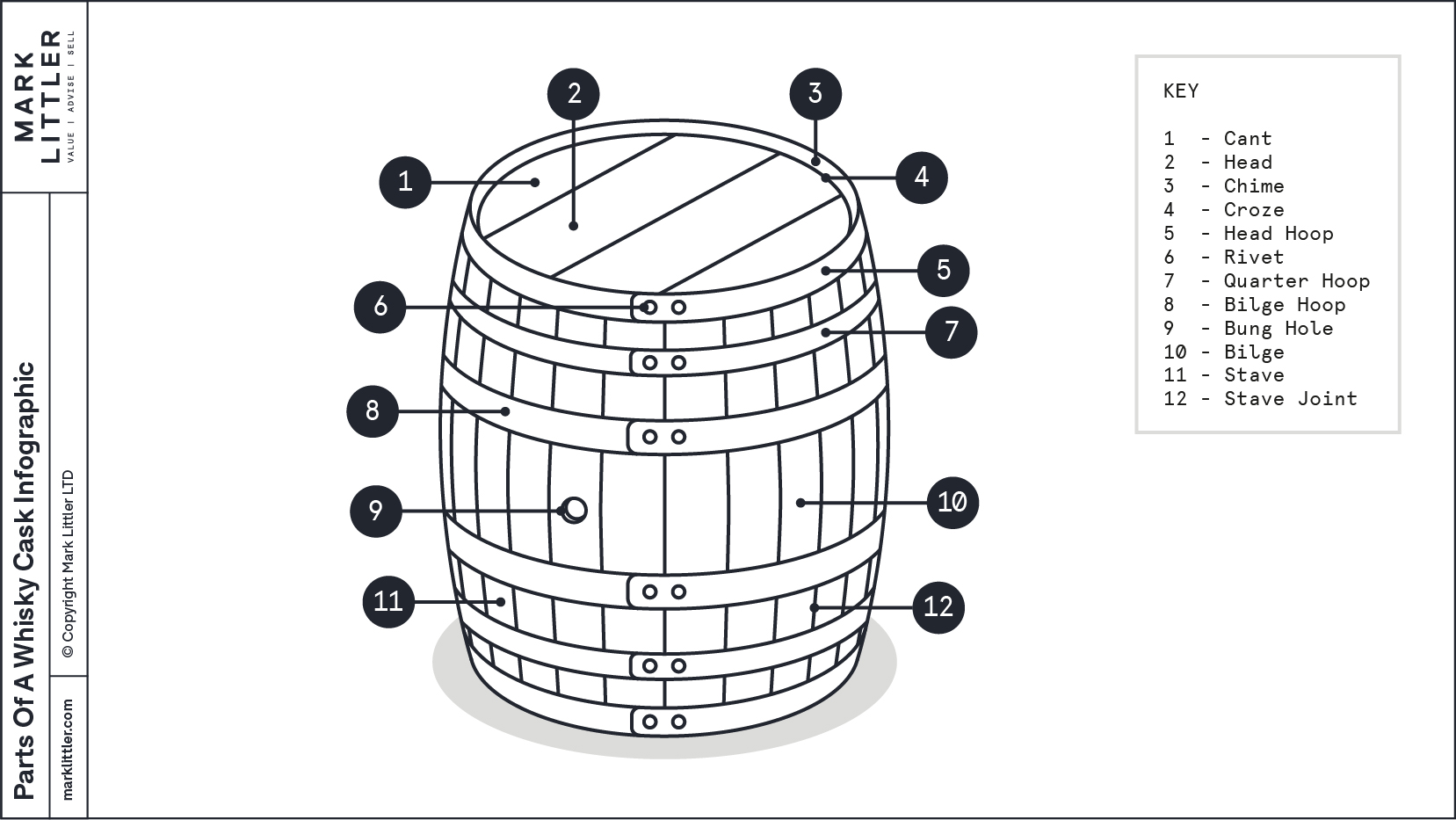 Casks are an integral part of the making of whisky. From rare bottles that fetch millions of pounds at auction, to the bottles that line the supermarket shelves: all whisky has to lie in a cask.
Scotch whisky, in particular, must mature in its cask for a minimum of three years, and lots of whisky stays in its cask for much longer. The size of the cask, the previous life of the cask, how the cask is made, and how long the whisky stays inside the cask are all pivotal factors in the whisky-making process; to truly understand how whisky is made, we must first understand the importance of the cask. So, grab a cup of tea (or a dram of whisky), sit back, and read everything there is to know about whisky casks. 
If you are looking for more specific information here are the subheadings that you can use to find the information that most interests you: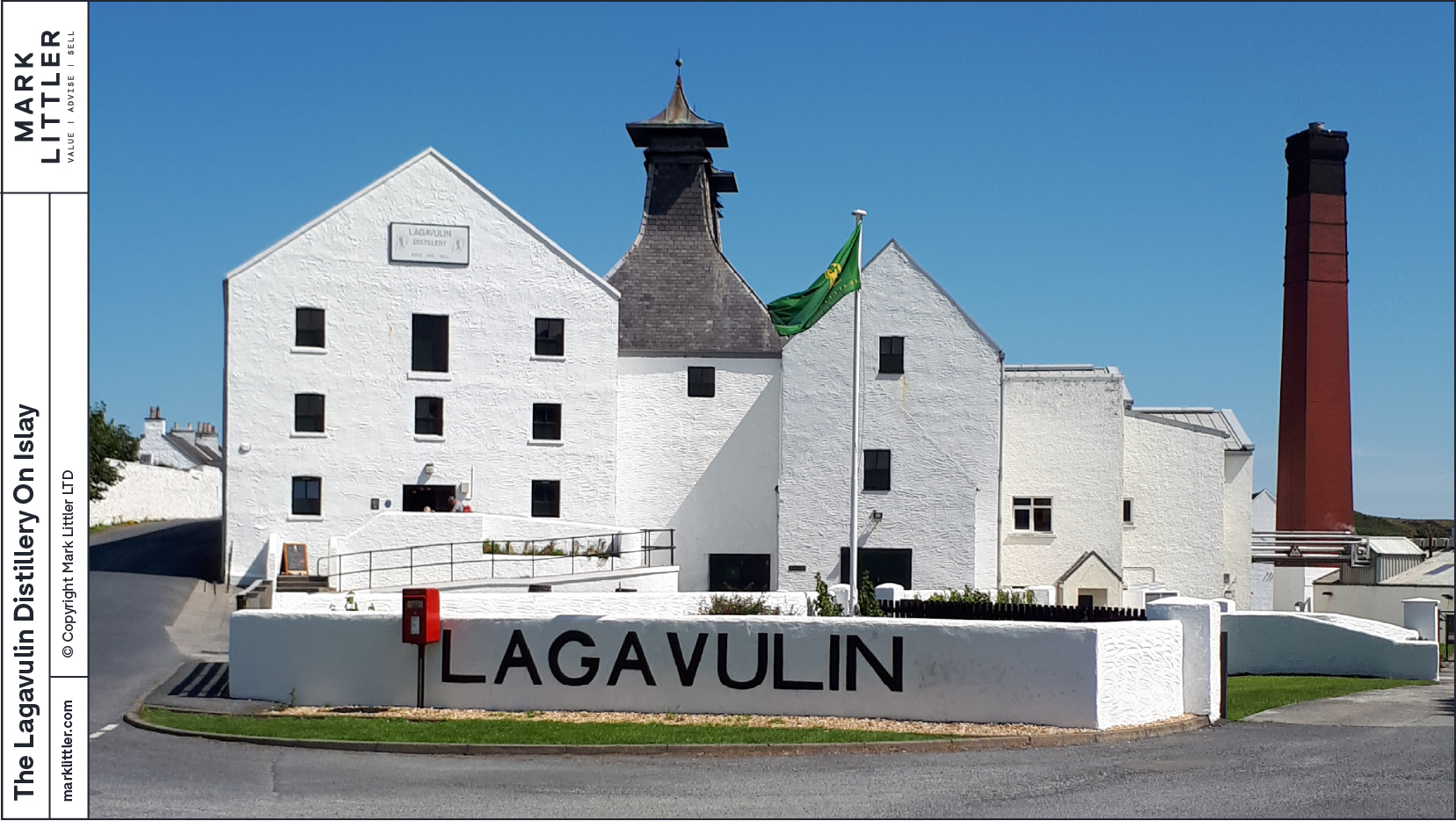 What Are Whisky Casks? 
Casks are the vessel in which Scotch whisky matures for a minimum of three years before it can be classed as whisky. Other whisky-producing nations have their own rules regarding the minimum maturation time of the whisky. The unifying factors of all whiskies are that they must be at least 40% ABV to be legally classed as whisk(e)y, and that all whisky must mature in a cask.
The casks in which Scotch whisky matures are usually sourced from Spain or the USA, where they have been previously used to distil wines or other types of spirits. However, some casks are first-fill casks. More on that later. 
Casks that are used in the maturation of Scotch whisky must be made of oak. However, the oak can come from a variety of places. Usually, the oak comes from America or Europe. The resulting casks are cylindrical but are wider at the middle, and are longer than they are wide. They are made of wooden staves that are fixed together with wood or metal hoops. 
What Do Whisky Casks Do?
Casks are extremely important to the maturation of the whisky inside them. As the whisky matures it interacts with the cask, and takes on the flavours of the wood, and any other liquid that has been previously matured in the cask. The longer the whisky stays in the cask, the more opportunity the whisky has to interact and take on new characteristics and flavours. As a result, every cask of whisky is different, which is why some distilleries blend multiple single malts together for release, to make sure that their single malts are consistent. On occasion, a distillery will offer a single cask release, where the whisky is taken from one particular cask. 
Maturation can make or break the whisky in the cask. Everything about the cask affects the final product. The wood that the cask is made from has a huge influence on the whisky. For example, American oak is not as porous as European oak, meaning that European oak interacts with the whisky much more. Whiskies can also be 'finished' in different casks to the ones in which they matured. This allows the finishing cask to impart even more flavour into the whisky without letting it sit for too long.
We have a whole series about the way in which casks affect the whisky inside them. There are four parts to the series, The Romance of the Cask. Read part one here.
What Whisky Cask Sizes Are There?
Casks can come in a number of sizes, with different sized casks being used to mature different spirits and wine. The casks that I will talk about here are American standard barrels, hogsheads, butts, quarter casks, barriques, puncheons, port pipes, Madeira drums. 
These names may seem arbitrary, but each of these casks can hold different volumes of liquid, yielding different numbers of bottles, having different rates of evaporation, and different levels of whisky-to-wood ratio. 
When whisky lovers are looking to buy their own casks, they often want to know how many bottles their cask will yield. This number can change depending on the rate of evaporation for that particular cask. However, we can get a pretty accurate picture with some simple maths. 
The UK standard size for bottles of whisky is 700ml or 70cl. By dividing the number of litres that the cask can hold by 0.70L, we can figure out approximately how many bottles a cask can yield. American standard bottles are 75cl, and so the same logic applies. 
Don't worry though! I have done the maths for you.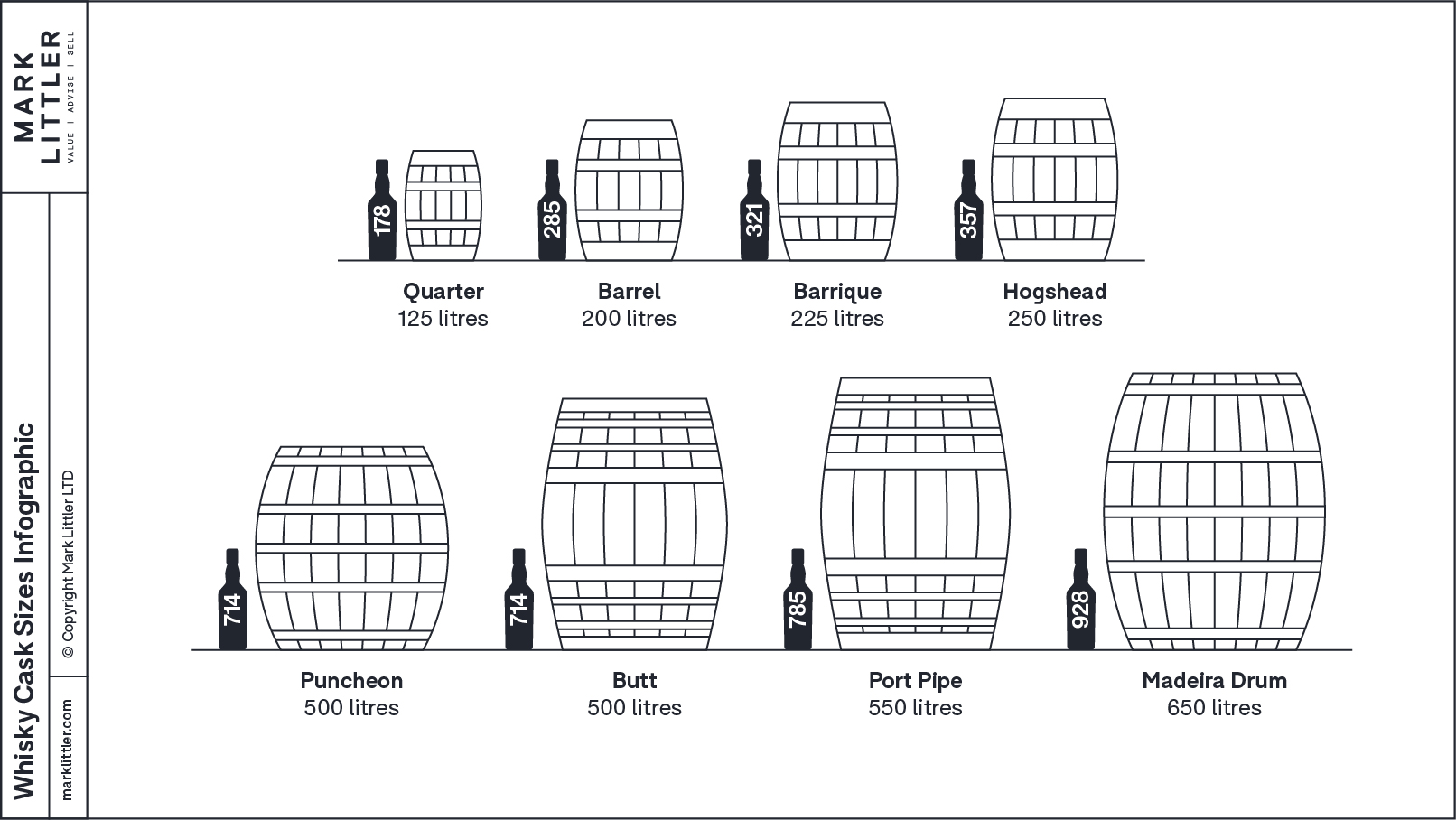 Quarter Cask – approx. 45-50 litres.
Quarter casks are the smaller type of cask: they are one-quarter of the size of an American standard barrel. These smaller barrels have much more contact with the whisky, due to a higher wood-to-whisky ratio. As a result, the maturation process in these casks is much quicker. Quarter casks hold from 40-50 litres of liquid. From a quarter cask, you can expect to see 57-71 70cl bottles, or 53-66 75cl bottles. 
Cask Facts: Maturation in quarter casks can have mixed results, and so these casks are more often used for finishing whisky. 
American Standard Barrel – 190-200 litres.
An American standard barrel is named because of its role in maturing Bourbon. They are also very commonly used in the maturation of Scotch whisky after Bourbon has been matured in the same cask. This cask can hold 190-200 litres, meaning it will yield approximately 271-285 70cl bottles or 253-266 75cl bottles of whisky. 
Cask Facts: According to American law, barrels used for maturing Bourbon must be made from American oak, and be virgin-fill, meaning that nothing has ever been matured in that cask before.
Hogsheads – 225-250 litres.
Hogsheads are the second most common cask type used in the maturation of Scotch whisky. The fact that these hogsheads are larger means that they are well-suited to prolonged maturation. Read more about why cask size matters here. Hogsheads hold on average 225-250 litres, meaning that they can yield 321-357 70cl bottles or 300-333 75cl bottles. 
Cask Facts: Hogsheads are typically made from the staves from Bourbon barrels.  Empty Bourbon barrels are shipped from America flat-packed (to save shipping costs).  A cooper will then often use the staves from five barrels to make four hogsheads, hence why the capacity is approximately 25% more than a barrel.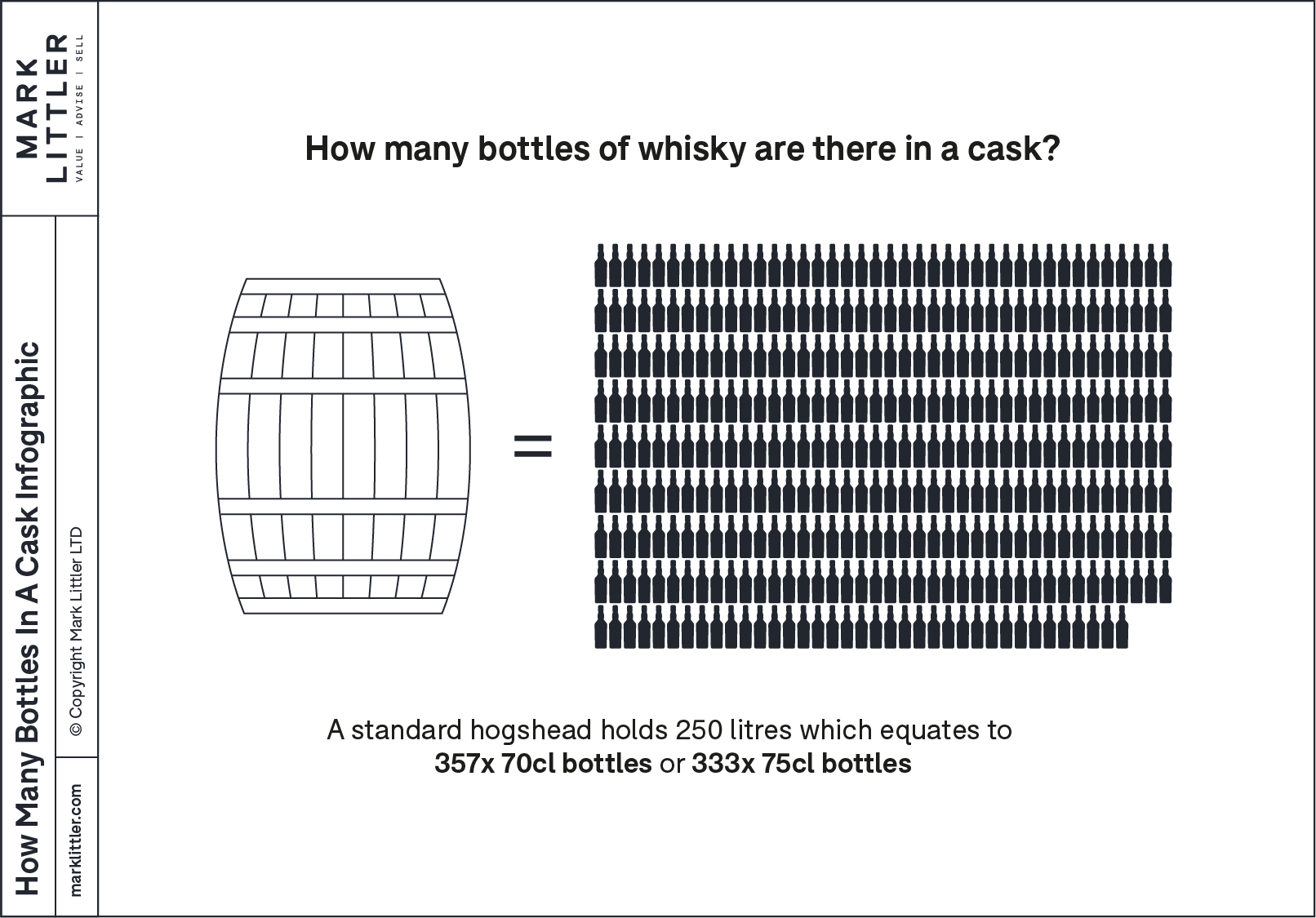 Barrique – 250-300 litres.
A barrique is slightly larger than a hogshead and is longer in shape. It is most commonly used in the wine industry. Until recently they have been relatively uncommon in maturing Scotch whisky. They typically hold 250-300 litres, yielding around 357-428 70cl bottles or 333-400 75cl bottles. 
Cask Facts: Barriques are most often made of French oak, but are sometimes made of American oak. 
Puncheon – 450-500 litres.
Puncheons are the second most common type of cask that is used to mature sherry, following butts. They are recognisable for their dumpy shape. Typically they are made of Spanish oak staves. There are also machine puncheons, which are traditionally used to mature rum but have become more popular for maturing Scotch in recent years. They can hold 286-350 litres, meaning they can yield 408-500 70cl bottles of whisky, or 381-400 75cl bottles. 
Cask Facts: Puncheons are most often used to mature sherry and rum. However, more and more distilleries are beginning to experiment with this type of cask. 
Butt – 475-500 litres.
Butts are used commonly to mature sherry, and are the most common ex-sherry casks to be used in maturing scotch whisky. They can hold 475-500 litres, meaning they can yield a large number of bottles. 678-714 70cl bottles or 633-666 75cl bottles can come from a butt. 
Cask Facts: Butts are made from Spanish oak, traditionally, but can also be made from American oak. They are usually used as sherry casks before they are used for maturing Scotch whisky.
Port Pipe – 550-650 litres.
The clue is in the name with these casks! They are most often used for maturing port wine and are similar in shape to sherry butts. They can hold 550-650 litres, meaning you can expect 785-928 70cl bottles, or 733-866 75cl bottles from the cask. 
Cask Facts: Port pipes are typically only used in the final years of maturation, to finish the whisky. 
Madeira Drum – 600-650 litres.
Again, the clue is in the name! These casks are used to mature Madeira wine. They are very squat compared to other casks but can hold a huge amount of liquid: 600-650 litres. This is the equivalent of 857-928 70cl bottles, or 800-866 75cl bottles. 
Cask Facts: Madeira drums are made from very thick French oak staves. They are not often used to mature scotch whisky and are generally used for finishing.
New-fill VS Virgin-fill Whisky Casks
Still with me? Good. Now I am going to talk about new-fill casks in comparison to virgin-fill casks. 
New-fill casks are sometimes called first-fill casks. The two terms are interchangeable. New-fill casks are, simply, casks that have never been filled with or used to mature Scotch whisky before. However, this does not mean that they have never been used to mature other wines or spirits before. Most barrels used to mature Scotch whisky have been used to mature other drinks, such as wine, port, Bourbon, or sherry prior to their use in the whisky industry. 
Virgin-fill casks are casks that have never been used to mature anything before. These are rarely, if ever, used to mature Scotch whisky. This is because distilleries rely on the casks to impart flavours and mouthfeel to the whisky that they are maturing. If the cask has never been used to mature anything then it will have much less flavour to impart to the whisky.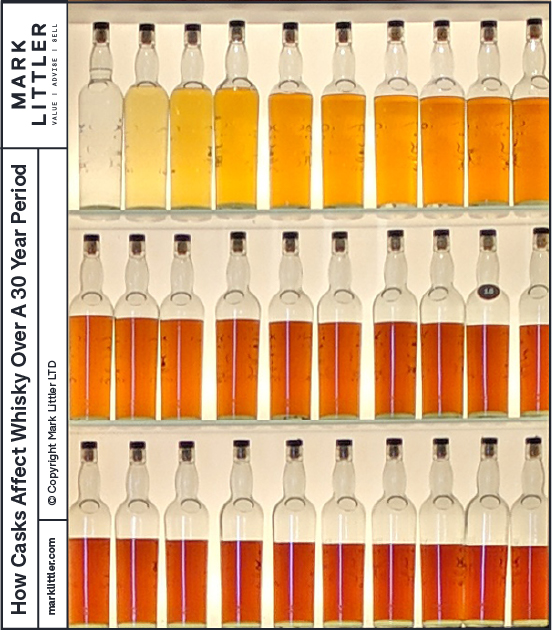 Which Flavours Can Be Imparted Onto The Whisky?
Different casks impart different flavours onto the whisky depending on what they have already been used for. The previous life of the cask makes a huge difference to the whisky that it matures. Below is a list of liquids that can be matured in casks that have a second lease of life in maturing Scotch whisky, and the flavours that are born from this winning combination. 
Bourbon: Bourbon an American whisky usually made from corn. Is usually matured in American standard barrels. When these barrels are used to mature Scotch whisky, they impart wonderful flavours of fresh fruit, vanilla, caramel, coconut, and toffee. 
Oloroso sherry: Oloroso sherry is a dark, fruity, and nutty fortified wine that is made in Spain. Oloroso means "scented" in Spanish, which explains that deep, aromatic notes of dried fruits, wood, spice, and nuttiness that ex-Oloroso sherry casks impart on Scotch whisky.
Pedro Ximenez sherry: Pedro Ximenez is a Spanish white grape variety that is used to make Pedro Ximenez sherry: a very sweet dessert sherry. Ex-Pedro Ximenez sherry casks can impart bold flavours of figs, blackberries, dates, syrup, and honey onto Scotch whisky that is matured inside them. 
Manzanilla sherry: Manzanilla is a Spanish variety of fino sherry. It is produced in Andalusia in Spain. It is called "manzanilla" because that is the Spanish term for camomile infusion. The sherry carries a strong camomile flavour. Therefore, when Scotch whisky is finished in ex-manzanilla sherry casks it takes on flavours of salt/coast, dried fruit, citrus, and camomile. 
Fino sherry: Fino sherry is dry and pale sherry made from white grapes. Scotch whisky takes on a dry, floral, and peachy flavour when matured in ex-fino sherry casks. 
Madeira: Madeira is a fortified wine made on the Portuguese island of, you guessed it, Madeira. The wine is sweet and, as a result, imparts flavours of tropical fruit, spice, cherries, and flowers onto Scotch whisky that matures in the casks. 
Marsala: Marsala is a fortified wine that is made in the city of Marsala in Sicily, Italy. This Italian wine can have different levels of sweetness. When Scotch whisky is finished in ex-marsala casks, it takes on fantastic flavours of nuts, spice, apricot, and brown sugar. 
Chardonnay: Chardonnay is a sweet and crisp, white wine made from the chardonnay grape variety that originates from France. When Chardonnay is matured the wood in the cask is infused with flavours of tropical fruit, green apple, pear, and honey. These flavours are then imparted onto the whisky that is finished in the cask next. 
Bordeaux: Bordeaux refers to any wine produced in the Bordeaux region of France. The region's most famous export is Bordeaux red wine, which is what I am making reference to here. The red wine infuses the cask with notes of pepper, dark fruits, nutmeg, berries, and honey. These flavours are, in turn, imparted on the Scotch whisky. 
Sauternes: Sauternes is a sweet, French dessert wine from the region of Sauternais. It can be very expensive to buy due to high production costs. However, you can get a taste of this wine in a glass of whisky, as ex-sauternes casks impart flavours of apricots, peaches, honey, nuts, and zest. 
Cognac: Cognac is a type of brandy that is named after the Cognac commune in France. This popular brandy imparts flavours of rich fruits and spices, caramel, nuts, and vanilla onto the Scotch whisky that lies in ex-cognac casks. 
Light rum: Light rum has a wonderfully light, and sweet taste. Scotch whisky that is matured in ex-light rum casks takes on flavours of vanilla, pepper, citrus, honey, and spices. 
Dark rum: Dark rum is more reminiscent of its key ingredient: molasses, and has a somewhat bolder and deeper taste compared to its lighter counterpart. Therefore, when whisky is finished in an ex-dark rum cask it takes on flavours of molasses, oak, dried fruit, vanilla, and caramel. 
How Are Whisky Casks Made? 
Casks are always made from oak. The selected oak is left out to dry for an extended period of time, usually a few months and up to 36 months, before it is used in making casks. This lets the moisture from the oak evaporate, and anything unwanted in the wood to break down. 
The oak is cut into strips, or staves, to be used in the making of the cask. These staves are fit together to create a watertight seal and fixed together using dowels. On average, there are 31 staves per barrel. The staves are steamed to make them pliable so that they can be formed into the shape of a cask. Before the lids of the cask are fitted, the interior is charred according to the requirements of the distillery or winery. The cask can also be toasted. Charring is when the interior of the cask is set alight for a very short period of time, just to char the interior. Toasting, however, involves holding the cask over a heat source for an extended period of time. Both of these processes can impart flavours. 
The cask is then quality tested to ensure that there are no leaks. If not, then the cask is ready to go! Most casks are used to mature wines, sherries, rums, or brandies before they are used to mature Scotch whisky. 
Send me my free cask buying guide
The End
Congratulations! You made it to the end, and now you know all there is to know about casks and why they are so important in the whisky-making process. It takes a long time for whisky to go from the field, to the cask, to the bottle. However, the end results and the unique flavours in each bottle are definitely worth it. 
Ready To Buy A Cask?
Here at Mark Littler Ltd, we provide balanced, impartial advice to anyone wishing to buy a cask of whisky. We also have some fantastic casks on offer for you to buy! If you would like more information about investing in whisky casks, you can sign up to our cask buying guide, watch our cask investment video guides, or read our informative blogs. If you have any queries, please do not hesitate to get in touch.