Johnnie Walker has been a household name of blended whisky for over 215 years but with such a varied and expansive history it is hard to know which is their best bottling.
In this ultimate guide, we'll first take you through the history of Johnnie Walker. Then, if you just want to know about the whisky, jump to the Core Range Section where we cover each bottle and their tasting notes.
If you want to know what your Johnnie Walker Whisky is worth, we have a dedicated valuations page for the iconic striding man bottles.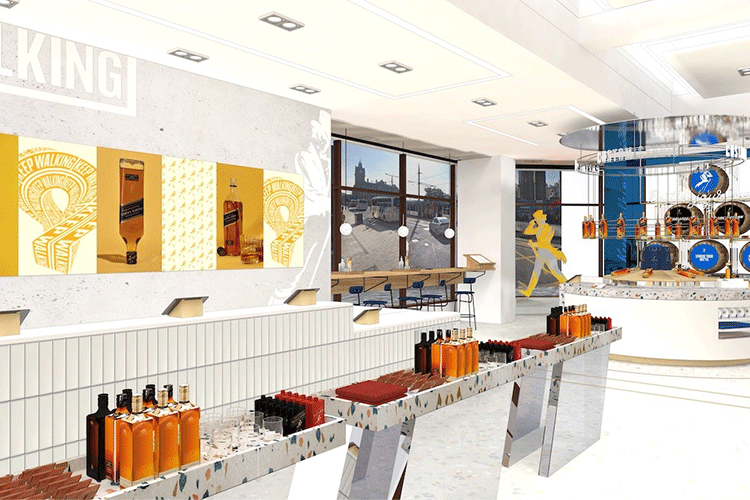 The History of Johnnie Walker
In 1820, after the death of his father the previous year, a 15 year old Johnnie Walker opened a greengrocer shop in Kilmarnock, Scotland. Greengrocers were often known to sell a small range of single malt whiskies but they were very rarely consistent. Johnnie Walker began to blend whiskies together in order to produce a good quality whisky that could be sold with consistency; this was the inception of what was to become Johnnie Walker whisky. As Kilmarnock grew, so did the Walker name and by the time of his death in 1857, Johnnie Walker was a respected businessman and leader of the local trade association.
The business was inherited by Johnnie's son, Alexander Walker, who took advantage of the new railway to export whisky to Glasgow, Edinburgh and even further afield. By the mid-1860s, Walker was producing 100,000 gallons of whisky per year. In 1867 Alexander introduced the now iconic square bottle with the slanted label as a way of making the bottle stand out on the shelf. In the same year he copyrighted 'Walker's Old Highland Whisky' which would eventually become the Johnnie Walker Black Label. Alexander introduced his sons to the company young, as his father had done with him, and in 1886 John Walker & Sons became a limited company.
Following Alexander's death in 1889, his sons Alexander II and George took over the company, with George as chairman and Alexander II focusing on blending. Almost immediately, John Walker & Sons experienced the whisky boom of the 1890s. Willing to take risks, the Walker brothers invested their own money and borrowed heavily in order to expand their whisky business. In 1893 they bought the Cardhu distillery and leased Annandale in order to guarantee whisky for blends. They went on to buy 6 more distilleries including Clynelish, Talisker, and Mortlach.
1908 saw an overhauling of Johnnie Walker marketing and this was jump started by the creation of the famous Striding Man logo. It was created by artist Tom Browne, a well known cartoonist, and depicted a regency man in coattails and tophat which would become instantly recognisable as the Johnnie Walker logo. To accompany this new logo, the previously Extra Special Old Highland Whisky and the Special Old Highland Whisky were renamed after their label colours to become the Johnnie Walker Black Label and Red Label respectively. In the same year, the Johnnie Walker name was trademarked, completing the famous trifecta of the Johnnie Walker brand.
By 1920, Johnnie Walker had become a global brand selling blended whisky in 120 different countries, including the continual selling of whisky in North America illegally during the Prohibition era. In 1932 the Johnnie Walker Swing was released, marketed specifically toward North American consumers and travellers on trans-Atlantic liners. These bottles were designed with a convex base so that they would swing with the movement of the ocean liners. This convex base is still a feature of some Johnnie Walker bottles.
As the whisky market became more unstable during the 1920s and 1930s, Johnnie Walker amalgamated with Distillers Company Limited (DCL).
In 1934 Johnnie Walker was awarded a Royal Warrant by King George V, the ultimate accolade of becoming an official product of the royal household.
The 1990s saw the Johnnie Walker range expanding as the Blue Label, Gold Label, and Pure Malt joined the range in 1994, 1995, and 1996 respectively.
Today Johnnie Walker is a household name and in 2022 Johnnie walker was once again the most sold scotch whisky in the world.
Shop the latest from our store…
The Core Johnnie Walker Range
Johnnie Walker has had an instantly recognisable core range for decades which consists of 7 different coloured labels from the most iconic Red, Black and Blue labels to the slightly less well-known Green, Double Black, and Gold labels. These are some of the most popular whiskies in the world with pallets and budgets to meet the needs of all drinkers.
Johnnie Walker Red Label: Best For Those Who Love A Cocktail
Buy here from The Whisky Exchange – £20.95
The Johnnie Walker Red was renamed from the Special Old Highland Whisky, one of the two original blends from Johnnie Walker that was created in the 19th Century. It is primarily recommended as a mixing whisky, best used in cocktails.
Red Label Tasting Notes
Kicking off with a classic, some would say for the wrong reasons? But we're very spoiled with good, blended whisky these days. It isn't that Red Label is bad, that's subjective. But you do get what you pay for. It's an affordable, available and famous whisky for having neat, with ice, mixing, cocktails. Whatever you want. It's a grain forward style with some bright and youthful toffee notes. Hiding in the background is a small amount of smoke that could be linked to Talisker and Caol Ila – the latter providing the smokiness in its big brother, Black Label.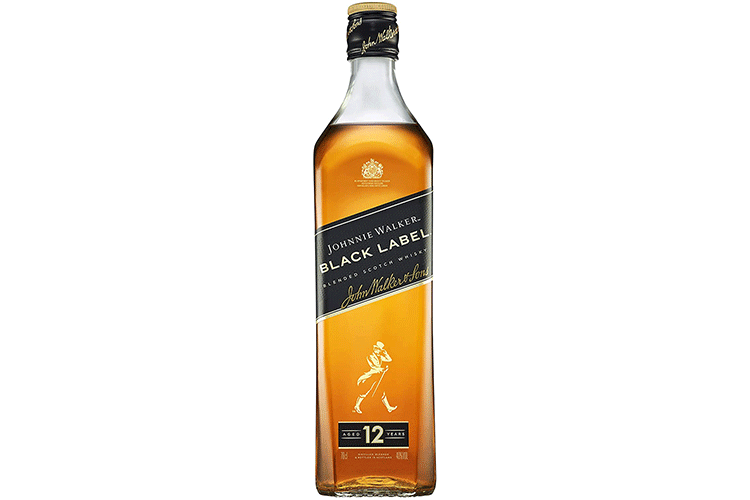 Johnnie Walker Black Label: Best For Those Who Like The Classics 
Buy here from The Whisky Exchange – £28.45
The Black Label is the original Johnnie Walker. Black Label was first sold as Extra Special Old Highland Whisky in the 1860s and changed to Black Label in 1908 during a huge overhaul of Johnnie Walker branding. Since 1908, Black Label has carried a 12 year age statement and is one of only three in the core range to be given an age statement.
Black Label Tasting Notes
This whisky is so important. Johnnie Walker as a brand is important, but Black Label has done more and seen more of the world than most of us have. 18.4 million cases of JW are moved every year and we can safely guess that most of that is Black Label. A whisky which is sweet, spicy and smoky all at the same time. Combining Speyside, Island, Islay, Lowland and grain whiskies together – you are first met with wafts of Caol Ila smoke, sweet and BBQ'd. Talisker with its salty content soon follows, washing away the smoke, almost cleansing the palate before the intermingling of Speyside malts and sweet, mellow grain whisky. It's well made and available around the world for a reason; it's one of the best.
Johnnie Walker Double Black Label: Best For Smoke Lovers
Buy here from The Whisky Exchange – £34.95 
The Johnnie Walker Double Black was originally released for travel retail and, after a very successful launch, was released for general sale in 2011. As is common with Johnnie Walker blends, the Double Black carries no age statement instead choosing to focus on its aromas and tasting notes. The whisky included in this blend was aged in charred barrels and is predominantly from the west coast of Scotland.     
Double Black TASTING NOTES 
Like smoke? Double Black has your back. Increasing the peat and grain content, this does sweet and smoky better than most malts, let alone blended whisky. Glasses of this fit perfectly with the setting sun on a summer evening. Dying coal fires and sticky glazed BBQ notes from the west coast malts, then a soft mouthfeel of honeyed sweetness and balance from some lighter whiskies. It does turn up the smoke quite a lot, but as blends should do, it's manageable and drinkable.
Johnnie Walker Green Label: Best For Those Who Favour Malts 
Buy here from The Whisky Exchange – £42.95
After being axed from the core range in 2012 just 6 years after its initial release, the Green Label was relaunched in 2016. The popularity of the Green Label was made apparent after a limited run of bottles were made available for its 10th anniversary and the positive response prompted its return to the core range. The Green Label is one of the three Johnnie Walkers to carry an age statement and for this bottling its 15 years.  
Green label TASTING NOTES 
The Blended Malt. Just malt whiskies go into the creation of this whisky, no grain. The oddity within the range, combining four key malts of Linkwood, Caol Ila, Talisker and Cragganmore. Green Label focuses on the spice and the smoke. The grain being absent provides a rounder taste. Cragganmore and Linkwood are ginger driven, lemon citrus style whiskies. We know Caol Ila and Talisker very well at this point, integral malts to the JW range. They shine a little more on their own here: green herbs and creamy peat smoke. Deliciously different and well-priced.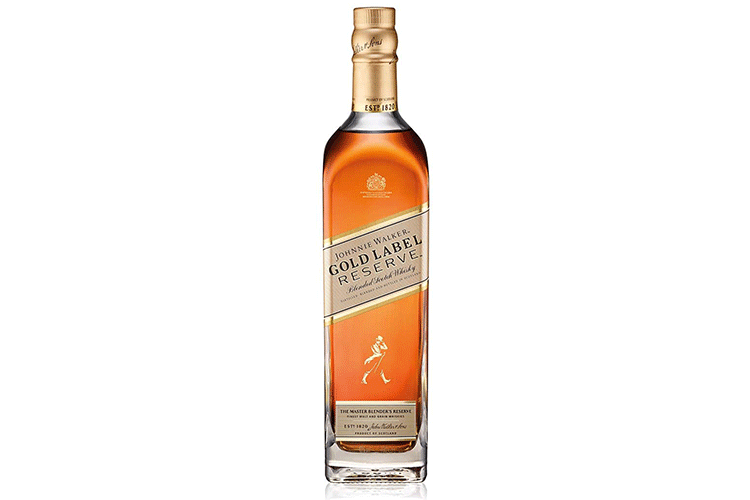 Johnnie Walker Gold Label Reserve: Best For Those Who Keep It Sweet  
Buy here from The Whisky Exchange – £43.45
The Gold Label Johnnie Walker joined the core range in 1995 as the second of three expansions to the range in the 90's. It originally carried an age statement of 18 years but that was removed when the Platinum 18 Year Old was released in 2012.
Gold Label Reserve TASTING NOTES 
We get to leave smoke behind now. Peat can be a scary word for a lot of whisky drinkers and if it isn't your thing then Gold Label is the one for you. Different single malts such as Clynelish, Royal Lochnagar, Glendullan and Cardhu are in the mix here, plus many more. Honey, toffee and fudge are mixed in with orange, apple and pineapple. Cardhu is wonderfully delicate, fruity whisky. Clynelish provides texture with its classically 'waxy' profile. Royal Lochnagar is hot cross buns in a bottle. And finally, Glendullan, the lesser-known malt in the mix – loaded with apple, pear and liquorice. Part of The Singleton range and not something we see a lot of in the UK.
Johnnie Walker 18 Year Old: Best For Those Who Take It Easy  
Buy here from The Whisky Exchange – £68.95
The final Johnnie Walker whisky in the core range to carry an age statement is the 18 Year Old blend, the oldest of the age statement whiskies. The 18 Year Old was known as the Platinum Label from 2012 until before being re-branded in 2017. In a very fitting coincidence, there are up to 18 different whiskies included in this blend.    
Johnnie Walker 18 year old TASTING NOTES 
Funny story with this one. The Gold Label used to be an 18 Year Old. Then it was turned into The Platinum Label 18 Year Old. Now it's just the 18 Year Old, thankfully. Think of this as Gold Label's big brother, those honey and apple notes are really dialed up with this. Regal, relaxed and very easy drinking. Not quite in the Blue Label area, but it gets pretty close without the need for peated whiskies.
Johnnie Walker Blue Label: Best For Those High Rollers 
Buy here from The Whisky Exchange – £165.00
The Blue Label is the most prestigious of the Johnnie Walker blends and as such comes with a much higher price tag than the other bottles in the range. The Blue Label was first introduced in 1994 and is now one of the most famous blended whiskies. The Blue Label has been the subject of many limited edition runs including the hand-engraved Striding Man series and the Chinese Mythology collection. 
Blue Label TASTING NOTES 
A whisky that is rightly revered amongst blenders! Having been around for nearly three decades now, Blue Label is a whisky that all drinkers should try and rightly cast their own opinions on. With whiskies ranging from seven to fifty years old part of the blend, the key with this whisky is balance. You aren't going to be kicked in the face with smoke and spice. This is a whisky of refinement and texture, a whisky to really take your time with. Older peated whiskies provide tropical fruits: pineapple, mango and apricot. The smoke fading in very gently with a weight of heavy silk. Highland and Speyside whiskies are giving it a backbone of raisins, fudge, vanilla and ice cream. All topped off with the soft bitterness of smoke and earthy nuttiness. As said before, a whisky that all should definitely try.
Shop Increbile Whisky Now