There is a wealth of knowledge out there on all things whisky. Many whisky connoisseurs have made it their mission to document all of their favourite drams, and their opinions on whisky controversies such as no-age statements, and killing old bottles. 
I have compiled a list of the best whisky blogs on the internet that you can read if you want to keep up with the whisky connoisseurs and fanatics of the world.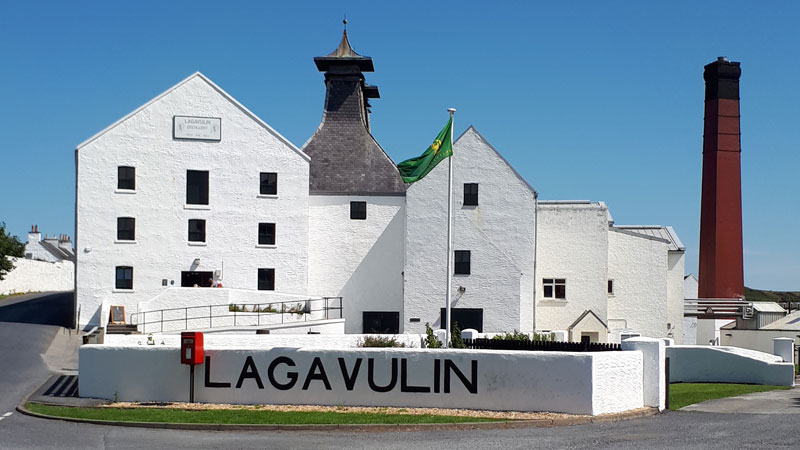 Whisky Lifestyle
Whisky Lifestyle is a blog run by whisky enthusiast, Noortje. Noortje is also a travel enthusiast, and she regularly takes trips to Scotland to try a dram of Scotch whisky with a view of the Scottish highlands. She is also interested in photography, and documents her whisky journeys on her Instagram @whiskylifestyle. 
The blog contains whisky reviews and tasting notes, tours of distilleries and festivals, and interviews with whisky experts and companies such as Tomer Goren from The Milk & Honey Distillery, and Mark Littler of Cheaper By The Dram. 
You can read Whisky Lifestyle here.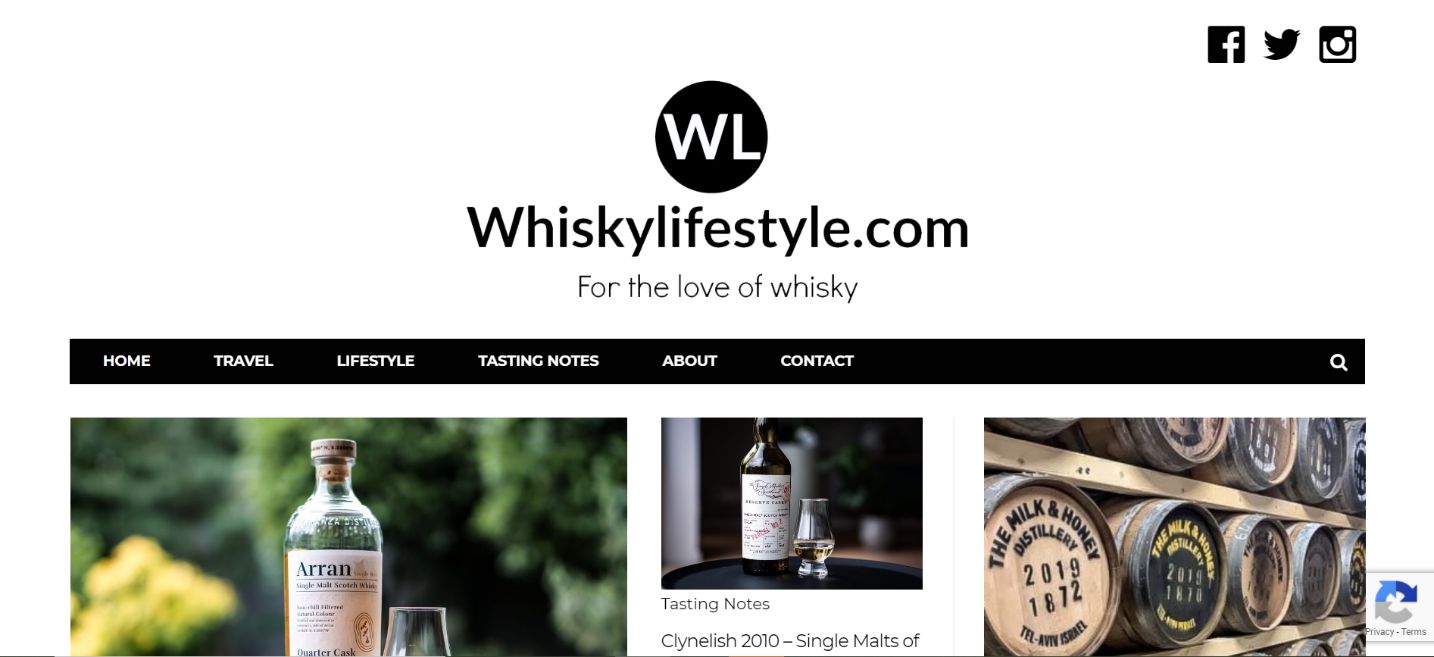 WhiskyNotes.be 
WhiskyNotes.be has been providing the whisky-loving public with "sincere whisky reviews since 2008". Belgian-based blogger, Ruben, prides himself on never having done paid-for content or advertising, with his whisky reviews being independent and balanced. He has a particular soft spot for Banff, Karuizawa, Clynelish, Brora, and Port Ellen, 
Ruben's blog contains whisky news, reviews, and a page dedicated to his all-time favourite. You can also follow Ruben on Twitter, Instagram, and Facebook. 
You can read Ruben's blog here.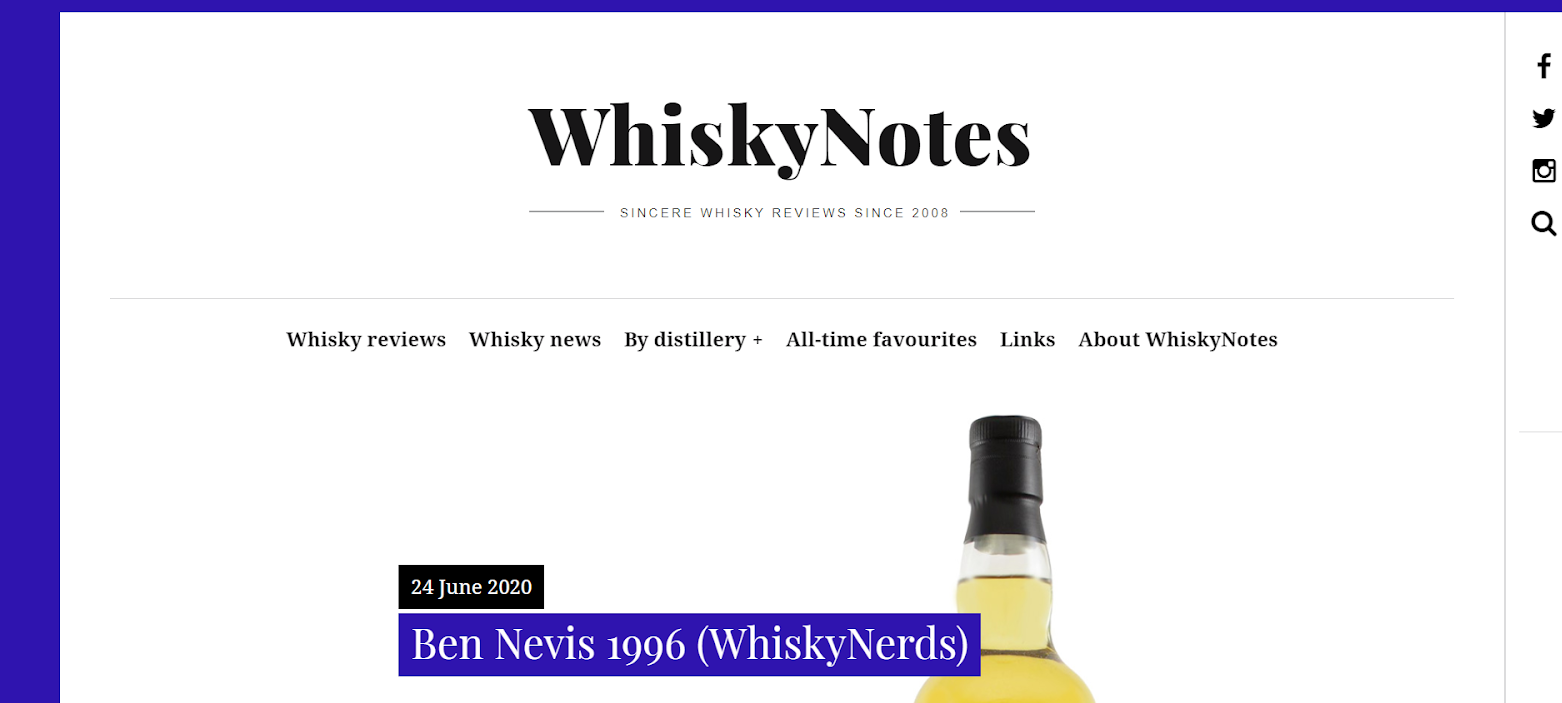 OCD Whisky
OCD Whisky is run by whisky blogger and collector, Sorren. The blog contains a wealth of whisky reviews, news, chats with whisky experts, and a general blog that consists of many well-written and relevant posts such as upcoming festivals or Father's Day gift ideas. 
The blog is sleek and easy to navigate, with a lot of care and attention going into each post. You can sign up to receive notifications about new posts by entering your email address, and you can also follow Sorren on Twitter at @ocdwhisky. 
Sorren's blog is available to read here.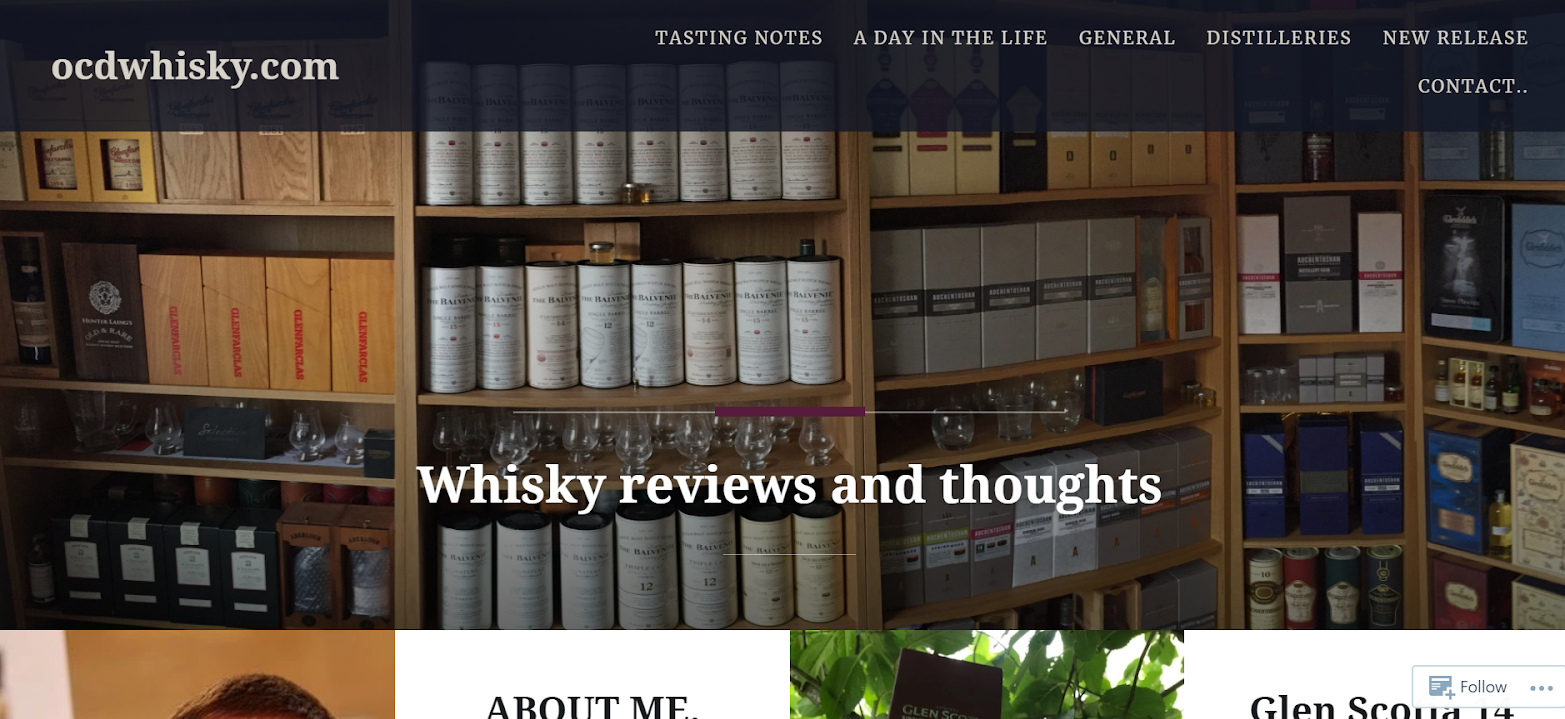 Whisky Facile 
Whisky Facile is run by two Italian friends, Jacopo Grosser and Giacomo Bombana. In June 2020 they added another two whisky lovers to their ranks, Marco Zucchetti and David Ansalone. The four whisky fanatics pride themselves on taking a fun approach to reviewing whisky, hoping to do away with the "silk gown, thick moustaches […], leather armchair and comfortable slippers" stereotype. 
The blog was originally written only in Italian, but as of this year the website is slowly being translated into English so that the blog can reach a wider audience. 
The blog not only includes whisky reviews, but also has some unique features such as a 'Cooking With Whisky' section, and a 'Whisky Cocktails' section, as well as 'Cask Force' which is run solely by Marco Zucchetti. 
You can read Whisky Facile here.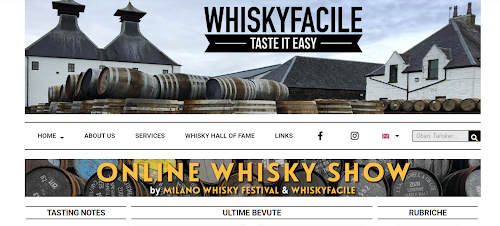 TopWhiskies 
TopWhiskies is run by two university friends, Ed & Evan, Ed & Evan began drinking whisky during their university years and started the blog when they realised their intense love for a great dram. On their blog they do whisky reviews, blind tastings, news on new releases, and lists of whisky gifts for occasions such as father's day and valentines day. 
Ed & Evan are also active on Instagram and Youtube.
You can read Ed & Evan's latest blog 'Top 7 Father's Day Gift Ideas!' here.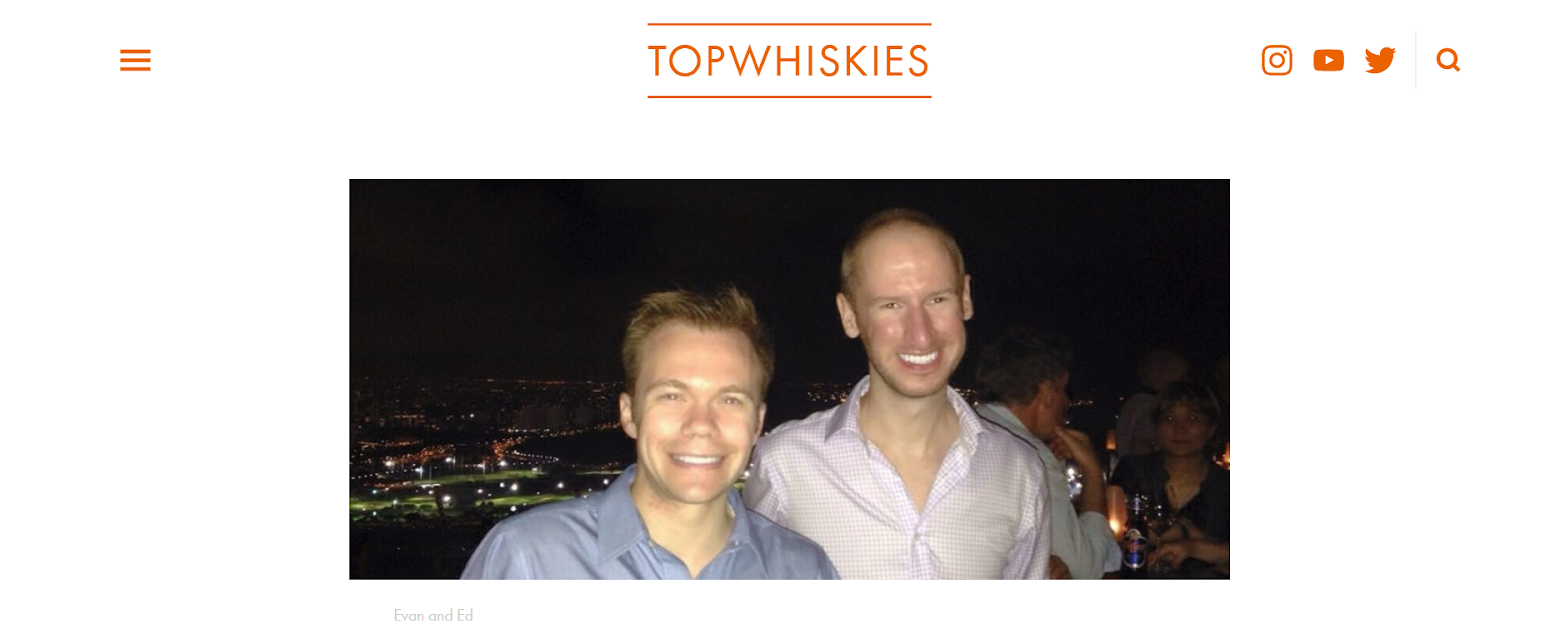 Scotty's Drams
Scotty's Drams is run by, you guessed it, Scotty, a whisky fanatic and blogger. Scotty has multiple social media channels, and his blog is very extensive. As well as whisky reviews Scotty writes in-depth posts on the goings-on in the whisky world. 
A lot of research goes into each of Scotty's blogs, and he posts very regularly so you will never be short of your whisky fix. 
This is a great blog for down-to-earth whisky lovers looking for ideas for their next dram. You can read Scotty's Drams here.
Inside The Cask
Inside The Cask is run by whisky fanatic Andre de Almeida who has firsthand experience working in the whisky industry, having worked for The Loch Lomond Group, William Grant & Sons, and The Edrington Group to name a few. Andre's blog "reflects [his] experience as a drinks industry 'insider'". Most recently, Andre sat down for a chat with whisky experts Billy and Alistair Walker. Billy is the owner and Master Distiller at GlenAllchie Distillery.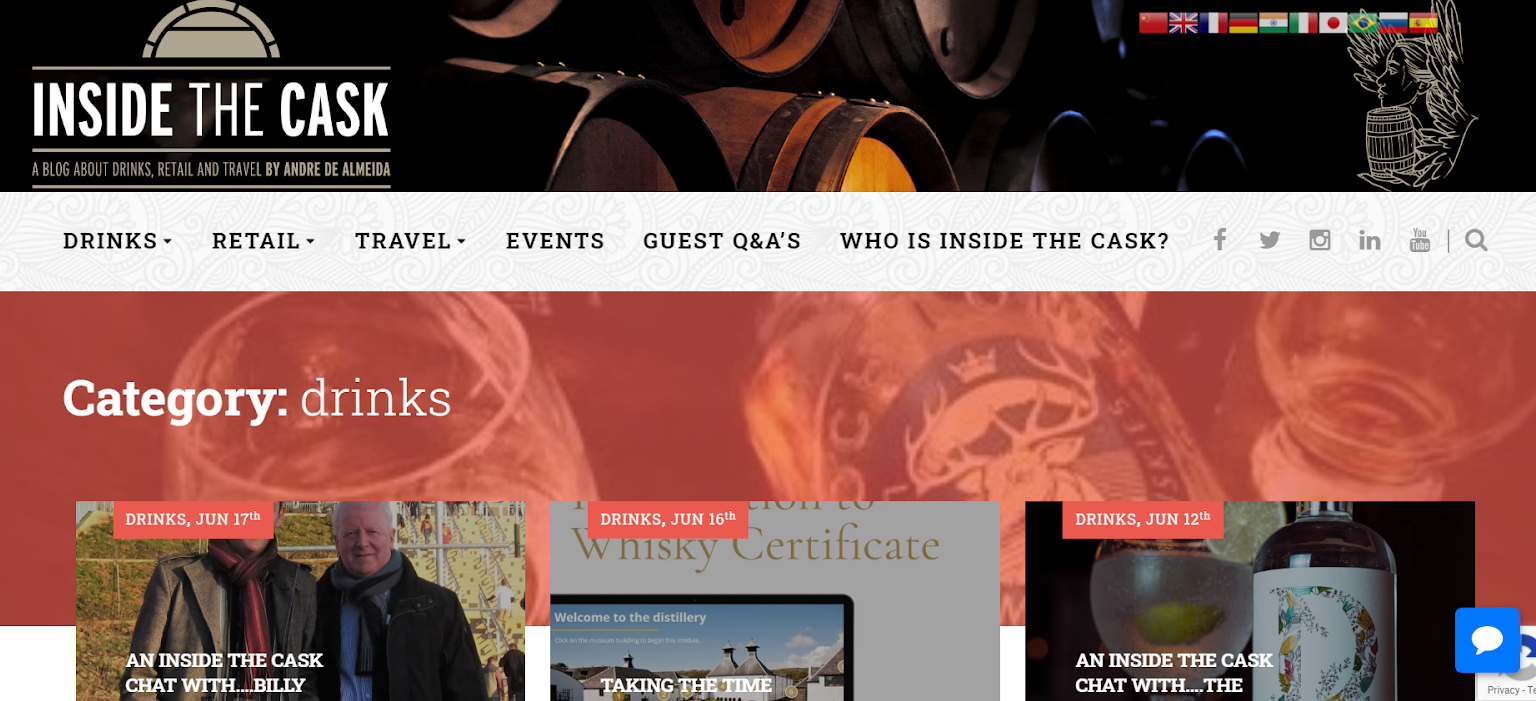 Man Of Many 
Man of Many was founded by friends Scott Purcell and Frank Arthur in 2012 and has grown into Australia's largest men's online lifestyle publication. Having spent years trying the best whiskies from Australia and around the world, the publication has a long history covering whisky. They're a great resource for many topics, covering everything from regional round-ups to how-to's and guides. When they're not sipping on a Japanese whisky, Australian whisky, quality bourbon, or single malt Scotch, they're writing about it. While not entirely focused on whisky, Man of Many covers the stuff on an almost daily basis and you can stay up to date via their daily and weekly newsletters.
You can find Man of Many here.
The Whiskyphiles
The Whiskyphiles is run by Manchester-born, Edinburgh based whisky lover Barry. Barry became interested in whisky in the mid-2000s, having visited the Scotch Malt Whisky Society venues with friends. He embarked on a mission to visit as many distilleries as possible, trying as many drams as are available. 
Barry's blog includes reviews, new release blogs, and a 'Whisktionary and Beersaurus' – an online reference book for brands, distilleries, and whisky and beer terms. 
The most recent blog on The Whiskyphiles is a review of a Scapa 12 year old.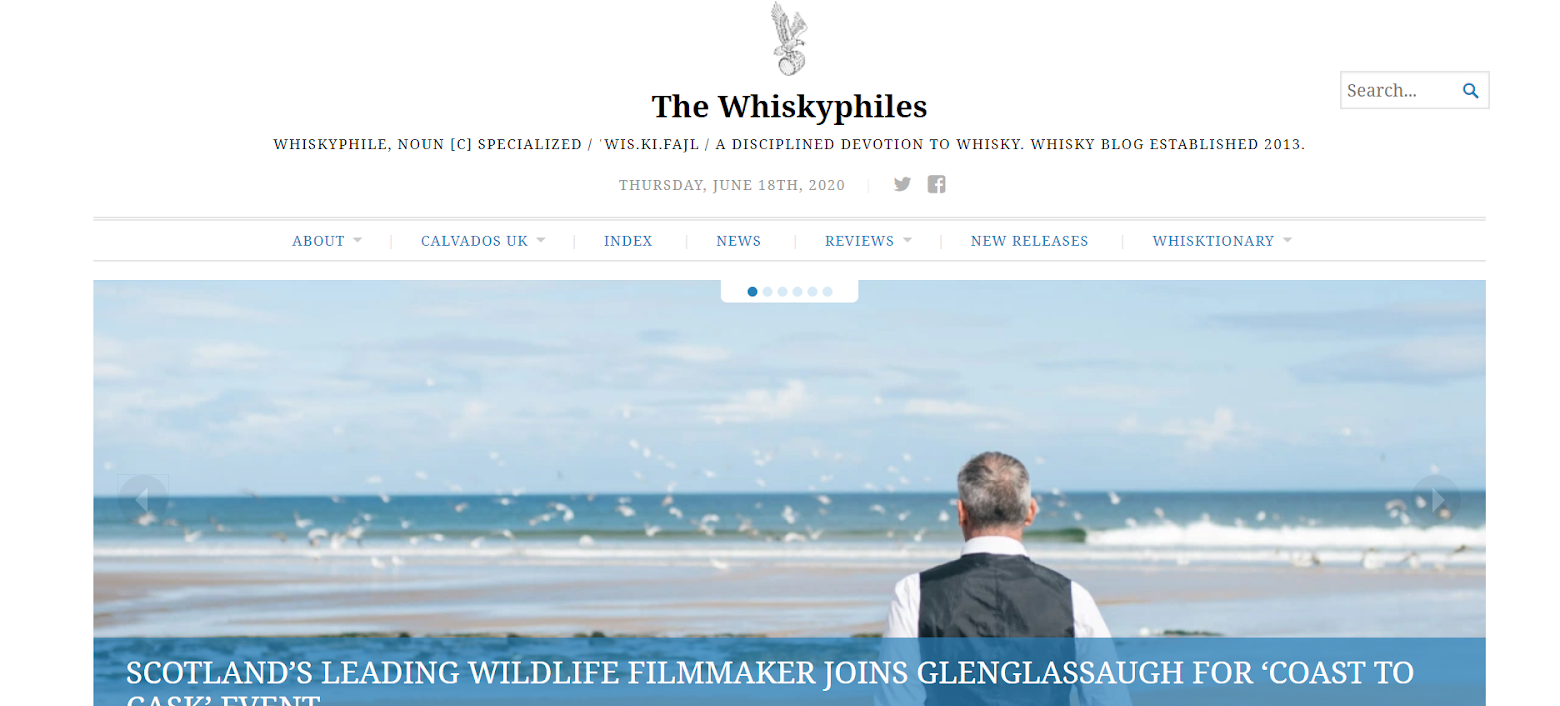 Whisky Fun
Whisky Fun is a blog written by French author Serge Valentin. Whisky Fun is widely read due to the amazing number of reviews of whiskies from almost every distillery in Scotland. There is even a review of a whisky from the short-lived Malt Mill Distillery and many from the infamous Macallan. 
There is also an interactive map of all of the distilleries in Scotland so that you can explore all five whisky regions from the comfort of your own home. 
The blog archives date back to 2004, so there are hours and hours of whisky-based reading for you to enjoy. 
Edinburgh Whisky Blog 
The Edinburgh Whisky Blog is run by a team of whisky fanatics based in Edinburgh. They review whiskies with a refreshingly tantalising honesty. They write about whisky news and events, and also host their own tastings, having hosted thousands since the blog's beginning in 2009. The tastings can be catered towards all tastes and themes. You can get in touch with the team at Edinburgh Whisky Blog here. 
Edinburgh Whisky Blog's latest post 'Virtual Father's Day 2020 Gift Ideas' is available to read here.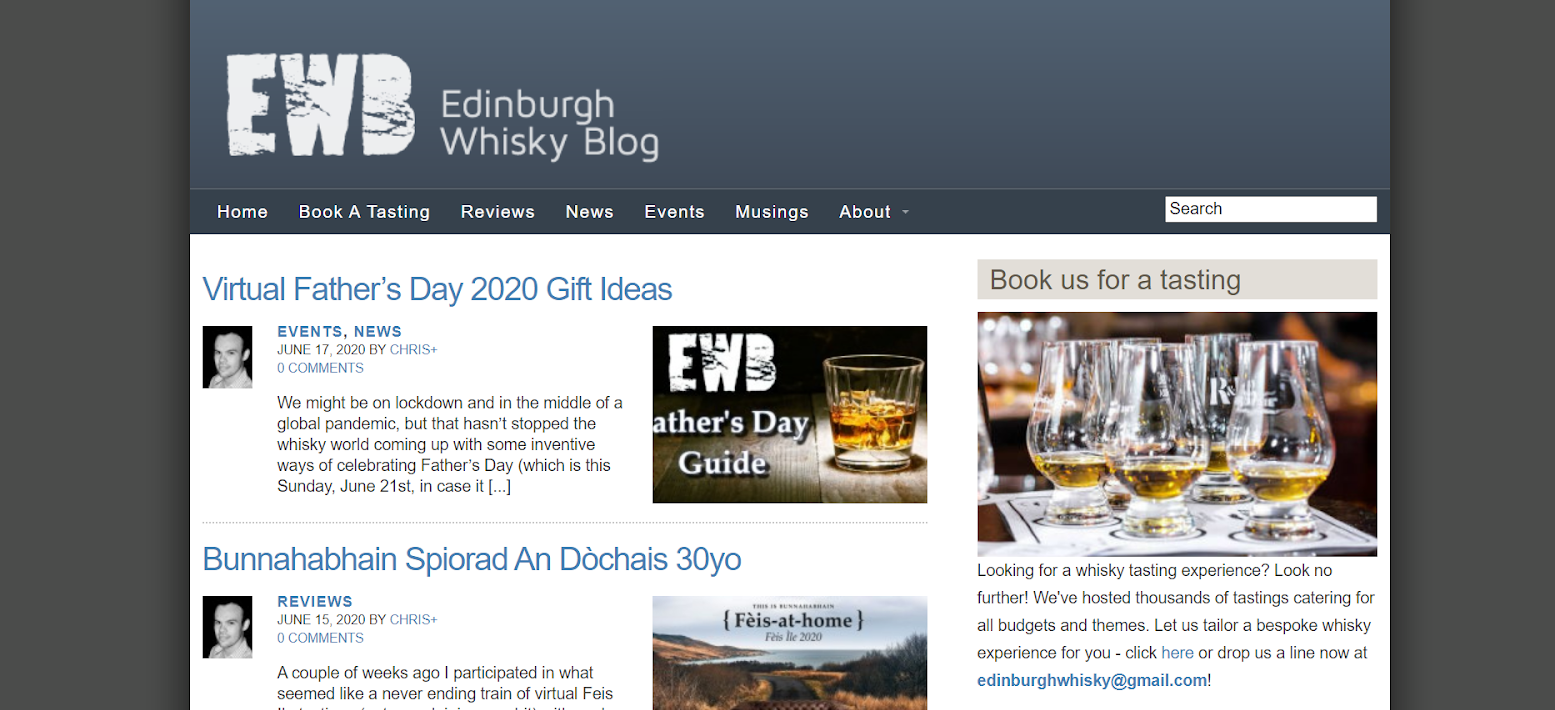 Scotchwhisky.com
Scotchwhisky.com is one of the most informative and extensive whisky sources on the internet. They have pages on almost every distillery and brand in the business. They also have whisky reviews and a 'whiskypedia' that contains information on brands, companies, bottlings, and distilleries. Despite their closure in 2019, meaning no new blogs, the site is still home to a whole host of pages of knowledge that serve as a great touchstone for anybody hoping to learn about whisky. 
Follow the link to Scotchwhisky.com to read more.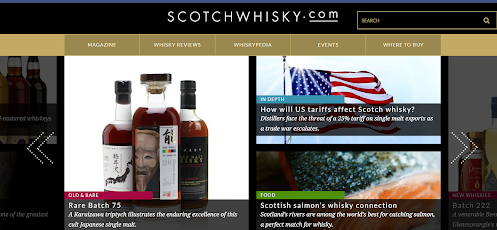 Whiskyintelligence.com
Whiskyintelligence.com is a comprehensive database of press releases, tasting notes, newsletters, and events in the world of whisky. They have reviewed an astonishing number of whiskies, from Lagavulin to GlenDronach. If you are a whisky fanatic you can subscribe to whiskyintelligence.com's newsletter. They also allow submissions for press releases from other companies. 
The Malt Cask
The Malt Cask is a whisky review blog that posts both quick and extensive reviews on everything from Aberfeldy to Yoichi. Each review is accompanied by tasting notes that you can use for reference if you are thinking of purchasing a bottle that The Malt Cask has already reviewed. The reviews are written with care and attention; you can tell that they are written by a true whisky lover. 
You can read The Malt Cask's blog here.
BONUS: Mark Littler 
Here at Mark Littler Ltd we pride ourselves on an extensive blog that deals with education regarding whisky bottles and casks. As an independent whisky consultant and broker, we have a wealth of knowledge on whisky as an investment as well as whisky as a beverage. From how to avoid whisky cask scams to a detailed blog on how casks influence whisky, our blog is filled with everything you need to know about whisky.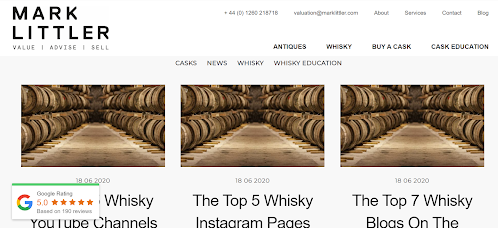 Of course, there is an infinite number of informative whisky blogs on the internet, but I hope this list will serve as a good touchstone and help you to find the whisky blogs that are right for you.