As we continue with Springbank month here at Mark Littler Ltd, we're taking a look at the top 5 most expensive bottles to have sold at auction.
The Springbank distillery has had periods of great growth and periods of temporary closure since its opening in 1828 which has resulted in some extremely sought after bottlings from the distillery. This list includes some of the most interesting and complex bottles of whisky to have been sold at auction.
So let's find out what the top 5 Springbank bottles at auction are.
The Top 5 Bottles At Auction:
Springbank 1919 50 Year Old (1970s rebottling) £266,200
Springbank 1952 £22,877
Springbank 12 Year Old Sherry Cask 1980s / Samaroli Import £18,000
Springbank 1919 50 Year Old Original Pear Shaped Bottling £17,000
Springbank Glen Cawdor 1964 / Samaroli Import £14,840
In the number one spot is the Springbank 1919 50 Year Old which sold for £266,200 in October 2019. This particular spirit was bottled in the early 1970s and as such is in a 75cl bottle. In an interesting twist, this bottle is not technically whisky. The spirit was bottled at 37.5% ABV which is lower than the 40% requirement by law in order to be called whisky. Although knowing this can make the value seem eye-watering, the high price reflects the rarity. The Campbeltown region struggled to survive during the Prohibition era as the North American market had previously been a large importer of Campbeltown whisky. From a former 21 distilleries, only 2 survived; one of these survivors was Springbank. As this was a tumultuous period in Springbank's history. A spirit produced in 1919 is incredibly rare, and even more so one that has matured for fifty years and been kept as single malt; this has resulted in a yield of only 24 bottles with this particular bottle being number 12.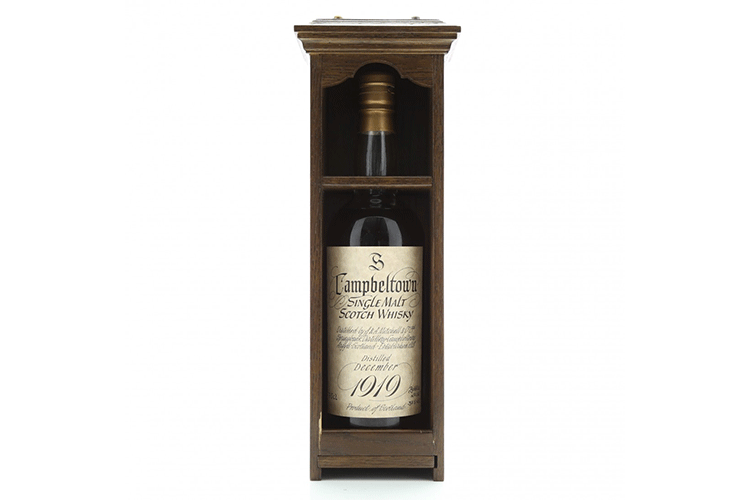 In second place on our Springbank top 5 list is the Springbank 1952 single malt. This bottle is a little more straightforward than the 1919 as the 1952 is actually considered whisky according to modern whisky laws. This Springbank was distilled in 1952 and was bottled by the distillery in 1988 at 45.5% ABV in a 75cl bottle. The 1952's value of £22,877 is also indicative of its scarcity. Only 24 bottles of this whisky were produced with this bottle being number 7. Having a 1952 vintage that has endured and been bottled as a single malt during a period of instability for the whisky industry is what makes this whisky so valuable.
The third bottle featured on this top 5 most expensive Springbank list is the Springbank 12 Year Old Samaroli Import from the 1980s. Samaroli is an independent bottler that was established by Silvano Samaroli in 1968 after he discovered a passion for whisky when working in a liquor store in Italy. This bottle of Springbank was bottled in the early 1980s when the Samaroli business was only just beginning. Although this is a relatively young whisky, at only 12 years old, Samaroli imports are highly sought after due to their iconic status and scarcity. Only 2400 of these bottles were produced and they are seldom sold at auction having appeared only 18 times in 13 years.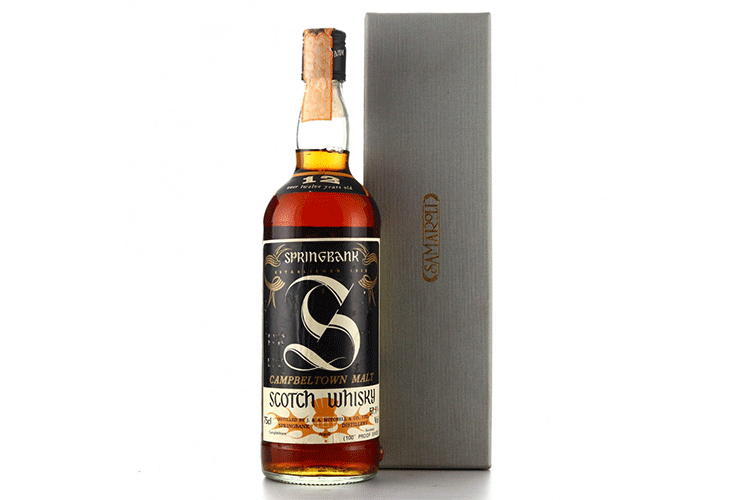 The bottle featured at number one on this list was surprisingly not the first bottling of that 1919 'whisky'. The fourth bottle on our Springbank top 5 is also the 1919 50 Year Old but in the original pear shaped bottle. Whilst it is unclear why the 1919 50 Year Old was rebottled, both iterations have attracted excitement at auction. Of course, being the same spirit as that in our number one spot, this bottling of the 1919 isn't whisky either as this spirit was bottled at 66.3 proof.          
The final bottle on our top 5 most expensive Springbank bottles at auction is the Glen Cawdor 1964. This bottling sold at auction for £14,840 in 2018. This 1964 vintage whisky is another Samaroli import, the second on our list, and another early bottling having been bottled in 1983. This bottle is interesting because there is a debate about whether this whisky is actually from Springbank or from Glen Ord. However, as the Glen Cawdor name was most commonly used to disguise Springbank, the general consensus is that this whisky does originate from Springbank and so we've included it in this ranking. This 1964 whisky was drawn from a single sherry cask and has a brief tasting description on the label. The label describes the Glen Cawdor Springbank as full bodied, sweet, fresh, and smoky.