The Macallan Whisky – an introduction, Valuations & How to Sell
The Macallan Whisky Market
The Macallan whisky has always been synonymous with quality, however, it is now also associated with record prices, with some bottles selling for in excess of £500,000.
The Rare Whisky 101 Macallan index pictured here shows how much growth there has been in the value of Macallan.  Some might say that it is a good investment for the future, but we believe that the market is experiencing a huge bubble and there will be a correction in price within the next year or so.  You need only look at the angle of the graph to see that such exponential growth is not sustainable in the long term.
With prices at record levels this makes the ideal time to sell your Macallan whisky and we are here to help and ensure you get the best deal.
We can advise the value of your Macallan whisky and help you find the best place to sell it, be at a specialist saleroom or direct to a collector.  Best of all we take care of all the logistics and administration too.  So if you have a bottle of Macallan and you would like a valuation please contact us for more information.
What do you need to look for?
Age of Bottle
Whisky does not continue to age when it is in the bottle so holding onto a bottle for a long time does not mean to say you will increase its value.  However, an old bottle of 'standard' Macallan single malt whisky can be VERY collectable as whisky collectors often look for changes in labels.
Age of Whisky
Another major factor that impacts the price of a bottle of Mcallan is the age of the whisky.  This is expressed on the label and can vary from 5 to over 30 years old.  This age refers to the age the whisky when it was bottled and whisky does not continue to age when it is in the bottle.
Vintages
Vintages are different to the age of the whisky and are a declaration of the specific year the whisky was distilled.  It is on of the most important factors that can impact the price of your Macallan.  A vintage is expressed as a date on the bottle from the year the whisky was produced.
Limited Editions
Single casks bottlings are a limited edition by the simple fact that the bottling run is limited to the number of bottles of whisky contained in the cask.

The second type of limited edition are those that were made for a specific event, such as The Macallan Private Eye or The Macallan Royal Marriage.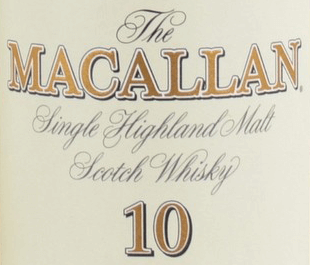 Although only from the 1990's, because the label on the bottles have subsequently changed these cream label Macallan make around £100 at auction.
The Macallan Over 25 Year Old bottlings are very commercial and can make £1000's.  The distillery date (normally on the lower left part of the label) and the bottling date (on the lower right part) are important.
This bottle of Macallan has a neck label saying it was distilled in 1962.  Any bottle with a declared vintage will be very commercial as there are very limited in numbers.
The Macallan Private Eye is a limited edition bottling made for Private Eye Magazine readers.  Although released at a cost of around £30 it is now worth over £1,000.
How old is my bottle?
One of the best ways to determine the age of your bottle is to look at how the capacity (how much fluid is in the bottle) is stated.  Bottles sizes were defined by law around 1900 with 26 2/3 fluid ounces.
No mention of capacity:
Most likely pre 1950
26 2/3 fluid ounces:
No later than 1980
75cl:
From 1980 until 1992
70cl:
1992 onwards
This will give you the best rough indication of the bottles age.  Sometimes you will see both 75cl and 26 2/3 fl ozs on the label which indicates it was made in the later parts of the 1970's.
The three most important factors that can affect the value of your bottle of Macallan are as follows:
Level
The level of the whisky should be into the neck (the narrow part).  As alcohol is more volatile than water it is the alcohol that will evaporate first which damages the flavour.  If the level is lower than the neck it will have an impact on the price.
Label
The label on your bottle of Macallan is very important and if it is damaged in any way then this will have a negative impact on the value.  However, it will not be as damaging as having a level lower than the neck.
Packaging
If you are fortunate enough to have the original packaging that your bottle was supplied with, such as a presentation case or card box, then this will have a positive impact on the value of your bottle of Macallan.
The difference between retail prices and 'open market' prices
If you look at any of the major whisky retailer websites you will see bottles of Macallan up for many times more than we will advise they are worth.  Why is this?
The answer lies in the fact that alcohol is licensed and can only be sold by licensed retailers.  As such the whisky retail trade have a monopoly on the market as there is NO WAY that you can list your bottle for sale and undercut them.  Owing to the licensing laws you cannot list your bottle on eBay, you cannot advertise it online and you cannot sell it at a fair.
However, we can help.  We have contacts all over the whisky industry who ARE licensed and will be able to make you an offer for your bottle.  We can also enter your bottles into a specialist whisky auction.  For more information about our services read below.
Free Macallan Whisky Valuations
If you are looking for a valuation of your Macallan whisky or are looking to sell your Macallan whisky  we can help.  We can provide you with a valuation of your Macallan and we can also help you sell your Macallan at auction or privately.
selling at auction 
Firstly we provide you with a valuation of your Macallan either based on images sent via email or following a home visit.
We then advise which specialist auction house is best suited to handle your Macallan.  Not all salerooms are equal and picking the right one is paramount to ensuring a good selling price. 
Next we arrange to consign the item/s from you, we issue you with our receipts and contracts, and then arrange delivery to the specified saleroom.  We can also set a minimum reserve for your Macallan.
As we handle all of the administration at the auction house all you have to do is sit back and wait for your catalogue.
Finally, following a successful sale you will receive a cheque for the proceeds in the post direct from the auction house.
COST
There is no charge for this service as we receive a commission from the auction house for sending them new business.  This does not affect what you pay the auction house in commission nor does it affect the amount you receive.
Selling Privately
Firstly we provide you with a valuation of your Macallan either based on images sent via email or following a home visit.
Bids are then received from our private and trade contacts and we submit the highest bid to you for your approval. 
Next, we arrange to consign the item/s from you, we issue you with our receipts and contracts.
Finally, we deliver the bottle to the buyer and complete the transaction. 
Payment is sent either via BACS or cheque once the funds have cleared.
COST
We charge between 5% and 20% depending on the value of the items and their location.  Our typical fee is 10% including VAT.  
How to get a valuation of your items
Step 1
Take a good clear image of the bottle/s you would like valuing.  Try and take images on a neutral background and well lit.
Step 2
Provide all the information you can about the bottle.
Step 3
Send the photographs and information to mark@marklittler.com All you have to do now is sit back and wait.  We will research your item and then send you a valuation by return.

No catches, no hidden charges, just friendly, professional advice.