The Springbank Distillery, in the Campbeltown region of Scotland, has had a long and winding history full of closures, reopenings, and new releases. Our comprehensive timeline will take you through Springbank's varied history from its opening in 1828 through to today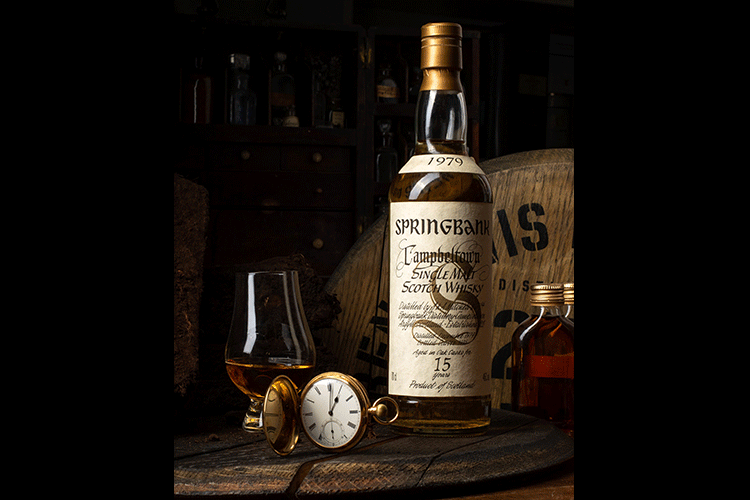 1828

William Reid acquires a licence and founds Springbank distillery, becoming the 14th licenced distillery in Campbeltown.

1837

Suffering financial difficulties William Reid sells Springbank to his in-laws, John and William Mitchell.

1838

Blender John Walker recognising the demand for Campbeltown whisky and Springbank's growing profile first purchases 118 gallons from the distillery.

1872

William Mitchell leaves Springbank to found Glengyle distillery. John Mitchell's son, Alexander, joins Springbank.

1897

J. & A. Mitchell Co Ltd is founded. Springbank's ownership is transferred to the company.

1900

Springbank alters production to produce a lighter whisky which is less heavily peated due to the changing preference of blenders. 

1926

The depression forces Springbank to close.

1933

Springbank returns to production.

1960

The Springbank distillery maltings close, with malted grain supplied from offsite.

1969

J. & A. Mitchell Co Ltd purchases the independent bottler Cadenhead.

1970

Springbank bottles a 50-year-old whisky, distilled in 1919.

1973

First distillation of a heavily peated Islay style malt at Springbank, which will later evolve as the Longrow range.

1979

Springbank is mothballed due to the 'Whisky Loch'.

1987

Springbank resumes some intermittent production.

1989

Springbank returns to full production.

1992

Springbank's distillery maltings are reinstated. 

1997

First distillation of Hazelburn a non-peated malt at Springbank.

1998

Springbank 12 years is launched.

1999

Dha Mhile (7 years), the world's first organic single malt is launched.

2000

Hedley G. Wright (John Mitchell's great-great grandson), Chairman of Springbank purchases the closed Glengyle distillery buildings. Springbank 10-year-old is launched.

2001

Springbank 1965 'Local barley' (36 years), 741 bottles, is launched.

2002

Springbank's first release in the Wood Expressions series, Number One is released. A 12-Year-Old expression with 5 years maturation in Demerara Rum casks.

2004

Springbank 10 years 100 proof is launched alongside Longrow 14 years old, Springbank 32 years old, and Springbank 14 Years Port Wood.

2005

Springbank 21 years, the first version of Hazelburn (8 years) and Longrow Tokaji Wood Expression are launched.

2006

Longrow 10 years 100 proof, Springbank 25 years, Springbank 9 years Marsala Finish, Springbank 11 years Marsala Finish, and a new Hazelburn 8-year-old are released.

2007

Springbank Vintage 1997 and a 16-year-old Rum Wood are released.

2008

Springbank closes for six months due to rising stock and production costs to refurbish and build new warehousing at the distillery site. Three Longrow expressions, CV, an 18-year-old and 7-year-old Gaja Barolo are released.

2009

Springbank resumes production. Springbank Madeira 11-year-old, Springbank 18-year-old, Springbank Vintage 2001, and Hazelburn 12-year-old are released.

2010

Springbank 12-year-old cask strength, Springbank 12-year-old Claret Expression alongside new editions of CV and 18-year-old are launched.

2011

Longrow 18-year-old and Hazelburn 8-year-old Sauternes Wood Expression are released.

2012

Springbank Rundlets & Kilderkins, Springbank 21-year-old and Longrow Red are released.

2013

Longrow Rundlets & Kilderkins, a new edition of Longrow Red and Springbank 9-year-old Gaja Barolo finish are released.

2014

Hazelburn Rundlets & Kilderkins, Hazelburn 10-year-old and Springbank 25 years old are launched.

2015

Springbank Green 12 years old and a new edition of Longrow Red are released.

2016

Springbank Local Barley and Hazelburn 9-year-old Barolo finish are released.

2017

Springbank 14-year-old Bourbon Cask and Hazelburn 13-year-old Sherrywood are released.

2018

Springbank Local Barley 10-year-old, Longrow 14-year-old Sherrywood and a new Longrow Red are released.

2019

Springbank 25, Hazelburn 14 and a new edition Longrow Red are released.

2020

Springbank 12-Year-Old cask strength, Hazelburn 13-year-old Sherrywood, Springbank 17-year-old Madeira Wood and Longrow 21 are released.

2021

Springbank 25-year-old and a new edition of Longrow Red are released.