A tankard is a lidded vessel used to drink out of, usually for beer or cider, and is often made of silver. The earliest known accounts referencing tankards date back as early as the 14th century, however, the earliest surviving tankards come from the 15th century. These early examples were often pear-shaped and have a lid. They are generally plain and contain a mix of materials, as well as having a moulded foot and engraved bands of arabesques. An arabesque in this instance is a pattern of intertwining plants or abstract curve motifs. The earliest known pure silver tankard that has survived heralds from 1556. 
It is unclear when exactly the design of the tankard first changed. At some point, between the early 16th century and the early 17th century, the tankard developed from the pear shape to the cylindrical shape. The cylindrical shaped tankards have tapered sides, which are sometimes slightly convex, and at this time have a flat lid. It was rare prior to the English Civil War for a tankard to have straight sides. 
As James I took the throne in 1567, the stepped, domed lids that also have a finial began to appear on tankards, replacing the flat lids that were flush to the rim. This style also reappears in Scotland when Queen Anne takes the throne in 1702.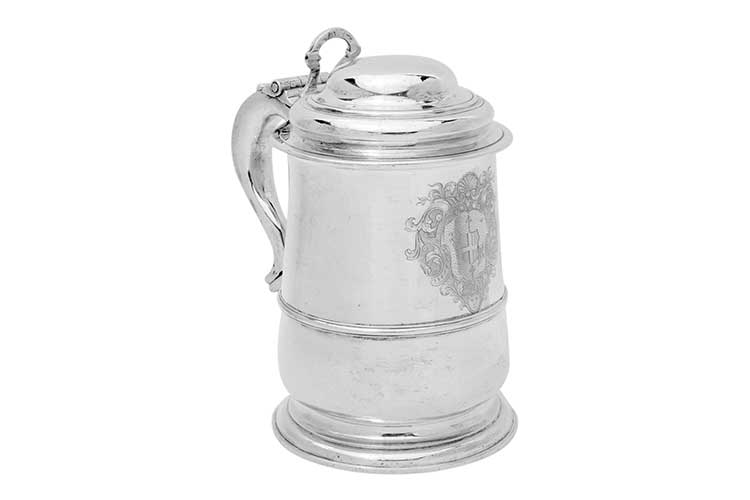 As is the case with many silver items in the United Kingdom, there is a distinct lack of tankards from the 1610-1630 period. This is likely due to the widespread melting of these items rather than their non-existence. This is because silver that was considered 'modern' was often melted during the English Civil War (1642-1651). This would likely explain why the few remaining tankards from this period are often mounted serpentine (a dark green mineral), as they would have been deemed to have little worth and as such would have been retained for their utilitarian purpose. The Charles I era (1625-1649) tankard is plain, cylindrical, and doesn't have a foot. The lid was flat and pointed to the front and they had a wave shaped thumb piece. 
It is following the Civil War that tankards began to have straight sides. The Cromwellian tankards are rarely decorated, as it would be expected for puritan items, and they have a broad 'skirt' style foot. 
As the Restoration brought grandeur and drama, it also brought a huge impetus for creating new plate. As a result, a number of vast and grand tankards were crafted. A prime example of this is a tankard made in 1676 which weighed 94 ounces (over 2.5kg!) and sat on three couchant lion feet. This is also the era when corporate bodies would purchase tankards to engrave and present at special occasions. 
From 1680 until 1690, it was discovered that the entire surface of a tankard could be chased with chinois figures or landscapes and as such, this became the trend of this decade. The more grand or important tankards often had feet – often lions but sometimes eagle or hawk feet.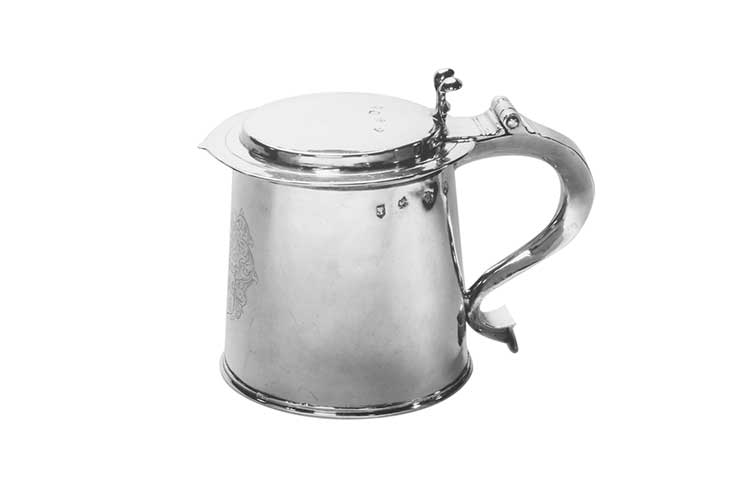 From 1695, a number of tankards began to have a baluster or crest finial on the lid as decoration; this is a revival of the Jacobean style. In the same period, a moulded band is added to the bottom of the tankard. 
As the 18th century arrived, domed lids began to be added to tankards which grew more pronounced over the course of the century. Sometimes, flat lid tankards had their lids domed at a later date to make it more fashionable. This is identifiable as it often distorts the silver hallmarks. 
By the end of the 18th century it became common to chase the lower part of the tankard with a band of vertical or spiral fluting as well as adding an engraved coat of arms in a decorative cartouche. However, plain tankards continued to be made.
From 1790 the greater consumption of wine and spirits as opposed to beer meant that the development of the tankard ceased. Despite this, large presentation tankards did continue to be made but these often have repairs or reinforcing plates due to their weight when full. 
Sell Silver: Expert Valuations
For a free, no-obligation valuation of your silver simply use the form below.  In order to provide you with an accurate valuation please provide as much of the below information as you can. 

Send us images of your silver on Whats App and we will get back with a valuation.  Click the button above or send the images to 07599615538

If you want to email over your images please send them to [email protected] or click the button above.

Would you rather speak in person?  Call the office on 01260 218718 weekdays 9am to 5pm and we will be happy to help.
Silver Valuation Contact Form