A Beginner's Guide To Selling Silver Mugs
How We Can Help You Sell Your Silver Mugs
Are you looking to find out what your silver mug is worth, and how best to sell it? At Mark Littler Ltd we can help you understand what affects the value of your silver mug, provide you with a valuation, and advise on how best to sell it.
Silver mugs have been made since the 17th century, although their purpose shifted from alcohol drinking vessels in the 17th and 18th centuries to common christening gifts by the 19th century. Silver mugs were originally designed for the upper classes of society and whilst they are not often used for their original purpose, silver mugs are collected for their historical and decorative appeal.
With auction houses commonly charging a combined 49% commission between the buyer and the seller (18% seller, 25% buyer, 6% online fees), you need to think carefully about where you sell your silver mug. Here at Mark Littler Ltd, we can provide a valuation of your silver basket and advise on how best to sell it, be that through auction or private sale.
How do you sell your silver mug?
Are you looking to sell your silver mug but don't know where to start?  At Mark Littler LTD we make the selling process as simple as possible by handling all of the logistics, paperwork and fully insured shipping.
We can help you sell your silver mug in two ways:
Through a brokered private sale
Through specialist online auctions
Our aim is to achieve the best possible price for your silver; after all, you can only sell once.  By giving you all of your options you can be sure you are making the right decision.
What Affects The Value Of Your Silver Mug?
Maker
The maker of your silver mug, indicated by the maker's mark, can have a great impact on the value. 
Silversmiths such as Paul Storr or Omar Ramsden command a premium due to their specialist knowledge and craftsmanship when making silver mugs. 
Coat of Arms
Given that silver was once only afforded by the upper tiers of society, it was common to have your coat of arms or crest engraved on your silver mug. 
If the engraving of the coat of arms is period with the item then this will often enhance the value.  Coats of arms belonging to prominent families, or even royalty, will enhance the value of your silver mug greatly.
Condition
Clearly the condition of your silver mug will have an impact on the value.
Dents, bruises and splits are all obvious forms of damage that will impact the value.
Quite often on mugs you may find that a coat of arms has been removed which can be hard to spot but will also have a big impact on the value.  
Do not worry about cleaning your mug.  In some cases you can reduce the value of a mug by cleaning it.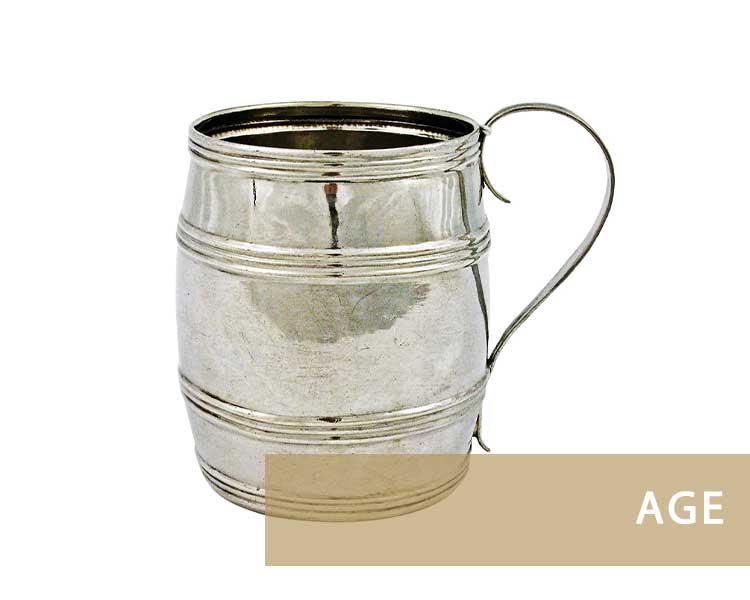 Age
We have been applying hallmarks to silver since the 14th century and as such they are the oldest form of consumer protection in the world.  
Silver mugs have been made from around the 17th Century and the earlier pieces often command a higher price.  
However, the older the mug, the more likely that there will have been repairs over the years.  As such it is a combination of both the age and the condition that will have a real impact on the value of your mug.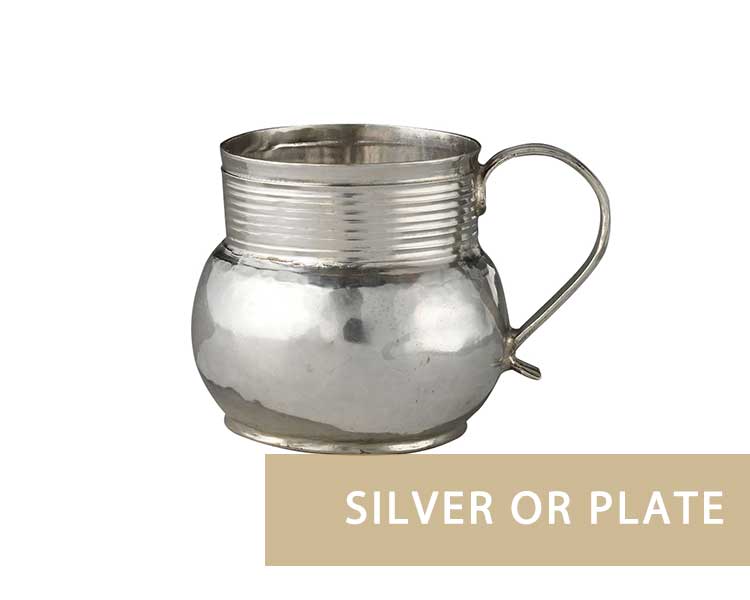 Silver or Plate
To put it bluntly, sterling silver items were made for the middle and upper classes.  Silver plate was an invention aimed at making 'silver' style items available to the masses.  
If you see the letters EPNS or A1 on your mug then it is silver plated.  Your mug will need to be hallmarked and carry very specific marks in order to be legally called silver.
As silver plate was made for the mass market many items of silver plate do not have any value.
Weight
The weight of your mug will help us to understand the quality of your silver.  But how?

Silversmiths like Paul Storr produced many items to the same design, but depending on the wealth of their client they would adjust the amount of silver that they would use for the commission.

As such a mug may be 500g or it might be 1,300g.  Without being able to handle your items in person, providing the weight will give us a very good idea of the gauge of the silver used and thus we will be able to give you a very good idea of the value. 
How We Can Help You Sell Your Silver Mug
Private Sale
Our brokerage service is a simple, stress-free way to sell your silver mug. We will broker the sale between you and one of our buyers. For this service, we charge a 10% commission (plus VAT – 12% total) of the final sale price of the item. This avenue is fast and simple. We will take care of everything for you.
Auction
At Mark Littler Ltd we can also help you to sell mugs via auction. Given the high cost of selling at auction getting the placement of your items right is critical.  Having run one of the most successful silver sales in the country Mark Littler has the experience and industry contracts to know where your silver is going to sell best.  
Sell Silver: Expert Valuations
For a free, no-obligation valuation of your silver mug simply use the form below.  In order to provide you with an accurate valuation please provide as much of the below information as you can. 

Send us images of your silver on Whats App and we will get back with a valuation.  Click the button above or send the images to 07599615538

If you want to email over your images please send them to [email protected] or click the button above.

Would you rather speak in person?  Call the office on 01260 218718 weekdays 9am to 5pm and we will be happy to help.
Silver Mug Valuation Contact Form
Postage Service
We make getting your silver to us simple.
We have a fully insured postage service.  We send you specialist packing materials and instructions together with a pre-paid returns label so that you can ship your silver back to us quickly and safely.
For large collections and very high-value items we also have a hand-courier service available. 

Having looked at several whisky sellers, Mark Littler stood out and from the outset their knowledge, professional and great service was outstanding.

...

My transaction was handled very expertly and when ahead seamlessly and promptly, and their communication throughout was excellent and all made for a very happy experience. I would therefore not hesitate in recommending this lovely company.

read more
Mark is a deep expert in rare and collectable whiskies, and a real pleasure to work with. I'd thoroughly recommend Mark to anyone looking to buy or

...

sell investment grade bottles.

read more
I recently sold some silver cutlery through Mark Littler. The whole process was made very easy with good communication throughout from Hannah. I was

...

sceptical at first that it was worth making the effort to post the items etc. but glad I did. I achieved a good price and the sale was settled promptly and in a very professional way.

read more
Janette P.
12:32 22 Dec 21
Great dealing with Hannah. Very helpful and responded quickly. Would use this company again would the need arise, and would recommend Thank you

...

for your help and efficient service.

read more
I recently sold a bottle of Japanese whisky through Mark Littler. Beth made the whole process painless from start to finish. Her communication was

...

good throughout and I was extremely happy with the price they achieved for me. Would recommend, without hesitation

read more
Heather M.
21:23 07 Dec 21
Mark Littler recently sold a number of bottles of unusual whisky on our behalf, and provided an excellent service from start to finish. He is very

...

knowledgeable and efficient, and kept us informed in a friendly way at each step of the process. His help was invaluable, and we have no hesitation in recommending Mark and his company most highly for their outstanding level of service.

read more
Very professional service...would 100% recomend to anyone wanting a valuation or selling items.the process from start to finish was perfect.keep up

...

the good work..

read more
As I am in Scotland I thought I would send my silver to auction as the easiest way to sell it. However I was wrong. I received a better price than

...

the top estimate I received from my auction house, paid less commission, no hidden charges, payment received in much less time, didn't have to deal with a patronising valuer, didn't have to transport it to the auction just packed it up in packaging and label sent by Mark and took it to the post office. All together a professional hassle free service. Couldn't recommend more highly

read more
I was unsure of the process of selling something on-line but I needn't have worried as Mark Littler made the whole thing effortless, quick and easy.

...

They provided expert advice on the options available to me and at no time tried to convince me to take one particular offer. I would highly recommend Mark Littler to anyone wishing to sell or auction an item.

read more
Recently had to sell a limited edition signed print . Mark and his excellent staff were from the outset efficient and professional throughout. I

...

would have no hesitation in recommending Mark and his company and would certainly use them again

read more
I have dealt with Mark Littler on several occasions to sell both Whisky and antiques what a pleasure. First class service. Thanks to Mark Hannah and

...

Beth for a very pleasant experience. Highly recommended.

read more
After spending a good deal of time researching Businesses that perform the specific services offered by Mark Littler; I am happy to have selected

...

them. Beth was an absolute pleasure and true Professional from start to finish. Process was painless and communication was outstanding. If in the market, you can't go wrong with Mark Littler; Great service at a fair price.

read more
Went to Mark to source a specific bottle of whisky. Delighted with the outcome and the service. Professional, friendly and reliable guidance

...

throughout the process. Absolutely trustworthy. I would highly recommend this company.

read more
Having bought a cask of whisky back in 2004 we decided that this year was the year to sell it. I approached three different brokers and it wasn't a

...

hard decision to ask Mark to arrange the sale for us. It wasn't only that he said he could achieve the best price for the cask but his professional manor and clear level of knowledge.To sales process was relatively simple with excellent communication throughout. He assisted us with drawing several bottles prior to sale and the logistics of moving the cask.Overall a first class service and if you are wondering he achieved slightly more than the suggested sale price. This was over three times what the first broker offered and 50% more than the second.

read more
Mark Litter has literally found a buyer for a bottle of Karuizawa 34 yo that I had, it was such a quick and simple selling process. I highly

...

recommend him and waiting to do more business with him!

read more
As a complete novice in the world of valuable whisky, I was very pleased with how straightforwardly the private sale of my bottle was handled. I was

...

kept informed at all stages and the whole process from my first enquiry to money in the bank took just three weeks. A pleasure doing business.

read more
Mark Littler has now sold several bottles for us personally and helped us sell many more through Whisky Auctioneer. It was so helpful to get advice

...

and practical help with packaging all of our whisky bottles which seemed initially quite daunting. His advice and service has been excellent, and we have been absolutely delighted to deal with Mark and Hannah. I would highly recommend their services to anyone.

read more
Mark was both patient and professional, initially advising and then successfully selling a whisky cask. He, and his staff, talked me through the

...

process, highlighting both opportunities and pitfalls, with simplicity and the minimum of jargon. Mark is extremely knowledgeable on both the distillery side and the market, evident with the excellent price achieved.

read more
Outstanding service - fast, professional, clear communication. I have never entered into a transaction like this before but Mark Littler Ltd made

...

everything clear, the contract was transparent, payment arrived very quickly indeed. Altogether brilliant.

read more
Very easy and efficient service and process, very professional. All questions answered and all went exactly as outlined. Could not not have asked for

...

more and would wholeheartedly recommend.

read more
I have used Mark Littler Ltd for a number of whisky cask purchases. He runs a friendly, approachable and customer-focused company, and is always

...

ready to help with any issues or questions. He is a charming and professional broker, and understands the market and the needs of his customers. Above all, he listens and offers sound guidance which I always pay attention to .Absolutely brilliant company to do business with, will use again and again and have no hesitation in recommending Mark Littler Ltd. Outstanding,

read more
Mark recently sold two casks of mature whisky on my behalf. The service that he provided from start to finish was exemplary. His care and customer

...

focus was faultless, explaining every step in the process and continually updating me on progress. I would have no hesitation in recommending Mark as the perfect person to deal with your sale.

read more
All round, Mark and his team were fantastic - so helpful, efficient and professional - a no hassle transaction with great results; highly recommended.
The whole experience of using Mark Litler as my broker from start to finish with the sale of my Whiskey bottle was seamless and exactly what I

...

wanted. No issues, no dramas, just a wholly professional service. If your thinking about using Mark to sell your items I can highly recommend his company.

read more
The whole transaction with Mark Littler was excellent. The service was efficient and professional throughout and it was a pleasure to do business

...

with his company. I can recommend this company without any hesitation.

read more
Pål Andreas D.
08:07 15 Jul 21
We wanted to buy a private whisky cask. Mark was very helpful to get a good deal done and about a year ago we became proud owners of a cask of

...

whisky. Just received samples. Very excited and looking forward to see how the whisky matures.

read more
The process was handled from start to finish with efficiency and patience on Mark's part. All questions regarding the various steps involved were

...

answered clearly and concisely. Many thanks!!

read more
First class service with customers wishes and requirements the most important factor, their service from signing of TC.To final sale was speedy and

...

conducted very professionally, would recommend Mark Littler Ltd and will definitely use them again in the future.

read more
Excellent and timely service from the company. Beth was extremely helpful and prompt with replies to any questions. No hassle at any time. My first

...

time selling whisky bottles, will certainly use the company again. Fully trustworthy way to sell.

read more
Outstanding professional service. Having never sold a cask of whisky before, Mark took us through the whole process, found a buyer at an excellent

...

price, and completed the sale with great care and professionalism. Excellent customer care and service. Highly recommend.

read more
A very prompt and reliable service. Never thought selling a cask of whisky would be so easy. Any issues were speedily dealt with and Mark was always

...

available to get in touch with. I would certainly recommend Mark's services.

read more
On deciding to sell my rare bottle of Macallan… I chose the option of selling through the Mark Littler online shop rather than through an auction, as

...

there was no hurry. The whole process was dealt with in a very professional way. Mark Littler and his staff kept me informed throughout the sale which was actually completed very quickly.I would not hesitate to use the company again and would highly recommend their services.

read more
My wife bought me a hogshead of Bowmore for my 30th birthday. We've been happily paying warehouse rental for 25 years and decided we needed to look

...

into next steps. The warehouse wasn't very helpful so I started to look on the internet for a whisky broker. There appeared to be a lot of choice but Marks credentials and website information stood out from the crowd. He immediately set me at ease and so I looked no further. I have enjoyed our interactions and have felt from the start that Mark had my best interests at heart with his professional approach, transparency and personal touch. He has kept me informed along the journey which has been an exciting one. As part of the service Mark facilitated the gauging, sampling and selling of the barrel and also coordinated for me to receive a few bottles of this amber nectar for my own consumption. To top it off he achieved a fabulous price. I would recommend Mark to anyone who is lucky enough to have whisky to sell. Many thanks for your service Mark!

read more
We recently used Mark Littler to sell old Silver tankards and we could not be happier. Fast, friendly & professional service. They assisted through

...

the whole process and was very helpful every step of the way. They will definitely be hearing from us again. I would recommend Mark Littler to anyone, worldwide

read more
Found Mark via a Google search so was a little apprehensive as couldn't meet face to face. We had some silver flatware we wished to sell and he

...

handled the whole process very quickly and professionally. He achieved a price that was higher than other estimates received from others including well known auction houses. Would heartily recommend.

read more
Malcolm W.
23:44 14 Mar 21
Mark recently sold a 26 year old cask of Ardbeg for me. He was vey thorough and professional and achieved an excellent price. His thoroughness was

...

very important to me as I have lived in Sydney, Australia for many years and I needed someone who I could trust with a high vale transaction from the other side of the world. Mark even took the time to personally collect some sample drawings from the distillery and ship to me. I heartily recommend Mark to anyone wishing to sell of buy a cask particularly if they are not resident in the UK.

read more
Our family inherited a hogshead of whisky which needed to be sold. Having no knowledge of this market the internet revealed Mark Littler who proved

...

to be both knowledgeable and professional. The cask was tasted and sold within a matter of weeks under Mark's guidance which we greatly appreciate.

read more
I found myself in a situation where I needed to sell a much treasured and fairly rare bottle. Mark and Hannah were both extremely helpful, completely

...

transparent, and fair in their valuation. They were a pleasure to deal with from start to finish, and made the process very easy and painless. I would recommend them to anyone in a similar position, and would definitely use them again in the future.

read more
Charles M.
10:52 20 Jan 21
During the last 12 months I have been actively making tentative enquiries to sell my whisky collection, which I had been collecting for more than 20

...

years. During this time I had been in discussions with various very well known whisky retailers online, with a view to them purchasing the bottles from me or finding prospective buyers. After many phone calls, emails and conversations, I was left feeling very frustrated and bewildered at their lack of communication in general and commitment to providing me with a service. That was until I discovered Mark Littler through an oline post that had been sent to me from a family member, which highlighted a high profile sale Mark had recently been engaged in. I decided to contact Mark the following day and within hours he had come straight back to me and offered to work with me to sell my collection. This was quite astonishing given the lack of communication that I had received from others. From the outset Mark has always been professional, courteous and friendly, which has made my own experience of using Mark's services an absolute pleasure. His individual care and approach to everything he undertakes on your behalf in providing you with a service is nothing short of exemplary. In no time at all Mark has already sold a much sought after vertical in my collection and I am delighted with the outcome. I would not hesitate in recommending Mark to anyone attempting to sell their own collection.

read more
I got in touch with Mark having read one of his articles online. I was thinking of investing in a cask and had an offer from a company that shall

...

remain nameless. At this point I thought I should seek independent advice. Mark's professional and informative approach to my questions was excellent. He basically saved me from making a huge potential mistake investing with a company that were not throwing straight dice and trying to pitch sales based on false information. I may add that at this point Mark was not pitching any sale to myself, merely offering good, genuine and free advice.I later had the opportunity to use Mark as a consultant to invest in my first Cask. I have found him to be very professional, knowledgeable, courteous and friendly.I feel lucky to have sounded out Mark as a broker and hope to be using him again in the future. I can not recommend him and his team highly enough for their help and time!

read more
It was an absolute pleasure dealing with Mark. I was looking to buy a cask of whisky and spoke with numerous brokers. The response, transparency and

...

authenticity from Mark was the one that I liked the most. I highly recommend visiting Mark's website and the process outlined by him to own a whisky cask is the most exhaustive and helps you understand the nuances of owning the cask. I highly recommend Mark and will surely be buying through him again.

read more
Recently, I made enquiries with Mark about buying a whisky cask.He very promptly answered all my questions and gave me all the information I needed

...

to make an informed decision.He was thoroughly professional and there was never any pressure to buy, just support and step-by-step instructions.I am very pleased with the outcome of my cask investment and I look forward to working with Mark again in the future.

read more
Stephen F.
13:05 22 Dec 20
Mark was thoroughly professional and efficient in helping my family get a great deal in buying some whisky casks.We received a very friendly, quick

...

and personable service with regular updates throughout the process.Highly recommended and greatly appreciated!

read more
Darroch W.
20:05 21 Dec 20
Great service from Mark, would recommend and would use again. Easy to contact for updates or advice and guidance throughout the process. Very helpful

...

at all times and the final result was exactly what I had hoped for.

read more
Mark did exactly what he promised to do and achieved a good price for the whiskey cask which he sold for us. We were kept informed of what was going

...

on and the whole transaction was hassle free.

read more
Mark was true to his word when he advised how long the process would take with selling our Cask of Whisky and what we would expect to receive. He

...

has been very attentive and continued to provide feedback during the sale process and he managed to achieve an exceptional price for us. Thank you Mark, we will be sure to come back to you when we sell our next cask.

read more
First rate service - achieved a good price for one bottle and coordinated a forwarding service to an auction house for the bottles they didn't

...

receive any offers for. Getting the bottles to them was quick and simple. Communication was quick and courteous. Highly recommended

read more
I am delighted to have engaged with Mark Littler and Hannah Thompson. They have provided a professional and trustworthy service that puts my best

...

interests at the heart of their business. The process of selling my whisky collection has been clear and remarkably easy and efficient.

read more
Mark was an absolute pleasure to work with. Delighted to have discovered him during an internet search researching how best to sell two casks of 50

...

year old Scottish whiskey. He is professional, knowledgeable and quickly responded to my endless questions. It was a smooth transaction and am very pleased with the price he was able to secure. Highly recommend!

read more
Fantastic service from Mark and the team selling some bottles of whisky on their store. Right from valuation through to sale and payment he kept me

...

informed. And he got a great price for me. Would definitely recommend.

read more
I recently had the pleasure of dealing with Mark and his colleagues. From my first phone call to the completion of my sale the service was exemplary.

...

The sale of my whisky collection was made so easy, and a fast payment was made directly into my bank after the sale was completed.If you are looking to sell your whisky don't waste your time looking anywhere else. I can thoroughly recommend this company.Thank you Mark once again for a fantastic service.

read more
Michael C.
14:17 24 Oct 20
Very pleased with Mark's ease of transaction in disposing of some antique silver cutlery. Have no hesitation in recommending his professional

...

services and advice.

read more
Selling things for the first time, you are very apprehensive, about how to go about it?? But on the Phone Mark was very reassuring, and although Mark

...

was called away, we saw Hannah, and she really put us at ease, explained everything, and answered all our questions! The sale went through really smoothly, and Mark kept in contact all the way! Will highly recommend them to others!!....... Russ & Di Fyles

read more
Have several casks of high end whisky, I decided to sell one of my investments. An internet search revealed Mark Littler. Only person to respond to

...

my email. Mark sold my first cask in weeks. New exactly what he was talking about and doing . The price was at the very high end of his valuation. He did all the work, I just signed the sales document. as easy as that. Money transferred into my account, and you are talking thousands too. Much appreciated, will now sell another cask as the time is right.

read more
Really excellent service, from the valuation to the completion of a sale. Communication was excellent through out the process. I would highly

...

recommend Mark to anyone.

read more
Mark brokered the sale of a rare bottle of Irish whiskey on my behalf. He knows the market and had placed the item with a private buyer within days

...

of taking the brief. Very professional service throughout. Would certainly use in the future.

read more
Mark Littler 's services can only be rated as Excellent.From Start to finish even in these most difficult times was outstanding. Sale of my Whisky

...

bottle was completed within 10 days and the money in my Account. First class.John Maguire

read more
Matthew R.
08:43 23 Sep 20
I was looking to sell my whisky collection of 28 bottles of Macallan 18 year old to fund the purchase of my first house, so I got in touch with

...

Mark.My father gave me 1 bottle each year for a birthday present so that by the time that I was 18 I would have 18 bottles of 18 year old Macallan. (Yes I'm that guy who was plastered over the media)Mark did a great job of getting professional photos taken of them and creating a PR buzz around the collection and I even ended up on BBC breakfast news, lad bible, and various radio stations around the world.At one point my story was the second most viewed story on BBC world wide news app for the whole weekend with over 2 million views.Needless to say within a day or two of this PR Campaign there was numerous offers.I would like to thank Mark for all his work and helping me with everything.

read more
Mark provided us with an excellent service for the sale of a cask of Springbank Whisky. He provides a professional, friendly and responsive service,

...

guiding you every step of the way. My mother was delighted with the result. I recommend his end to end service. Thank-you!

read more
The experience of dealing with Mark and his staff could not have been better. Communication was clear and the process to sell my whiskey was

...

straightforward. I was happy with the price offered and less than 48 hours after sending the bottle in the post the money was I my current account. I will be dealing with Mark again in the future.

read more
Great experience from the very friendly and knowledgeable Mark who was able to help me buy a cask, and made the process seamless even during the lock

...

down! Five star experience.

read more
Mark recently helped to successfully sell my cask of Macallan single malt whisky.From our initial discussion I was impressed with the depth of his

...

knowledge and his professional approach. Mark guided me through each step of the process, providing reasons and insights to ensure I made the correct decisions. His estimate of the value of the cask was spot on.I would have no hesitation in using his professional services again.

read more
Football F.
17:26 02 Jun 20
Mark was very helpful to me and my family , he is so knowledgeable about whisky, and with his valued advice I was able to sort out my children's

...

investment easily with confidence. Thank you so much Mark for all your advice and help, I would strongly recommend Mark to anyone.

read more
Mark and Hanna were a pleasure to deal with when selling my bottle of Macallan 25 y.o. whisky. Everything was handled smoothly, expertly and with no

...

pressure. The courier facility offered is excellent and the sale concluded very quickly and simply. In these days of increasingly doing business on the Internet this experience was top class and I have no hesitation in using Mark's company for similar future business; Top Class!!

read more
Georgina S.
12:33 14 Apr 20
Brilliant service from start to finish, highly recommend Mark! Thank you so much for making the sale so easy for me and for providing such a personal

...

service. Thanks again, Georgina Russell

read more
Be patient for great returns.When I came to sell my 10yr old Hogshead of whisky Mark was able to obtain a final price for me that was more than

...

three times the sell back figure to Bruichladdich.Professional from the start. Once Mark had the re-guage figures all I had to do was sit back and let him do the rest. Very efficient and hassel free.A pleasure to do business with and will definetly be contacting him again when my next barrel matures.Thankyou Mark for doing all the hard work.

read more
Just over 10 years ago I visited the Bruichladdich distillery and bought a newly filled fresh bourbon barrel. Having allowed it to mature I needed to

...

decide what to do with it. Bruichladdich made an unattractive offer to buy it back.I became aware of Mark Littler, from a Google search. I contacted him based on the many positive reviews. After talking to him and learning of his experience of selling casks I commissioned him to sell my cask.Dealing with Mark has been a pleasure, he has guided me through the process and I have received over 3 times the offer from Bruichladdich.I have found Mark to be realistic and helpful and I recommend his services.

read more
Mark was excellent from start to finish in dealing with our whiskey cask sale. I highly recommend his services and wouldn't hesitate to use him

...

again. 5 Star!

read more
Thank you so much Mark for your knowledge, help, support and finally arranging the sale of my silver flatware. With your expertise and knowledge of

...

the market, you found a buyer very quickly, keeping me in the loop all the time and the transaction went through very smoothly.From our first conversation to the conclusion of the sale, everything was handled very professionally. You provided all the packaging and return addresses and all I had to do was take the box to the post office. Simple!I could not be more delighted and would not hesitate to come back to you if need be, or to recommend you and the company very highly on every level.

read more
Mark sold two casks of whisky for me. He got a very good price for them and kept me informed through the rather slow process (which he had warned me

...

about). Very pleased with the service.

read more
Excellent professional service, Mark kept us well informed throughout and even obtained a higher price when it came to the sale. Would have no

...

hesitation in using again or recommending. Thank you

read more
Caroline H.
13:03 03 Feb 20
Mark offers a brilliant, easy and efficient service. I have used this twice now and both occasions have been simple and fast. I wouldn't hesitate to

...

recommend.

read more
I sold my Bruichladdich hogshead cask through Mark and can highly recommend his services. Immediate follow-up and a very clear outlined agreement

...

while Mark managed to get a good price for the cask in a fairly short time period. I'm very pleased and would not hesitate to utilize his services again in the future.

read more
I recently sold a 25 year old cask of Scottish whisky through Mark. The market is not easy to tap into but Mark has good connections and got me an

...

excellent price. He made the process very simple and completed all the necessary paperwork for me. Highly recommended!

read more
Thank you Mark for the professional help you provided In relation to Probate valuation, and the sale of the items. Your help and honest reliable

...

service, made a difficult time so much easier. I trust, and would highly recommend Mark Littler LTD.

read more
Next Reviews
Quick Online Silver Valuation
In order to provide you with an accurate valuation please provide as much of the below information as you can.
Alternatively, please send photos of your silver mug (with hallmark ideally) to our WhatsApp .