A Beginner's Guide To Selling Silver Meat Platters
How We Can Help You Sell Your Silver Meat Platter
Are you looking to find out what your silver meat platter is worth, and how best to sell it? At Mark Littler Ltd we can help you understand what affects the value of your silver meat platter, provide you with a valuation, and advise on how best to sell it.
Silver meat platters have been made since the 18th century, distinguished from plates by their oval shape and commonly a mazarin. Silver meat platters were originally designed for the upper classes of society and whilst they are not often used for their original purpose, silver meat platters are collected for their historical and decorative appeal.
With auction houses commonly charging a combined 49% commission between the buyer and the seller (18% seller, 25% buyer, 6% online fees), you need to think carefully about where you sell your silver meat platter. Here at Mark Littler Ltd, we can provide a valuation of your silver meat platter and advise on how best to sell it, be that through auction or private sale.
How do you sell your silver meat platter?
Are you looking to sell your silver meat platter but don't know where to start?  At Mark Littler LTD we make the selling process as simple as possible by handling all of the logistics, paperwork and fully insured shipping.
We can help you sell your silver meat platter in two ways:
Through a brokered private sale
Through specialist online auctions
Our aim is to achieve the best possible price for your silver; after all, you can only sell once.  By giving you all of your options you can be sure you are making the right decision.
What Affects The Value Of Your Silver Meat Platter?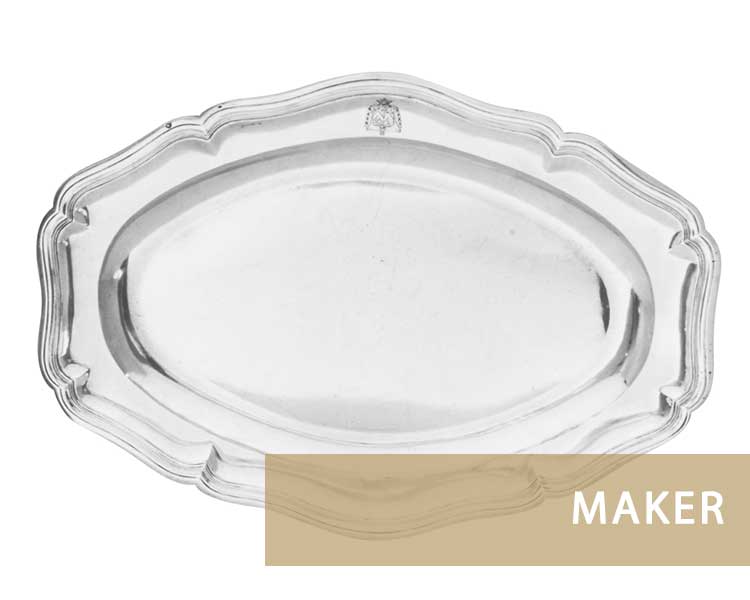 Maker
The maker of your meat platter, indicated by the maker's mark, can have a great impact on the value. 
Silversmiths such as David Willaume II command a premium due to their specialist knowledge and craftsmanship when making meat platter.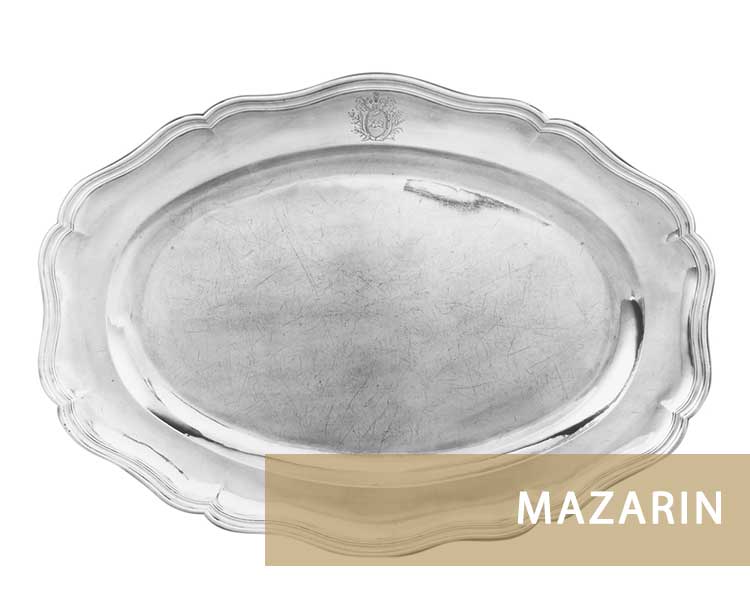 Mazarin
A 'mazarin' is an additional pierced oval platter that sometimes accompanies a meat platter. 
Mazarins are designed to allow meat juices to drain through the pierced platter and into the dish below. 
A meat platter that has an accompanying mazarin can command a higher premium as they are often intricately designed and complete a set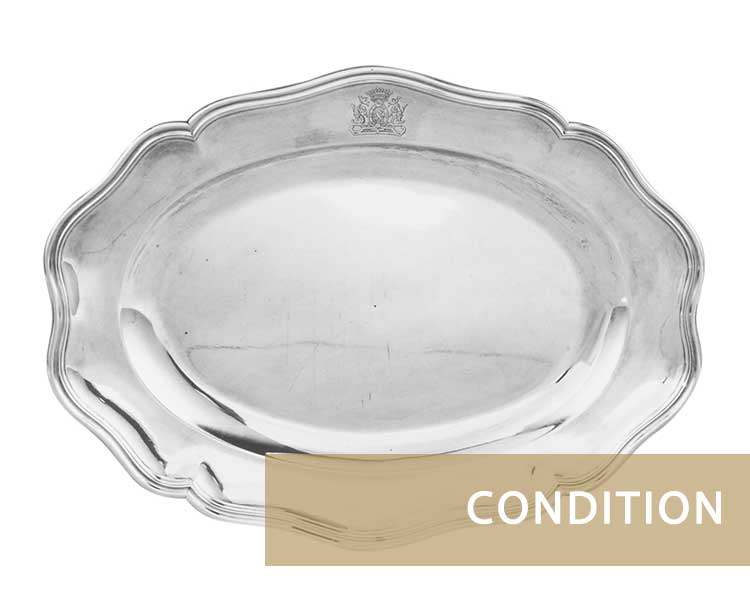 Condition
Clearly the condition of your meat platter will have an impact on the value.
Dents, bruises and splits are all obvious forms of damage that will impact the value.
Quite often on meat platters you may find that a coat of arms has been removed which can be hard to spot but will also have a big impact on the value.  
Do not worry about cleaning your meat platter.  In some cases you can reduce the value of a meat platter by cleaning it.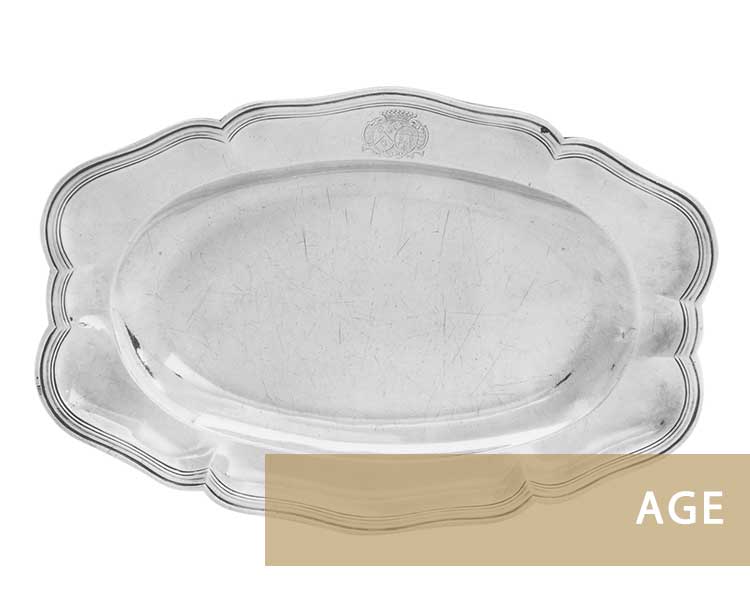 Age
We have been applying hallmarks to silver since the 14th century and as such they are the oldest form of consumer protection in the world.  
Meat platters have been made from around the 18th Century and the earlier pieces often command a higher price.  
However, the older the meat platter, the more likely that there will have been repairs over the years.  As such it is a combination of both the age and the condition that will have a real impact on the value of your meat platter.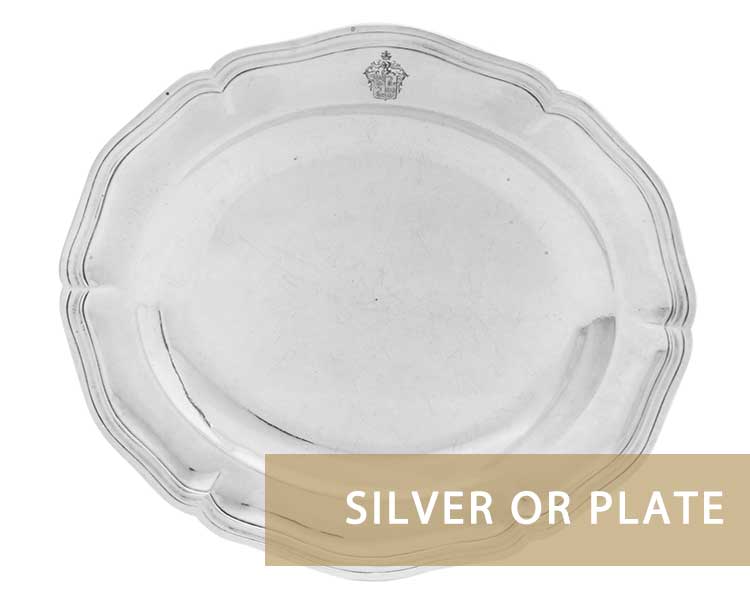 Silver or Plate
To put it bluntly, sterling silver items were made for the middle and upper classes.  Silver plate was an invention aimed at making 'silver' style items available to the masses.  
If you see the letters EPNS or A1 on your meat platter then it is silver plated.  Your meat platter will need to be hallmarked and carry very specific marks in order to be legally called silver.
As silver plate was made for the mass market many items of silver plate do not have any value.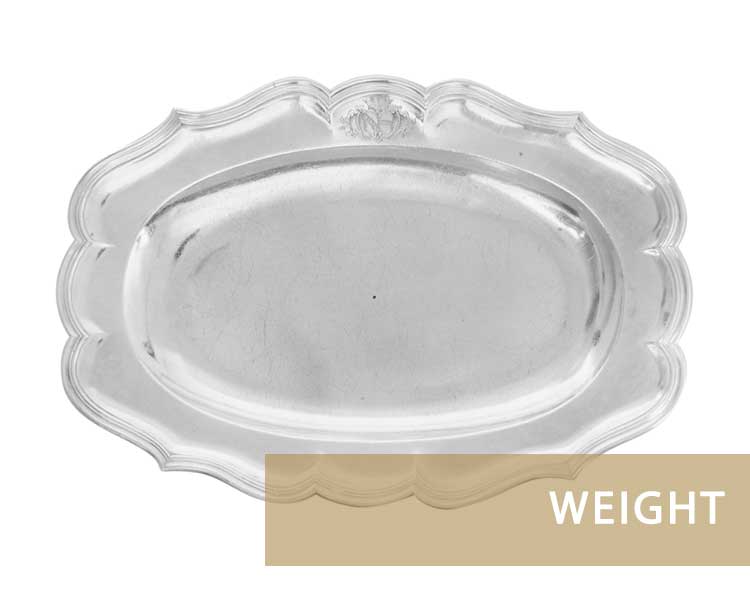 Weight
The weight of your meat platter will help us to understand the quality of your silver.  But how?

Silversmiths like Paul Storr produced many items to the same design, but depending on the wealth of their client they would adjust the amount of silver that they would use for the commission.

As such a meat platter may be 500g or it might be 1,300g.  Without being able to handle your items in person, providing the weight will give us a very good idea of the gauge of the silver used and thus we will be able to give you a very good idea of the value. 
How We Can Help You Sell Your Meat Platter
Private Sale
Our brokerage service is a simple, stress-free way to sell your silver meat platter. We will broker the sale between you and one of our buyers. For this service, we charge a 10% commission (plus VAT – 12% total) of the final sale price of the item. This avenue is fast and simple. We will take care of everything for you.
Auction
At Mark Littler Ltd we can also help you to sell meat platters via auction. Given the high cost of selling at auction getting the placement of your items right is critical.  Having run one of the most successful silver sales in the country Mark Littler has the experience and industry contracts to know where your silver is going to sell best.  
Sell Silver: Expert Valuations
For a free, no-obligation valuation of your silver meat platter simply use the form below.  In order to provide you with an accurate valuation please provide as much of the below information as you can. 

Send us images of your silver on Whats App and we will get back with a valuation.  Click the button above or send the images to 07599615538

If you want to email over your images please send them to [email protected] or click the button above.

Would you rather speak in person?  Call the office on 01260 218718 weekdays 9am to 5pm and we will be happy to help.
Silver Meat Platter Valuation Contact Form
Postage Service
We make getting your silver to us simple.
We have a fully insured postage service.  We send you specialist packing materials and instructions together with a pre-paid returns label so that you can ship your silver back to us quickly and safely.
For large collections and very high-value items we also have a hand-courier service available.