Bourbon and single malt Scotch whisky. The two may seem very similar on the surface, but in reality, they are two very different spirits with different flavours, styles, distillation and maturation processes, and geographical ties. 
In terms of the collectors' market bourbon is neither as valuable nor as collectible as Scotch whisky. There are various reasons for this, which I will go into later. But first, let's lay down the fundamental differences between bourbon and Scotch.
1. Ingredients
This is where the belief that bourbon and Scotch are similar comes from. Both spirits are made using just three ingredients: grain, yeast, and water. If any other ingredients were used in the production of the spirits then neither would legally be referred to as bourbon or single malt scotch whisky. However, this is where the similarities end. 
Single malt scotch whisky can only be made using 100% barley, whereas bourbon can be made from multiple different grains including rye, wheat, and barley, as long as the mash used to make the bourbon consists of at least 51% corn grain. Therefore, bourbon has a little bit more freedom in terms of ingredients. However, single grain whisky has the most freedom – it can be made from any grain including, corn, wheat, or rye.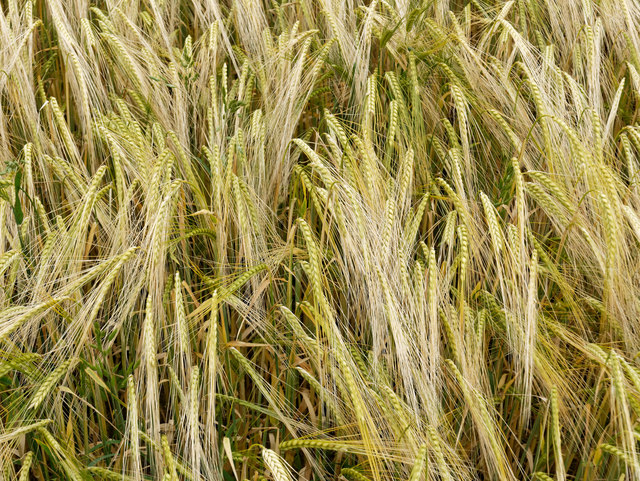 The result of these varying grain types is a variation in flavours. Corn is a much sweeter grain, meaning that bourbon is a much sweeter spirit than Scotch whisky. 
There are other factors that can affect flavour which I will go into further on in this article. 
2. Geography
Scotch whisky can only be distilled, matured, and bottled in Scotland – hence the name. Bourbon can only be distilled, matured, and bottled in the US. There is a misconception that bourbon can only be made in the state of Kentucky. However, bourbon can be made anywhere in the US. The Kentucky misconception stems from the fact that Kentucky has a rich distilling history, as well as the fact that most bourbon is produced in Kentucky due to the fluctuating climate and fertile soils.
3. Distillation 
The distillation processes for bourbon and single malt scotch whisky also vary, from the length of distillation to the shape of the stills. 
Scotch whisky is made through a number of steps: 
The barley is steeped in water, usually for at least 12 hours, and then spread out on what is called a malting floor where it is left to germinate and produce natural sugars.

The barley is then dried in a kiln, sometimes over a peat-heated fire, which gives peated whiskies a distinctive smoky taste. The time that the barley is dried for, and the time that it is subjected to peat smoke, varies depending on the distillery, and the specific character that they put into their whisky. However, the barley must be completely dry before going into the mash tun. 

When the barley is dry it is crushed by a roller, and then mixed with hot water in a large tub called a mash tun. This process creates a sugary liquid that will later become whisky. This liquid is called wort.

The wort is then transferred into large wooden vats called washbacks. It is at this point that the yeast is added. The yeast triggers a chemical reaction that turns the sugars into a low ABV alcoholic liquid. This liquid is called wash. 

The wash is then distilled in copper pot stills. The alcoholic liquid rises into the column of the stills and then cools and condenses to form a high ABV alcoholic liquid that will then be matured in casks. This liquid runs into a spirit safe. The Master Distiller then separates the high-quality spirit from the lower-quality spirit. 

Water is added to the spirit to reduce the ABV before the whisky can start to mature 

The high-quality spirit is then poured into casks – usually ex-bourbon – to mature in a warehouse for at least three years, often longer, before being bottled for consumption. 

Some of the leftover casks will be used again for maturing Scotch whisky.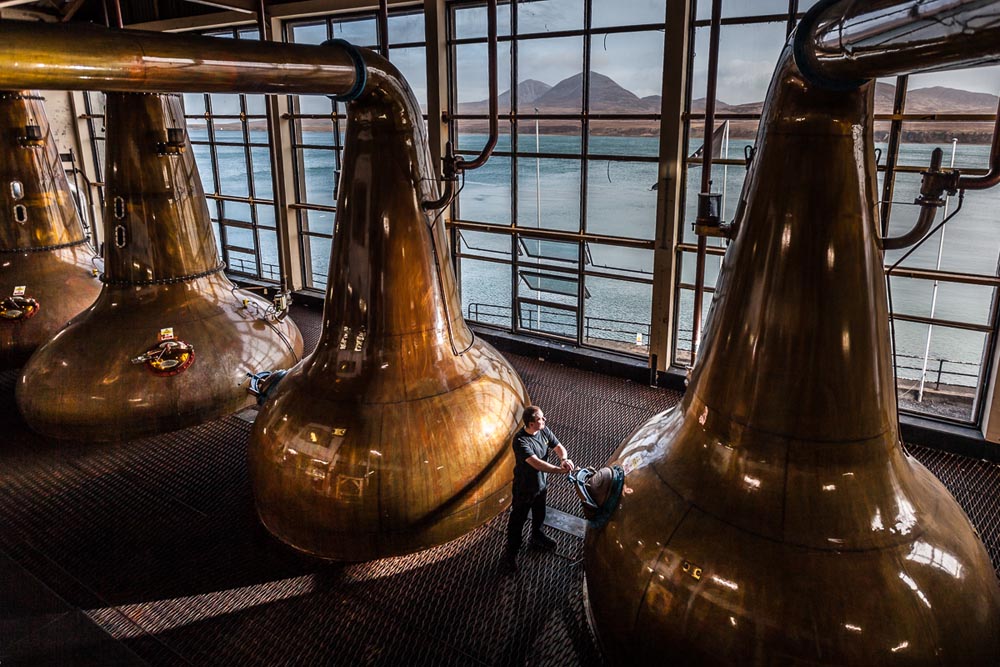 So, how is bourbon made? 
Firstly, the grains that will be used to make the bourbon (at least 51% corn) are ground up by a hammer mill and mixed with water. Then, the mixture is heated to encourage the starch to break down into natural sugars. Different grains are added at different points due to their varying cooking times. Corn is usually added first, and barley is added last. 

The yeast is added to this mixture and the liquid is then poured into fermentation tanks and left for three days to ferment. The resulting liquid is known as distillers beer. 

The distiller's beer is then put into column stills, which boil off the alcohol. The alcohol vapours then cool and condense into a high-proof spirit. The resulting liquid is then distilled a second time to create a high proof alcoholic liquid. 

Water is then added to the spirit to reduce the ABV before maturation. This liquid is then decanted into new American Oak casks that have been charred on the inside in order to impart sweet flavours onto the bourbon. 

The barrel is then taken to a warehouse and left to mature. In some warehouses, the cask is periodically moved to a different level of the warehouse because of the varying temperatures experienced in Kentucky. Bourbon has no minimum maturation period, but straight bourbon must stay in the cask for a minimum of two years before being bottled. 
Many of the leftover casks are shipped to Scotland for use in maturing Scotch whisky.
4. Maturation
The first difference to note here is the variation in maturation times. Scotch whisky must be matured for at least 3 years before it can legally be called whisky. As mentioned above, there is no minimum maturation length for bourbon, but straight bourbon must be matured for at least two years. Any bourbon that is matured for less than four years must state this on the label.
It may seem strange that bourbon has to mature for less time, but there is a geographical reason behind this. 
The weather in Kentucky, where most bourbon is distilled, matured, and bottled, can vary drastically throughout the year. The state usually experiences cold winters and very hot summers. In the summers, as the temperature rises, the water in the bourbon casks evaporates at a quicker rate than the alcohol, meaning that the bourbon has a higher ABV and a quicker maturation. This is why bourbon has a lower maximum distillation ABV than Scotch whisky; bourbon must be distilled at no more than 80% ABV. Scotch whisky can be distilled at 94.8% ABV or less. 
By comparison, Scotland experiences cold winters and extremely mild and wet summers. This means that the whisky takes longer to mature than bourbon, and so often has a lower ABV. 
5. The End Result
The resulting spirits may look the same, but in terms of flavour, they are very different. 
Bourbon is exclusively matured in new American Oak casks, and so takes on a sweet flavour from the charred oak on the inside of the cask, as well the sweetness from the 51% corn grain that was used in mashing. 
Some bourbon is made with a high volume of rye, and this bourbon is generally spicier than that which is made mostly with corn. 
Scotch whisky, on the other hand, can vary drastically in flavour from one bottle to another. Scotch whisky is rarely, if ever, matured in new casks. Instead, whisky is matured in casks that have previously held bourbon, sherry, or cognac. The whisky then takes on the flavours of the liquid that previously filled the cask, adding complexity and depth of flavour. 
In addition to this, Scotch whisky is rarely as sweet as bourbon, as the only grain used in its production is malted barley. Therefore, any sweetness in the whisky has to come from the cask. 
Peated and non-peated whiskies also have very different flavour profiles. The more heavily peated a whisky is, the smokier the flavour will be. By contrast, bourbon is never peated.
Why Is Scotch More Collectible Than Bourbon? 
There are numerous famous brands and distilleries in the worlds of Scotch whisky and bourbon. Macallan, Bowmore, Springbank, Caol Ila, Glenfiddich, and Glenlivet to name a few Scottish distilleries. In the world of bourbon, Michter's Pappy Van Winkle, Maker's Mark, and Old Fitzgerald come to mind. But, why is it that the whisky hailing from Scottish distilleries is so much more valuable that bourbon? 
The collector's market for Single Malt Scotch has exploded in recent years, with collectible bottles of whisky now fetching hundreds of thousands of pounds at auction. One bottle of Scotch whisky even broke the million-pound barrier, when a bottle of Macallan 1926 sold for £1.5 million at auction in 2019. By contrast, the most expensive bottle of Bourbon ever sold at auction fetched $25,000 (£19,000). 
One of the reasons that Scotch whisky fetches much higher prices than bourbon is because it is able to stand up to long-term aging, whereas bourbon is not. This is because of the geographical location in which the different spirits are distilled and matured. 
As stated above, the climate in Kentucky, where most bourbon is distilled and matured, is much more varied and a lot warmer than the climate in Scotland. This means that bourbon matures a lot quicker than Scotch whisky. The hot Kentucky climate causes the water in bourbon barrels to evaporate at a much quicker rate than the alcohol. As a result, the ABV of the bourbon rises very quickly. Therefore, the bourbon can only age for a short period of time compared to Scotch whisky. 
In Scotland, the climate is a lot cooler than it is in Kentucky, meaning that the water does not evaporate as quickly as it does in hotter climates. Instead, the alcohol evaporates slowly over time and the proof of the spirit lowers. This process happens across a much longer time period than the evaporation of the water in bourbon barrels, meaning that whisky can age for a lot longer than bourbon. This has an effect on value due to the popularity of high age-statements among collectors.
Why Are High Age-Statement Whiskies More Collectible? 
Collectors are willing to pay significantly more for high age statement whiskies, as high age statements bring more status with them.
Most whiskies are bottled before they are 12 years old, and so any age statements higher than this begin commanding premiums. For example, the most expensive bottle of whisky ever sold was a Macallan 1926 60-year-old. Bourbon can rarely age for this amount of time due to the hot climate experienced by Kentucky. Therefore, if collectors are looking to buy age-statement spirits, they are not looking to buy bourbon. It is more likely that collectors are looking for Scotch whisky. 
Of course, there are notable exceptions to the 'rule' that bourbon cannot age for a long period of time. The most famous example of this is Old Rip Van Winkle and the Pappy Van Winkle brand. Pappy Van Winkle has almost become something of a myth, due to very low production capacity and high demand. It is very unlikely that you will ever be able to walk into a liquor store in the US and buy a bottle of Pappy Van Winkle. This is because this bourbon is considered one of the best and most luxurious bourbons on the market. Part of the reason for this is that Pappy Van Winkle has a number of high age-statement bourbons such as a 23-year-old and a 25-year-old. As the oldest active distiller in the US, they have discovered the secret to aging bourbon without spoiling the delicate balance of the spirit. Hence, the aged bourbon is highly sought-after at auction and at retail on the rare occasion that it appears.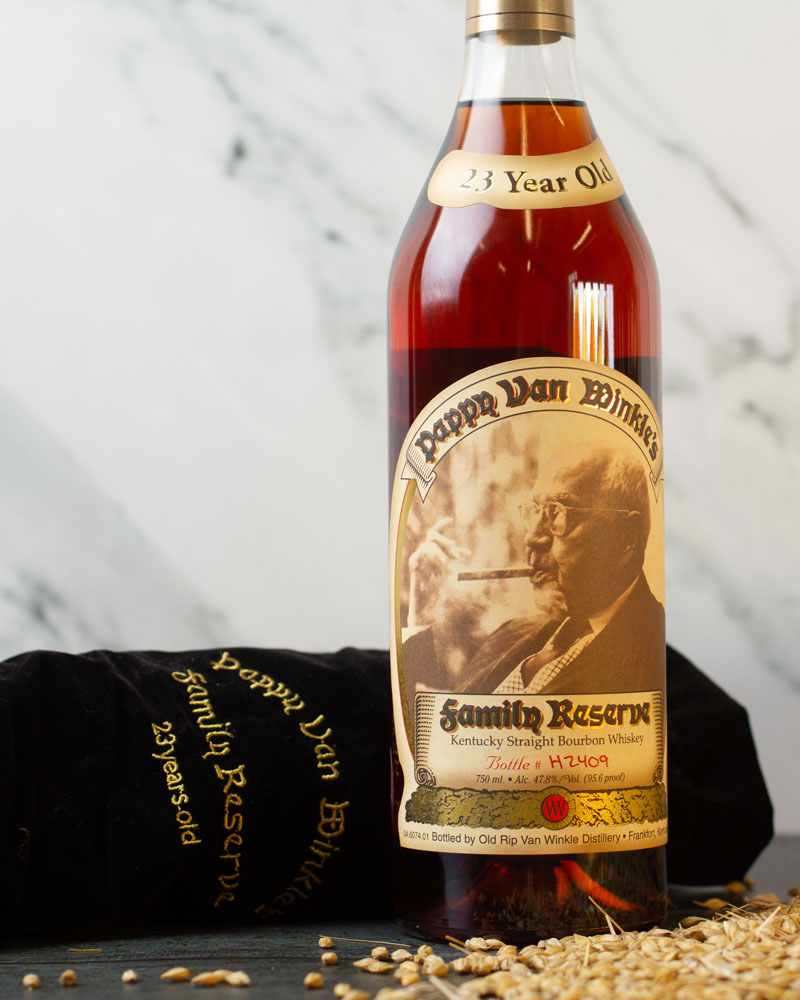 However, even Old Rip Van Winkle does not come close to achieving the sums that some Scotch whisky fetches at auction.
Scotch whisky can come in a wide variety of age-statements. The oldest bottle of whisky ever to appear at auction to date is the Macallan 78-year-old from the Red Collection. Also in the collection is a 40-year-old, 50-year-old, 60-year-old, 71-year-old, and a 74-year-old. High age-statement releases can be a huge driver of value for whisky bottles as it helps distilleries to establish themselves as luxurious, and their whiskies as worth the hefty price tag.
The Power of Branding 
Whisky may be able to be aged for longer than bourbon, but high-age statement releases are still quite rare. Most whisky is bottled before it reaches 12-years-old, and so high age-statement whiskies from luxury distilleries always stir up excitement among collectors. If a distillery releases a 50-year-old, for example, that is a sign that said distillery is comfortable with its product, and confident that they can reposition the brand as super-premium. Only 11 Scottish distilleries to date have ever released whiskies older than 50 years. It is a small and exclusive club. 
Also sought-after are rare vintages. For example, the Macallan Handwritten Label 1973 is extremely elusive: none of these bottles have appeared at retail or at auction in recent years. As a result, the 1973 is the most sought-after bottle in the Handwritten Label Collection.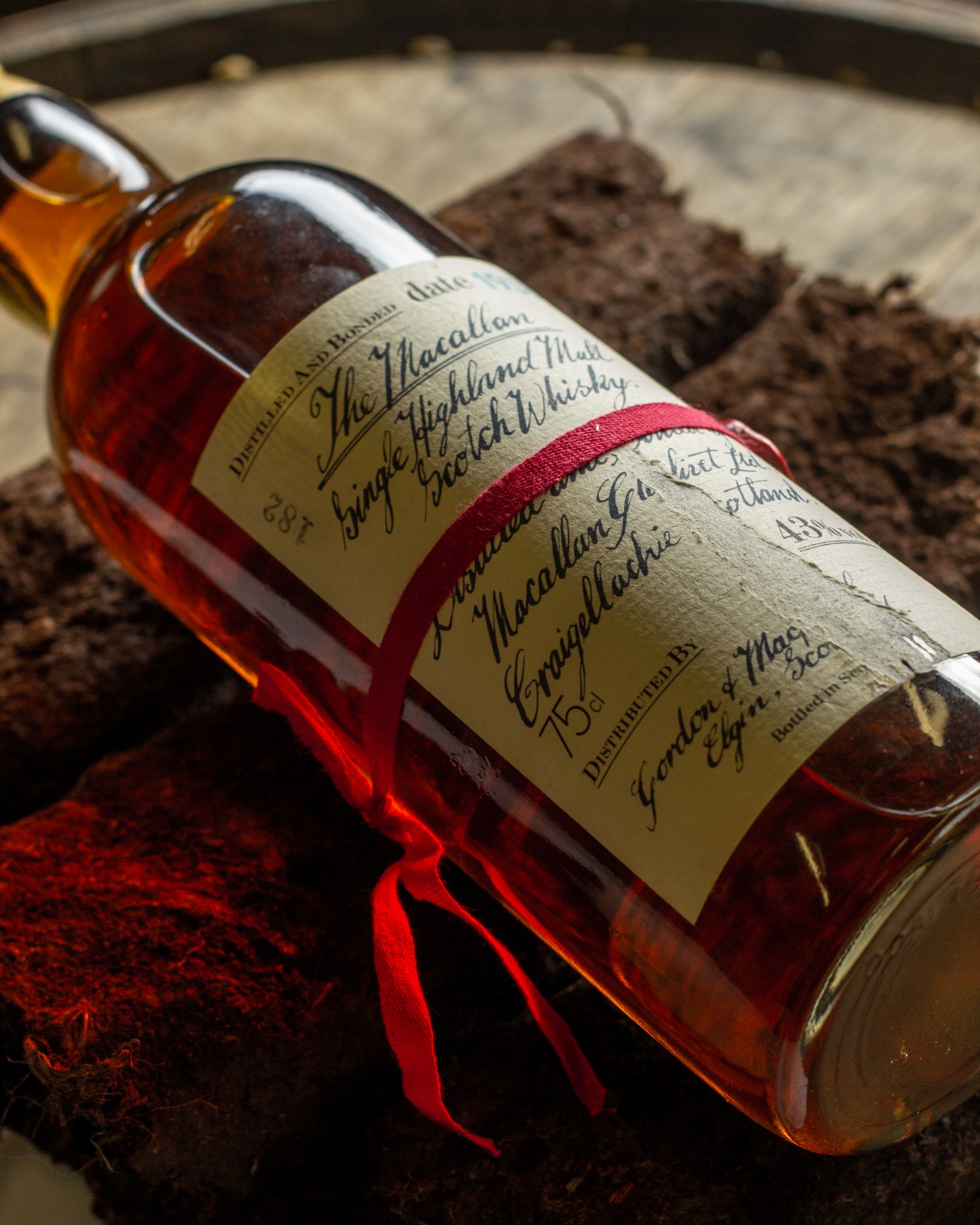 Macallan is the perfect example of how branding can affect the value of whisky from a certain distillery. Macallan was relatively unknown all throughout the 1980s and 1990s. However, in recent years there has been massive investment into Macallan, including a brand new distillery and a number of strategically protected high age-statement releases. The combination of these factors saw the public begin to recognise Macallan as a luxury brand. And when the public perceives something as luxurious, it very quickly becomes so.
The Power of the Cask: Diversity of Flavour in Scotch Whisky  
Another factor that affects the value of Scotch whisky compared to bourbon is variety in terms of flavour. 
Scotch whisky is rarely, if-ever, aged in new fill casks. Usually, it is aged in ex-bourbon, ex-sherry, or even ex-cognac casks. This means that the whisky takes on flavours and tannins from the cask in which it is aged. Different distilleries have an inclination towards using certain types of casks. As such, flavours of whisky can vary from distillery to distillery, and even from cask to cask.
In addition to this, different whisky distilling regions in Scotland also have distinctive styles. For example, Islay whisky is famous for being heavily peated with hints of brine from the salty sea air. Lowland single malts are known for being light and soft, and Speyside malts are generous with fruity flavours. Highland whisky is the most diverse, offering many different styles within one region.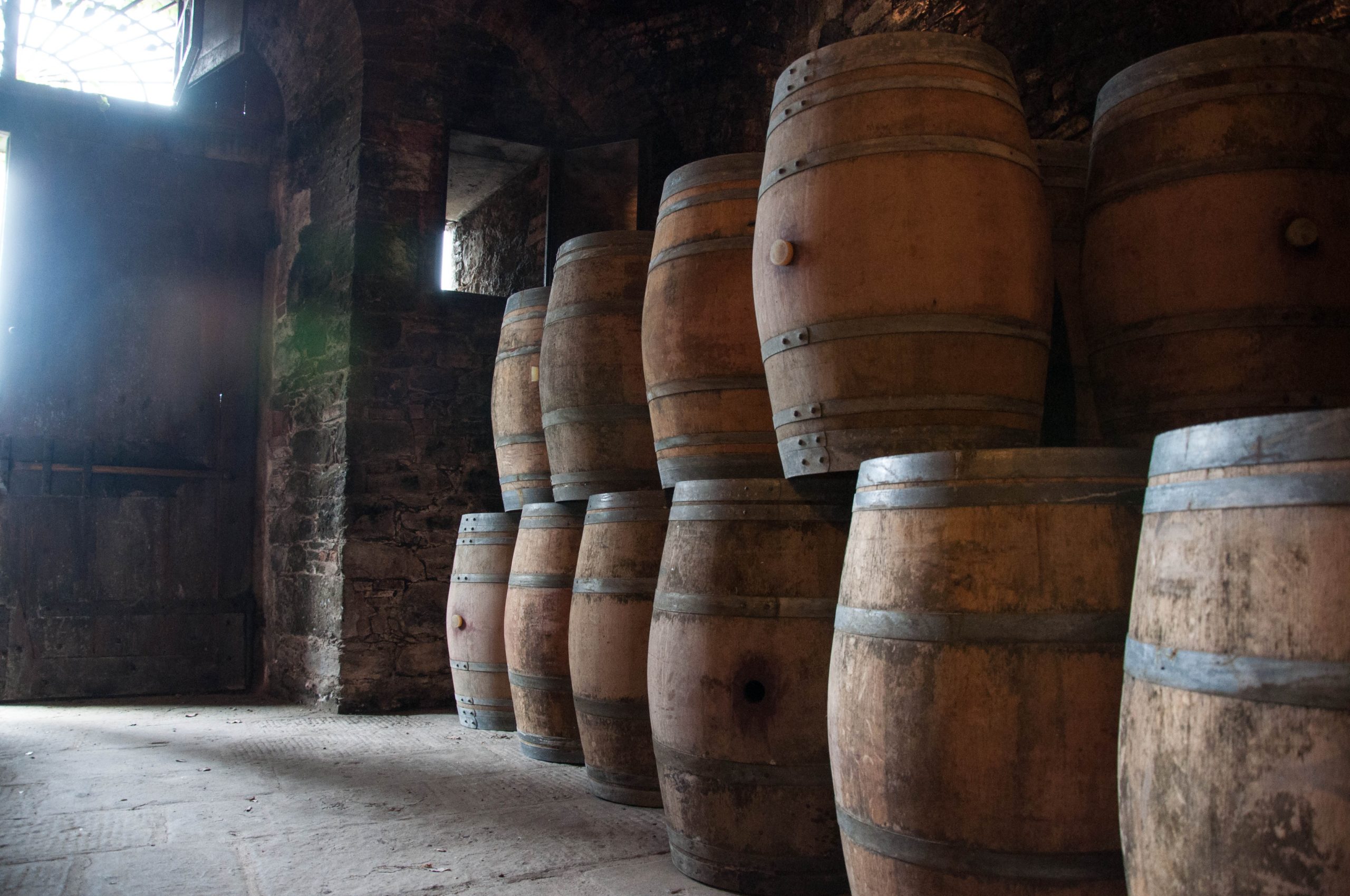 By contrast, bourbon can only be aged in new-fill American Oak casks. Therefore, bourbon is more limited in terms of the flavours that it can take on from the cask, meaning that there is less distinction between whiskey distilling regions in Kentucky. Kentucky is also a landlocked state, meaning that there is no option to mature bourbon near the ocean and allow the spirit to take on the flavours of the sea. 
(Of course, bourbon can be made anywhere in the US. It just so happens that the vast majority of bourbon is distilled, matured, and bottled in the US).
As a result of the diverse flavours in Scotch whisky, lovers of whisky often have a favourite distillery or region that they follow and collect bottles from. This means that there are more categories of collectible Scotch than there are collectible categories of bourbon. 
Which Is Better, Bourbon or Scotch? 
Whether bourbon or Scotch is better is not something anyone can answer for you. It all comes down to personal preference. If you prefer sweet or spicy spirits then you might be more inclined to drink bourbon. If you prefer sherried whisky, peated whisky, or somewhere in between then you might prefer Scotch. There are plenty of different drams out there for you to sample until you find a bourbon or a Scotch that you favour. 
In terms of investment and collecting, however. Scotch is, currently, the more collectible drink, and fetches far higher prices at auction than bourbon does. That is not to say that bourbon is not collectible – prohibition-era bourbon has emerged as a collectible asset in recent years – but, in today's market the cult followings and brand recognition associated with Scottish distilleries such as Macallan continue to drive prices upwards. 
Valuations of Your Bourbon or Scotch Whisky
If you have a collection of bourbon or Scotch whisky that you would like valued, why not get in touch for a free, no-obligation valuation of your bottles. Use the valuation form below, or email pictures of your bottles to [email protected]
What is the value of your whisky?
In order to provide you with an accurate valuation please provide as much of the below information as you can.