Diageo is the biggest spirits company in the world, boasting ownership of distilleries such as Blair Athol, Glenkinchie, Cardhu, Talisker, and Lagavulin. Each year, Diageo unveil a Special Release collection that showcases the rare and wonderful whiskies in their portfolio. This year, the collection has been named the Prima & Ultima collection.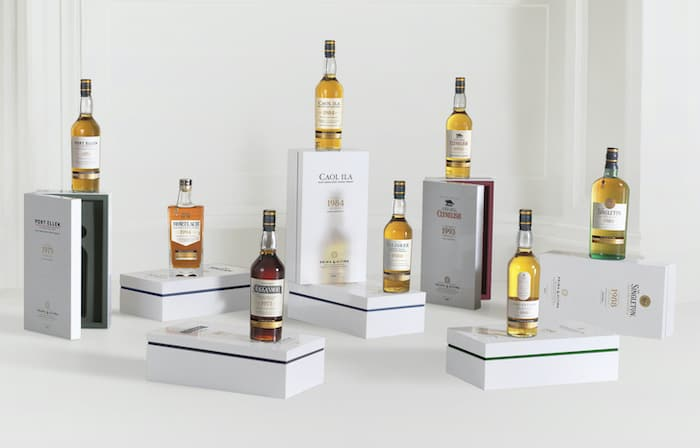 Prima & Ultima, meaning 'first and last' in Italian, promises to allow whisky connoisseurs to own rare and highly sought-after single malts. The whiskies in the collection come from eight different casks from eight Diageo distilleries, and each of the whiskies were chosen by Dr Jim Beveridge OBE, master distiller and whisky expert at Diageo. Dr Beveridge has said that each of the whiskies in the collection "tells a tale of heritage and craftsmanship".
The whiskies in the collection are as follows:
Caol Ila 1984 (35 years old, 50.8% ABV, aged in a refill European oak butt, 499 bottles)
Clynelish 1993 (26 years old, 49.8% ABV, aged in refill American oak casks, 941 bottles)
Cragganmore 1971 (48 years old, 43.7% ABV, aged in a first-fill ex-Sherry butt, 352 bottles)
Lagavulin 1991 (28 years old, 50.1% ABV, aged in refill American oak casks, 1,013 bottles)
Mortlach 1994 (25 years old, 55.1% ABV, aged in a first-fill Pedro Ximénez cask and oloroso-seasoned European oak butt, 389 bottles)
Port Ellen 1979 (40 years old, 51.2% ABV, aged in a refill European oak butt, 436 bottles)
Singleton of Dufftown 1988 (30 years old, 48.8% ABV, aged in refill American oak casks, 469 bottles)
Talisker 1988 (31 years old, 51.4% ABV, aged in refill American oak casks, 721 bottles)
The First & Last
The oldest whisky in the collection comes from Port Ellen, a cult distillery that was mothballed in 1983. Port Ellen single malts are therefore very rare and highly valued. In 2019, Diageo announced plans to refurbish and reopen Port Ellen. This limited-edition release of a 40-year-old single malt is bound to excite whisky fans, and make them even more anxious for the reopening of this famed distillery.
The expression from Cragganmore (48-year-old, 1971) contains whisky from the last ever cask to be filled at the distillery, bringing a nostalgic aspect to this particular bottle.
Each whisky in the collection holds an important place in the heart of their selector, Dr Jim Beveridge, but also in whisky history. As the price of rare whisky continues to rise and aged stocks deplete it is becoming more and more difficult to own such wonderfully unique bottles. This collection gives you the chance to do just that.
The first set in this series will be auctioned off for charity by Sotheby's in late August. All proceeds will go to WaterAid. As for the rest, if you are interested in owning one of the limited edition collections (only 238 complete sets are available) you can register your interest at www.exceptionalwhisky.com from 22nd July 2020. You will need to have an estimated £20,000 in your back pocket. Good luck!