The only official Port Ellen bottling from the active days of the distillery has again sold for a record-breaking price at auction, after a collector paid £72,000 for the Port Ellen 12-Year-Old Queen's Visit through Whisky Auctioneer. 
Series: Visit from H.M. The Queen to Port Ellen Maltings Islay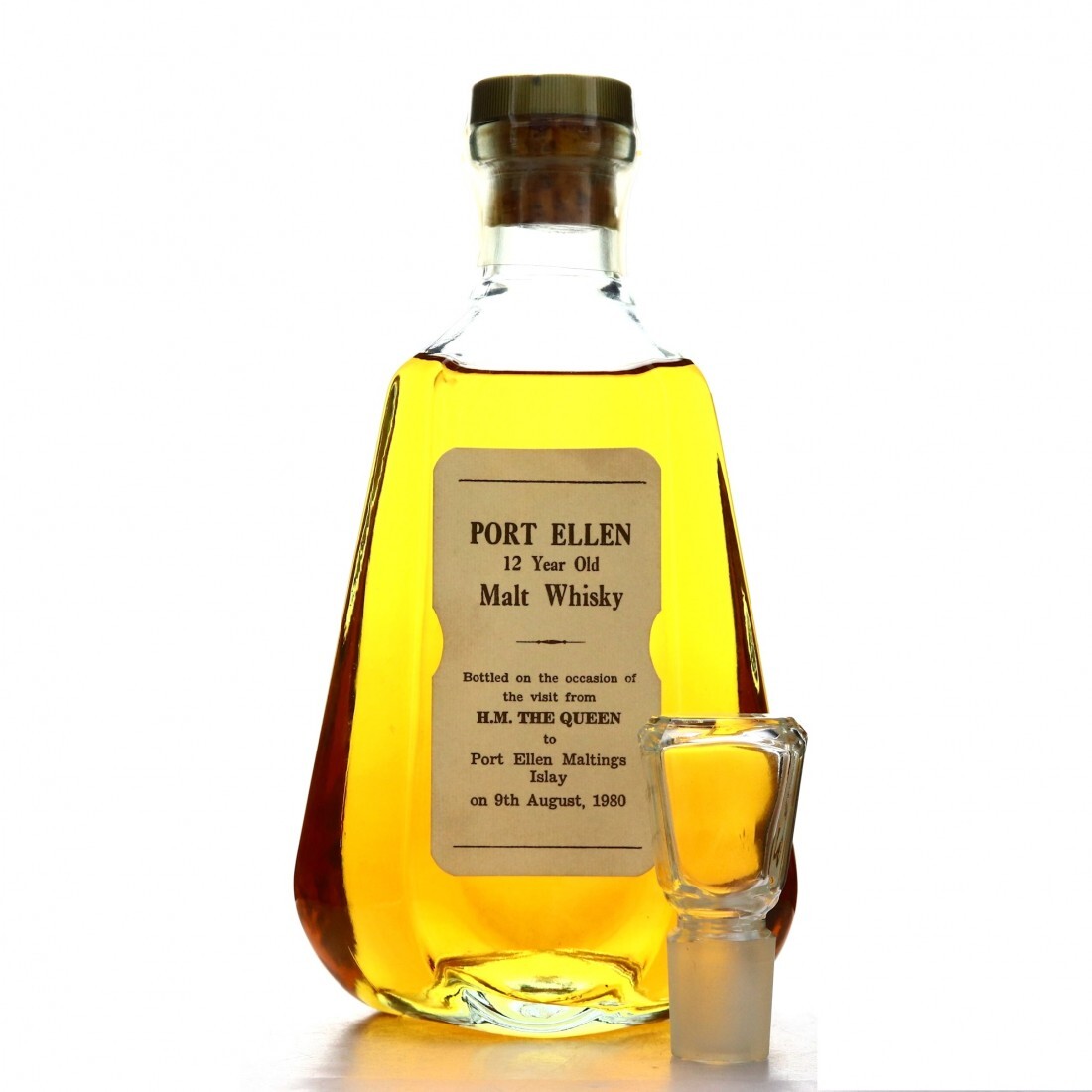 The Port Ellen 12-Year-Old Queen's Visit was bottled in 1980 to commemorate a visit by Her Majesty Queen Elizabeth II to Port Ellen Maltings on 9th August 1980. Although it is unknown how many bottles were produced, it is estimated that around 40 bottles were filled and personally given to the Queen and the senior staff members that joined her on the trip. 
It is believed that this 12-Year-Old was the only official Port Ellen bottling to be made in all its years of operation as, for many years, Port Ellen whisky was used only in blends. It was not until Diageo, the owners of Port Ellen, began to bottle their Rare Malts series that Port Ellen single malts became publicly available. This is quite possibly the rarest bottle of Port Ellen in existence. 
Port Ellen distillery closed in 1983 as there was not enough interest in it as a single malt, and the blending market was experiencing an oversupply. Since its closure, Port Ellen has gained something of a cult status among whisky fans. 
A Record-Breaking Bottle
The bottle sold through online whisky auction site Whisky Auctioneer on 11/01/2021. Whisky Auctioneer is the leading whisky auction house in the UK, selling millions of pounds worth of whisky every year. Their December auction ended on the same day that this record-breaking bottle was sold for £72,000, signalling a great end to 2020, and a monumental start to 2021 for the auction house. 
The above graph shows how the value of the Port Ellen 12-Year-Old Queen's Visit has risen since it first appeared at auction in 2011. In 2011 the bottle sold below its estimate of £3,500, for £3,200. In 2013, the bottle sold for £6,300. These low prices are far below the astonishing prices that have since been achieved for this bottle. 
The previous highest-price ever paid for a bottle of Port Ellen 12-Year-Old Queen's Visit was £50,000 in 2018, and before that, £12,100 in 2016. So, as you can see, the value of this bottle has skyrocketed in recent years. The jump in prices seemed to coincide with Diageo's announcement in 2017 that they would invest £35 million into the refurbishing and reopening of Port Ellen. With the value of Port Ellen bottlings only set to rise subsequent to the investment into the Port Ellen brand, investors and collectors have been desperate to get their hands on old and rare Port Ellen whisky. This incredibly rare bottling is no exception.
Port Ellen distillery was due to reopen in 2020, however, due to Covid-19-related delays, the date has been pushed back to summer 2021. 
With bottles in short supply and demand soaring, this bottle of Port Ellen 12-Year-Old is certainly a great asset to the lucky buyer that made this record-breaking purchase.
A History of Port Ellen Maltings
Port Ellen Maltings was established in 1974 after new buildings were built and a new 30-metre high drum malting facility was installed. The malting facility provided malted barley to Caol Ila, Lagavulin, and Port Ellen distilleries in order for them to produce whisky. The maltings themselves have outlived Port Ellen distillery, with the maltings still supplying Islay distilleries today. Port Ellen itself closed in 1983, whilst Port Ellen Maltings continued to supply Islay distilleries with malt that fitted their specifications. Islay whisky would not be what it is today without the Port Ellen Maltings. 
It was not the distillery that Queen Elizabeth visited, it was the Port Ellen Maltings. By today's standards, it is strange that the maltings should be visited and not the distillery. However, this fact is just another reminder of how overlooked Port Ellen distillery was in its first lifetime.
Since its closure, Port Ellen has become increasingly more beloved. And so, it seems that in its second incarnation, the distillery will be cherished rather than undervalued.
A History of Port Ellen
Port Ellen distillery is located on the south coast of Islay and was opened in 1824 after being built by Alexander Mackay on the site of a malt mill. In 1836 the lease for the distillery was taken over by John Ramsay.
Ramsay, although very young at 21-years-old when he took over the lease, was a visionary. He became the business partner of the owner of Islay, Walter Frederick Campbell. The two started the bi-weekly ferry between Islay and Glasgow, making Port Ellen the island's main ferry port, and whisky-making the island's main business. 
In 1869, the sales of Port Ellen were handed to W.P. Lowrie, the blender and broker who had a close working relationship with James Buchanan. At this time Port Ellen had already started to export whisky to the United States.
The distillery stayed in Ramsay's family until 1920 when it was sold to the Port Ellen Distillery Co., formed by James Buchanan and John Dewar. This company then bought W.P. Lowrie's company. In 1925 the ownership of Port Ellen passed to DCL (later Diageo) when Port Ellen Distillery Co. and W.P. Lowrie became part of the massive firm. In 1930 the distillery fell silent for over thirty years. 
In 1973 new malting drums were built to service Diageo's three Islay distilleries: Port Ellen, Caol Ila, and Lagavulin. The distillery was hit hard by a sharp decline in demand in the 80s. Smoky single malt drinkers were rare and single malts were rarely being considered for blends. The result was that Port Ellen closed for good in 1983.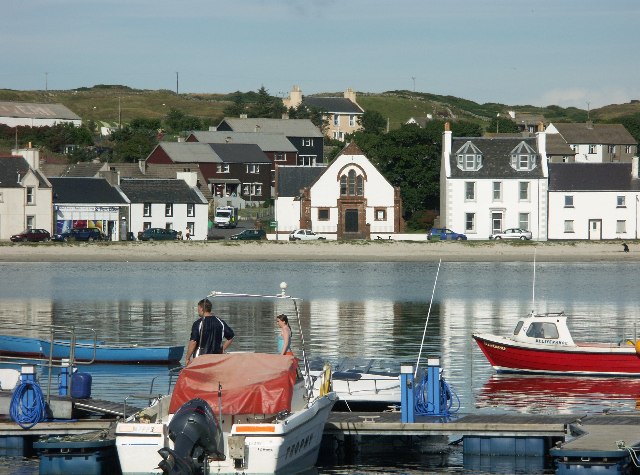 Subsequent to its closure, prices for Port Ellen whisky have skyrocketed. 
2017 saw the exciting announcement that Port Ellen distillery is to reopen following a £35 million investment by Diageo in Port Ellen and Brora, another silent distillery owned by the company. Diageo is keen to recreate the treasured Port Ellen style and so they are creating stills very similar to the ones that served Port Ellen in its first lifetime, as well as welcoming back former Port Ellen employees. It has been suggested by Diageo that the first release will be a 12-year-old in 2032.
Free Valuations of Your Port Ellen Whisky
The value of Port Ellen whisky has risen sharply in recent years. How much could your bottle of Port Ellen whisky be worth?
If you have a bottle of Port Ellen whisky and would like a free valuation then please use the form below to get in touch, or email us at [email protected]. 
What is the value of your whisky?
In order to provide you with an accurate valuation please provide as much of the below information as you can.