This week Phil is reviewing The Dalwhinnie 1962 20 Year Old. Gordon & Macphail bottled this whisky in 1982 at 40% ABV and Phil's full review is below.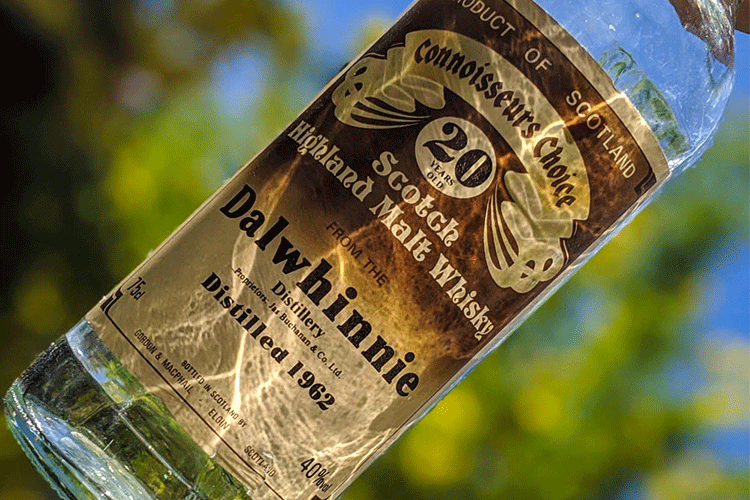 I've had a fleeting relationship with Dalwhinnie over the years. It's something that people love, rightly so, but it's never got me. Some whiskies grab hold of you and shake you viciously. Some don't, and that's fine. But Dalwhinnie always had the latter impact on me. It's a honey drive, gentle Highland whisky that knows its core market and has the packaging that reflects that. Independent bottles of it? What? Let me try that!
Colour: Manzanilla Sherry
Nose: Scented candle wax (lily and vanilla), peach, vanilla bean, gentle honey, pine, honeysuckle, Noilly Prat Vermouth. A little earthier and herby than I would expect. The lily and vanilla notes are truly lovely, very comfortable and welcoming.
Palate: Fudge, butterscotch, rich oak (sharp, warm spice), milk chocolate, milky coffee, a little thin. The 40% isn't helping this, but that was just the time it was bottled, so I can't really hold that against it. The start of the taste is quite decadent and very rich! But it does tail off very quickly with gentle sweetness, a true shame, as you want that richness to really last.
Finish: Light. Classic Dalwhinnie. More candle waxy than one would assume from the bottle being listed on paper. The richness that I want is coming back in small ways: brioche, yeasty, distillery beer/mash.
Assessment: It's good, but it isn't impressive for the expression.
84/100