As Macallan week continues here at Mark Littler Ltd, today we are looking at the top 5 most expensive Macallan bottles ever to be sold at auction. 
The Macallan distillery was established in 1824 and has been producing whisky uninterrupted for nearly 200 years. From the 1980s, Macallan have placed themselves at the head of the luxury whisky market and, as such, these whiskies have often been sold for eye-watering prices at auction.  
So let's find out what the most expensive Macallan bottles at auction are.
The Top 5 Macallan Bottles At Auction:
Macallan 1926 Fine and Rare 60 Year Old 

£1,452,000

Macallan 1926 Michael Dillon 60 Year Old 

£1,200,000

Macallan 1926 Valerio Adami 60 Year Old

£848,750 

Macallan Peter Blake-1926-60 year old

£739,890

Macallan 60 Year Old – Lalique Linley Edition

£125,100
At number 1 on the list is the record-breaking Macallan 1926 Fine and Rare 60 Year Old which achieved £1.45m at auction in 2019. This is the highest price any bottle of whisky has achieved at auction to date, an accolade already previously held by Macallan. This whisky was drawn from a single cask, #263, and although the yield of the cask was forty bottles, only fourteen were given the Fine and Rare series label making these incredibly exclusive bottlings.The 60 year old whisky was bottled in 1986 but not released as the Fine and Rare series until 2002. Collectors wanting to complete their Macallan Fine and Rare vertical would need the 1926 in order to do so, which results in a highly sought after whisky that often provokes bidding wars.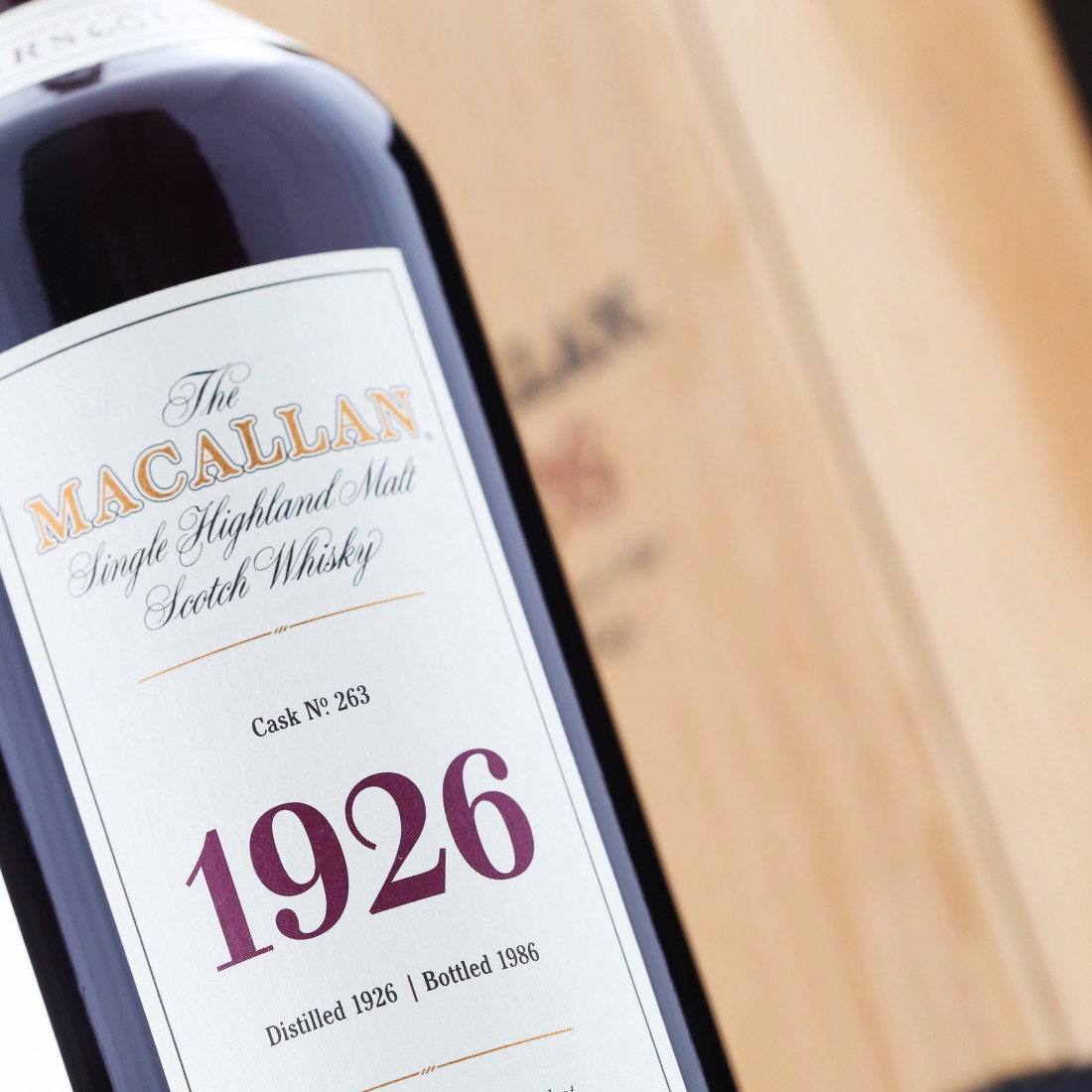 In a unique twist, the top 4 of the most expensive Macallans sold at auction come from the same cask. We've included all 4 variations in this top 5 list because they were all released separately and hold a place in whisky auction history in their own right. 
At number two on the list is the Macallan 1926 Michael Dillon edition. From the 40 bottles drawn from cask #263, two bottles were unlabelled. One of these went on to be hand painted by Irish artist Michael Dillon as a commission in 1999. This iteration of the 1926 is one of a kind and was the first whisky sold to ever break the £1 million mark when it achieved £1.2million in 2018. 
From 24 of the bottles there were two series of 12 created with labels specially designed by two high profile artists. These two variations take third and fourth place on our list. Two famous Pop Artists, Italian artist Valerio Adami and English artist Sir Peter Blake were commissioned by Macallan to design labels for the 1926 60 Year Old. Adami is a French Cloisonnism inspired Pop Artist best known for works such as Capriccio (1983) and Blue Danube (1984). Sir Peter Blake is best known for work such as On the Balcony (1955-57) and co-designing the album cover for the Beatles album Sgt. Pepper's Lonely Heart Club Band (1967). The scarcity of these bottles has driven value as well as the iconic works of art, resulting in the Adami label achieving £848,750 and the Blake achieving £739,890 at auction. 
The final bottle on our list is the only one not to come from the 1926 60 Year Old cask #263. 60 Year Old whisky does continue to be the sweet spot for Macallan however, as in 5th place is the Macallan 60 Year Old Lalique Linley Edition which achieved £125,100 at auction.This is the fourth edition of Macallan Lalique and was released in 2011. It contains whisky distilled in the 1950s although the bottle does not carry a vintage statement. The decanter was made by Lalique Glassmakers and was designed to echo the kettle shape of the Macallan small pot stills whilst continuing the Art Deco style of the previous editions. For just three of the 60 Year Old Lalique releases, a bespoke lacquered box was created by Royal furniture maker, and the Queen's nephew, Viscount Linley. The case also contains 4 Macallan and Linley branded crystal glasses.                
Do You Want To Own a Bottle Of Macallan?
If you'd like to own a bottle of Macallan for yourself, have a look at our shop where we have a number of Macallan bottles listed.