In 2021 Mark Littler Ltd were thrilled to broker the sale of a bottle of Remy Martin Louis XIII 100-Year-Old Black Pearl Anniversary Edition Cognac. The Black Pearl Cognac was an exciting feature in the shop, and a fantastic sale as only 775 were produced, making them extremely rare bottles of cognac. 
Remy Martin released the Louis XIII Black Pearl anniversary edition in 2014 to celebrate the 140th anniversary of Louis XIII cognac. This edition is often revered for its striking appearance and high quality cognac which makes it highly sought after and collectible.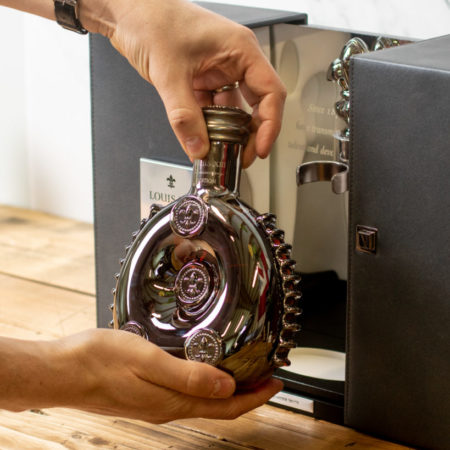 100-Year-Old Louis XIII Black Pearl Anniversary Edition 
This bottle of Cognac was produced to celebrate the 140th anniversary of the Louis XIII branch of Remy Martin being established. 
The eau-de-vie in this blend has been matured for anywhere between 40 and 100 years. In cognac production, each year additional eaux-de-vie is added and the blend is matured for another year. It is estimated that over 1200 different eaux-de-vie are included in this cognac. 
Louis XIII's partnership with local winegrowers ensures that the 100 Year Old Black Pearl Anniversary edition is of the highest quality, hand selecting the eaux-de-vie that are included in the blend. 
The cognac has been matured in casks known as tiercons which are taller and more slender than traditional oak casks. They are made from exclusively Limousin oak from trees that are between 150 and 180 years old. Before being shaped into a tiercon, the oak is left out in the elements for up to 3 years to remove the unwanted tannins. Andre Giraud established Remy Martin's own cooperage whilst cellar master from 1960 to 1990. Under Pierrette Trichet, Louis XIII began to make their own tiercons to help preserve them for the future and these are all made by hand.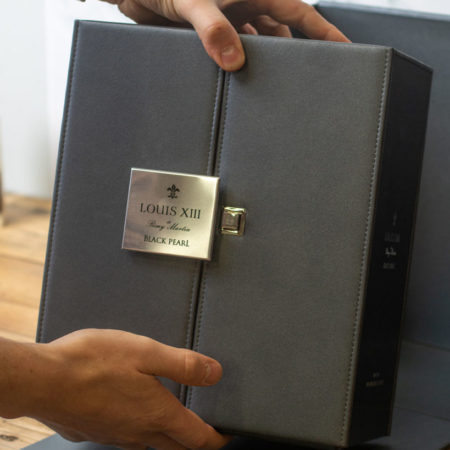 The Anniversary Decanter 
The anniversary edition of the Louis XIII Black Pearl 100 Year Old Cognac had a specially designed statement piece decanter. The decanter was made by Baccarat, a french crystal maker established in 1764, who were also granted permission to operate by King Louis XV. 
All of the Louis XIII cognac decanters are designed to look like a 16th century metal flask that was uncovered from the 1569 Battle of Jarnac. This metal flask was later owned by Paul Emile Remy Martin and inspired him when he created Louis XIII in 1874. 
The anniversary decanter is special as the Baccarat crystal is treated with a unique plating technique which requires repeatedly layering thin coatings of titanium, carbon, and gold one upon the other. This is a highly skilled technique and results in a striking pearlescent effect. 
The Louis XIII Black Pearl Anniversary Edition yielded only 775 bottles which makes the appearance of the bottle at auction or retail incredibly rare.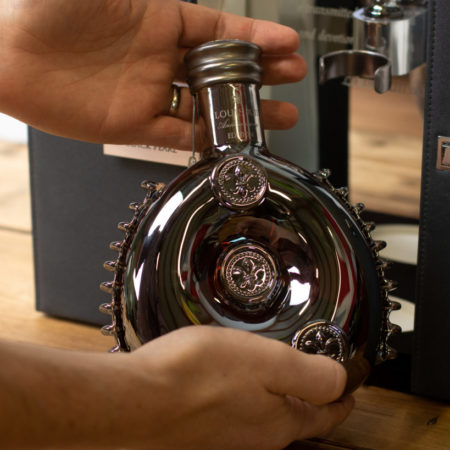 Louis XIII Black Pearl At Auction 
The 140th anniversary edition of the Louis XIII Black Pearl has previously gone to auction on only 4 occasions. It was first seen in December 2018 where it sold for £12,501. It then went to auction twice in 2019, first in February where it sold for £13,001 and again in April where it sold for £15,000. This price in April 2019 is the highest recorded price at auction. Most recently, the anniversary edition sold in April 2020 for £11,000.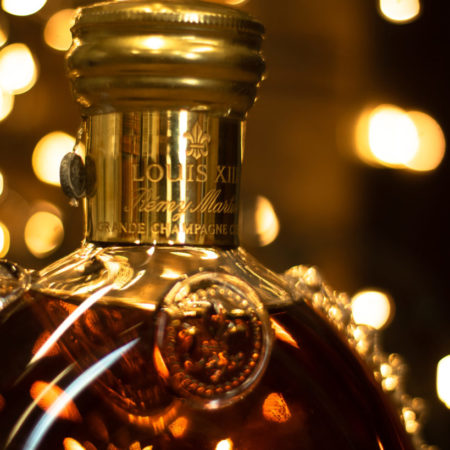 What is Cognac? 
Cognac is an alcoholic spirit made from first pressing and fermenting white grapes to make a low alcohol, acidic white wine. This wine is then twice distilled to produce 'eau-de-vie' – a high alcohol spirit at approximately 70% ABV. The spirit is then matured and blended in oak casks to produce cognac. There are certain requirements that must be met before the spirit is legally cognac:
To be given the name of 'cru', the grapes used must be at least 90% Ugni Blanc, Folle Blanche, and Colombard and up to 10% can be Folignan, Jurancon Blanc, Meslier St-Francois, Select, Montils, and Semillon. Cognac without the 'cru' title have a wider selection of grapes 

The juice from the pressed grapes must be fermented for 2-3 weeks with the region's native wild yeast. No sugar can be added. 

The low alcohol wine must be distilled twice in copper stills 

The cognac must be matured in Limousin oak for at least 2 years before being sold 
Depending on how long the cognac is matured for, it is classified into a quality grade:
VS – Very Special: matured for 2 years

VSOP – Very Superior Old Pale: matured for 4 years

Napoleon: matured for 6 years

XO – Extra Old: matured for 10 years 

XXO – Extra Extra Old: matured for 14 years

Hors d'age – Beyond Age: used to denote high quality cognac beyond age scale 
Cognac is also classified by geographical divisions within Cognac, France known as 'crus'. There are 6 cru and they are ranked from highest quality at number 1:
Grande Champagne

Petite Champagne 

Borderies

Fins Bois 

Bons Bois & Bois Ordinaires 

Bois a terroirs