Japanese whisky has long been a topic of conversation in the whisky industry. Some of the conversation has been good, such as the award winning whiskies that are coming out of the country, and some of it bad, such as the flexible labeling laws that have drawn increasing attention over the last few years.
On the 12th February 2021 the Japan Spirits & Liqueurs Makers Association introduced a new standard of labeling for their members to come into force in April 2021, which aims to end the issue of misleading labeling on Japanese whisky.
What was the problem with Japanese Whisky laws?
The issue with how Japanese whisky has been labeled until now is that there has been no clear guidelines about what can and can't be classed as Japanese whisky. This has become an issue in two particular instances:
Firstly, where whisky from elsewhere in the world is imported into Japan and blended and bottled with local whisky but then labeled as Japanese. And secondly, where a different type of Japanese spirit called shochu is mixed with whisky and labeled as Japanese whisky.
The first case is mostly misleading, as usually the quality of whisky imported is high. But in the second case the blend is not completely whisky and as well as being misleading this can cause problems in terms of the overall perception of the quality of Japanese whisky. Something which is obviously of concern to the Japanese whisky industry as a whole.
What are the new Japanese Whisky laws?
The announcement by the Japan Spirits & Liqueurs Makers Association in February 2021 are standards rather than laws, and they only need to be upheld by the members of the association. However they are an important step in recognising and regulating a known issue.
The new Standards for Labeling Japanese Whisky state that to be called Japanese Whisky, the whisky must adhere to strict criteria, specifically:
Raw ingredients must be limited to malted grains, other cereal grains, and water extracted in Japan. Malted grains must always be used.

Saccharification, fermentation, and distillation must be carried out at a distillery in Japan.

Alcohol content at the time of distillation must be less than 95%.

The distilled product must be poured into wooden casks not exceeding a capacity of 700 liters and matured in Japan for a period of at least 3 years thereafter.

Bottling Bottling must take place only in Japan, with alcoholic strength of at least 40% as of such time.

Plain caramel coloring can be used
There are also additional specifications set out that aim to help limit get around phrases or wording. Examples that are forbidden include Japan whisky and Nihon whisky, and the standards also limit the use of names, phases words or flags that may mislead a consumer into assuming the contents inside is Japanese whisky.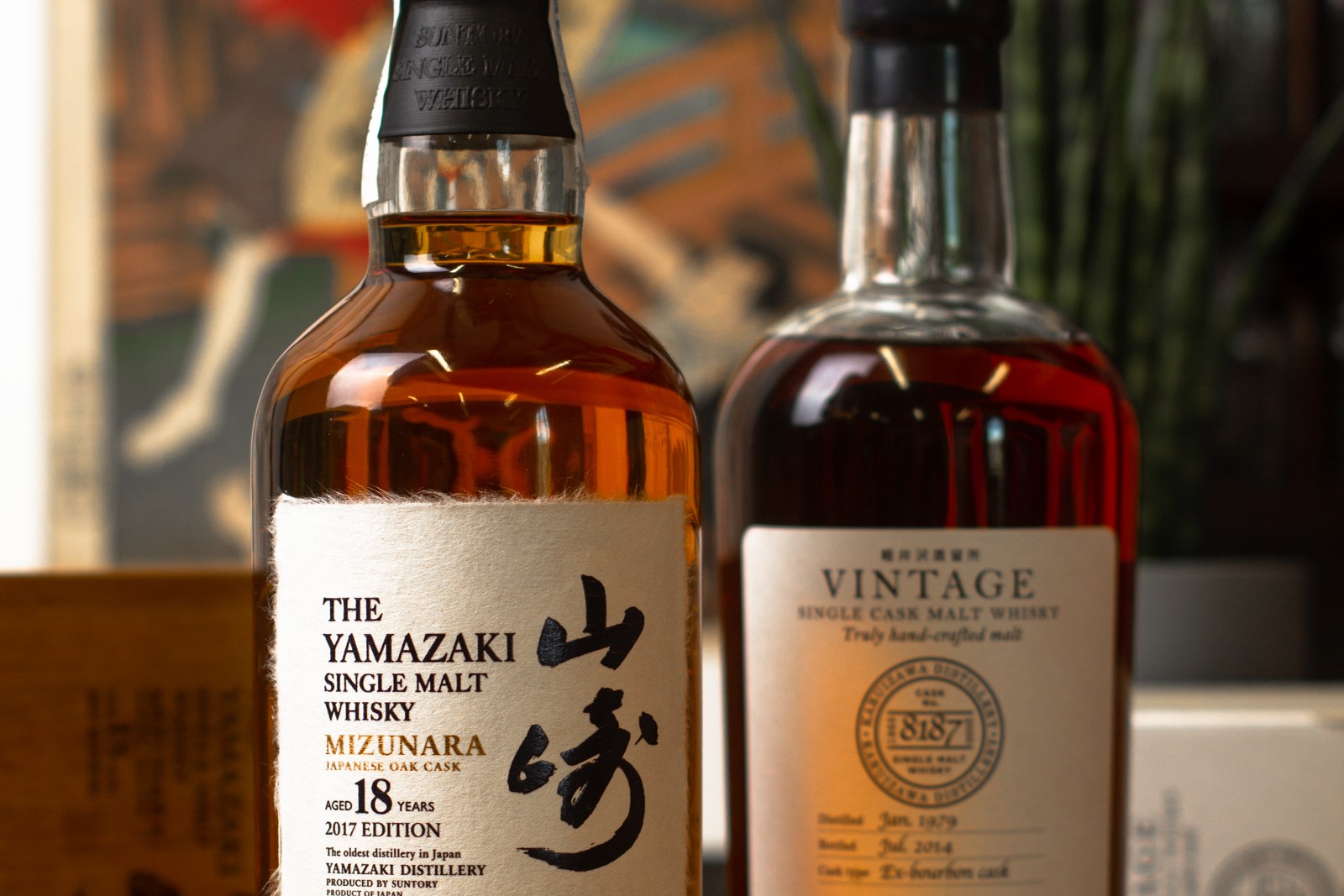 What do the new standards of Japanese whisky mean for you as a whisky drinker?
The new standards mean that when you purchase a bottle labeled Japanese Whisky you can be certain that it has been distilled and matured in Japan as well as the other criteria above. The only caveat being as long as that whisky was bottled by a member of the Japan Spirits & Liqueurs Makers Association, as there is no obligation for non-members to comply.
There may be a few discontinued lines, but it is more likely that these will just be relabeled to reflect their true nature. There are already a few whiskies by Japanese companies that are labeled as 'World Whisky' and in all likelihood these lines will simply expand. For example Nikka Whisky, who own many popular global Japanese brands – both whisky and otherwise – as well as the Ben Nevis distillery in Scotland, have said this:
"We have decided to provide further information for individual products on our website to clearly distinguish between products in Nikka Whisky's line-up, which contains both whiskies that are defined as "Japanese whisky" according to the Labeling Standards, and those that do not meet all the criteria."
Will the standards have an impact elsewhere?
Canadian and Scottish whiskies are widely imported to Japan for blending and as such the changes may also have an impact on the Scotch whisky that is available to drinkers.
The culture of blending in Japan is different to that in Scotland, and different distilleries do not tend to exchange spirit for blending. Because of this cultural barrier Japanese distillers looked outside of Japan for whisky to blend with and some purchased Scottish distilleries to produce spirit for their blends.
Tomatin and Ben Nevis are two examples of Scottish distilleries owned by Japanese companies with a significant portion of their single malt shipped to Japan for use in blended Japanese whisky. The new standards mean that the whiskies these Scotch spirits were destined for is going to have to change, or at least change its name – as Nikka Whisky have alluded to above.
These changes may have an impact on sales and cause the Japanese parent companies to relook at how they use their Scottish assets. As such we may see a knock on effect in the Scotch whisky industry as well. Only time will tell.
The new future of Japanese Whisky
The new standards are an important step for consumers worldwide and for the perceived quality and standards of the Japanese whisky industry. We hope that the coming years will see more robust standards and ideally laws that encompass the whole of the Japanese whisky industry.
It would also be positive to see standards which mirror some of the nuances of blending and distilling that we see in Scotch whisky such as how blended and grain whisky can be listed. But for now this is an important and progressive step for Japanese whisky and the global whisky industry.
Have any thoughts on the changes? Feel free to drop us a line and let us know.