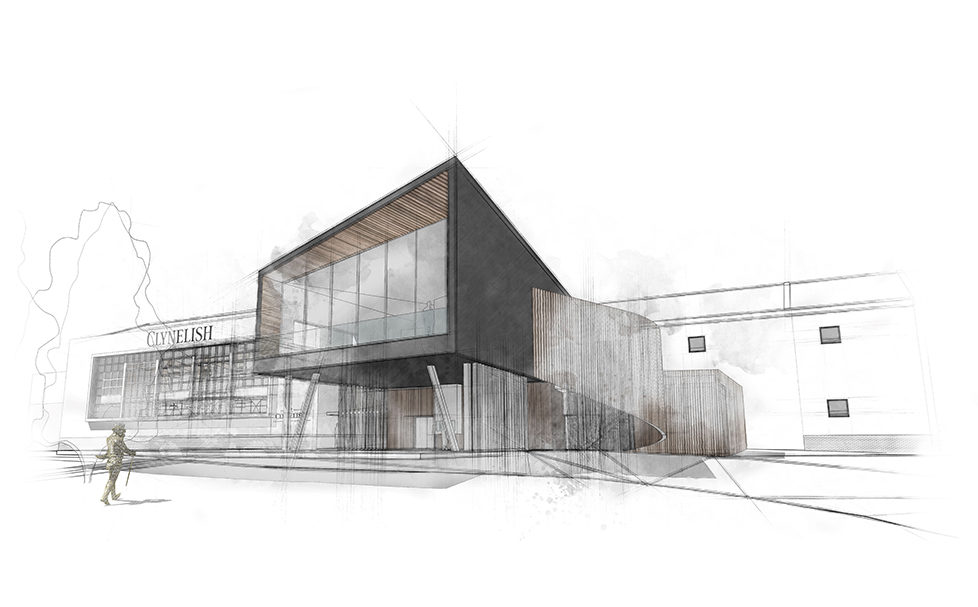 Clynelish distillery has achieved cult status with its unique and waxy single malt expressions. Owned by industry giants, Diageo, Clynelish is set to undergo millions of pounds worth of expansion and renovation, owing to its success. You can read more about Clynelish, including its number of stills and interesting facts, here. 
Clynelish to Represent Johnnie Walker in the Highlands
The proposed renovation promises to cement Clynelish as the Highland contributor to Johnnie Walker. The Johnnie Walker brand, owned by Diageo, consists of contributions from distilleries such as Clynelish, Glenkinchie, Caol Ila, and Cardhu. All from different regions, these distilleries represent the four corners of Scotland, and they all form the Johnnie Walker blend. A new Johnnie Walker attraction in Edinburgh will help ferry tourism to Clynelish through its association with the brand. 
Separate from Johnnie Walker, Clynelish creates stunning and unique single malts that draw the attention of thousands of visitors. The proposed renovation boasts a whole new floor for the Clynelish customer experience, as well as a new tasting area and bar overlooking the coast. 
Send me my free cask buying guide
In 2019, residents and community representatives attended a party at the distillery at which the plans were shared. The plans were approved later last year. As part of the investment in the local community, Diageo is planning to revive the mothballed Brora distillery, with which Clynelish shares its land. This is a separate £35million investment. Sources indicate that Diaego also plans to revive the Port Ellen distillery on Islay. 
Tourism has become an increasingly important part of the Scotch whisky industry, with visitors centres and distillery tours becoming an ever-popular activity for tourists when visiting Scotland. Clynelish and Diageo hope that this renovation will inject some excitement and economic opportunity into the area. 
The History of Clynelish Distillery
Although the Clynelish Distillery achieved success, and for some, it actually has a cult status in the whisky industry, this success was only born from human tragedy. As one of Scotland's clearance distilleries, it emerged during the early 19th century when landowners moved tenant farmers forcibly from their lands in search of profits. Sutherland and Caithness bore the brunt of the clearances, with the Duke and Duchess of Sutherland being responsible for some of the most brutal activity of this time.
While some of the tenant farmers went overseas, others migrated to the Central Belt to new settlements where they ended up working for other business enterprises owned by the laird. The Duke of Sutherland had a number of businesses which he had established in Brora including a tile and brickworks, salt panning, weaving and a coal mine, however, the business we are most interested in is his whisky distillery – the Clynelish. The staff of the Clynelish Distillery were all one-time farmers who were only paid in a currency which could solely be redeemed in the company shops with all profits going to the Duke himself.
Although the distillery was unsuccessful at first, it started to develop a name for itself in 1896 when the Ainslie & Heilbron blenders purchased it in a partnership with John Risk. He became the distillery's sole owner a few years later in 1912 and by the century's end, Clynelish became a prized single malt.
Risk worked closely with John Walker & Sons and DCL, and Clynelish eventually folded into DCL at the same time as John Walker and Sons in 1925. Although it did shut down during the 1930s it did produce a small amount of whisky during the Second World War.
Like many other DCL distilleries, there was new construction during the 1960s, and a brand-new plant with 6 stills was constructed next to the distillery's original buildings in 1968. Briefly, the old plant was mothballed for a year but then it started running in tandem with the new plant under the name Clynelish B. In 1969 it took the name Brora and started to produce a heavily peated spirit to be used for blends. Although this heavily peated phase continued until the early 1970s, after that the smoke was reduced and then it closed for good in 1983.
Meanwhile, Clynelish has played a long term vital role with the John Walker & Sons brand. Its 14-year-old was launched originally under the Hidden Malts Diageo portfolio and a few years ago in 2014, a £30 million expansion of the Clynelish distillery was announced by owners Diageo. The plans have now been approved, and this renovation is expected to bring tourism and economic growth to the Highlands. 
If you are looking to sell or buy a cask of Clynelish, our informative pages and a comprehensive cask buying guide can help you start the process off. 
Read More About Whisky Casks on Mark Littler