Caol Ila is a favourite among those who have an affinity for Islay whiskies. Caol Ila produces wonderfully balanced single malt whiskies, some of which go into the iconic Johnnie Walker blend. Diageo, who own Caol Ila and the Johnnie Walker blend, have proposed a £150 million renovation to each of the contributing distilleries, and the construction of a new Johnnie Walker experience in Edinburgh which is now underway.
Caol Ila To Represent Johnnie Walker on Ila
The Islay distillery will become the Islay representative for the Johnnie Walker experience, as it will be thematically linked to the Edinburgh attraction as well as the brand. The Caol Ila renovation will include a brand new visitors centre in the distillery warehouse, a new car park, and a new footbridge that will boast views of the island.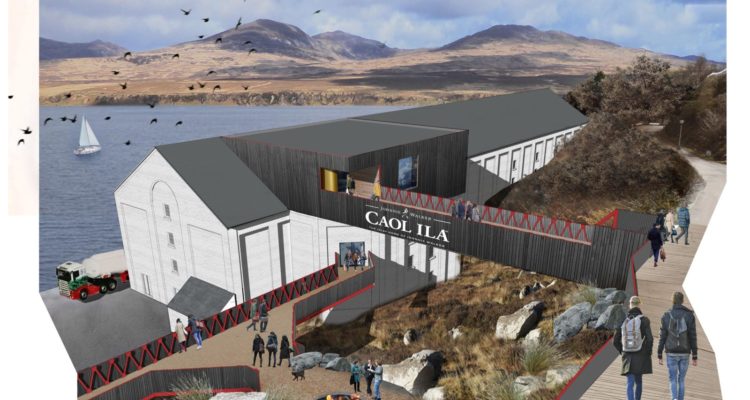 Port Ellen Revived
Also on Islay is Port Ellen, a mothballed distillery. Diageo plans to revive Port Ellen, as well as Highland distillery Brora, in a separate venture from their Johnnie Walker project. Islay has a stunning coastline and cult-status distilleries. Diageo hopes to bring whisky distilling back to Port Ellen, and inject some economic growth into the region. The renovation of Caol Ila will only help with this venture, with the distillery becoming part of a Johnnie Walker tour of Scotland along with Glenkinchie, Clynelish, and Cardhu. 
Send me my free cask buying guide
The History of Caol Ila 
The Caol Ila Distillery on the isle of Islay in Scotland has a long history dating back to 1846. With a name that is derived from the Gaelic words for Sound of Islay, this whisky distillery was originally established by Hector Henderson, however, it did not go well for the owner, who sold it in 1854 to Norman Buchanan who owned the Isle of Jura Distillery.
The business changed hands once more in 1863 when Bulloch Lade & Co from Glasgow, who were whisky stocks traders, took over. Duncan Johnston, the Distillery Manager at the time of the takeover was John Johnston of Lagavulin's nephew as well as cousin to the Johnstons of Laphroaig, and this gave the family a huge monopoly over the island's distilleries. By the late 1800s, more than 147,000 gallons of whisky were being produced every year.
When Bulloch Lade went into liquidation in 1920, the Caol Ila Distillery Company was founded by a consortium of businessmen, but in 1927 the controlling interest in Caol Ila was acquired by the Distillers Company and then Scottish Malt Distillers Ltd took ownership of the entirety of the shares in 1930.
The distillery was temporarily closed down during the Second World War from 1942 to 1945 due to restrictions on the barley supplies to distilleries, however, once the war was over, production recommenced and ran until 1972 when the distillery's entire structure was demolished. A bigger distillery was constructed, to designs drawn up by George Leslie Darge, copying the identical architectural style used on many of his other distilleries including glazed trademark curtain walls on the still houses.
Production continued once more in 1974 and during the 1980s when the market took a downturn, the Caol Ila distillery turned to a Highland style unpeated whisky helping the distillery to remain open. 2011 saw another renovation taking place, with more washbacks and a new mash tun being installed to increase capacity. Eventually, Diageo took over the company and remains in ownership today.
The Caol Ila whisky is a light Islay with a peppery, floral and peaty flavour and a pale colour. It is not only sold as a single malt, but it is also heavily used in blends like Black Bottle and Johnnie Walker. Caol Ila expressions have also won many awards over its history including its 12-year expression which received a silver medal, 3 gold medals and 2 double gold medals at the San Francisco World Spirits Competition.