Over 400million litres of alcohol can be produced by distilleries in Scotland each year. That is 630million litres at an average of 63.5%, which equates to around 1.26million butts or 2.5million Hogsheads every year. The vast majority of these casks are never available to the public but are kept by the distilleries for release in their own single malts or sold wholesale for blending.
How much is a new cask of whisky?
The intrinsic value of a new cask of whisky to a distillery is the cost to make the spirit plus the cost of the cask itself. That cost is unique to each distillery and can vary significantly between casks; an ex-bourbon hogshead is worth significantly less than an ex-sherry puncheon.
For the sake of this discussion, let's say a cask costs the distillery £500.
From then onward the price is based around two considerations: the number of casks purchased and the distance down the purchase chain which you are buying the cask; the basis for any wholesale to retail pricing framework.
Bulk discounts
In almost all industries pricing works on economy of scale, where you will be charged less if you buy more of a product, whisky is no exception. For example, if you are a whisky blender buying 1,000 casks the distillery may ask you to pay £550 per cask, giving them a 10% profit which equates to £50,000. An independent bottler buying 500 casks may pay £600 a cask, which still provide £50,000 profit to the distillery. As less casks are purchased the margin goes up so that the distillery can maintain their profit margin. A cask dealer looking to buy a mid-range amount of around 100 casks will be expected to pay somewhere between the super-wholesale prices discussed above, and the 'retail price' discussed below.
A member of the public who may only want to buy one or two casks will be expected to pay a 'retail price' for that cask (please note that we do not mean the whisky will be priced at the bottled retail price which is calculated differently once the cask is mature). The standard mark-up in the whisky industry is at least 60%. As such, continuing with the example began above if an example cask's intrinsic cost to the distillery is £500, a member of the public could expect to pay at least £1,250 to buy that cask directly from a distillery.
The purchased chain
If you are buying a cask of whisky further down the chain then the cost increases as subsequent sales add their own margin onto their original cost. There are advantages and disadvantages to buying a cask further down the chain and these are discussed below.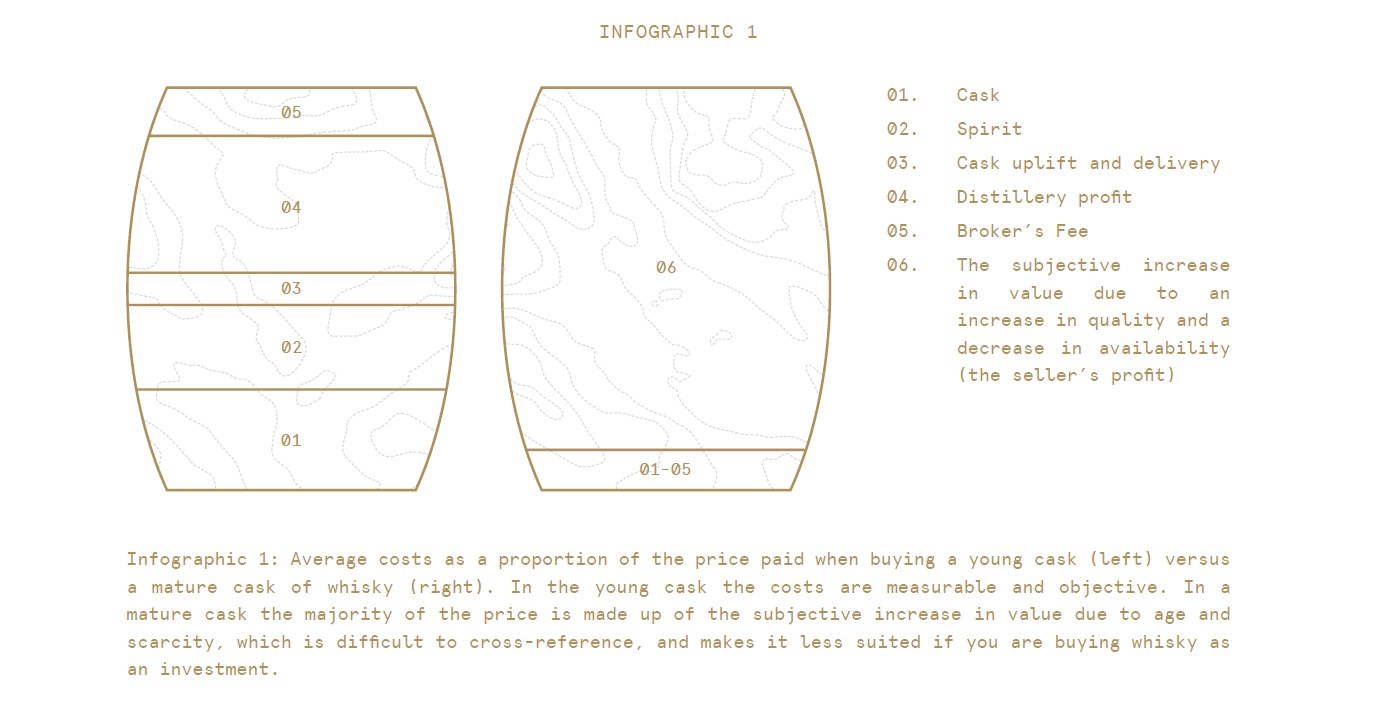 New whisky casks are available for the public to buy via two main avenues:
Direct from a distillery
Via a whisky broker (or dealer)
New casks are very rarely available via auction, but as these are purchased further down the chain (rather than being entered by a distillery) you can consider them similar to option 2 for this discussion.
Buying a cask direct from a distillery
Casks that are sold directly by distilleries are usually sold by distilleries when they are looking to release funds from their casks without having to wait 3+ years for the stock to be classed as whisky. New distilleries or distilleries looking to make an investment in their brand will sometimes release casks in this way.
Buying a cask directly from a distillery used to be the cheapest way to buy a cask, starting at around £1,000 even for a cask from a more established distillery. Distilleries have upped their prices in recent years to reflect the greater awareness of the potential profits to be made from casks. Casks sold in this way are usually all from comparable stock, so when you come to sell your cask their can be a lot of similar casks on the market, which can impact the profit you will be able to make on the cask.
Choosing to buy a new cask from a newer distillery before they invest into their brand is one way to speculate on increasing the profit available from your cask. For example, casks of Macallan could be bought for only £2,500 in the 1990s, Macallan since invested heavily in their brand and as such these casks have appreciated much more rapidly than other casks purchased around that period.
It is now impossible to buy a cask of Macallan except by invitation. This is true of many established distilleries as they generally have no need to release funds from their casks in this way and so do not make casks available for the public to buy direct.
Buying a cask from a whisky broker
Whisky brokers act as intermediaries between the cask industry and the public. As such a whisky broker has access to a wider variety of casks, often from distilleries, private bottlers and blenders who would not sell casks direct to the public.
The casks available from brokers are often from a more diverse stock and therefore when you come to sell them you are less likely to be selling your cask in a market where lots of similar casks are already available.
What is the difference between a broker and a dealer?
A broker connects someone who has something to sell with someone who wants to buy that something, they usually work on a commission or fixed fee basis. Mark Littler Ltd. are brokers and we charge a flat fee of £300 +VAT on each cask bought from us. If you want to sell a cask we charge 10% (inclusive of VAT).
A dealer is someone who has their own stock which they then sell on. A dealer's profit is the difference between what they paid for the stock (often purchased in bulk) and what they charge a prospective buyer, as such it is usually undisclosed.
Buying a cask from a whisky dealer
As touched upon earlier, a whisky dealer will likely receive some discount for buying a parcel of casks. These casks are then sold on to the public with the dealer's margin added. If the dealer's margins are transparent then this can be another way to get access to unusual casks. However, as a broker would usually buy bulk parcels of casks to obtain a discount you can sometimes have a similar issue to buying direct from the distillery whereby a number of similar casks may appear on the market at the same time around anniversaries and the annual rent/insurance billing times.
What do we charge for a new cask of whisky?
At Mark Littler Ltd. we believe in providing quality whisky at a fair price. Our fees are transparent so that you know exactly what you are paying for your cask of whisky.
Barrels from £2,500
Hogsheads from £3,000
Butts from £5,000
Plus £300 +VAT per cask

At Mark Littler Ltd. we know that casks can be a good investment. We can be confident in this assertion because we have sold millions of pounds of casks for customers who have made anything from £5,000 to over £140,000.
The important thing when buying a cask is to stick to three simple rules:
Understand that casks are a long term investment

Buy young casks, and sell them as old casks

Pay a fair initial price for your cask of whisky
If you want to learn more about cask ownership and investment we have written a 52 page magazine just for you. In it you will find explanations of the three golden rules as well as a comprehensive introduction to the world of cask ownership.
If you would like to receive a copy please complete the form below and we will post one out for you to read at your leisure.
Sign up to recieve your free Cask Buying Guide