The Samaroli name has become one of the most famous within the whisky industry since the independent bottler was established in 1968, but where did it originate from?
Early beginnings
Silvano Samaroli (1939-2017) established Samaroli Srl Wine and Spirits Merchant in 1968 at age 29. The company was set up in Rome, Italy and would go on to become the first independent scotch whisky bottler outside of the UK. But this isn't where Samaroli began. 
When Samaroli Srl was established, it began as an importer of whisky rather than an independent bottler. For the first ten years, Samaroli focused on importing Scotch whisky into the Italian market with no views to bottling his own. In 1969, Samaroli imported an exclusive cask strength Linkwood for collector Edoardo Giaccone and this prompted him to seek his own limited and special releases to import such as the 1965 Bruichladdich and 1971 Glen Garioch. 
This was until 1979 when Samaroli bottled his first run. This was a series of Cadenhead dumpy bottles that he had imported for the Italian market. As Mario Rossi were the official distributor for Cadenhead in Italy, Samaroli was required to relabel the bottles. This resulted in the first Samaroli label – a series of watercolour images – and subsequently the first foray into becoming an independent bottler. The success of this release changed the direction of Samaroli Srl.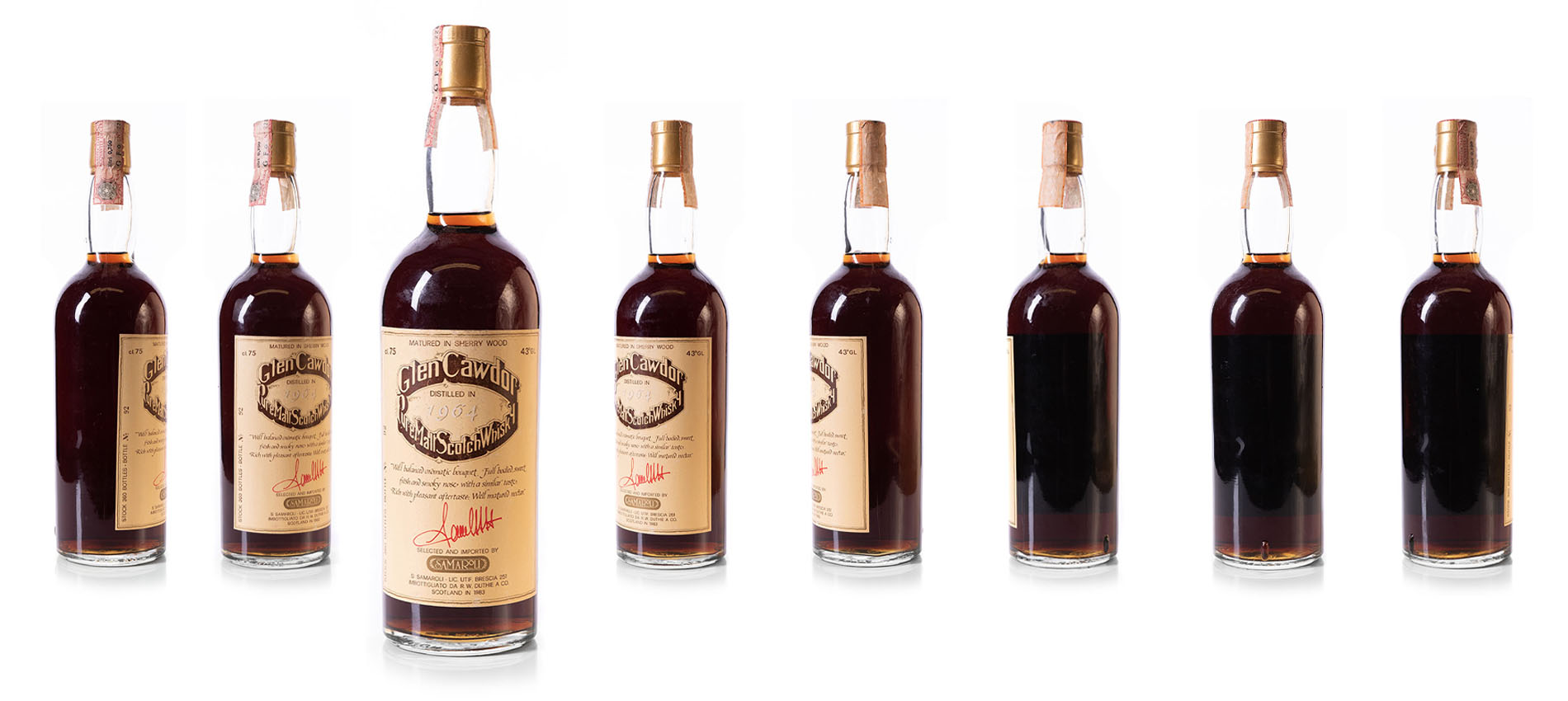 Samaroli As An Independent Bottler
Entering the 1980s, Samaroli was developing as the first independent bottler of Scotch whisky outside of the United Kingdom. The first bottling of this new direction was The Never Bottled Top Quality Whisky Series in 1981, which became known simply as the Flowers series due to the decorative label. To create this bottling run, Samaroli hand selected very rare single malts such as Coleburn, Millburn, and Northport; it is hand selection of casks that would mark Samaroli as a visionary and contributes to a huge part of his success. 
During the 1980s, Samaroli began to produce a small number of cask strength releases, something which had seldom been done until this point. Samaroli became a pioneer of the cask strength release and, by the late 1980s, nearly all of the Samaroli bottlings were cask strength, helping set a precedent for independent bottlers' high proof releases which is still the case today. 
Another famous release from Samaroli was the Glen Cawdor bottling. Glen Cawdor was most commonly used to disguise Springbank whisky due to licensing laws and it takes its name from Castle Cawdor in Shakespeare's Macbeth. One of the most famous Glen Cawdor bottlings is the 1964 Springbank, bottled in 1983.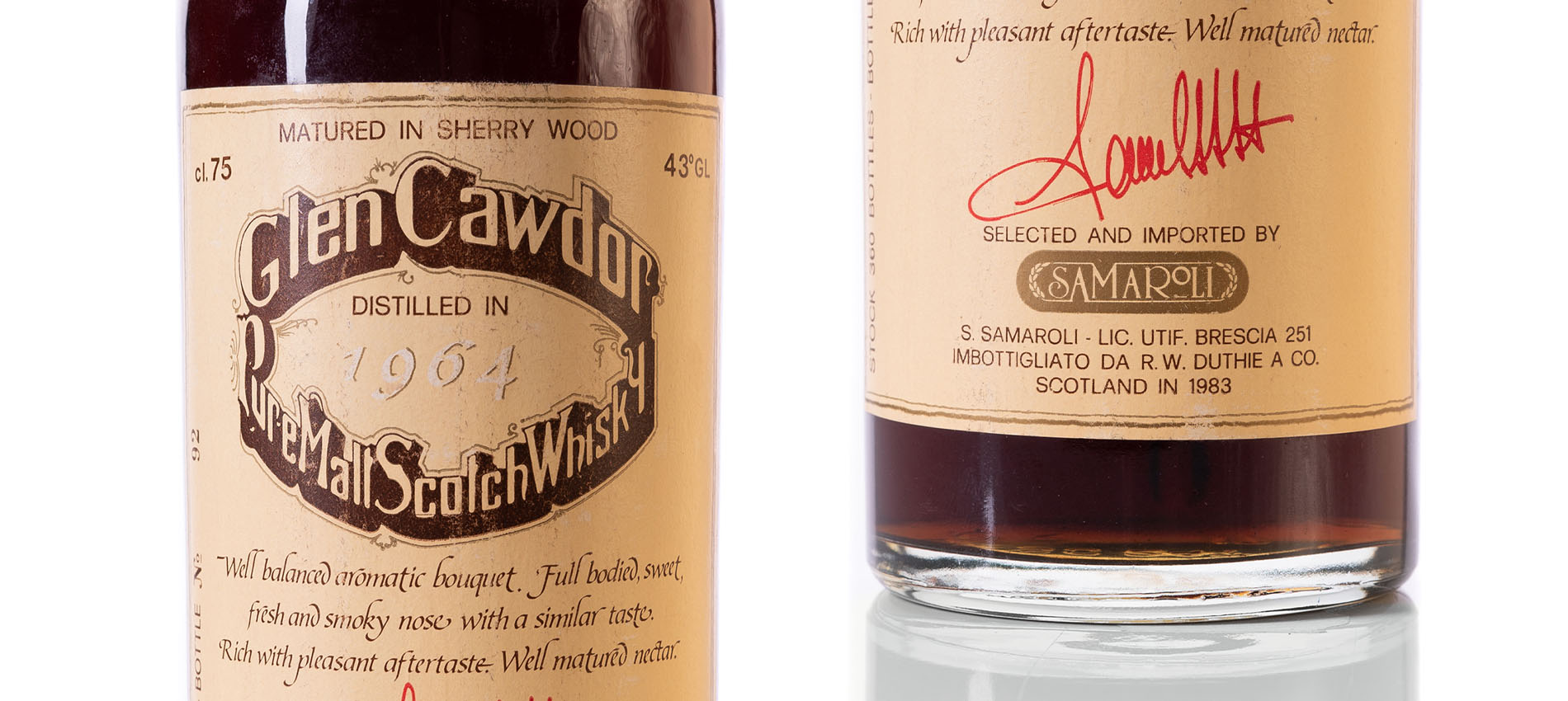 What Makes Samaroli So Sought After?
Samaroli bottlings have become incredibly sought after and contested on the secondary market; the highest auction price for a Samaroli release is £72,600 for the Bowmore 1966 Bouquet which sold at Sotheby's in 2019. Why are these releases so successful and in such high demand?
There are a few factors that contribute to Samaroli's success. The first being that these bottlings are so limited. The hand selection of casks for bottling series means that there is never a large yield with Samaroli bottlings. The 1964 Glen Cawdor that we've previously mentioned, for example, has a yield of 360 bottles. The Bowmore 1966 Bouquet had a yield of 720. These small releases breed exclusivity and their scarcity makes them much more valuable to those collectors seeking certain releases. 
The second factor in Samaroli's success is the move to cask strength releases. Previously, whisky was bottled close to that 40% ABV threshold, 43% seeming to be a popular choice among bottlers. This meant that bottlers could get a large number of bottles out of a cask as well as appeal to the majority of whisky drinkers. Samaroli pioneered the cask strength release which goes hand in hand with the small bottle numbers. 
Finally, Samaroli became known for its high quality whisky and has received many glowing reviews from respected critics. The Bowmore 1966 Bouquet, as we've mentioned, is the highest value Samaroli bottle on the secondary market, and it also received a huge 97 points from Serge Valentin of WhiskyFun – one of the most renowned critics in the industry – making it the third highest scored Samaroli on the site. There are 37 Samaroli bottles on the WhiskyFun winners list (whisky with over 90 points) with the highest scored bottles being the Laphroaig 1967 and the Springbank 12 Year Old 100 Proof which both scored 98 points.  
Samaroli bottles are incredibly sought after on the market by collectors and have come to be some of the most instantly recognisable single malts available. Samaroli has created a legacy of cask strength releases that are emulated far and wide today. 
Have You Got a Samaroli Bottle?